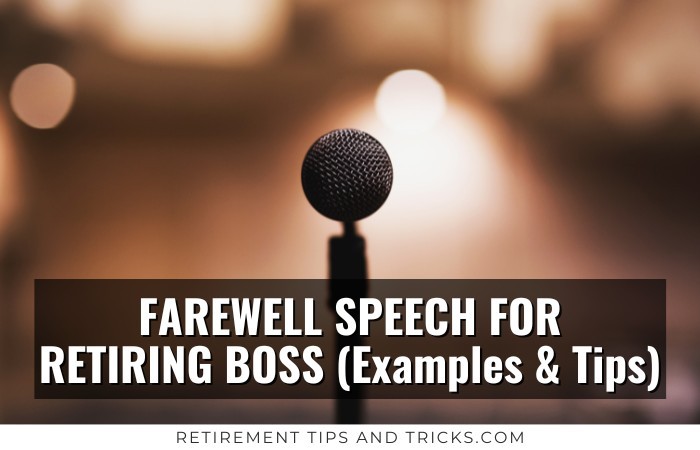 Your boss is retiring soon and you're the one to give a farewell speech. And that is why you're probably looking for some great tips, ideas, and inspiration for your speech. Well, no need to look further because in this article you'll find everything you need to know to give a memorable farewell speech to your retiring boss.


---
Farewell Speech Examples
Short Retirement Speech For Retiring Boss
Hi Everyone, welcome to the retirement celebration of (name boss). And dear (name boss) welcome to a new and exciting chapter in your life. Let's start by congratulating you on your retirement: congrats! What an achievement. You deserve the retirement of a lifetime.

Over the last XX years, you have been our leader at (company name). It's been a privilege working for you and alongside you. You have taught me valuable lessons that I will never forget.

Thank you for all your contributions to (company name), but more importantly, thank you for the joy, dedication, and positive energy. Working here has been a pleasure because of you. And that is why I will never forget you and I can't imagine our workplace without you. But unfortunately for me, I have to get used to that very soon.

Dear (name boss) I hope your retirement will be even better than you imagined. I wish you all the best to you and your family. May your retirement be filled with lots of health, happiness, and laughter. Have fun! Cheers to you!
Funny Farewell Speech For Retiring Boss
Yes! (prop idea: hold a countdown clock on 00 days in your hand) The day has finally come. (name boss) is retiring. Let's be honest, I know we've all been looking forward to this day. Do you know how old this clock is?! It's from 19XX (the year the boss started working at the company).

Well, I have another confession to make, it has been a pleasure… (wait a bit) irritating the **** out of you. I know you've enjoyed it too. Unfortunately, this time has come to an end. And so are your bossy times! From (retirement date) you're not a boss anymore, but I have news for you, your wife is 😉 Finally, you'll experience what we had to endure all these years working for you.

Dear (name wife of your boss), will you please give him all the crappy tasks at the house? Knowing that I have to go to work, and (name boss) has to clean the toilets is bringing me so much joy.

But in all seriousness, when 'I'm too old for this sh*t' becomes your daily mantra, you know it's time to retire.

Dear (name boss), It has been a pleasure working for you. Your spirit, positivity, great leadership skills, teamwork, wisdom, and dedication to the company will never be forgotten. You're a legend, a hero, and the best boss ever. I can't imagine… Wait… what am I doing? This sucking up doesn't help me anymore.

Congrats on your retirement. Wishing you all the best in retirement. May your life be filled with a lot of happiness, adventures, good friends and family, and a nice cold beer.
Thank You Speech For Retiring Boss
Welcome everyone, we are gathered here today to celebrate (name boss) retirement. For the ones that do not know me, I'm (your name) and I am a (job position) at (company name). I've worked here for XX years and (name boss) has been my boss for over XX years.

I am honored to give this speech today.

And although I am happy for (name boss) and know this is an exciting time for him/ her. For me, it is a sad time that (name boss) is retiring. Perhaps I didn't say it a lot. But you have been such a great boss to me. To all of us. Your graciousness, friendliness, and leadership skills are going to be missed. I don't know how you did it, but you made us work harder because we wanted to do good for you. And that is why I want to say thank you.

Dear (name boss),

I appreciate your guidance in every project we worked on together. You have played a key role in my development as a (job position). And I could always lean on you for both professional and personal advice.

Thanks for your wisdom and for believing in me from the very first start. Your confidence in me, helped me build my confidence to where it is now. I will be forever grateful for that.

Thank you for being a good person to all of us and showing what it means to be a true boss. In good and bad times.

I appreciate everything you've done for me and express my express our sincerest gratitude for all your incredible contributions. Not only to (company name) but to each and every staff member individually.

Thank You for these fun years (gift idea: hand out a Thank You Award).

I will cherish all the great memories forever.

On behalf of all your coworkers: Congratulations on your retirement. Enjoy and make the most of it! You deserve it!
Heartfelt Retirement Speech For Boss
Dear colleagues, friends, family, and (name boss),

I'm honored to give a speech on this special day, which is both bitter and sweet. It is not easy to say goodbye to (name boss) who has been my boss for over XX years, but I'm going to do my best.

(Name boss) has dedicated XX years of his life working at (company name) and did this with such grace, dedication, and perseverance. Since the time he/ she joined (company name) the company has grown from XX amount employees to XX amount employees and is making a revenue of $ a year. Your knowledge, people skills, valuable ideas, and problem-solving skills have brought the company to new heights. And that is why we all know you're one of a kind and unreplaceable.

Dear (name boss) never forget the difference you have made. We are very proud of all the work you have done. You are truly an inspiration for me and many others. You are an amazing boss. And not just a boss to us, but also a mentor and a friend. You have shown me what it is to be a true leader for the company, but also to be a loving and caring person. Thank you for being you.

When I was preparing this speech I was reminiscing about all the amazing memories we shared together. And there are so many, but the one that stood out most for me was when… (most cherished memory you have).

And since we are going down memory lane, do you remember the time when… and did you know that (name boss) was a… and did…

I want to thank you for the fun times, the hard times, and the amazing memories. You can be very proud of all your career's success and achievements. Congratulations on your retirement.

You were brilliant at your job, so I know you will be a brilliant success in retirement too.

You can close this door with pride and start exploring the beautiful world out there. I wish you a wonderful time in retirement. May it be filled with lots of love, joy, health, and many awesome adventures.
Farewell Toast Ideas For Retiring Boss
Cheers to the best boss the company has ever had! Congratulations on your retirement (name)! I wish you a wonderful future to enjoy with your family, friends, and hobbies.

Dear (name boss), After tomorrow you're not a boss anymore. But your wife is ;). So perhaps you want to reconsider your decision… Cheers to a happy retirement for you and your wife!

Wishing you the most exciting and stress-free retirement ever! Cheers

If there's one person in the company who deserves a retirement; it's you. Have the most amazing time! Cheers to making all your future dreams come true.

Cheers to a very loooooong weekend! Enjoy!

Cheers to my favorite person at the office. No, I'm not sucking up to the boss, because after tomorrow that doesn't help me anymore. I just loved working for you and I am going to miss it. Have fun with all the plans you have in retirement! Congrats!

Dear (name boss) Thank you for being you. You have set a great example for everyone at work. Your graciousness, friendliness, and teamwork are going to be missed. Thank you for being someone we can look up to. Enjoy this new journey in life! Cheers to your retirement.
Tips For A Memorable Farewell Speech
When you start to write or get ideas for the farewell speech for your retiring boss, you might wonder, what makes a great retirement speech?
As a general rule, the key to giving the best retirement speech is all about making your speech memorable for your audience. It's about creating the right delivery. People will remember how you made them feel. Knowing your goal and audience, engaging with your audience, having great content, and using personal and memorable stories all add to making the best retirement speech that people will remember.
This is just the tip of the iceberg of what makes a great speech. Below I share more tips on how to give the most memorable (in a good way) farewell speech for your retiring boss.
Gather Information For Great Content
For a great speech, you need great content. And that is why it is helpful to gather as much information about your boss as possible. You can ask your boss's coworkers, friends, family members, and spouse, for more information about for example their first job, car, successes, awards, previous jobs/ positions within the company, funny anecdotes, best skills, and what do people remember most in 10 years about your boss, etc. The more content you have the easier it will be to make a great speech.
In most cases, the inspiration for the form of your speech will come automatically as you gather more information.
Use A Framework To Make Things Easy
It depends on the culture of your company and the relationship you have with your boss, how formal or informal your speech is going to turn out. This means sometimes you can start your speech with a joke right away, and sometimes you need to introduce yourself to the audience first because not everyone in the room knows you. But in general, this framework applies to most retirement speeches.
Capture Audience Attention (joke/ prop/ punchline/ something interesting)
Thank Your Audience
Express Why You're All Here
Congratulate The Retiree
Talk About How This Person Made a Difference

Contributions to the company
Successes
Failures & lessons learned
Awards

Express The Relationship You Have

Memories you cherish
Funny anecdotes
Lessons you learned from retiree
Things you're going to miss most

Extend Best Wishes On Retirement
Optional: Introduce Your Retirement Gift (see ideas further down)
End With A 'Mic Drop' Moment
Practice Your Speech
It can be helpful to practice your speech. Especially when this is new for you or you struggle with speeching in front of crowds. You can do this in front of the mirror, make a video of yourself and rewatch it or do it in front of a trusted person.
This last one is a very good idea when you want honest feedback. This can be your spouse, coworker, or friend. They can help you tweak things and help you deliver your message the way you intended it.
The More Personal, The Better The Speech
It isn't about perfection or choosing the right words when it comes to great speeches. A person doesn't remember what you said, they will remember how you made them feel. Keep that in mind when you're crafting your speech.
And it helps when you go down memory lane and include personal stories within your speech. The more personal the better it is. You don't have to sum up all the personal stories you have. You only need one good story and tell it well. Or use it as a metaphor, to sum up, all the good qualities of the retiree.
Keep It Short
The best speeches are short speeches. And the sweet spot, in general, is between 5 – 7 minutes.
Your audience's attention is crucial, so keep it short and sharp. Keep in mind: "It's best to leave your audience before it leaves you".
Keep It Real
The goal of a farewell speech for your boss is to make him/ her feel honored, respected, and valued. And you can do this in all kinds of ways. But the only way that your message comes across is if you keep it real and authentic. Just be you and you'll be fine.
Sidenote: this means always take the high road, keep it positive, and be respectful.
How To Start A Speech?
You start your speech by doing something interesting to capture your audience's attention. And you have about 10 seconds to capture your audience's attention and captivate them before they tune off completely. That's a general rule when it comes to public speaking. So for that, you must do something interesting at the start of your speech.
Many people use a joke or a question to start. But you can also use a prop. It helps to capture people's attention if you use a physical object that is strange for that environment. If people do not understand what you're doing, you've got people's attention. And great timing helps as well.
Think about a physical object that is maybe strange at first but is something you can refer to at the beginning of your speech and maybe can come back to at the end. Or use a great joke that you know everyone in the audience can enjoy.
Another thing to remember is that most speeches will start in the same boring way. For example: Hi I am Kirsten Veldman, and more about Me, Me and Me. The audience is already bored. This simple trick will grab their attention right away: start with something NOT about you but with something interesting and valuable for the audience.
Read more: 20 Expert Tips To Give The Best Retirement Speech
How To End A Speech?
When you've said everything you wanted to say (with humor and stories) and you grabbed their attention, the audience is wide open to anything you want to drop on them.
And a very popular thing to do is to come full circle. This means you come back at the end of your speech with the prop, joke, or metaphor you used in the beginning. Or introduce a funny retirement gift that goes with the story.
This works best when nobody is expecting it. So if you used a prop at the beginning, you bring it back (out of nowhere for them) at the end to make a point. And that's the moment where you drop the mic 😉. This video below might help:
Gift Ideas For Retiring Boss
You might be looking for a great gift as well for your retiring boss. And your farewell speech is a perfect opportunity to introduce this gift or work slowly towards it so it all makes sense in the end.
I researched hours and hours to find the best retirement gifts and made a top 3 of the best retirement gift ideas for your boss below:
#1 World's Best Online Classes (my personal favorite)
You want to wish your boss the best time in retirement. And the best gift to make this wish come true is gifting him/ her access to the world's best online classes with Masterclass.
Masterclass is a streaming platform that allows anyone to watch or listen to hundreds of video lessons (for any skill level and age) taught by the world's most successful and famous teachers.
By gifting an online Masterclass you give your boss something fun to do and a way to explore new hobbies and upgrade their skills to pursue their passion in retirement with more confidence.
There are over 100 different classes from the world's greatest in their field on Masterclass. But just to drop a few names: Gordon Ramsey, Aaron Franklin, Martin Scorsese, Dr. Jane Goodall, Christina Aguilera, Usher, Hans Zimmer, Neil deGrasse Tyson, Stephen Curry, Carlos Santana, Ron Finley, Jimmy Chin, Serena Williams, Dan Brown, and many more. New classes are added every month!
#2 Travel Book: 50 States, 5000 Ideas
One of the most popular retirement gifts is this book: 50 States, 5000 Ideas from National Geographic. And it's a perfect gift for any retiree. Whether your boss has travel plans for retirement or can use inspiration for his/ her bucket list retirement. This book is always a hit.
#3 Handmade Portrait Painting
Looking for something really special for your boss? Then gift him or her a handmade portrait painting from a special moment in their life. Paint Your Life has professional artists who make beautiful paintings from a photo sent in by you. A photo of your boss's favorite pet, a statue photo on the job, a family photo with grandchildren, or an old wedding photo are great ideas for a beautiful oil painting.
It's handpainted by an experienced artist of your choice. And you have unlimited revisions. Also, when you're not happy with the result you get 100% of your money back. So satisfaction is guaranteed!