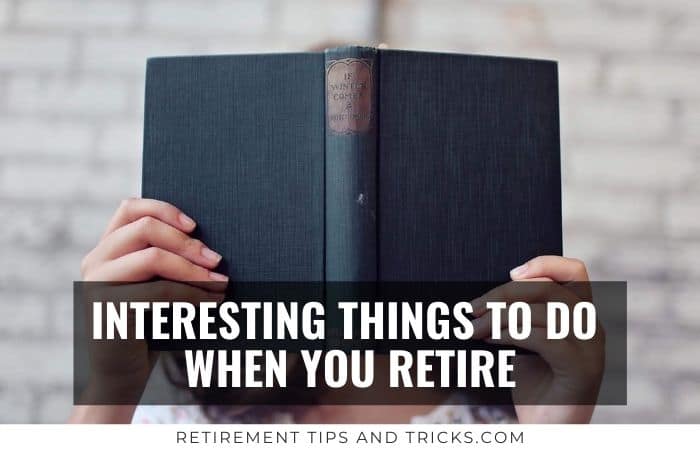 You're retired and you're looking for interesting things to do. Well, you've come to the right place! In this article, I've listed 21 interesting things to do when you retire. Let's get started!
Just a heads up, this post contains affiliate links. As an Amazon Associate I earn from qualifying purchases. Purchases you make through these links may earn us a small commission, at no extra cost to you.
1) Apply For Interesting Classes
The best way to make your retired life instantly more interesting is to apply for interesting classes. But where do you find interesting classes? Well, I've got the best tips for you: Masterclass!
Masterclass is an online streaming platform that makes it possible for anyone to watch hundreds of interesting video lessons taught by the world's best teachers. With your membership to Masterclass, you can follow interesting classes on different topics: art, cooking, sports, business, music, writing, science, wellness, design, lifestyle, etc. Where you learn from the world's best teachers in their field.
For example, cooking classes taught by renowned chefs: from Gordon Ramsay, Thomas Keller, Alica Waters, to BBQ Legend Aaron Franklin. But also: Serena Williams teaches Tennis, Ron Finley teaches Gardening, Samual L. Jackson teaches Acting, Alicia Keys teaches Songwriting and the list goes on and on. Plus new interesting classes are added every month.
2) Read Books
Life gets more interesting with a good story. And therefore one of the most interesting things you can do when you retire is read, read and read some more. Many retirees love to read in retirement. You can dive into characters and explore new worlds without leaving your comfy chair. It's the cheapest way to travel in retirement.
Through reading books you become smarter and learn other things: understanding people, you improve your vocabulary and communication, and how to deal with problems. And it increases your confidence level and expands your imagination creativity. And it keeps your brain healthy which is very important too. It not only reduces stress, but it also improves brain connectivity, lowers blood pressure and it prevents cognitive decline as you age. Wow! Many benefits and reasons to start reading now.
And with a Kindle Ereader, you have access to millions of ebooks and audiobooks. It's a great gift you can give yourself in retirement. Whether you're at home, chilling by the pool, or relaxing on the beach, you can bring your e-reader along with you.
3) Listen To Podcasts
Listening to podcasts is extremely popular. It allows you to dive into interesting topics while you do other things. With videos or websites, you have to watch or read them, but the benefit of listening to podcasts is that you can multitask. Whether you're going for a run, cleaning the house, driving your car, walk the dog, or sit in your comfy chair at home you can listen to a podcast.
It's an easy way to catch up on the latest news, interesting topics, and events while you're busy doing something else. A reason to listen to a podcast is to improve your skills or get inspired by smart speakers and interesting experts. And there are so many fun and interesting podcasts out there on almost any topic.
Where To Find Podcasts
On a website: Find the player on the page, check your device's sound is switched on, and click play to listen to the podcast
iPhone or iPad: use the Apple podcasts app
Android phone: use the Google podcasts app
Spotify
Google "(topic) Podcast"
4) Go Out Of Your Comfort Zone
Doing the same thing every day can make your life feel boring. So to make it interesting, you can do things you've never done before. And that often means getting out of your comfort zone. It's where the magic happens, because how else would you know if you enjoy something if you've never done it before.
It can be as little as starting a new craft project, approaching a complete stranger on the street to eating something you've never eaten before. Make it a fun adventure where you do something new every day, every week, or every month to make your life more interesting in retirement. Perhaps you'll discover a new hobby or meet a new friend along the way.
5) Find A New Hobby
A successful retirement is to replace your work hours with new fun and interesting activities you love doing. And that can mean finding yourself a new hobby in retirement. You can go on a pursuit and explore all sorts of different retirement hobbies until you've found the perfect one for you. If you need some help in that department you can read my article: How To Get A Retirement Hobby: 7 Tips.
6) Do A Random Act Of Kindness
Helping someone else out makes you instantly become a happier person, according to recent studies. Doing something kind for someone else gives you a strong sense you're doing something that matters and meaningful. You're making a difference in someone else's day and that gives you a mood booster and puts a smile on your face. Being kind helps you feel in control and gives you a sense of purpose, which a lot of retirees lack.
When you do a small act of kindness every day you create a new sense of purpose in your retired life. And that makes your life instantly more fun and interesting. For example: insert coins into someone's parking meter, give a meal to a homeless person, or invite your lonely neighbor for afternoon tea. And you never know how someone else will react and what great relationships can blossom from it.
7) Take A Different Route
Take a different route during your everyday activities. For example, go hiking in a different park, drive a different road to the grocery store, or just go for a drive and see where the roads take you. When you take a different route you'll see new things in your area that you perhaps haven't seen before. You might find a new fun coffee place you didn't know existed.
8) Discover Fascinating Stories
Dive into fascinating stories and learn a bunch of random facts and impress your friends with stories and facts from these interesting books.
9) Plan A Fun Trip
Plan a fun trip and discover new places, people, and lifestyles. Traveling is so interesting: it's educational, adventurous, refreshing, relaxing, rejuvenating, and fun. After traveling to a new place, you've discovered so many interesting things about countries, places, and people and gained a whole new perspective on life. It's the best education you can get.
And half of the fun starts with planning your trip. If you're looking for ideas on where to travel to in retirement? Check out my travel articles for inspiration.
10) Turn Off Your TV
Many retirees replace their working hours with watching many hours of TV. Although watching a documentary can be interesting. You don't want to spend your days in retirement watching TV all the time. That doesn't make your life very interesting. This passive activity can even make you feel useless, unworthy, and depressed.
So why not turn off your TV and actively seek new ways to entertain or inform yourself. Read a newspaper, go to the library to do some research on an interesting topic, enjoy a play at a local theater, grab a drink with a friend, etc.
11) Visit With Kids
Through the eyes of a child there is magic everywhere.
When you want to make your retired life instantly fun, try to visit places with (grand)kids and you'll see it through their eyes. For them, the world is filled with joy, wonder, and magic. Everything is new and therefore everything is interesting.
Spending time with young kids will keep you young at heart and perhaps you rediscover the inner child within you. And then life gets interesting all over again.
12) Create A New Recipe
Look around your pantry and see with you can create with the ingredients you find. Or search the web for a recipe you've always wanted to make and create your own version of it. Perhaps there is a famous family recipe that needs an upgrade. You have to eat anyway, so why not make it a bit more fun and interesting.
13) Do Volunteer Work
Many retirees love to do volunteer work. It's one of the best ways to fill your days in retirement because it gives a sense of fulfillment and purpose. Volunteering helps you to stay active: socially, mentally, and physically. The three key ingredients to happiness in retirement.
You can think of offering your time and energy to the local soup kitchen, senior center, coach the younger generation, or apply for senior corps.
Read my article about the benefits of volunteer work in retirement for more information.
14) Rediscover The Internet
Mix.com is a free web-based tool that helps you to find the hidden gems of the internet. Using this tool leads you to new websites, photos, videos, and blogs that are editors picks and best-in-class publishers. Select what interests you, and Mix.com will do the rest and gives you new interesting suggestions.
15) Enjoy New Coffees
Nothing beats that retired feeling when you can enjoy a nice cup of gourmet coffee in the morning knowing that you don't have to rush into work. The feeling that you can do whatever you want that day.
And your morning in retirement can get more interesting when you transform it into a world-class coffee tasting experience with the world's best artisan coffees from Beanbox. Each coffee with its own interesting story.
Starting your day in a positive way will set the mood for the rest of the day. So good coffee is the best start for your retirement day. At Beanbox you can get yourself exclusive, artisan coffees from around the world as a gift or monthly subscription. Check out the thousands of Five Star reviews here.
16) Upcycle An Item
Find yourself an everyday object that you don't need anymore and upcycle it.
"Upcycling, also known as creative reuse, is the process of transforming by-products, waste materials, useless, or unwanted products into new materials or products of better quality and environmental value." – Wikipedia
Upcycling is an interesting thing to do in retirement. You can use any stuff that you can find around the house to create something new. Whether it's a product that is useful or a new piece of art. It's great for the environment because you are not consuming more products, you use old ones in a new way. And it's good to be creative because it positively affects your brain: it boosts your mood and self-confidence.
You can get inspired and find all sorts of upcycling ideas on Pinterest and YouTube.
17) Learn A New Skill
Get interested in something new and learn a new skill. For example: try to talk in a foreign language the entire day, learn how to edit photos or videos, learn a new magic trick or card trick, and show it off to your grandchildren. The possibilities are endless.
You can learn all sorts of interesting skills at platforms such as Udemy.com and Skillshare.com.
18) Switch Hands
Life can get more interesting if you switch some things around. And why not switch your hands for a day? And see if you can do simple tasks when using your other hand. Try to write with your non-dominant hand.
19) Get Crafty
Many retirees love to get creative because it's what their life lacked for many years. Therefore getting crafty is an interesting thing to do in retirement.
And did you know that doing a creative activity contributes to better aging? It gives a sense of purpose and boosts self-esteem, you'll live a more happy retired life.
But where to start? For example, my retired mom and mother-in-law love to do diamond painting. They can do it for hours on end. It's kind of a meditation for them.
But when you like to explore all sorts of interesting craft projects, you can subscribe to the Arts and Crafts Crate from CrateJoy. A crate filled with new arts and crafts projects will be sent to your door every month. It allows you to learn a new craft technique every time. Or you can get the book: 365 Days of Art, an inspiring journal with creative exercises for every day of the year.
20) Listen To New Music
We often tend to play the same record over and over again. But why not make things more interesting and listen to some new music. Spotify is a great application that allows users to listen to entire albums for free. And it also makes suggestions for other music based on your favorite music. There is a whole new musical world for you to discover.
21) Check What's Interesting About Today
Everyday history is written. Something interesting happens every day. And you might sit at home and think there is nothing interesting about today. Well, I have to stop you there. At Checkiday.com you can see what national day it is today. From National Spaghetti Day to National Whipped Cream day. You can read what's so interesting about today.