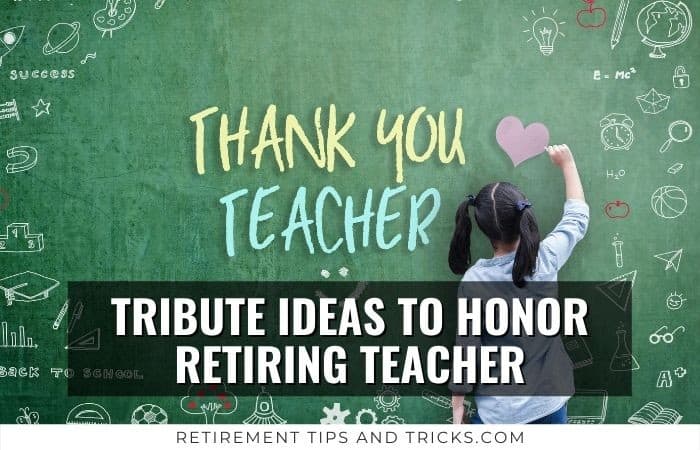 A teacher is retiring and you're wondering, how do you honor a retiring teacher?
No need to look further. I've listed 11 amazing tribute ideas to honor a retiring teacher in this article. Let's get started right away.


---
1) Retirement Tribute Video
My favorite way to honor someone special is to create a video. I've made so many videos for retirements, birthdays, weddings, and funerals. And it's always a hit.
Did you know that a video is worth 1.8 million words? Way more than 1000 words of a picture. As Mastercard would say it: it's priceless.
So how do you create a retirement video that is fun, easy, and quick?
You can go for the classic photo slideshow or career high lights, however, a group video is an even better idea. Together with other people, you can share well wishes, funny stories, or dance to the retiree's favorite song in a (music) video.
I highly recommend using VidDay to make an amazing group video. It's one of the best online group video makers that do all the work for you. It's easy, quick and no skills are needed. Everyone can contribute and can honor the retiree by simply clicking on the link your send out. It's so easy that anyone can easily create a video montage.
Below is an example video on what it would look like if you use VidDay as your group video-making tool. And for more inspiration, you can read 12 Amazing Retirement Video Ideas To Honor The Retiree.
2) Hand Out An Award
Another amazing way to honor a teacher is to give him or her an award. For example a "Thank You Award", "Award Of Excellence", "The Best Teacher Of The Year/ Decade/ School/ Century". Or go for funny ones that also inspire them with ideas for retirement like "Most Likely to Jump Out of an Airplane/ Buy A Boat/ Hit All 50 States/ Annoy His or Her Spouse, etc.
An award is a tangible way of saying thank you and showing your appreciation for all their hard work and dedication of the years. For example, this crystal glass award with Sunny Days Ahead with free personalization is a perfect award to hand out to a teacher on his or her last day of work or at their retirement party.
3) Give A Speech
If you would like to honor the retiree with words, then giving a retirement speech is an awesome thing to do. This can be a sincere speech about how much the retiring teacher means to you. A funny speech filled with hilarious anecdotes, a summary of their career highlights and accomplishments, their life journey, or a combination of all of these things. You can even create a PowerPoint presentation or a photo slide show that empowers your story.
Even a 1-minute toast with a glass of champagne to kick off their retirement party can be a great way to honor them without having to prepare an entire speech.
4) Host A (Surprise) Retirement Party
One of the most popular ways to honor a retiring teacher is to host a retirement party. You can do this with all students, co-workers at school, or celebrate at home, a restaurant, a public park, or another venue.
A cool idea is to surprise your retiring teacher on their last school day by decorating the classroom and inviting (old) students from each past year. Once they walk in the room they see their whole career pass by with all the familiar faces that have shown up to honor them.
5) Give A Retirement Gift
Giving a retirement gift is an amazing and tangible way to honor your teacher. And while you're planning an amazing tribute, your retirement gift could be a part of it. The tribute leads up to the moment of giving your gift. And to help you out I've listed some amazing retirement gifts below.
Top 5 Best Retirement Gifts For Teachers
1) Masterclass Subscription (My #1 Favorite!)
Masterclass is my favorite retirement gift of all time. And it's perfect for teachers. With Masterclass you give a retiring teacher access to 100+ online masterclasses from the world's greatest. Now they can learn from their idols. They can follow cooking classes from Gordon Ramsay, Thomas Keller, Aaron Franklin, and many more renowned chefs. And a gardening class from Ron Finley, sports classes from Serena Williams, Stephen Curry, and other great athletes. Science classes from Neil deGrasse Tyson and so many more world's greatest in music, business, art, writing, designing, etc.
One of the secrets to a happy and successful retirement is to keep learning, doing fun things, and exploring new activities. And this gift fits right into that. You give the retiring teacher the opportunity to find their new passion, explore hobbies and upgrade their existing skills. All of the comforts of their own home while they learn at their own, pace, time, and device.
2) Best Teacher Ever Tumbler
Whether plans the retiring teacher has for retirement, this tumbler always comes in handy. It will put a smile on their face with every sip and remind them of you every day in retirement.
3) World Coffee Tour
You can give a retiring teacher the best start to their retirement day with the best coffees in the world with a World Tour Coffee Gift Box. Enjoying a cup of coffee without rushing to work is the ultimate retired feeling. So if the teacher is a coffee addict then this is a great retirement gift.
4) Personalized Retirement Plaque
This personalized retirement plaque is also a great retirement gift for a retiring eacher. They can hang it up at home and will make them feel proud every time they look at it. You can add your text at the bottom of the plaque.
5) Book: 50 States, 5000 Ideas
A lot of teachers have plans or dreams to go traveling in retirement. And for that one of the best gifts is this 50 States, 5000 Ideas illustrated book created by National Geographic. It is filled with 5000 ideas of the best experiences in every state, from the more obvious ones to the unexpected. A great retirement gift for a retiring teacher with travel plans but also for someone that has no plans for retirement. This gift gives them new inspiration about all the possibilities out there.
6) Write A Poem
Most teachers love poems. So why not write a beautiful poem to honor their hard work and wish them all the best in retirement. And don't worry if you don't have any inspiration. Here is a great poem you can just copy and paste:
It takes a special person,
To teach a child in class,
To keep his attention,
in a world that moves so fast.

To show a child, he is unique,
With many talents deep inside,
To help to build his confidence,
So he can beam with pride.

To show a little patience,
For a child who lost his way,
To a child who feels abandoned,
Who has seen better days.

To inspire and to motivate,
So a child can learn and grow,
To go into this big wide world,
With many highs and lows.

You are a special person,
Who always give their best,
And for every child who was in your class,
Their life is truly blessed.
And there is more where that came from 60 Retirement Wishes and Poems for Teachers

7) Create A Memory Book
If you like to get creative then creating a memory book for the retiring teacher is a unique way to honor them. You can create a memory book filled with photos and memories you two have shared together, a scrapbook of their career highlights, or collect memories, well wishes, and photos from (old) students, co-workers, friends, and family members. It's a very thoughtful way to honor their life.
Besides filing up a scrapbook or photo album, there is also a more easy way to create a memory book online with Newlywords. You only have to share a simple link to n invite others to contribute pictures and messages digitally. After that, you can personalize it, share the link or print it out to give to the retiring teacher.
8) Host A Quiz or Roast
A humorous way to honor a retiring teacher is to host a quiz with funny questions about their life such as favorite things, most embarrassing moments, how many years at school, which subjects he or she failed in high school, and what are her children's names, etc. It's a great way to break the ice on a retirement party and get people engaged.
And if it's payback time hosting a roast is an excellent idea to get a taste of their own medicine. You can ask a total of 3 to 4 people to roast the teacher and give the retiring teacher the last word. You can get inspired just by watching a couple of celebrity roast shows.
9) Decorate Classroom
Surprise the teacher on their last day by decorating their classroom with all sorts of retirement decorations. A couple of balloons, garlands and a Happy Retirement banner makes a world of difference. It adds that extra spark to their final day on the job. Check out awesome retirement decorations here.
10) Sing A Song
Do you want to share your singing talent or want to surprise a music teacher? Then singing a song is a great way to honor them. For example, you can rewrite your teacher's favorite song and sing it with the entire class, school, or all teachers on their last day in school or during their retirement party. Or you can personalize some classic songs that are also perfect songs for retirement:
"9 to 5"- Dolly Parton
"Hit the road Jack" – Ray Charles
"Born to be wild" – Steppenwolf
11) Do A Flashmob
A very unique and special way to honor a retiring teacher is doing a flashmob with the entire school, all teachers, or with family and friends. It was very popular a couple of years ago, so no one would expect it anymore.
It will be a huge surprise for the retiree but also all the other people that aren't in on the secret.
You can find many flashmob choreograph videos on YouTube that you only need to send the link to all participants to rehearse and practice and you'll be good to go. Here is an example: