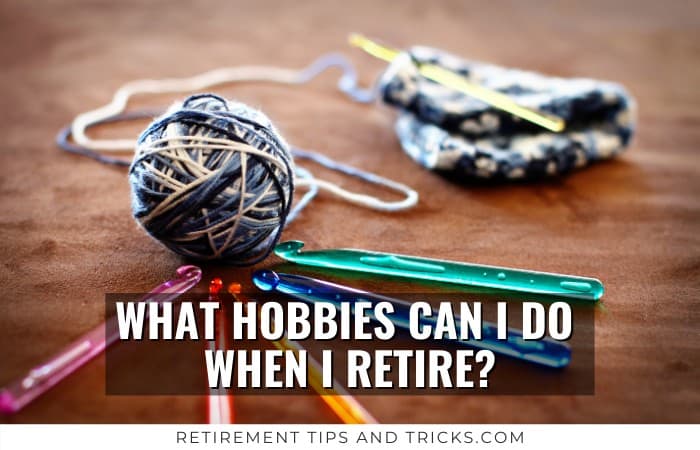 Have you ever asked yourself; What Hobbies Can I Do When I Retire? No need to look further. I created this extensive list of 150 best hobbies for retirees so that you can get more inspiration for fun hobbies out there. Because having a hobby in retirement helps you to get the most out of your retirement. So, let's get started!


---
#1 Start Gardening
Gardening is one of the most popular hobbies in retirement. It's fun when you enjoy being outdoors and love working with your hands. And it's also a healthy hobby to have in retirement. You do a lot of spading, lifting, tilling, and raking, and that strengthens your muscles and keeps you more flexible.
And also, gardening is a way of mindfulness. You have to be mindful and present while you're digging, planting, pulling, or watering. Practicing mindfulness activities are important to create the right balance in your retired life. I'll tell you later more about it.
Gardening is a hobby that you can divide into different disciplines, like vegetable gardening, flower gardening, bonsai gardening, and many more. I'll explain more about the different ways of gardening later in this list.
You can say that gardening is the perfect hobby for a retiree. It helps you to stay active, you can enjoy nature, and it can be a relaxing activity. Did you know that the Masterclass platform offers a great class where you can learn more about gardening? Ron Finley, renowned gardening from LA, teaches everything you need to know about gardening.
#2 Start Cooking
You need to eat in retirement, so why not make cooking your next hobby in retirement? Even better if you learn how to cook like a chef!
It's a fun, creative, and practical hobby as well. You'll probably be eating healthier meals, and it can save you a lot of money on ordering food or eating out.
A great way to learn how to cook like a chef is by following the different cooking Masterclasses on the Masterclass platform. These courses belong to the most popular courses on the platform.
There are different cooking classes available, all where you learn the best skills from famous and renowned chefs. You can learn how to make restaurant-style recipes at home from Gordon Ramsay. Or become a star in Texas-Style BBQ, which is a course from Aaron Franklin.
My favorite cooking course on Masterclass is from Massimo Bottura, who teaches Modern Italian Cooking. He is a renowned Italian chef from the famous restaurant Osteria Francescana. This restaurant ranks in the top 5 world's best restaurants every year since 2010!
When you become more experienced with cooking at home as a hobby, you can also start experimenting with famous family recipes and with things you've never eaten before. Or use different cooking methods: grilling, campfire cooking, or baking. You can combine multiple hobbies like gardening and start a vegetable garden to grow your fruits and veggies.
#3 Start A Business
If you like to continue working in retirement, it's a great idea to start a business. You can use your skills and talents and earn a bit of extra money. You'll get to be your own boss and do what you love to do. However, I recommend starting it as a part-time business, so it stays a hobby and fun.
Perhaps, you already know exactly what kind of business you want to start. Or you need a bit more time to explore what you like to do in retirement. When you're looking for business idea inspiration, I recommend reading my article; Which Business Is Best After Retirement? | 15 Unique Business Ideas.
You have to be aware that a retirement hobby is supposed to be fun, and it can turn into a business. So you'll have to think first about what you love to do most and how you can earn money with it. And not start with how you can make money without knowing if you like to do it or not. And the best thing is that you don't need to have a lot of money to start a business.
#4 Go Hiking
Another great hobby in retirement, especially when you love being outdoors is hiking. You can make hiking part of a daily or weekly routine in retirement and share this hobby with someone else.
Perhaps, you live in a beautiful environment with lakes, beaches, or forests nearby where you have endless hiking trails to explore. Or you can make it a combined hobby with traveling where you travel to all the National Parks of your state or country to explore hiking trails.
Did you know hiking is not only a fun hobby to do, but can also benefit your health? According to this article on WebMD, some of the benefits are that it strengthens your core, lowers the risk of heart disease, builds your strength in your leg muscles, and boosts your mood. So, when you were looking for a hobby in retirement that also benefits your health, Hiking is definitely something you need to start doing.
When you start with hiking it is important that you use proper hiking gear. Probably the first investment for this hobby you want to do is get yourself good quality hiking shoes. 
#5 Start a Crafting Hobby
Finding a creative hobby doesn't have to be difficult. Crafting is very popular and a noun for all kinds of creative hobbies. I particularly like crafting hobbies because you can start a project, finish it, and then start something completely different. Crafting is so diverse. The most important thing is that you're working with your hands and doing something creative.
When you make crafts into your hobby, you can create new accessories for your home, gifts or decoration for the holidays, gifts for upcoming birthdays, or create handy life hacks that make your life a lot easier. And if you're good at it you can make some extra money in retirement by selling your products on Etsy.
However, when you prefer to keep crafting as a hobby, I recommend signing up for CrateJoy. You can get the Arts & Crafts boxes to send to your door monthly. Every month is a different craft to allow you to learn a new craft technique.
#6 Start with Golfing
When you think of a retirement hobby, you probably think about golf. It's one of the oldest sports that is still being played and is also still expanding in popularity worldwide. Golfing is a traditional hobby for retirees.
Golfing is not only a fun hobby, but it's also a great exercise when you walk all the 18 holes, you're being outdoors and accompanied by a friend or make new friends at the golf club. So it both benefits your social circle, and your health!
It's not the cheapest hobby to do in retirement. Because according to a Golf Channel survey, the average cost for an 18-hole round is $36, including a cart. And that the average costs price at a public golf course. If you're golfing at a private golf club, it is costlier due to annual membership and additional fees. These costs can range anywhere from moderately-priced to six-figure initiation fees. So make sure to check out the prices of several courses near you and see what fits you best. You can find a comprehensive list of golf courses on 100golfcourses.com, including reviews!
Many people think that Golfing equipment is very expensive. It can be expensive, sure. However, there are a lot of affordable golfing products to find online. For example, this complete golfing set from Callaway, which is #1 best-selling on Amazon in the category of golfing club sets.
#7 Start Writing
Writing is a creative hobby to have in retirement. Many retirees think about starting with writing but actually struggle to start. It can be challenging to start, but once you find your topic or what kind of writing you want to do, things get a lot easier. A very popular thing to do among retirees is writing their memoirs. I'll share some different writing hobbies later in this article. First let's focus on how you can avoid getting writer's block, and actually enjoy your writing.
Follow a Writing MasterClass
I already mentioned MasterClass a few times, but I really feel it's worth mentioning here again. The platform is so diverse, and when you're looking to improve your writing skills and learn from renowned writers worldwide.
Currently, the platform has over 100 different courses, and each month they are adding new courses to their catalog. When we look at the writing category, you can choose from 17 different courses, which are all inspirational.
One of the popular writing courses on MasterClass is Margaret Atwood teaches creative writing.
#8 Start With Blogging
If you love writing about certain topics, it can be a great opportunity to start a blog website. Blogging can be very easy, you can pick a topic you like, and start writing. However, when you're planning to turn your blog into a source of income, there's more to it. But when you just start blogging as a hobby and don't have any intention to earn money with it, you can just start writing about everything you like!
Blogging is also a great business opportunity when you're looking to start a retirement business. I explain this more thoroughly in my article: Blogging In Retirement: 11 Expert Tips.
#9 Start Reading Books
Reading is the cheapest way to travel. While you're reading a book, you travel to another world without leaving your seat. It's a cheap hobby in retirement, because there are so many books out there, and it doesn't have to cost you a lot of money to read. For example, you can loan books from your local library.
Reading books have many benefits, like;
It helps you relax
You can do it anywhere and anytime
It's a cheap hobby
It reduces stress
It makes you sleep better
Plenty of choices
It improves your vocabulary
It improves your knowledge
It makes you more open-minded
It improves your memory and concentration
It improves your imagination
Retirement is the perfect time to enjoy reading your books again. Before retirement, we are often too busy to sit down, relax, and take time to read a book. Maybe you have, just like me, a list of books you still want to read. With more leisure in retirement, you can finally start reading the books on that list!
Get yourself an Ereader to save space, money, and time. Subscribe to Amazon Kindle that will give you "free" access to millions of book titles on your E-reader. Amazon Kindle memberships are available at a length of 6, 12, and 24 months. The Kindle library is one of the most complete online Ebook libraries currently available.
#10 Start with Painting
Get creative in retirement and start painting as a hobby. If you don't know where to start, you can get yourself a starters paint kit with different sorts of paints and watch tutorials on youtube on how to paint with different paints and techniques. This way, you can explore what side of painting, drawing, or painting fits you best.
There are many hobbies related to painting, some of which I'll share later in this list. Did you know that painting has many benefits? According to this article on Harvard Health Publishing, it boosts memory recollection skills and sharpens your mind through conceptual visualization and implementation. It's also a great hobby to express your emotions and can be seen as a way of meditation. And people who frequently paint, have less chance of developing memory loss illnesses when they get older.
So, ready to start with painting as a retirement hobby? Make sure to get yourself a complete painting set to get a good start.
#11 Arts & Entertainment
Grow Old, Never Grow Up! It's a famous saying, and something a friend of mine always says. I really love it. It's a reminder to keep your inner child awake. And when you stay young in the mind, your body often follows. You simply can do more things when you're happy. And happiness is something we all look for in life.
A great way to stay young in your mind is to find a arts & entertainment hobby. Start with magic tricks, make art, become a comedian or turn everyday objects into art. It's all possible. I'll share a few of these hobbies more in detail later in this article.
Picking up an art hobby not only helps you stay young in your mind, but it also improves your creativity, communication skills, and is a way to express your emotion. Earlier I mentioned the benefits of painting and art. When you not sure where to start, I recommend following the MasterClass of Jeff Koons. He is one of the most influential artists working today, Jeff Koons is perhaps best known for his iconic Balloon Dog.
#12 Grow A Vegetable Garden
Let's get back to that gardening hobby which we started this blog. Gardening is can be such a broad hobby because there are many ways you can do gardening. It's just as simple as that. So, the next tips I'll focus on the different ways you can start with your gardening hobby. Beginning with growing a vegetable garden.
When most people start with gardening they start with a vegetable garden. It's one of the most popular ways of gardening. The MasterClass of Ron Finley is also primarily focused on growing your own vegetables.
Growing your own vegetable garden is a perfect hobby in retirement. You get all the positive sides of gardening, and also grow your own food. Which you can use later when you pick up cooking as a hobby in retirement. It's perfect to combine these two!
But what if you don't have a garden, and want to start a vegetable garden? Let's look at another alternative.
#13 Start A Indoor or Balcony Garden
When you live in an apartment and only have a balcony, you can start your small balcony or indoor vegetable garden. Most people will use a small box to grow their vegetables, or start with vertical gardening. Both options are perfect when you don't have a lot of space.
When you decide to start growing your vegetables indoor, it's important that you create a space with enough (natural) light, and a constant temperature. Indoor gardening is especially easy when you want to grow your own herbs, like basil, parsley, mint, dill, thyme, and many others.
If your space doesn't have enough natural light, I recommend buying an in-home garden system, like the Aerogarden Harvest Indoor on Amazon. This machine is easy to use with a control panel that reminds you when to add water when it's time to add plant food and automatically switches on and off lighting. The AeroGarden Harvest Indoor Hydroponic Garden includes a herb kit of 6 different herbs and recommended plant food. It's enough to enjoy a full season of fresh homegrown herbs while cooking your delicious meals.
#14 Grow A Bonsai Tree
Bonsai gardening is very popular among retirees. It is an ancient art form where you grow the bonsai in ornamental plants. There are specific techniques to limit the height of the bonsai, and keep it in shape.
When you start with bonsai gardening, you'll step into a whole new world you didn't know that exists. Most people know about bonsai plants how they look, and that it's an ancient art form. However, there are over 600 pieces of plants and small trees that are suited to practice the bonsai techniques! You can even make tea from some plants, or grow fruit on your bonsai trees! A lot to explore, which makes bonsai gardening a great hobby in retirement.
If you're interested in learning more about bonsai gardening, I recommend reading The Bonsai Beginners Bible which you can buy on Amazon.
#15 Become a Freelance Consultant
Your experience and expertise can bring value to companies. So why not make yourself available as a freelance consultant? Maybe you can work part-time at your old company as a consultant to help others. When you decide to become a freelance consultant, you might need to register as a business. The easiest way to do so is using the services of Northwest Registered Agent. Learn more about setting up an official business here.
#16 Become a Mentor/ Coach:
Pass your skills and knowledge on to the next generation, within your previous industry or in general. Becoming a mentor or coach is a great opportunity to share your knowledge, and work with the new generation. Working with younger generations helps you to stay active and keeping a fresh and young mind.

If you want to improve your coaching skills, I recommend starting at Coach Training Alliance. A great platform that helps you improve your coaching skills, and become a certified coach.
#17 Become an Online Freelancer:
You can be a virtual assistant or freelance writer and apply for projects via Fiverr. It's a great platform if you looking for some additional income as a digital entrepreneur.
Also, Fivver can be great when you're looking for help to grow your own business. So it can work both ways! Make sure to visit their website and see how you can use the platform for yourself.
#18 Become a Dog Walker
It's great to be outside! Having a walk through the park everyday, is a great activity when you're retired. But it's even better when you can earn some money with it, right?
When you're a dog lover, you might consider becoming a dog walker. Many people who are still working are looking for someone who can walk their dog/ dogs during the day. You can earn money per walk within your area with Wag.
And if you need a little extra help to control dogs you can follow an online Masterclass from the Emmy-winning host of "Lucky Dog", Brandon McMillan. An expert trainer that shares his simple, effective training system to help you develop trust and control with your dog and improve their behavior.
#19 Animal Care
A lot of retirees love to take care of animals in retirement. And if this is a hobby you would like in retirement, then there are endless possibilities.
And here are a couple of ideas of animal care you can explore:
Adopt a pet
Volunteer at an animal rescue center
Work at a pet store
#20 Go Camping
Make camping your hobby in retirement. It can even lead to other hobbies like swimming, fishing, hiking, sightseeing, travel, cooking, kayaking, hunting biking, and many other enriching hobbies for retirement.
Perhaps, you're already quite the camper, and you can take your hobby to the next level by upgrading your camping gear, going a lot more often, or consider making camping a retirement job via Workamper and travel for free.
#21 Go Fishing
Fishing is one of the most popular hobbies in the world. And also a very popular hobby amongst retirees. It's even considered a sport.
You can go fishing to catch your next meal or do it more as a recreational where you catch and release. Fishing is great for stress-relief, trains patience, creates time for bonding, and being outdoors is good for your mental and physical health.
These are different types of fishing hobbies you can try out:
Freshwater fishing
Saltwater fishing
Shore fishing
Fly fishing
Ice fishing
Canoe fishing
Stand Up Paddle Board fishing
Magnet fishing – fish for treasures instead of fish
What kind of fishing equipment you need depends on the type of fishing you want to do in retirement. Make sure you gather information before you buy your fishing gear. Find out more information about fishing gear on Amazon.
#22 Start a Collection of Things You Like
When you have a retirement hobby of collecting you, do a lot of things for example: seeking, locating, acquiring, organizing, cataloging, displaying, storing, and maintaining items that are of interest to you.
If this is something you love to do, then these are great collecting hobbies in retirement:
coins
books
comic books
dolls
action figures
rocks
records
toys
stamps
fossils
stones
seashells
insects
flowers
rail transport modeling
video games
vintage cars
vintage clothing
#23 Go Swimming
Swimming is one of the best exercises for retirement and the most healthies hobby you can have in retirement.
It's a good all-round activity because: it builds endurance, muscle strength, and cardiovascular fitness. And the risk of getting an injury is very low. Also, swimming lowers your blood pressure, improves your circulation, and can even reduce the risk of heart and lung disease.
You can go swimming at a nearby swimming pool, lake or ocean. Often fee for a swimming pool is much cheaper than a gym membership. And when you live near the beach or lake swimming is free and you can do it any time of day. Or you can apply for swimming or aqua aerobics lessons at your nearby swimming pool, or join a swimming team to make new friends as well.
#24 Start with (Daily) Exercising
If you want to enjoy your retirement as long and as healthy as possible, then you should consider making exercising a retirement hobby. Perhaps, you're very fit, and your dream is to run a marathon or triathlon: go for it. Make your dreams in retirement come true.
But if you're not a frequent exerciser, then consider becoming one in retirement. It's actually much more than a hobby; it's a necessity. Because by exercising regularly, you strengthen your muscles, manage your weight, and reduce the risks for many deathly diseases. And you also boost your mood because with exercising, your body releases endorphins, which makes you feel good.
Read more on how you can implement daily exercise in your routine, in my article How Can I Stay Active in Retirement? | 30 Activities To Do Everyday.
#25 Boating
Enjoy spending time on the water in retirement by making boating a serious hobby of yours. Invite friends and family to go on a boating trip together. Or choose to spend more time on the boat you already have and add a couple of accessories to make it more fun in retirement.
Here are some fun accessories for boating:
It's easy to make new friends on the water, and there's a variety of activities you can do, from snorkeling to more adrenaline-filled activities like wakeboarding. Or relax, enjoy the sun and a good book and throw on the bbq in the afternoon.
To explore boating even more, you can consider going night-boating and bring a star map (stargazing app) to see the stars. Or you can go boat gating to enjoy your pre-game traditions on your boat if you're into sports. Many stadiums have nearby harbors designed to let you enjoy the game. Check out if your favorite sports team provides a boat gating experience at their stadium.
#26 Volunteering
A lot of retirees start doing volunteer work in retirement. They want to help others, stay active in retirement, and be surrounded by people regularly. It can be a very fulfilling hobby in retirement.
And volunteering allows you to try something new, gain experience in a (new field), develop (new) skills, build your confidence, practice your talents, and meet new people along the way. Also, doing volunteer work has benefits for your mental health. It helps counteract the effects of stress, anger, and anxiety. And it is proven that the social contact aspect of helping others makes you a happier person and greater life satisfaction.
If you're interested in doing volunteer work, you can ask for jobs at your local community center, animal rescue center, soup kitchen, church, favorite charity or check out volunteer jobs online at:
Read more about volunteering in retirement in my article, Why Do Retirees Volunteer?
#27 Start Traveling
Traveling is maybe the most fun hobby to have in retirement. You get to experience new cultures, see beautiful destinations, and meet interesting people along the way.
You don't always have to go far away to travel. If you don't have a travel budget in retirement, you can be a tourist within your town or state. Travel is all about going to places you (never) seen before, so if you haven't seen some highlights nearby, you can check them out in retirement.
If you have a designated travel budget for retirement, then start traveling and make it more of a hobby in retirement now you have the time. A lot of retirees love to hop in their RV and travel through different states or go on a cruise.
Before you plan your next travel trip, I can recommend you to read my recommendations about the best travel recourses. We travel full-time, so we've gained a lot of experience in which travel recourses and travel gear you can use best. It can save you a lot of money.
Read more: How To Retire And Travel Cheap: 20 Helpful Tips
#28 Socializing
Socializing is an enjoyable hobby to have if you're an outgoing type of person that loves to be surrounded by people. And did you know that it's crucial to socialize in retirement?
With retirement, you lose your daily dose of social interactions and stimulation from work, and it's essential to replace these social interactions with new ones to stay happy in retirement. Therefore, it's best to expand your social circle in retirement to prevent loneliness and depression. You can read more about it in my article, How To Avoid Depression In Retirement.
So socializing is not only a fun hobby but also a vital hobby to have in retirement. And there are so many ways to stay social in retirement. You can organize events, family dinners, become an Airbnb host, do volunteer work, take a class, or join a club. Check out my article: 20 ways to stay social in retirement for more inspiration and information.
#29 Cycling
Cycling is an excellent hobby for retirement. You stay fit while being outdoors. And you can take this hobby as far as you like. Whether you love to cycle around your town and use it as a form of transportation to visit friends, go into the woods on your mountain bike, or apply for a cycling competition. 
Cycling is a lot easier than running, and it's less impactful on joints, knees, ankles, and feet. So it's a better exercise option when you're a bit older. Also, a bicycling hobby can save you money on expensive gym memberships, gasoline, or car repairs. And you reduce your environmental impact.
If you're not an outdoor person, but want to start with cycling, you might consider buying an indoor exercise bike.
#30 Playing games
I love to play games, and if you do too, you can create this more into a hobby for your retirement. Host a game night with friends regularly or apply for a Bridge, chess or other board game competition at your local community center.
Or play games with your grandchildren more often. Introduce them to traditional board games and explore new ones on the market.
These are a couple of my favorite games:
#31 Puzzling
Puzzling is a fun and relaxing hobby. While puzzling, you boost your brain, and you practice a way of mindfulness. You're present in the moment and focused on one task: finishing the puzzle. And did you know that nearly half of all Americans puzzle for fun, to relax, or to relieve stress?
And there are so many different puzzles you can explore from the traditional jigsaw 1000-piece puzzle to online puzzle apps and wooden brain teasers.
#32 Knitting
It's fun to create something with just two needles and a ball of yarn. And that's why knitting is a popular hobby among (female) retirees. But over the last decade, it has become more popular among younger adults and kids. Nowadays, you can find so many tutorials and DIY projects online for knitting. Check out Pinterest or Youtube for inspiration.
You can create something new every day, from gifts for birthdays, seasonal clothing to unique decorations of your home. And the benefit of knitting is that it has a measurable effect on calming anxiety and relieving stress. Knitting can make you a happier person. Isn't that great?
And with #33 Babysitting

Another great hobby for you in retirement can be babysitting. When you love to be around kids, you make it more of a hobby to babysit. You can babysit your grandchildren more often, and that will save your children a lot of money on childcare. You can babysit children of friends or neighbors and earn a bit of extra money in retirement. Or babysit other people's pets.
#34 Relaxing
You have worked very hard your whole life, so why not make relaxing a hobby in retirement. Especially when you've always had stressful jobs, it can be extra rewarding to treat yourself with relaxation every day. And perhaps it can be a bit difficult at first as well. So that's why you need to keep practicing at relaxation because over time you'll get better at it and can enjoy it even better.

Everyone relaxes a bit differently, but you can create relaxation time every day for yourself to fully enjoy your retirement.

Here are a couple of relaxation ideas:
Relax by the pool
Treat yourself on a weekly or monthly massage
Do yoga
Practice meditation
Go on a Spa retreat
Book an all-inclusive cruise or another travel trip
Take a bath
Listen to soothing music
Read a book on relaxing chair
Lay in a hammock
Take a nap
Go for a nature walk
These products help you relax more in retirement:
#35 Stand Up Paddle Boarding
Stand Up paddleboarding is one of the most popular ways of surfing. And it's very popular because everyone can do it: from small kids to seniors. So it gained a lot of popularity among retirees in the last couple of years.

It's a low-impact workout where you exercise your whole body. And the only things you need is a bit of water: lake, ocean, mild streams. And your inflatable paddleboard, which you can bring anywhere you want. 

And you're not only training your body. You also train your mind and create a state of meditation. The soothing environment on the water and the focus you need to stay on the board calm you and bring you in a meditative state. You'll be stress-free after every hour of paddleboarding. So, what are you waiting for?

Read more: What Is The Best Paddle Board For Seniors?
#36 Genealogy
A lot of retirees like to dive into their past and search for their family ancestors. And according to USA Today, genealogy is currently the second most popular hobby in the United States.

You can build a family tree for free via websites: findmypast and ancestry. And you can search for information about your ancestors on sites such as FamilySearch.org, Genealogy.com, or myheritage.com

Ask within your family about what they know about family history. Especially ask your oldest living family members what they remember about their parents, cousins, aunts, uncles, and grandparents so you can fill in the pieces of the puzzle.

Another way to dig into your past is to visit your local library and ask them for help. It's especially helpful if your family has lived in the same area for decades or centuries. You can track down old birth certificates and other records about your family.
#37 Photography
Photography is a hobby where you need to be creative and need technical expertise to capture a beautiful image. Also, photography adds value to your life by capturing special events, people, or places. You can take any occasion or place to practice your hobby.

And you don't always need to have expensive gear to create beautiful images. Of course, it helps to experiment more with all the optional technical features on high-quality photography gear, but a smartphone can capture stunning photos as well. 

Learn from the best with a photography Masterclass from Annie Leibovitz and Jimmy Chin here.
#38 Flying
Flying is the ultimate feeling of freedom. And why not elevate your sense of freedom in retirement by taking it up a notch and start flying as a hobby.

And what I mean by flying as a hobby, I mean a lot of things. You can consider getting your recreational pilot license for (small) airplanes or become a frequent skydiver bungee jumper or paraglider. You can also become a glider plane or paramotor pilot.

If you're the adventurous type of retiree and would love to experience flying, then this could become your hobby in retirement.
#39 Geocaching
Do you like to go on a treasure hunt? Then you should definitely try out geocaching as a hobby. It's the modern way of treasure hunting. And also a great outdoor adventure to do in retirement.

With geocaching, you search for hidden treasures, known as "caches" via GPS Coordinates. You can start quickly: visit Geocaching.com and type in your address (or the address where you're hiking). The next thing is that you'll likely find a few geocaches stashed in your area. You can pick one, add the coordinates to your GPS (or use a geocaching app on your smartphone), and go out the door, letting your phone or GPS device serve as a treasure map.
#40 Make Your Own Bread
Let's get back to cooking. If you love being in the kitchen, retirement is the perfect time to experiment with new cooking styles. You might even want to make your own bread! Baking your own bread is actually very easy, but it takes up much time. But since you probably have enough time as a retiree, you can easily pick up this hobby.

Do you need help with how to get started with bread-making? I recommend following the MasterClass of Appoliana Polaine, who teaches breadmaking.
#41 Brew Your Own Beer
Are you a beer lover? Drinking beer with your friends is great fun, of course! However, did you ever think of brewing your own beer? Because drinking your own brew is even more fun!
#42 Become A Barista
Coffee lover pay attention to this unique hobby! Instead of drinking your freshly poured coffee everyday, indulge yourself in the world of the black gold, and follow a course to become a barista. As a barista you learn everything there's to know about coffee. And if you want you can even start selling your own coffee and start a (parttime) coffee business!
Want to taste some unique coffees first? Check out the packages on Beanbox and get fresh coffee beans delivered to your home.
#43 Running
Staying active in retirement is important to keep your fitness. So, the next hobby ideas are all related to stay active and exercise.
Running is a very popular activity to do, even when you get older. You can find endless free running programs when you search the web. And if you're looking for some professional guidance it's easy to find a trainer nowadays.
One of the most important things you probably are going to spend some money on is good quality running shoes. Find your perfect running shoe on Amazon.
#44 Yoga
Yoga is the perfect exercise to both strengthen your body and become mentally in balance.
#45 Aqua Aerobics
Do you love exercising in the water? Maybe Aqua Aerobics is something for you. Often this exercise is in group form and classes take up to 30 minutes to 1 hour. It's a fun and good exercise to stay fit in retirement!
#46 Tai Chi
Looking for something that improves your mental health and also benefits your core stability? Tai Chi, a Chinese martial arts exercise is perfect!
#47 Dancing
Remember that I mentioned the quote Grow Old, Never Grow Up? Dancing is a great opportunity to keep up with that wisdom. Dancing keeps you young in mind and body. It's a fun activity, and you can do it everywhere you like!
#48 Fitness
When staying fit is an important goal for you in retirement, you sure want to pick up on fitness. Joining a local fitness club is not only good for your physical health but can also benefit you socially when meeting new people.
#49 (Power) Walking
Do You Love being outside? You might want to start with Power Walking. It's different than hiking because, with hiking, you're walking long distances, often on rough terrain. Power Walking is walking at a fast pace. Most power walkers try to reach a speed around 8 km/h (4.9 mph).
When you start with power walking, it's important to focus on the right technique so you can avoid injuries. This guide on Healthline tells you exactly what to focus on.
#50 – 150 Hobby Ideas For Retirement
So that was a long list of unique hobbies you can do after retirement, right? But we aren't done yet! There's much more to come. I don't want this article to be too long, so I summarized the next hobby ideas into this list.
I recommend saving this article to your bookmark bar or favorites on your smartphone. When you're looking for new hobby inspiration, you can always come back to it.
#50 Drawing Comics
#51 Surfing
#52 Soccer
#53 Scuba Diving
#54 Snorkeling
#55 Skiing or Snowboarding
#56 Ice Skating
#57 Inline Skating
#58 Volunteer Abroad
#59 Join The Peacecorps
#60 Join Habitat For Humanity
#61 Join Americorps Seniors
#62 Travel In An RV
#63 Travel With A Cruise
#64 Travel European History Trips
#65 Travel Around The USA
#66 Go Backpacking
#67 Spend A Few Months In A Different Country
#68 Start A Social Group
#69 Playing Games
#70 Crossword Puzzles
#71 Diamond Painting
#72 Paint By Numbers
#73 Origami
#74 3D Puzzles
#75 Daily Journalling
#76 Write Your Memoirs
#77 Write A Family History Book
#78 Write a Fictional Book
#79 Write Six-word stories
#80 Write A Self Improvement Book
#81 Meditate
#82 Birding
#83 Become a Teacher
#84 Remodel Your House
#85 Follow Online Courses
#86 Create an Online Course
#87 Start A YouTube Channel
#88 Improve Your Music Skills
#89 Learn How To Play Guitar
#90 Learn How To Play Piano
#91 Learn How To Produce Digital Music
#92 Learn How To Play Violin
#93 Learn To Play Jazz Music
#94 Learn How To Sing
#95 Start Woodworking
#96 Start Woodcarving
#97 Become An Expert In New Technology
#98 Become A Drone Pilot
#99 Pottery
#100 Join A Book Club
#101 Aquascaping
#102 Astronomy
#103 Learn About Conservation
#104 Learn About Scientific Thinking
#105 Train For A Marathon
#106 Start Beekeeping
#107 Make Your Own Honey
#108 Join A Singing Group
#109 Kayaking
#110 Become a Zoologist
#111 Start Your Own Botanical Garden
#112 Go Horseback Riding
#113 Make Your Own Jewelry
#114 Make Your Own Soap
#115 Blacksmithing
#116 Pickleball
#117 Tennis
#118 Badminton
#119 Squash
#120 Aerobic
#121 Padel
#122 Boules, Pétanque, Bocce
#123 Cricket
#124 Curling
#125 City Exploring / City Walks
#126 Learn A Foreign Language
#127 Pick Up A Partime Job
#128 Community Worker
#129 Become A Senior Buddy
#130 Join A Non-Profit Organization
#131 Help with Local Environment Clean Ups
#132 Become A Tour Guide
#133 Visit National Parks
#134 Become a Road scholar
#135 Start A Podcast
#136 Learn Graphic Designing
#137 Become A Local Politician
#138 Go Back To School
#139 Create Your Own Dollhouses
#140 Start Stitching
#141 Start with Baking
#142 Spinning Yarn
#143 Create A Scrapbook
#144 Cardmaking
#145 Learn To Play Chess
#146 Railway Modelling
#147 Rebuilt A Classic Car
#148 Candle Making
#149 Antiquing
#150 Play Video Games
How To Find A Hobby In Retirement
As promised at the start of this article, here are some essential tips to find a hobby in retirement that you like.
Save this Article
This comprehensive list helps you to find new hobby inspiration, so why not save it? You can always use it as a reference.
Try Out Different Things
It's just as simple as that. You have the time in retirement, so why not trying out different things. You may end up with different hobbies!
Go Back To Your Childhood
Grow Old, Never Grow Up! When you still were a child a good chance you had several hobbies. Most of us still like to do the same thing as when we were younger, so why not pick up an old hobby you still love doing.
Start and Do What You Love
Don't let other people hold you back because they think it's silly or something. If you love doing something when it gives you pleasure. Just do it! The most important thing is that you enjoy the things you do.