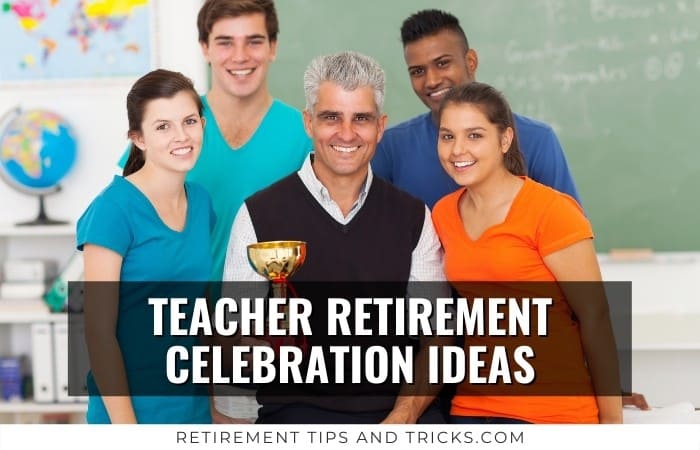 A teacher is retiring and you want to do something to celebrate his or her retirement, but you don't know what to do. Well, I've got you covered!
I've listed 21 amazing teacher retirement celebration ideas below. Let's start unpacking right away.


---
1) Create A Retirement Tribute Video
Just like a picture is worth 1000 words, a video is worth 1.8 million words. And that is why making a retirement tribute video is an amazing way to celebrate your teacher's retirement. It will definitely put a smile on his or her face for a long while after their retirement celebration.
You can make a video together with the entire classroom and many other people that want to be involved very easily with VidDay. It's one of the best group video makers that do all the work for you. It's easy, quick and no skills are needed. Everyone and anyone can create a video montage.
Do you need some inspiration for fun video ideas? Check out my article: 12 Amazing Retirement Video Ideas To Honor The Retiree
2) Do A Fun Game
Doing a fun game is a great way to honor the retired teacher in a special way, while also having a lot of fun!
And that is why I have created a printable Retirement Party Game Bundle with 10 amazing party games. The perfect addition to any retirement celebration. Just download, print, and play!
3) Host A Retirement Party
A retirement party is always a good idea to celebrate retirement. You can end the last day of school with a retirement party in the classroom, lunch hall on campus, or another venue. Order some drinks, food, retirement cake and invite people and you've got yourself a party. Here is a complete checklist for a retirement party if you need some extra help organizing.
4) Give A Retirement Gift
One of the best things you can do is to give a nice retirement gift. It's a tangible way to wish someone a happy retirement. And to help you out, I've made a list of the best retirement gifts for teachers below:
Best Teacher Retirement Gifts
Masterclass Subscription (My #1 Favorite!)
Masterclass is my favorite retirement gift. And it's perfect for teachers. With a subscription to Masterclass you give your teacher access to 100+ online masterclasses from the world's best for their first year in retirement. They can follow cooking classes from Gordon Ramsay, Thomas Keller, Aaron Franklin, gardening classes from Ron Finley, sports classes from Serena Williams, Stephen Curry, Science classes from Neil deGrasse Tyson and so many more world's greatest.
The keys to a happy and successful retirement are to keep learning, doing fun things, and exploring new activities. And Masterclass fits right into that. You give your teacher the opportunity to find new passions and hobbies while they learn at their own, pace, time, and device. It works just as easily as Netflix.
It's a perfect group gift ($190 for 1 year) to gift your teacher with other students/ parents.
Jewelry Dish with Thoughtful Text
This ceramic ring dish has a beautiful text that is perfect for a female teacher: "Never Underestimate the Difference You Made, and the Lives You Touched."
Best Teacher Ever Tumbler
Whether your teacher is has planned for retirement, this tumbler always comes in handy. It will put a smile on their face with every sip and remind them of you every day in retirement.
Personalized Retirement Plaque
This personalized retirement plaque is a great retirement gift for a great teacher. They can hang it up at home and will make them feel proud every time they look at it. You can add your text at the bottom of the plaque.
5) Give A Retirement 101 Class
A creative and funny way to celebrate your teacher's retirement is by giving a class to your teacher about retirement on their last day or week at school. Suprise them and take over their last class. You can prepare it together with other students and give a class about what retirement is all about. What NOT to do and share ideas for fun things to do, how to avoid boredom, travel suggestions, give inspiration for their retirement bucket list, etc. Don't forget to add in a lot of humor.
6) Sign A Retirement Card
The classic way to celebrate retirement is to sign a retirement card to wish your retirement a happy retirement. You give a personal retirement card or get a big retirement card for all students to sign. Below are a couple of ideas on what you can write on your teacher's retirement card:
Thank you for your wisdom and kindness over all these years. Enjoy your retirement.
Congrats teacher. We will miss you! Make your retirement the retirement of a lifetime!
Happy Retirement! Let the adventure begin…
For more ideas, check out my article: 60 Retirement Wishes and Poems for Teachers.
7) Retirement Cake
What is a celebration without cake?
Surprise your teacher by ordering or baking a retirement cake or cupcakes. You can send it to their home to enjoy privately, to the teacher's break room to enjoy with all teachers, or bring it to the classroom and share it with the teacher and students during their last day at work. For more ideas check out my Ultimate Retirement Cake Guide.
8) Do A Flashmob
Surprise your teacher with a flashmob and make sure to record it so they can watch it over and over again. Here is an example of a students flashmob:
9) Decorate Classroom
You can surprise your teacher by decorating their classroom for their last week or day at school. A bit of glitter adds that extra sparkle to a retirement celebration. You can decorate it with balloons, garlands, a 'Happy Retirement' banner and you for sure will put a smile on their face. Check out awesome retirement decorations here.
10) Give A Speech
Another way to celebrate a teacher's retirement is by honoring them with a speech. Perhaps you can do it in the classroom, teacher's lounge area, or during a retirement party. I've made a list of the best tips for a retirement speech which you can check out here.
11) Write A Poem
Teachers love poems, especially English teachers. So if you really want to surprise them with something special and from the heart: write a poem. Here is an example of a nice teacher poem:
The time we have spent together,
Are cherished moments that we share,
We offer you these encouraging words,
to show how much we care:
Enjoy the sunrises and sunsets,
And all that nature has to give,
No more watching the clock,
You have only one life to live!
For more poems check out my article: 60 Retirement Wishes and Poems for Teachers.
12) Host A Roast
A roast is an excellent celebration idea for a funny teacher who can take a couple of good and bad jokes. You can ask 2 or 3 other people to roast the teacher as well and leave room at the end for your teacher to have the last word.
If you need some extra info and anecdotes make sure to ask around and the celebrity roast shows for inspiration.
13) Give 1-Minute Toast
During a retirement party or another moment where you all share a drink, you can give 1-minute toasts to honor the retiring teacher. This way you don't have to prepare a long speech and everyone gets the chance to say something. It's a more low-key way to do a speech where others are more likely to participate.
14) Host A Quiz
A popular way to celebrate retirement is to host a quiz about the retiree. You prepare questions about favorite things, most embarrassing moments, how many years at school, which subjects he or she failed in high school, what are her children's names, etc. For example, the person who wins the quiz gets to hand over the retirement gift to the teacher.
Retirement is a major life milestone and life celebration and that is why a quiz about their life can be a perfect way to celebrate retirement.
If you don't have time to prepare you can get this ready-to-go Retirement Party Game Bundle including Who Knows The Retiree Best Printable Cards.
15) Hand Out An Award
Another great way to celebrate retirement is to hand out an award. This can for example #1 Teacher Award, "Thank You" Award, "Best Teacher Of The Year/ Decade/ School/ Century" Award, or something funny or sincere that describes your teacher in the best way. If you're looking for a beautiful crystal award, check out this #1 Teacher Award at Crystal Plus.
16) Plan An Activity
Another fun way to celebrate retirement is to do an activity. You can all do an activity that matches the teacher's favorite hobby. Or do something completely new. Here are a couple of ideas:
City tour with a guide
Cooking class
Escape room
Musical instrument lesson
17) Host A Virtual Happy Hour
When meeting physically isn't possible you can always meet up virtually. You can host for example a virtual happy hour and share the same cocktail or other beverage to toast to retirement together. Or host a virtual brunch, virtual wine tasting, or a mystery murder game. To keep things less chaotic, choose a master of ceremonies that can take the lead or solve technical problems.
18) Create A Memory Book
One of the most thoughtful retirement gifts is a photo book or memory book. You can collect photos, and notes with funny anecdotes, well wishes, and retirement tips and advice and put them in a nice scrapbook.
Perhaps an easy way to create a memory book is with Newlywords. With a simple link, you can invite others to contribute pictures and messages digitally. Personalize it a bit and print it to give to the retiring teacher.
19) Organize A Drive-By Party
A cool way to celebrate your teacher's retirement is to organize a drive-by party. It's a fun, safe, and unique way to honor him or her. Check out my article: 21 Fun Ideas For A Drive-By Retirement Party Parade for inspiration.
20) Sing A Song
Rewrite your teacher's favorite song and sing it with the entire class, school, or all teachers on their last day in school or during their retirement party. Or personalize some other classics that are perfect retirement songs:
"9 to 5"- Dolly Parton
"Hit the road Jack" – Ray Charles
"Born to be wild" – Steppenwolf
21) Fill A Bucket With Bucket List Ideas
Retirement is the time to pursue dreams and do the things you've always wanted to do. Therefore a great way to give a retiree that extra push is to inspire them with awesome ideas for their retirement. You can collect bucket list ideas with the entire class, school, teacher to give them as a retirement gift. Whenever they feel bored, they have an entire bucket filled with ideas on what to do next.