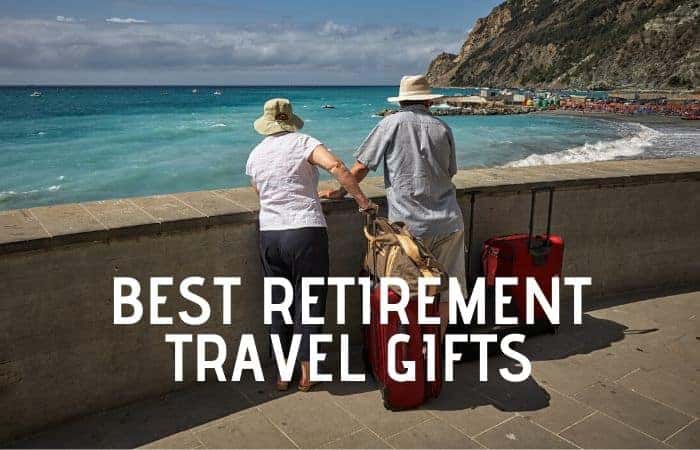 When the retiree has travel plans in retirement, then the best retirement gift for him or her is a travel gift. It can make their travel experience in retirement better and more enjoyable.
And because I'm a full-time traveler, I've tested many travel products over the years and listed the 51 Best Retirement Travel Gifts for you in this article. So you can find the perfect retirement travel gift for the retiree.
You can choose to go for one travel gift or create a travel gift basket with multiple retirement travel gifts to give by yourself or as a collective gift together with friends, family, or co-workers.
Just a heads up, this post contains affiliate links. As an Amazon Associate I earn from qualifying purchases. Purchases you make through these links may earn us a small commission, at no extra cost to you.
1) Travel Daypack
A high-quality daypack is a must-have travel essential. And The North Face Backpack is one of the best and versatile backpacks out there. It's our go-to backpack all the time, so we can recommend it without any hesitation. You can even choose between different colors to see what fits the retiree style best.
A good backpack, or daypack as what they also call it, is what every traveler needs. No matter what the retiree's travel plans are: making a cruise, road tripping through states or flying overseas for adventures in Europa, Asia or other destinations. It can be used for any travel adventure in retirement. And that's why it's a great retirement travel gift that the retiree can use for many years to come.
2) Travel Hammock
This lightweight travel hammock from the brand La Siesta is one of our favorite travel items. We recommend it to every traveler! It's a great retirement travel gift. Retirement is also the time to sit, back, relax, and enjoy the view and with a travel hammock, it can't get any more comfortable.
It's made of ultra-light parachute silk material and can fit two persons. It weighs only 1.9 pounds, and it fits in a small portable bag that fits in every travel bag. It consists of 2 polyester ropes (each rope is 3 m long) and 2 extremely lightweight hooks so that the retiree can hang this hammock up almost anywhere: the beach, by the lake, in the forest, campsite, or home.
3) Hardshell Suitcase
A high-quality suitcase is what the retiree might need for his or her travel plans in retirement, so it can be a great gift for you to give. And this Samsonite Suitcase with hardshell and spinner wheels gets great reviews from thousands of customers worldwide.
When you purchase a suitcase you want it to be spacious, easily maneuverable, and strong enough to bear up to many travel trips for years to come and this suitcase is doing it. It's the ideal check-in luggage for longer trips, but you can also choose a 2-piece set, 3-piece set or the carry-version of this Samsonite suitcase. Depending on what kind of trips the retiree is planning in retirement.
4) Duffle bag
When the retiree has more adventurous travel plans then I can highly recommend this duffel bag from The North Face. We have purchased this duffle bag a couple of years ago and traveled through Europe, Asia, and Africa for years and it's still going strong. It's made of thick, rugged, and water-resistant material that is durable and well built. The zippers are chunky with good pulls and very strong.
The side handles can be used to carry the duffel on the side with one hand and the backpack straps make it easy to tote on your back. So it's a very versatile and lightweight travel bag that the retiree can use for any travel adventure in retirement.
5) Go Pro Camera
You can give the retiree the gift to capture all the moments on his or her travel adventures by giving this Go Pro Hero 8 camera. A lot of people think that the GoPro camera is only used for those into action sports, but that isn't true. We use it for so many different occasions when we are traveling. We have different cameras with us but we experience that we use our Go Pro Camera most often. And it's awesome that you use it in and outside the water.
The GoPro Hero 7 & 8 has a built-in stabilizer (earlier versions don't!) that produces very smooth and high-quality images and videos. And the GoPro cameras are very easy-to-use and small so it can fit in any day pack or bag. This gift can be the most favorite travel gift you can give the retiree that they can use for everything on their travel adventure.
6) Polaroid Camera
We also travel with a Polaroid camera and have experienced so many fun interactions because of the polaroid camera. The retiree can use it to capture any occasion in retirement; grandchildren, hobbies, and travel trips of course. And this is a brand new camera with an old skool approach, where the photos you make instantly get printed. It's the most authentic way of capturing beautiful travel moments in retirement. And is an awesome retirement gift.
7) Scratch Off World Map
An awesome way to keep track of all the travel adventures in retirement is this Scratch Off World Map, where the retiree can scratch off all the individual US states and countries he or she traveled to so far. It's an extra-large world (24×36 inches) map with clear lettering, lively colors, and the official national flags of all 196 sovereign countries. It's a great retirement travel gift that will definitely motivate the retiree to explore more.
8) Packing Cubes
The packing cubes from Eagle Creek are a must-have for every traveler. Being organized makes traveling far more enjoyable and less frustrating. And with this travel gift, the retiree can organize his or her luggage better using different (size) packing cubes to store all their clothing, sweaters, pants, underwear, socks, etc. The retiree is more organized and can carry more while using less space.
9) Inflatable Lounger
Another great retirement travel gift is this inflatable lounger from Wekapo. No pump needed, just whisk it through the air to inflate and you have a comfortable lounger to use anywhere while traveling: in the backyard, at the beach, camping, festival, or picnic.
10) Travel Pillow
A travel pillow is another must-have for travelers. Whether the retiree is flying internationally or will travel in an RV, bus, or other vehicles in retirement; a travel pillow is what you need on the road to sleep more comfortably. And this travel pillow set from MLVOC contains a travel neck pillow made from 100% memory foam, 3D Contoured Eye Masks, Earplugs, and a Luxury Bag. The cover of the pillow is breathable and machine washable.
Perhaps, maybe not the fanciest retirement travel gift out there, but for sure the most practical and appreciated travel gift for retirement. And it's an unmissable item when you're creating a travel gift basket with must-have essentials.
11) Hanging Toiletry Bag
A hanging toiletry bag is a very practical travel gift that a retiree will love once he or she has experienced using it. Nothing get's wet and messy anymore, so there is more time to enjoy the trip. No mess, no stress.
This compact toiletry bay from BOACAY is rated as number 1 by travelers. It's waterproof, washing resistant, and features a foam layer for additional bottle protection. The design maximized the storage while the metal hook makes it easy to hang up anywhere. And you can choose between different colors to see what fits the retiree style best.
12) Stainless Steel Travel Water Bottle
A stainless steel travel bottle will keep a cold drink cold and a warm drink warm for many hours and therefore it's a great retirement travel gift. And using a stainless steel travel bottle is both practical but also good for the environment because the retiree doesn't have to use plastic (water) bottles anymore.
The Hydro Cell stainless steel water bottle is double-walled and vacuum-sealed where cold liquids stay cold for 24 hours, and hot liquids will stay piping hot for up to 8 hours.
13) Funny Retired Travel Mug
Make a bit of fun with the retiree by giving this 14 oz. funny travel mug for retirement with the text: "Retired. I've worked my whole life for this mug". It's a great travel gift for a retiree who is road tripping his or her way through retirement.
14) Bouncing Water Ball
A retiree who loves to spend time in the water will love this bouncing water ball as a travel gift. It bounces over the water and can be used in lakes, pools, and oceans. It's fun for everyone!
15) Outdoor Microfiber Towel Set
A microfiber towel is a lightweight and fast-drying small towel that can be used for travel, hiking, work-outs, camping, etc. It's great because it's small si it fits in every bag and dries very fast. A great travel item to have on the road for emergencies or to use as your regular towel. This microfiber towel set from Bearz (two-pack) is super absorbent, very soft, and easy to fold, store, carry, and clean.
16) Sand Free Beach Blanket
Many people love the beach, but not so much the sand on their towel or blanket. But this Sand Free Beach Blanket makes going to the beach sand-free and less annoying. It's a great travel gift when the retiree has many travel plans for beach destinations. But it's also great to use for camping, picnics, and hiking.
It's a huge blanket (9′ x 10′) that can fit up to 7 adults. It only weighs 16oz. and the integrated sack makes it so easy to store the blanket and carry it around the world. And it's from strong, durable, water repellent, and breathable 100% parachute nylon and anti-heat material, so the retiree can enjoy this gift for many years.
17) Travel Cable Organizer Bag
Give the retiree a Travel Cable Organizer Bag so he or she can store all cables, chargers, SD cards, and other electronic accessories safely in one bag. This bag from Bagsmart is lightweight and has a durable hard case and made of heavy-duty, durable, and water repellent nylon.
18) Portable Bluetooth Speaker
This portable Bluetooth speaker from JBL is one of the best out there and is a great retirement travel gift that the retiree can use for listening to music while traveling, camping, hiking, or sitting in his or her backyard. The retiree can connect two smartphones or tablets to the speaker wirelessly.
The speaker produces a high-quality and powerful stereo sound and has a built-in 3000mAh rechargeable li-ion battery that supports up to 12 hours of playtime. And the retiree doesn't have to worry about rain or spills because you can even submerge this speaker in water.
19) Kindle E-reader
Sometimes no better travel gift is the gift of unlimited reading while traveling and being retired. And that's why a Kindle E-reader and a Kindle Membership is a great retirement travel gift. While traveling the retiree can travel to other worlds by reading the thousands of books that are available.
The Oasis Kindle E-reader is waterproof and has an adjustable warm light to shift screen shade from white to amber. It read like real paper because of the latest e-ink technology and it works with Audible so the retiree can pair the e-reader with Bluetooth headphones or speakers to switch seamlessly between reading and listening.
20) Travel Powerbank
Another travel must-have is a power bank to charge your electronic devices. And the Anker Powerbank is one of the smallest and lightest power banks out there. It provides more than 5 charges of a smartphone or 2,5 charges of a tablet and you can charge two devices at the same time.
21) Bestselling Travel Book: 50 States 5000 Ideas
When the retiree has plans to road trips through US states then this book 50 States, 5000 Ideas from National Geographic is an excellent travel retirement gift. It's a rich illustrated book that gives the reader ideas and inspiration on where to go, what to do, what to see, and when to see it. The book shares detailed travel information on national parks, beaches, hotels, Civil War battlefields, dude ranches, out-of-the-way museums, and more.
22) Noise-canceling Headphones
A noise-canceling headphone can be the most valuable travel gift you can give the retiree. When traveling in planes and vehicles you experience a lot of ambient sounds or white noise that can make you tired. And with a noise-canceling headphone, you can listen to high-quality sound music but also actively cancel out the noise. Which makes traveling more comfortable and a lot less exhausting.
This noise-canceling headphone from Sony is the world's best noise-canceling headphone out there. It's proven to be the industry leader when it comes to noise cancelation. And comes in a case for easy carry-on while traveling.
23) Inflatable Kayak
An inflatable kayak is an awesome travel gift for a retiree who loves to be out on the water and explore what nature has to offer. The retiree can store it in their RV or truck while they hit the road. And inflate it whenever he or she sees water and likes to explore it more.
This inflatable kayak from Intex is super tough, lightweight, and highly resistant to damage from abrasion, impact, and sunlight. It's a two-person kayak with adjustable seats and the kayak can also be used for fishing. It comes with two paddles, a hi-output pump, a pressure gauge, and a carry bag.
24) Inflatable Stand Up Paddle Board
Stand Up Paddle Boarding has become a popular hobby amongst many retirees over the years. It's easy to do, it's relaxing and a great exercise while being on the water. And because it's inflatable the retiree can take it anywhere he or she wants to go.
This Inflatable Stand Up Paddleboard Set includes a Stand-Up Paddle Board, adjustable paddle, pump, ISUP Travel Backpack, leash, and waterproof bag. And is great for all skill levels and conditions (maximum capacity is up to 300 lbs).
25) Floating Waterproof Dry Bag
A retiree who loves to be outdoors and doing watersports while traveling will love getting this Floating Waterproof Dry Bag from Earth Pak as a retirement gift. It keeps travel gear dry while kayaking, rafting, boating, hiking, camping, etc. And it comes with a waterproof phone case. Also, the bags are meant to last for years and provide waterproof protection for even the roughest users.
26) Travel Journal
A great travel gift is a travel journal so the retiree can write about all his or her adventures. And it helps to organize the retiree's thoughts and collect their impressions of a place and the things they wish to remember—the destinations, hotels, restaurants, and people all in one place.
And this leather handmade travel journal is handmade and filled with 300 pages of tick cream paper. You can even add a matching bookmark to your retirement gift. Also, by purchasing this travel journal you help families in Africa as the company donates part of their profits to Afrinspire charity.
27) 3D Wood World Map Wall Art
This 3D Wood World Map is a piece of wall art every traveler will love having in their home. It comes in different sizes (M, L, XL, XXL) and is handmade of birch plywood, and you can have it customized and engraved to the retiree's liking. An overall great travel gift that for sure will fuel the retiree's wanderlust for many more adventures in their retirement.
28) Travel Adapter
Every traveler needs a travel adapter. So, International Travel Adapter is a great travel gift to add to your retirement gift or travel gift basket. It works in over 200 countries and allows you to charge 5 devices at the same time. It also identifies the ideal USB current and voltage to allow an effective simultaneous charging of your Smartphones, Tablets, Bluetooth Speakers, Headset separately.
29) Leatherman Multitool
A Leatherman Multitool is a very practical travel gift that the retiree can also use at home. It's an overall handy tool to have with you on the road or within your home garage. It's a real powerhouse tool in a portable size and comes with 25 years of warranty. It's made of stainless steel with replaceable wire cutters and scissors.
30) Monocular Telescope For Spotting Wildlife
With this High Power Prism Monocular, the retiree can see 12X closer with a clear and bright image. And it hat comes with a quick smartphone holder. It's a waterproof, dust-proof, and shockproof design that makes it usable to withstand the toughest weather conditions. It's a perfect travel gift to watch wildlife and scenery, from up close while traveling, hiking, or camping.
31) Portable Gas Grill
A retiree who likes to go camping or road tripping with this RV will probably love getting a Portable Gas Grill to keep on Chillin and Grillin on the road. It's compact, weighs only 17 lbs, and has foldaway legs. And it has a 145-square-inch grilling area which means it cooks 8 burgers, 8 steaks, 6 to 10 chicken breasts, or 4 pounds of fish. You can even add a personalized grill toolset to your retirement gift.
32) Travel Wallet
This minimalist Leather Travel Wallet from Travelambo is a very slim and convenient wallet for traveling. The retiree can carry only the things he or she really needs in his backpack, front or back pocket. A great wallet for every sort of traveler and a great travel gift to add to your retirement gift (basket). And you can choose between all sorts of colors to see what fits the retiree's style best.
33) Fitbit Watch
A (gold) watch is the most traditional retirement gift out there. And you can give a traditional gift but in a more modern way: A Fitbit Watch that tracks activity and health. Which can also be a great travel gift to give the retiree. It connects to everyday apps so the retiree can also be up-to-date with the local weather, etc.
34) Digital Picture Frame
This Digital Picture Frame is such a fun travel gift to give. The retiree can use it to display his or her favorite travel photos, but also the whole family can connect to this device from anywhere in the world to share their photos instantly. This way the retiree can stay connected with his or her family members in a fun and interactive way, without using Social Media. And from anywhere around the world.
35) Carry on Cocktail Kit
This Carry On Cocktail Kit is a fun travel gift to give the retiree. He or she can make their (favorite) cocktail while flying. Each kit contains the TSA compliant tools and ingredients to make 2 Margarita cocktails and 2 Moscow Mules mid-flight, a Gin & Tonic, or the classic Champagne Cocktail. The alcohol is not included, but everything else is taken care of. And the only thing the retiree needs to do is to ask the flight attended for the spirits from the airline beverage cart.
36) Passport Holder
Another fun way to support someone's travel plans in retirement is to give a nice passport holder. Every time the retiree needs his or her passport they will be reminded of this great travel gift. And this passport holder is engraved with "Adventure Begins". It's made of vegan leather, so environmentally friendly!
37) Book: The Bucket List
Retirement is the perfect time to create and live out your bucket list. And a retiree with travel plans can get extra inspired and motivated when he or she receives this inspiring book: The Bucket List with 1000 big and small adventures. It will definitely fuel their wanderlust even more.
It's filled with an around-the-world, a continent-by-continent listing of unique things to do from bird-watching in Kenya, driving through clouds in Sri Lanka to ketching a sunset behind an architectural monument.
38) Book: Destinations Of A LifeTime
Another great book to give a passionate traveler is Destinations Of A Life Time. The book takes the reader on a photographic tour of 225 of the world's most spectacular destinations. It gives the reader tangible ideas for the next trip and it's loaded with practical travel information for each location from when to go, where to eat, where to stay, and what to do to ensure the most enriching and authentic travel experience anyone can have.
39) Book: 100 Parks, 5000 Ideas
A retiree who has plans to travel to a lot of (National) Parks in retirement will love getting this book: 100 Parks, 5000 Ideas as a retirement gift. It's from National Geographic experts, and it's filled with helpful travel tips and beautiful photography. The book showcases the best experiences, both obvious and unexpected, in the top national, state, and city parks throughout North America.
40) Ultra Lightweight Packable Backpack
This Lightweight Packable Backpack is an excellent gift for every traveler. Perfect for day-to-day while traveling, hiking, camping, or going to the beach. The retiree can fold into a compact sandwich size pocket and get out whenever he or she needs an extra backpack. It's made with High-Quality water and tear-resistant nylon material and has 20L of storage space.
41) TSA Luggage Combination Lock
Another travel must-have is a TSA Luggage Combination Lock and preferably multiple so you can look at your check-in luggage, carry-on luggage, and backpacks safely while traveling. We use it to lock our luggage while traveling but also when we leave it in our hotel room and we use it to lock our backpack while we wander around a busy city. That way we don't have to worry about pickpocketing. This lockset is a great addition to a retirement travel gift basket.
42) World Coffee Tour Gift Set from Bean Box
A retiree will feel especially retired when they can finally enjoy their cup of coffee in the morning without having to rush to work. And you can send the retiree on a world coffee tour in retirement with this World Coffee Tour Gift Set. It's filled with 16 gourmet coffees from the world's top micro-lots. You can choose between the ground coffee gift set or the whole bean coffee gift set.
43) Portable French Press Coffee Maker
This Portable French Press Coffee Maker is everything a coffee-loving traveler needs in retirement. It's an All-in-One brewer and insulated travel mug and made from high-quality FDA approved material. Also, it has a fine micron stainless steel mesh filter which can be reused over and over again and is, therefore, a cost saver and environmentally friendly.
44) Emergency Survival Kit
This Emergency Survival Kit is a great item to put in a retirement travel gift basket. You hope the retiree doesn't need it, but it's very handy to have it while traveling or hiking at more remote destinations. The kit includes a tactical folding knife, wire saw, flashlight, tactical defense pen, fire starter, compass, emergency blanket, folding pliers, whistle, saber card, bottle clip, carabiner, 6 pcs fishing tools, and 14 in 1 medical kit.
45) Water (sport) Shoes
Water shoes are also a must-have travel item and they can be a great item within your retirement travel gift basket. These Water Shoes from Simari are for men and women and are made of 92% polyester and comfortable fabric. They're ultra-breathable, lightweight, and made from stretch Lycra material which has higher wearability and dries quickly. Perfect for hiking, swimming, or doing water sports in retirement.
46) Lifestraw Personal Water Filter
This travel gift can be a lifesaver. When the retiree has travel plans to remote destinations then this award-winning Lifestraw Personal Water Filter can be an excellent retirement travel gift. It's a must-carry tool for emergencies when hiking, camping, or traveling. It filters up to 1000 liters of contaminated water without iodine, chlorine, or other chemicals and it does not require batteries.
47) Headlamp
This Headlamp is more than just a headlamp. This is a reliable, water-resistant, and rechargeable headlamp with 3 super bright LED lights, a total of 6000 lumens! It has a high-quality 1500mAh Lithium polymer battery and the lifetime of the LED lights is over 100,000 hours, which means that the retiree should never need to change them. This travel gift can be a great addition to a retirement gift with multiple travel items.
48) Portable Blender
Great news for a traveling retiree who loves to make smoothies and shakes. This Portable Blender charges via USB so they can bring it on any sort of travel trip. It's strong enough to crush ice cubes, frozen fruits, and seeds. A great travel retirement gift for someone who loves to stay healthy while traveling.
49) The Adventure Begins Mug
Retirement is where the real adventure begins, especially when the retiree is also going traveling. And these travel mugs with the text: "The Adventure Begins" are more applicable than any other gift out there. It's a set of two and can be perfectly used for camping, hiking backpacking, and outdoor activities.
50) Travel Beer Bottle & Can Cooler
Is the retiree also a great beer-lover? Then this Travel Beer Bottle & Can Cooler is the ultimate travel gift. It chills beer bottles as well as beer and soda cans and has a built-in beer bottle opener. It is everything the retiree needs to enjoy their beer on their travel trip. It's available in Black or Silver.
51) Travel Boardgames Set
Add a travel game set with 12 board games, Travel Rummikub, or Travel Yahtzee National Parks Edition to your retirement gift to make the fun complete.
Recommended Articles
The following articles might be helpful for you to read as well: