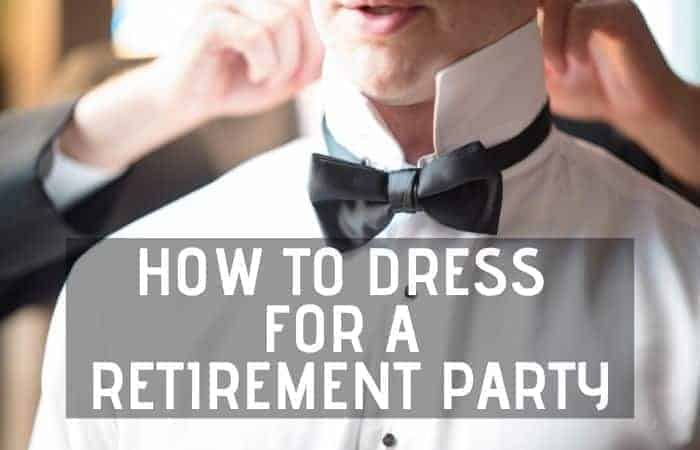 You're invited to a retirement party, but you're not sure what to wear. Don't look any further because I'm here to help you out.
How to dress depends on the type of retirement party. For a corporate retirement party, you should dress up more formal. But for a backyard BBQ party, you can wear something more casual. Usually, you can find the dress code on the invitation. But when it's not mentioned on the invitation, you can ask the host what the dress code is, so you know what to wear.
Continue reading to learn more about the guidelines of the different types of dress codes. So you'll know exactly how to dress for the retirement party.
Retirement Party Dress Codes
Retirement parties are in all sorts of shapes and sizes. They can be big formal events, but also small informal social gatherings with just a couple of loved ones of the retiree.
So what to wear depends on the type of retirement party you're invited to. And it also depends on what kind of dress code is mentioned in the invitation. It can be anything from casual attire, themed costumes to black tie.
When it comes to dress codes, there is always a lot of confusion. Because what do the terms "semi-formal," "business casual," and "cocktail attire" actually mean?
Therefore I've done some research to help you out and listed the most popular dress codes below with an explanation of what they really mean. So you can check the invitation what dress code is asked, and you know for sure you're dressing up appropriately for the party.
Black tie
Black tie is the most formal dress code. It requires a sophisticated level of dressing. For men, this means to wear a tuxedo. For women, it's a little more complicated. Women can technically wear anything from a long dress to a formal cocktail dress. For an evening retirement party, the best way to go is a floor-length dress or gown. And for a retirement party in the afternoon, you can wear a cocktail dress.
Black tie optional
This dress code is a bit more casual than black tie. It mostly applies to men. They have the option of either wearing a tuxedo or a dark suit and a (bow) tie. For women, it means you have the option of wearing a full-length gown or wearing a cocktail dress. As long as the hemline isn't too short, or the style isn't too revealing.
Creative black tie
Creative black tie is a black-tie but with a bit more fun. Men can wear a black shirt or a red bow tie. And also women can take their look less seriously. When you're a creative type of person, this might be the dress code for you. Accessorize your outfit with creative or fun items that are related to the retirement party.
Often creative black tie is used for themed retirement parties. For example, Texas Black Tie, men can wear a tuxedo with cowboy boots. And women can wear a dress with a cowboy hat.
When you're still unsure about what to wear to the retirement party, it's best to ask the host what they mean with the dress code. Or aks friends or coworkers how they dress up, so you get a better picture of what is expected from you.
Cocktail
The cocktail dress code for men means wearing a dark suit with a tie. For women, it means short dresses that are party-ready.
The cocktail dress code is best describes as the semi-formal look. It's the outfit that is bridging the gap between day and night. It's between casual daywear, which is too relaxed, and formal evening attire like a black tie, which is too proper.
For example, wearing a tuxedo is too much, but a suit or blazer/trousers combo is required.
Festive
This dress code is often used around the holidays, but can also pop up on your retirement party invitation. And festive attire is similar to cocktail attire, but with an extra festive twist. For example, for women, a sparkly sequin dress. And for men a suit with a party-themed tie.
Business formal
This idea of this dress code is to wear something business appropriate that also feels dressed-up. It's usually for corporate retirement parties that are during the daytime and are semi-formal.
For men, this dress code means wearing a suit and tie, and for women, it means a tailored dress or a pantsuit.
Business casual
When it says business casual on the retirement party invitation, you can wear a bit more casual clothing to a corporate retirement party. But, absolutely no jeans or sneakers.
For women, pants and a blazer, a dress or (pencil) skirt at knee-length or below, a tailored blazer, knit sweater, and a fun blouse are appropriate. For example, you can wear black trousers and a tweed blazer.
And for men, it includes slacks or khakis, dress shirt or blouse, open-collar or polo shirt, optional tie or seasonal sport coat. A tailored blazer, knit shirt or sweater, and loafers or dress shoes that cover all or most of the foot. For example, you can wear khaki pants and a collared shirt (tucked in).
Casual dressy
When the dress code is casual dressy, you're probably invited to a retirement party from a friend or family member. Where they have planned something more festive than just a casual backyard BBQ.
This dress code is a bit dressier than a casual look. A very easy and comfortable pick because you can go for your go-to casual outfit and dress it up a little bit more.
For women, you can wear your go-to pair of pants with a fun pair of ankle boots and a beautiful blouse. Or wear heels to elevate your favorite pair of jeans. Wear a jumpsuit and pair it with a knit sweater or jacket when it's cold.
For men, it's straightforward. Just dress up in your favorite pair of jeans with a blazer, and you're good to go.
Casual
For this dress code, you do not need to dress up. Sneakers, jeans, and T-shirts are all acceptable and even encouraged. Anything goes in this case, so make yourself comfortable. For men and women wear jeans and sneakers.
Extra Tips On How To Dress:
Going for the rule that it's always better to be overdressed than to be underdressed, isn't very comfortable. You can feel very uncomfortable when you're dressed up, and everyone else is wearing jeans and a T-shirt. So try to avoid this rule if you can.
It's best to follow the dress code guidelines but also stay true to yourself and your individual style. You want to make sure you dress appropriately but also be comfortable with the choice of your outfit. Find an outfit that is appropriate according to the dress code, and is also your style.
When you're still unsure about what to wear: dress according to what you expect the host to wear. Then you're always good.
Make sure you don't upstage the retiree. This retirement party is their time to shine, so leave the bright colors and accessories for them.
If you're unsure of picking the right suit. You can follow the guideline: the darker the suit, the more formal.
Themed Retirement Party Outfits
You can be invited to a themed retirement party, and that means you have to dress up in an outfit related to the theme. It's as simple as that.
The retirement party can be Hawaiian themed, A Famous Hollywood movie, or to dress up in black and white or in an outfit related to the retiree's favorite hobby.
When it's a themed retirement party, it's best to put extra effort into your outfit. Get creative and impress others with your themed outfit. It will be very much appreciated. Especially if the retiree has requested or is hosting the retirement party. To the honor of giving him or her your all. And the upside also is, is that you can incorporate your own style. Whether you want to dress more casual or more formally: it's all up to you as long as you include the theme.
Often people tend to be a bit more careful to go all out when it's a themed retirement party at the office. And therefore, it's best to ask the host what's expected from you and what will be appreciated. Or ask other coworkers how they are dressing up. Maybe you could do something collectively that will cause a few laughs.
Check out Amazon for great themed outfits, costumes, and accessories or go to a costume store nearby.
What To Take To A Retirement Party
When you're invited to a retirement party, it's nice to bring a retirement gift for the guest of honor. Unless directed not to on the invitation. Then a greeting card with best wishes for their retirement is sufficient. And for inspiration what to write in a retirement card you can check out these articles:
The best retirement gift is a gift that matches the retiree's personality, plans, or hobbies in retirement. You give a gift that is related to their career, a gift they can keep as a memory, or a gift that helps them to enjoy their life in retirement.
And if you don't know what to give? Don't worry, I've researched for many hours to find the best retirement gifts and listed them in this article below:
Recommended Articles
The following articles might be helpful for you to read as well: