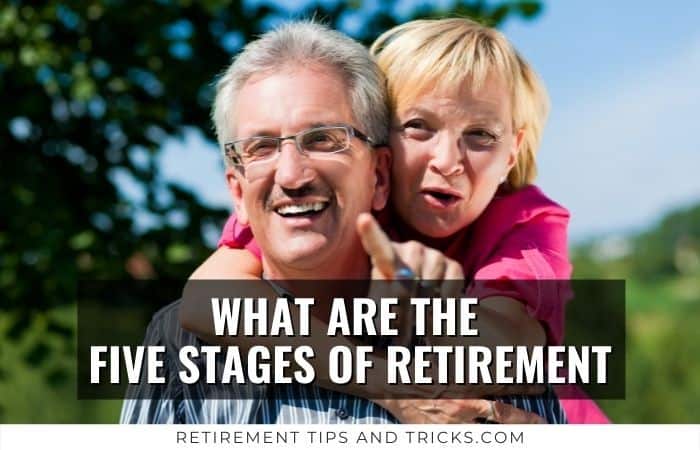 When you're dealing with retirement, you might be wondering, What Are The Five Stages of Retirement? Retirement is a period of transition and adjusting to a new lifestyle. The five stages of retirement describe each stage every retiree has to deal with during this transition period.
In this article, I'll tell you everything there's to know about these important stages of retirement. Preparing yourself for transition into retirement is important, it helps make the transition process easier. Retirement is a major life change, gaining awareness of what to expect helps you to find your way in this major life transition. Ready to learn how to deal with the stages of retirement? Let's dig in!
Just a heads up, this post contains some affiliate links. As an Amazon Associate, I earn from qualifying purchases. Purchases you make through these links may earn us a small commission, at no extra cost to you.
1. Pre-Retirement Stage
So, after years of working, your retirement date is getting close and closer. However, it is crucial to start planning for your retirement years before your actual retirement date. You don't have to know the exact things you want to do (day to day) when you're retired, but you do want to prepare financially and mentally for these upcoming years.
It's important to have an idea of the things you want to do in retirement so you can save up for it and mentally work towards it. Also, the only period where you can work on your retirement savings plan for retirement is during your working years.
Make sure you're getting help from a professional financial advisor. Maybe the company your work for offers help with financial planning. It is always essential to get professional financial advice, so you know what to expect when you retire. You must make several retirement income plans to prepare for different situations in retirement. This way you can easily decide which plan can help you get to your retirement lifestyle.
Also, when you're married or living together with your spouse, professional (financial) advice can help you to prepare for retirement easily.
You might want to know if it's a good plan to retire at the same time. Many different factors can influence the answer to that question.
It depends on the situation you're in as a couple, the age difference, your mental state (are you mentally prepared for retirement?), the financial situation, and much more. I wrote the article 'Should Couples Retire At The Same Time?', which might be very helpful.
Emotionally Prepare For Retirement
Your upcoming retirement is a life-changing event. Preparing for your retirement means not only financially preparing but also making sure you're mentally and emotionally ready for switching into retirement.
Emotionally preparing for retirement is an individual process and extremely important. You can see it as the basic preparation for retirement. Being both financially and emotionally prepared for retirement helps you, later on, to enjoy your retired life in the best way possible.
You might want to read my article, How To Mentally Prepare For Retirement, a helpful guide with 21 science-based tips.
Preparing For Your Retirement Party
Getting closer to your retirement date is also the time you start thinking about how to celebrate your retirement. Maybe you want to throw a big party with your colleagues, family, and friends. Or perhaps you just want to have a nice dinner with your loved ones. It's your day, and you can celebrate your retirement the way you like.
To help you out a bit more, I wrote this helpful article about How To Celebrate Your Retirement.
2. Honeymoon Stage
Finally, you can say, "I am Retired!"
This period is amazing, and you feel great. But it can also be a bit scary at the same time. You are basically starting a new way of life with an open agenda. This transition period right after your actual retirement date is referred to as the honeymoon stage because the feeling of happiness is on a high. You truly feel like newlyweds, hence the name honeymoon stage.
Probably you have a full list of things you want to do now that you're retired. But don't forget to enjoy your time. Take enough time to relax and find out what it is you feel is most important in the long run now that you're retired.
The honeymoon stage can also be very busy, with a slot of leisure, (old) friends and family you want to meet, and many other opportunities that come your way. It can be difficult to structure your days. When you were still working, structuring your days was much easier. You probably had a strict schedule and knew weeks ahead about the things you've planned. In retirement, this can be different.
Creating A Routine
The key is to find a perfect balance between enjoying your leisure and finding out how to identify yourself as a retiree. It helps you make the next stage disenchantment or worrying stage as short as possible. However, creating new routines can be challenging. Maybe you don't even know how you want to spend your days in retirement yet. Still, it's important to create a routine so that you can have some sort of structure and focus on your goals. Having goals helps you to get a feeling of fulfillment in your retirement.
In my article, how to structure your retirement days, you'll find a step-by-step guide which is a very helpful.
3. Disenchantment Stage
When the high of the first period in retirement fades, people often get a bit confused. Reality kicks in, is this truly my retired life?
Don't worry; it's completely natural. It can be a difficult period if you're not prepared for it. It helps when you already started to think about the things you want to do in your retirement while you were still in the first stages of retirement.
This third stage is actually the first step in transforming to your new self, becoming yourself as a retiree.
Depression is a common struggle for retirees and if you are having trouble with feeling and feel depressed in retirement, it might help to read my article 15 Tips How To Deal With Depression In Retirement. Or when you are just looking for ideas regarding unique things to do, a must-read is my 'What To Do When You're Retired? 65 Ideas.'
4. Reorientation Stage
This important stage in retirement is all about getting to know yourself. It kind of feels like the previous stages were all a preparation for this stage where you redefine what you want and find your (new) purpose.
Don't get confused or worried when you find this a difficult time. It's natural, accept it for what it is, and get the best out of it.
It's a time where you can explore and orient about new things. Try out new hobbies, start volunteering or maybe find a part time job.
Remember that as a kid you used to experience new things every day? I was always so excited about learning new things. And when I see my little son exploring and getting excited about the little things I always remember myself that we need to keep our inner child alive. Many of us lost that connection and forgot about the things we get really excited about.
When you're having trouble finding the things your love to do most it can be helpful to answer questions like;
What's a topic you can read 500 books about without getting bored?
What is something you never get bored of?
What would I regret NOT doing in life?
If you get the answer to those questions, I'm sure you'll find your purpose or passion as a retiree. In my article 'How To Find Your Passion In Retirement?' I share even more helpful tips.
5. Stability Stage
Yep, you're there! The final stage in retirement transition and it's the best one! When you reach the stability stage, you fully accepted yourself as a retiree. You found your passion and purpose, and love what you're doing. The transformation is complete!
When you first retired you still related your identity to your job, you're now proud to be a retiree. And because you found out what you love doing most, you can live your retired life in the most fulfilling way.
Average Timeline Of The Stages In Retirement
It's beneficial to know more background information about the stages of retirement. When you look for information about the different retirement stages, you'll probably notice that people and organizations sometimes use different words to describe the five stages or phases in retirement. However, the concept of these stages in retirement is more or less the same.
To keep everything as clear and understandable as possible, I only describe the stages in retirement with the wording as I did at the beginning of this article.
It can be a bit confusing when you read other articles where people use different wording to describe the stages in retirement. If this applies to you, I recommend using this article as your basic guideline to keep everything clear.
The concept of the five stages in retirement is for everyone the same. However, the timing and length of each stage can be different per person. When, and for how long someone 'stays' in a particular stage depends on the individual.
According to agewave.com, there's an average timeline for each stage in retirement. Agewave is a respected organization in the United States. They use different wording and a slightly different concept for each stage in retirement.
The Pre-Retirement Stage (Agewave calls this the Imagination & Anticipation Stage) starts around six to fifteen years before retirement. During this stage, people get more and more excited about their upcoming retirement. When retirement is getting closer, on average, two to five years before the actual retirement date, people tend to get even more excited. However, also sometimes, a bit of worry can kick in.
People ask themselves how their retirement is going to be. It is the stage where you, in the beginning, only think of a retirement savings plan. But when your retirement date is getting closer, you get busier with preparing for your retirement.
When I talk about The Honeymoon Stage, I'm referring to the actual first stage as a retiree. The period where everything is fresh, new, and exciting. Sometimes people refer to this stage as the liberation stage. You are 'freed from work.' This stage starts on your first day as a retiree and can take up to several years in your retirement.
Disenchantment or sometimes known as the 'worrying stage' is the period where reality kicks in. Some people can start to feel depressed, bored, or even useless. Luckily for most people, this is a short period during their retirement. This process starts for many people by asking themselves difficult questions like 'what do I want to do as a retiree?' It is a process that can take up several months.
The disenchantment stage is often naturally followed by the reorientation stage, which is probably one of the most important stages in your retired life.
During the reorientation stage, you can find a new purpose in life. This stage can take up to a couple of years and help you live your retirement life to the fullest. The questions (and answers you found) you asked yourself during the previous stage are becoming very helpful during this process. The reorientation stage for most people is around two years but can take up even longer. It all depends on what you want to do in your retired life, and how quickly you find your purpose as a retiree.
Sometimes without even noticing, you reach the next stage of retirement. The fifth stage in retirement is commonly known as the stability stage. During this stage, you've found your purpose and entirely accepted yourself as a retiree. Those are important factors that help you live a fulfilling retired life and enjoy a successful retirement. Sometimes people also refer to this stage as the reconciliation stage. A different and maybe more formal name for this important, and hopefully longest stage in retirement.
#1 Recommendation For Retirees
A lot of people think that once they retire they're instantly happy each and every day for the rest of their lives.
Well, this couldn't be more further from the truth!
Many people are too focused on the financial part of retirement. They struggle once they retire to be happy. And that is why many retirees regret that they didn't have a fun plan for their retirement.
What if I can help you live a more happy and healthy retired life? In just 5 steps.
It's that easy!
I've been writing over 200 articles about retirement over the last three years. And did extensive research to help people prepare and enjoy their retirement in the best way possible.
And I bundled all my knowledge, scientific research, tips, and ideas in this ebook.
In this ebook, I guide you through the five steps on how you can create more happiness in your every day retired life. You can get the ebook here today.