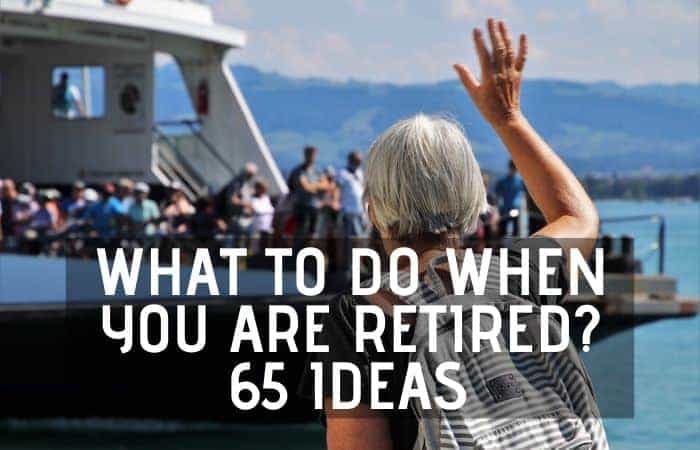 You're perhaps already retired or your planning on retiring soon, and you might wonder: what do you do when you are retired? Figuring out what to do in retirement is sometimes not that easy. So, here are 65 great ideas of what you can do in your retirement.


---
1) Travel
Traveling is the most wanted thing to do in retirement. And as a full-time traveler, I can highly recommend doing as much traveling in retirement as you possibly can. It's the only thing you pay for that makes you richer. And experiencing other cultures and seeing beautiful destinations will make your time in retirement even more memorable.
And of course, it depends on your budget. Not everyone can afford to travel to the other side of the world in retirement. So, if you have a small budget, you can get creative and start traveling around your town. Or visit a city or national park nearby you haven't been to in a while.
And if you would like to travel a bit further, check out my recommendations about travel recourses to get the best deals on flights and accommodation destinations worldwide. We are full-time travelers so we know which recourses and travel gear to use best.
Read more: 20 Best Retirement Trips In The USA
2) Do Volunteer Work
Volunteering is also a very popular activity in retirement. Many retirees feel the need to do something meaningful in retirement by helping others through volunteer work. It's a great way to stay busy in a satisfying way and maintain being social, which is also very important in retirement. Having (daily) social interaction will add to your happiness in retirement as well as helping others. It gives you a fulfilling feeling at the end of the day.
This study found multiple benefits that are associated with volunteer work by seniors.
Not sure, what kind of volunteer work you want to do in retirement? Check out volunteer jobs at the following websites:
Check local charities and soup kitchen for volunteer opportunities
3) Babysit Your Grandchildren
Another great thing to do in retirement is to spend more time with your grandchildren. When you live close enough, you can even propose to babysit your grandchildren more often so you'll have a more prominent role in their lives. It can save your children a lot of money on daycare.
When your grandchildren live further away, you can organize to spend a couple of weeks continuously. Or make an effort to visit them more often now you have the time. Because nothing beats being around your loved ones. So, make sure you do it as often as possible.
4) Become A Foster Grandparent
When you don't have grandchildren, or they live far away, you can consider becoming a foster grandparent for kids within your city or region. There are lots of children who will be more than happy to have a nice grandparent to visit, hang out with, and build a relationship with. And being surrounded by young people keeps you young at heart and up to date about all the modern technologies. You can share wisdom and learn from each other. Check out National Service for more information on becoming a foster grandparent.
5) Start A Business
In retirement, you're your own boss. So, who not make it more official and start a new business with something you're passionate about. It can be a great thing to do in retirement to fill your day, earn extra money, and stay connected with others.
Nowadays, you don't have to invest a lot of money to become an entrepreneur. There are so many opportunities online to earn money from the comfort of your home or any other location worldwide with a decent WIFI connection. The important thing is to find something you like doing, know your skills, choose your market, and look for problems you can solve (in a better way than others).
Online business ideas:
Start a YouTube Channel
Start a niche blog website (check out Income School)
Dropshipping
Be a local Handyman
Be a host via AirBnB (apply here)
Start a podcast channel
6) Enjoy Your (favorite) Hobby
Retirement is the time to do what you want when you want it, how you want it and where you want it. So, if you already have a favorite hobby. Take advantage of all this free time and enjoy spending time on your hobby.
Read more: The 30 Best Hobbies In Retirement
7) Find A New Hobby
When you don't have a hobby yet in retirement. You can take the time to find a new hobby. Maybe it's your childhood hobby that you want to dust off again, or you want to explore all sorts of options to find your new retirement hobby.
Having a hobby in retirement is good for your health and happiness. It's important to spend this well-earned free time on something you love to do and not waste your days. So, make sure to take the time and put in the effort to find a hobby in retirement. You'll experience a greater sense of happiness and fulfillment because of it.
Read more: How To Get A Hobby In Retirement: 7 Tips.
8) Apply For Classes
Have you ever completed the sentence: I always wanted to learn…
Well, now is the time to apply for that class. Check out all sorts of classes near you from educational classes, art classes to physical activity classes. Because it's good for your health to stay mentally, physically, and socially active. And taking a class is a great way to do all that. You challenge your brain to learn something new.
Read more: 50 Fun Classes For Retirees
Best Class is Masterclass
MasterClass offers online classes for students of all skill levels and ages. The teachers are the best in the world in their profession. For example, you can take a cooking masterclass from Gorden Ramsey, a comedy masterclass from Steve Martin, or a tennis masterclass from Serena Williams. How cool is that?!
They have a huge variety of different classes, from writing, business, sports, music, acting to cooking, and so much more. And taught by all sorts of professionals who are the best in the world in what they do. And they want to teach you their skills so you can become better in your new interest in retirement.
I advise you to get an annual Membership for Masterclass, where you have all access to every Masterclass on the platform. There are so many cool Masterclasses that will make your time in retirement so much more fun and interesting. It's the best investment you can do for yourself in retirement. 
The classes range between 2 – 5 hours, and each class has several lessons that range from 5-25 minutes in length. You can rewatch the Masterclass any time you want and take the class at your own pace from the comforts of your own home. Start your Masterclass adventure;
9) Get Mentally Fit
Getting mentally fit is equally as important as staying physically fit in retirement. And so you might want to put this on your to-do list in retirement. It will increase your chances of enjoying your retirement as long and healthy as possible.
And here are a couple of tips to get mentally fit in retirement:
Exercise: with physical activity, your brain releases feel-good chemicals that improve your moods and reduce stress.
Be social: maintaining social interactions increases your happiness and quality of life. It alleviates loneliness, according to this study.
Keep learning: with learning something new, you exercise your brain, which will keep your brain longer healthy.
Sleep well: maintaining healthy sleep hygiene will make sure your body and brain get the rest they need.
Manage stress: stress destroys brain cells and damages the region of the brain that forms new memories. A big life change, such as retirement, can cause a lot of stress. Therefore, it's vital to reduce stress as much as possible by meditation (check out headspace), yoga, positive thinking, etc.
Eat healthily: you are what you eat. So if you want your brain and body to be healthy, you need to eat healthily. And can research brain diets and see what kind of foods are good for your brain.
Read more: How To Mentally Prepare For Retirement
10) Exercise Daily
Exercising is highly important to do in retirement, and if you're not sure what to do in retirement. Exercising has to be on top of your list. That doesn't mean you have to run a marathon. You can exercise by bicycling, hiking, swimming, or going to the gym regularly. Make an exercising routine, so it becomes more of a habit for you. You will be rewarded later on in life for all those sweaty hours.
Read more: How To Stay Active In Retirement
11) Join A Club
Another thing you can do in retirement is joining a club. It's fun to be part of a group that shares the same interest as you. Check out local groups and clubs with the same interest via Meet Up. It's a service to organize online groups that host in-person events for people with similar interests. A great way to also meet new friends in retirement.
12) Join A Sports Team
Another great thing to do in retirement is joining a sports team. It's a good way to exercise and be social at the same time. Go to your local pool, gym, or sports club to find out if there's a (senior) team you can join. And if your team is good and has ambition, you can even participate in the National Senior Games.
13) Visit Family
Spending time with family is a fun and heartwarming activity to do in retirement. You've plenty of time to visit family now, so take the advantage. Visit your children, grandchildren, far-away aunts, and uncles as much as possible. Those times might be the most precious times in retirement. Make the most of it.
14) Read
Sit back, relax, and read. Get yourself a comfortable chair or lounge seat and enjoy a good book. It's the cheapest way of traveling to another world. You don't even have to go out the door. Visit the library to get yourself a couple of books. sk neighbors, friends, and family for books you can borrow or great tips. And give yourself an unlimited reading retirement gift: Kindle E-reader with membership.
15) Create A Bucket List
When you don't know what to do in retirement: you can create a bucket list with things you've always wanted to do. It helps you find out what you want to with your time in retirement and gets you motivated. Eventually, you'll prioritize your time better when you know what you want to do and when you want to do it. Because now is the only time to do all the things you want before you 'kick the bucket.'
Read more: 101+ Ideas For Your Retirement Bucket List.
16) Live Out Your Bucket List
Creating a bucket list is one thing. Live out your bucket list is a totally different story. It takes balls to chase your dreams and do things you've always wanted to do. Especially when it seemed far fetched or unreachable. But nothing is impossible.
Look at your bucket list and find the one thing you want to do first or want to do most. When you're new to this, it might be helpful to start with an easy one to check off to get the hang of it. But if you don't want to waste time and you know exactly what you want to do: create a plan, set goals, and live out that bucket list. And don't let fear and self-doubt kill your dreams.
17) Write A Book
Writing is a creative activity that is fun to do in retirement. Perhaps you've always wanted to write a novel, poems, or a family history book. And retirement is the perfect time to explore this side of yourself.
You can apply for a local writing class if you want to learn more. Or get yourself The Writers Toolbox, filled with exercises that will inspire the writer in you and gets you in the right headspace to let the creativity flow.
18) Live Abroad Seasonally
When you're a bit of an explorer, you can decide to relocate seasonally in retirement. Perhaps you would like to live in a different state with a warmer climate during the winter months. Or you want to explore a new country and culture by living abroad for a couple of months in the year. In many countries, your expenses can be even cheaper. Check out International Living for more information.
19) Move Closer To Family
If spending time with family is the most important thing to do in retirement and they live far away. You can consider moving closer to your family so you can spend as much time as possible with them.
Keep in mind that you must have a social circle within the town you move to as well. You can't depend on your family all the time. To live a happy retired life at a new location, you need to seek new social interactions. So you have a wide range of people surrounding you.
20) Become A Teacher
Share your knowledge and wisdom with the next generation by becoming a teacher in retirement. When this is something you're interested in, you can look for opportunities at a nearby school. Or consider becoming an online (English) teacher, where you work from the comforts of you're own home and teach students from around the world.
Online teaching companies:
21) Become A Mentor Or Coach
Another great thing to do in retirement is being a mentor or coach. You can become a mentor for kids within your town that need a positive role model in their life. Or be a mentor for employees or former co-workers that need a mentor that knows the ins and outs of their work industry.
Slightly different, but similar is being a coach. There are different types of coaching careers you can pursue: life coach, health coach, sports coach, to career coach. You can check out National Coach Academy or Universal Coach Institute for more information on education and jobs.
22) Be A Tour Guide
Travel and work at the same time in retirement. That sounds awesome! And it is possible. You can work as a tour guide at a museum, tourist attraction, theme park, national park, or popular sightseeing destination nearby. Or become a tour guide abroad or on overland tours within the USA, Canada, or overseas. Check out Alaska Summer Jobs, Coolworks, or Transitions abroad if you're interested in becoming a tour guide in retirement.
Read more: The 50 Best Jobs For Retirees
23) Visit National Parks
Immerse yourself in the beautiful nature of one of the many National Parks. Make a road trip with family and friends in your RV and go camping or explore the National Parks by foot through popular hiking trails. You can even work as a Park Ranger or Park Aid within National and State Parks.
If that is something you like to do in retirement, check out jobs at your nearby state's park department. Look for jobs on USAjobs.gov and search "National Park Service." Or check out Government Jobs for jobs as a Park Aide.
Interesting books to read:
24) Go Back To (summer) Camp
Did you love to go to camp as a kid? Well, you don't have to be a kid to go to camp. There are adult camps spread around the USA that offer a different kind of activities for adults and older seniors. Via the American Camp Association online tool, you get access to the database for adult camps. Or Type "Adult Summer Camps" + [Your City] in the Google search bar to find local options.
There are so many different camps out there, from cooking camps, singing camps to more traditional camps.
Popular Adult Camps:
25) Get Your Daily Dose of Nature
Go outside at least once a day. Being outside gives your energy. It keeps you fit and helps you relax. You can easily go for a walk in a nearby park or when you live close to the beach. You can go to the beach, and take a dip in the sea as well!
26) Join The Senior Corps
Join the Senior Corps in retirement and help other seniors out through different programs within your community. Are you 55+ years old, and do you want to volunteer in retirement and to improve other lives? Then the Senior Corps might be something for you to do in retirement.
27) Start An Art Project
Get creative and start an art project. If you don't know how to do art, then you can apply for an art class. Or get inspired by art projects and DIY projects via Pinterest. And being creative helps you to become a better problem solver overall.
28) Open Up An Etsy shop
If you're a creative person and want to make some money in retirement. Then you can open up an Etsy shop to sell your handmade arts and crafts online.
29) Remodel Your House
Take the time in retirement to remodel your house. It can be a great project to have, and it for sure gives you lots to do. Don't forget that remodeling your house is often overwhelming and a lot of work. Make sure that this is what you want to do in retirement. Perhaps, enjoying and doing nothing in the first months or years of your retirement isn't a crazy idea.
If you dive from your career right into a big project like remodeling your house, you haven't given yourself much time to figure out what you really want. Be conscious about this before you decide to do remodeling. And also, make sure that you don't blow out your savings too soon.
30) Redecorate Your House
When remodeling your house isn't on your radar, but you want to change things up at home, you can consider redecorating your house. It can be a fun art project to have in retirement. On Pinterest, you can create a mood board and get inspired with ideas.
You can start per room to not get overwhelmed and also to have enough space to just live and enjoy retirement, without being constantly in a mess. And when you want to redecorate your bedroom, make sure to get yourself the best present in retirement: a Puffy Mattress. The most comfortable mattress our there.
31) Perform A Random Act Of Kindness
You feel happier when you put a smile on someone's face. So if you want to do something in retirement to boost your mood and help others, perform a random act of kindness. And if you enjoy it so much, do it every day. It will make your life way more fun and fulfilling. And you never know what kind of friendships or project ideas can come out of it.
It can be as small as visiting your lonely neighbor for a cup of coffee, giving someone a compliment, helping an elderly lady cross the street, or buy lemonade from a stand. In need of ideas? Check out the Random Act Of Kindness.
32) Start Baking
Do you have a sweet tooth? Then baking can be your next activity in retirement. Sometimes the cakes or pies that are homemade are better then what you get in stores. It's a fun and creative activity and with a sweet result: delicious cake.
When you're getting good at it, and if you notice people are asking for your homemade pies, cakes, or cookies. You can consider starting a baking business. And turning your retirement hobby into a small business.
33) Start Cooking
You need to eat in retirement, so why not make cooking a fun thing to do? With enough time on your hands now, you can explore cooking a bit further. And see if there's a chef in you. It keeps you busy and probably results in healthier meals, which is always a good idea.
Try out new recipes, get creative with old ones, and get better at famous family recipes. When you enjoy cooking very much, you can consider starting a cooking club or dinner club and meet new friends along the way. Take a cooking class to better your skills or to explore a different food kitchen.
34) Host Parties
If you like to be social, then you can think about hosting parties in retirement. You can become active in your neighborhood by hosting a neighborhood bbq, pool party, or dinner. Or you can host a game night with friends, holiday dinners with your family, or professionalize and become a real party planner for events.
35) Start A Club
You can join a club that already exists. But you can also start your own club. Perhaps, the clubs are limited in your area, or you can't seem to find what you're looking for. If that's the case, start your own club. Via Meet Up, you can easily start a club online and find new members in your area.
36) Create Videos
Get creative and create videos. For that, you don't need to have a fancy camera right away. You can use your phone or tablet to start with. Share information on a topic or hobby, create short scripted movies starring you or record yourself while singing or playing an instrument. You can share these videos with family members and friends or share them with the world by launching a YouTube channel.
Did you know that YouTube is the world's second-biggest search engine? Google is the first. You can take advantage of this opportunity and be the next content creator on YouTube and earn a bit of money in retirement as well. If you create video content that adds value to the audience (solves their problem) and you educate yourself on how YouTube works, you can have success. It's not that easy as it sounds, but if you have something to share that isn't out there yet. It's possible.
37) Give Podcasting A Try
Podcasting is a free service that allows online users to download or stream audio files from a podcasting website or app to listen to on their phones or other devices. Listeners want to be informed or entertained. It's the modern version of radio, but with podcasting, listeners can listen to a show on their own time.
As a retiree, you have gained a lot of knowledge over the past years that you might want to share with others. And podcasting can be your way to spread your expertise. Or you can create a fun and entertaining show if that fit's your personality best.
If making is not your thing, you can do a lot of podcast listening in retirement. There are so many interesting and inspiring podcasts out there that you can listen to. You can download a podcast app on your phone or listen to podcasts on Spotify.
38) Build A Family Tree
A lot of retirees like to dig into their past and build a family tree. If you're interested in your family history and would like to know more, then it can be a great thing to do in your retirement. The following websites are helpful to use when building your family tree and finding information on your ancestors:
39) Do Gardening
Gardening is a fun, creative, and healthy activity in retirement with many positive health benefits. It's a combination of a great work-out and mental exercise while being out in nature. Gardening helps to strengthen your bones and joints, it lowers blood pressure, and it helps in managing stress. It's the perfect activity to do in retirement. And that's why it is one of the most popular things to do in retirement.
40) Grow A Vegetable Garden
Create a vegetable garden to grow your own vegetables. It is a fun and creative activity to have in retirement. You'll learn a lot about nature and will appreciate it even more. You can eat organic vegetables for free, which can save you a lot of money if you're into buying organic groceries. And it's a sustainable hobby to have in retirement. Contributing to a more sustainable world will leave you with a more fulfilling feeling at the end of the day.
You can educate yourself by watching videos online on how to start a vegetable garden. So you'll know what to do and where to start.
41) Make A New Friend
Having friends makes your life richer and more fun. But often you lose your daily social interactions when you retire. Having daily interactions comes with the job. Therefore, you need to seek new and other ways to replace this. And making a new friend is a great way to do this.
And you're never too old to make new friends, but it is sometimes harder. So, the quickest way to make new friends is to join a club (sports) team or apply for a class. This way, you're surrounded by people with the same interests as you. And that's a good foundation to start a new friendship.
Read more: 20 Ways How To Stay Social In Retirement.
42) Foster Or Adopt A Pet
If you love animals and you like to take care of them as well, and you are in good health to do so, you can foster or adopt a pet in retirement. And below are organizations where you can look online for pets that need fostering or are up for adoption. It, for sure, will keep you busy in retirement.
43) Be A Dog Walker
Also, a great thing to do when you're retired is to be a dog walker. If you love dogs, like to walk and want to earn a bit of extra money in retirement, you can be a freelance dog walker for your neighborhood. Via WAG walking, you can become a dog walker, where people from your region can book your services. It's very easy, and you stay in control of your own agenda.
44) Get Into Politics
You can get involved in politics now that you're retired and got more time on your hands. If this sounds interesting to you can dive more into it at what you can do. Perhaps, you like to volunteer for a national campaign, or you want to be more involved in your local community. It's a great way to make a difference, stay busy, and maintain social interactions.
45) Create A Cookbook With Famous Family Recipes
Does your family have great recipes that you want to pass on to the next generation? Then create a cookbook with all the family's famous recipes. It's very easy via Create My Cookbook. All you need is your grandma's amazing recipes and good photos of all the dishes, and you're (almost) set. It can be an amazing gift for the holidays to give to all your family members.
46) Go Back To School
If you ever had the desire to finish or go back to school? Now you're retired the right time to do it. Because you're never too old to learn, and it keeps your brain healthy and your heart young. Check out classes at your local community college or get information from different schools nearby to see what possibilities are out there.
Many colleges and universities across the USA offer cheap or even free classes when you're 55+, 60, or 65 years older. Often you can attend these classes without earning a degree, and in some schools, you're even allowed to earn a degree.
47) Join A Band
Are you into music and missing it now you're retired? Join a local band and start that musical fire in you again. And to help you out, here are a couple of links you can check out to see if there's a band or music group near you.
48) Learn A New Language
Retirement is a great time to learn a new language. Because, why not? It's fun, interesting and maybe you can put it into practice if you plan on traveling to a country with that language. You can check for local classes, so you also meet new people and have an opportunity to make a new friend. Or you can easily learn a language online from the comforts of your home via Duolingo and Babbel.
49) Learn A Musical Instrument
Also, great to do in retirement is to learn a musical instrument. It takes a lot of practice and time to learn a musical instrument, and because now you have more time on your hands, it's an excellent way to keep you busy and entertained.
50) Be Part Of A Singing Group
Do you love to sing? Go ahead and join a local singing group. You can ask around, check your local community center or google: singing group [city, state], and see what groups pop up that you can contact.
51) Immigrate To Another Country
Have you ever had the dream to be retired in another country, or the idea of living abroad sounds great to you? Then immigrating to another country can be an option for you. You can choose to live in a nicer and warmer climate with a beneficial currency that can make you live like a king or queen.
Living in another country sounds awesome, but is a huge step. So, before you burn all your bridges and make a rash decision, make sure you know and feel you're making the right choice. And for that, you need to be well informed about what immigrating really means. And do thorough research.
For that, you can meet up or contact people who went before you and who explain to you what is necessary, what their life looks like, and what they wish they knew beforehand. This can give you a better sense of what it looks like.
And you can also try it out for a couple of weeks/ months to really feel if this is the direction you want to take with your life. Take a "sabbatical" to the country you perhaps want to live in and try to live a normal local life. Being well prepared and managing your expectations can make your move more successful and less stressful. For more information about living abroad in retirement, you can visit the website: International Living.
52) Become A Consultant
It's not without reason that the following text is on many retirement t-shirts, coffee mugs, and baseball caps: "Retired. If You Want To Talk, You'll Be Charged A Consulting Fee".
You have so many years of experience and knowledge within a particular field that companies and people are willing to pay (a lot) of money for your level of expertise. Especially if you're level of expertise is very rare. As a consultant, you can control your own hours, which is great when you want to enjoy your retirement while also earning a bit of money.
53) Enjoy Your Free Time
A lot of retirees tend to jump from one busy schedule (their career) into a very busy schedule in retirement, without taking the time actually to enjoy this new sense of freedom. It's good to be active in retirement, but you didn't work your whole life to going from commitment to commitment in retirement.
Take a moment to breathe and enjoy that feeling of not having to work tomorrow. And then figure out how you want to spend your time in retirement. You can only figure that out when you're relaxed and out of your head. With a relaxed body, you can listen more closely to your heart and gut feeling.
Read more:
54) Apply For A (part-time) Job
Many early retirees love to go back to work in retirement. And perhaps this crossed your mind as well. Maybe you miss working and the structure, sense of accomplishment, and daily interactions with people that comes with a job. Or you need to work in retirement, because of the money. There are great job opportunities out there for retirees.
Especially when you don't do it for the money, make sure you apply for jobs that make your retired life more fun and enjoyable. You're in charge, so make sure you spend your well-earned time in retirement on things you love to do. Not on what you have to do.
Read more: The 50 Best Jobs For Retirees
55) Become Good At House Maintenance Projects
House maintenance can cost a lot of money. And now you're retired, you want to be cautious with your savings and spend on something more fun in retirement like traveling. So, when you're retired, it's a great opportunity to become better at house maintenance projects. It will save you a lot of money, and maybe this can be a new great hobby you enjoy in retirement. You can find lots of information and tutorials on house maintenance on YouTube.
56) Be A Great Neighbor
Being a great neighbor can make your life more fun and easy. It can make a huge difference in the quality of your life. Because "having a good neighbor is better than having a faraway friend" is a popular saying. And it's true.
When you take care of your neighbors, they will take care of you. Especially as you get older, you might need them in the future. And it's a nice feeling to help others and being surrounded by people that look out for one another. So, when you feel like you don't know what to do. Do something for your neighbor, it will make you happy, feel worthy, and useful.
57) Find Your Passion
When you're retired, you want to fill your days with things you love to do and not waste your days. Because you didn't work your whole life to spend your well-earned free time on something that doesn't make you feel excited about life. So, find something to do that you're passionate about. A hobby or activity that makes you forget time and never get bored off. It will give your life more meaning, and it will make you happy at the end of the day. And that's what we all want, right?
Read more: 14 Tips How To Find Your Passion In Retirement.
58) Watch Many Sunsets And Sunrises
The most magical things in life are beautiful moments. And at sunset and sunrise, nature is painting a picture of beauty for us, day after day. So whenever you don't know what you should do on your retired day, make time to watch the sunrise or sunset. It's always beautiful, and it makes you forget about your day and just enjoy the moment. And it's free!
Read more: 20 Amazing Trips and Vacations For 60-year-olds
59) Visit A Museum
As a senior, you can get free admissions or a discount to many museums. So take advantage of your age and visit museums that you find interesting. Contact the museum if and when they have free admission days, so you can save money in retirement and have something interesting to do.
60) Spice Up Your Romantic Life
Perhaps, because you've been busy with your career, your romantic life has been neglected for a while. And it needs a spice up. Plan a dinner date with your spouse or go online dating via SeniorMatch.
61) Have A Garage Or Yard Sale
Declutter your house and organize a garage or yard sale. Decluttering feels great, and you can earn a bit of money with stuff you didn't use anyway. And you get to meet new people, which can be refreshing too. It's a win, win.
62) Organize A Reunion
Retirement is the perfect opportunity to get in touch with old friends, classmates, and co-workers. You have the time to reach out, and perhaps you like to organize a reunion so you can reminisce about the good old times.
63) Start A Charity
If you feel passionate about helping others and you want to do more. You can use your time in retirement wisely and start a charity. Perhaps, you're touched by a story of someone in your family or social circle that you want to help out. Or yourself have experienced something, and you want to do something about it so other people can have a different experience in the future. If you're interested in exploring this idea, you can read this Forbes article about How To Start A Charity.
64) Create A New Routine
When you're just retired, you might feel the loss of structure and routine in your life. A job had benefits of having routines and structures. And to feel comfortable in retirement, you need to replace these old routines with new routines. And that is sometimes a struggle to figure out.
When you don't know what you should do today, then you can think about creating a new routine. And the best routine is a healthy routine that, after repeating, becomes more of a habit for you. And healthy habits will keep you healthy and positive about life so you can enjoy your retirement as long as possible.
Read more: How To Structure Your Day In Retirement
65) Do Something You've Never Done Before
Spice up your retired life by doing something you've never done before. Because getting out of your comfort zone will help you grow as a person and enables magic things to happen. You never know if you like something if you don't try it out. So, next time when you wonder what to do. Do something you've never done before. It will ramp up your focus, creativity, pace, and drive on your retired day.
Read more: 101 Ideas For Your Retirement Bucket List
Recommended Articles
The following articles might be interesting for you to read as well: