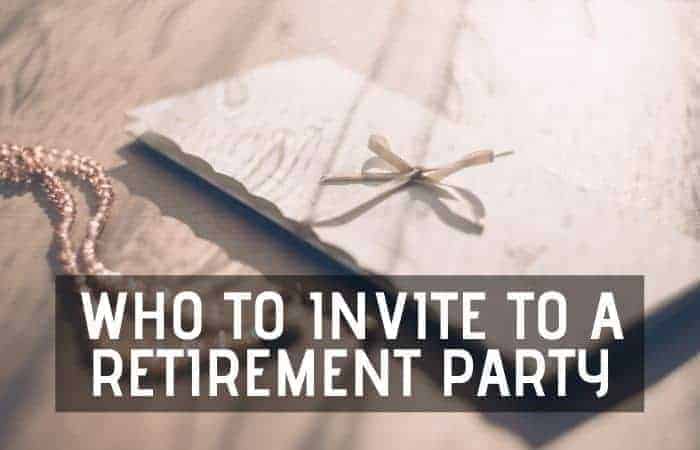 You're planning a retirement party, and you're probably wondering who you should invite? Don't look any further; I'm here to help you out.
Depending on the retirement party, you invite the following guests:
Corporate: invite all co-workers. A small company invites all co-workers from the office. A larger company only invites direct co-workers.
Private: depending on the size and budget, you invite all the important people in the retiree's life (family, friends, close co-workers).
These are just the basics. To learn more about who to invite to a retirement party, continue reading!
Who To Invite To A Retirement Party Guide
A retirement party is a celebration of a big milestone in life. You celebrate two things: the end of a career and the beginning of an exciting new chapter in life: retirement. So, the goal of a good retirement party is to celebrate the retiree's career and personal achievements in life. You make sure that the retiree feels appreciated, the retirement party captured his/her personality, and that everyone is included that plays a part in the retiree's life.
There are two different retirement parties: corporate and private retirement parties. And the guestlist for both is different, which I will explain to you below.
Who To Invite To A Corporate Retirement Party?
Corporate retirement parties can vary from formal dinner parties to more casual social gatherings at the office. It depends on different factors who you should invite. So, there isn't an easy straight forward answer. But I'm going to describe a couple of factors that can influence the guest list, so you can make a more informed decision for your retirement party.
It depends on the size and culture of the company, whom you should invite to the retirement party. As I mentioned earlier, a smaller company can invite all co-workers from the office. While a larger company might want to keep the guest list to direct co-workers from the retiree's department, but that isn't always the case.
The job position of the retiree and budget are factors that influence the guest list as well. A retiring CEO has probably a bigger retirement party budget and can invite more people than someone lower in the hierarchy of the company. And a CEO maybe wants to invite larger clients and the board of directors. And a company with a more informal culture can organize a retirement party that includes spouses or close family members.
So, to know who to invite you to need to know:
the budget of the retirement party,
the job position of the retiree,
the number of (close) co-workers of the retiree,
and the company policies and culture about retirement parties.
When you have a clear view of these specifics, you can make up your retirement party guest list.
The most important rule is, don't exclude anyone from the retirement party invitation list. Include all co-workers that worked with the retiree over the years, from direct co-workers to supervisors and managers. A corporate retirement party is not the time to single out co-workers based on personal differences. You preferably want to keep things neutral around a retirement party. It's a celebration and not an opportunity for a negative discussion afterward.
Read more: How To Celebrate Retirement At Work: 18 Creative Ideas
Who To Invite To A Private Retirement Party?
A private or personal retirement party is any retirement party hosted outside of work. So the invitation list is a little easier to make. It depends on who is hosting and the budget of the retirement party who you should invite. But overall, the rule is to include all people that are important in the retiree's life. That is a list of family members, friends, and close co-workers that became friends of the retiree.
The budget also influences the guest list. A small budget means a small gathering of the closest loved-ones. And with a bigger budget, you can invite more people and have a more extravaganze celebration. Maybe you come to a conclusion it's better to host at home instead of at an expensive venue so you can invite more guests. Or you don't want the hassle at home, and that means you need to downsize the guest list. It's for you to consider what fits your situation best.
When It's Your Retirement Party
When you're the one retiring and hosting the party, then it's totally up to you who you want to invite. Maybe you just want to have a small lunch or dinner with your loved ones at home or celebrate it with a bigger group of people at a venue. You're the one retiring, so you're in charge of the guest list. Don't let outside pressure intervene with your retirement party plans.
Don't feel obligated to invite everyone, but also don't make a mistake in burning bridges or ruining relationships by not inviting certain people. Take it into consideration and balance out what's more important to you when you make up your guest list.
When You Host A Retirement Party For Someone
It can be a bit different when someone else is retiring, and you're hosting the retirement party for him or her. You want to make sure you invite everyone that the retiree is close to. So make sure to double-check with the retiree or if it's a surprise party check with their spouse, best friend, or close co-worker that you didn't forget about anyone. You don't want to be responsible for ruining an important relationship by not inviting someone.
Read more: How To Celebrate Retirement Party At Home
How To Invite To A Retirement Party
Once you made your guest list, you can send out the invitations. And what kind of invitation is appropriate depends on the type of party. A paper invitation will be the most suitable for a corporate, formal dinner party. But if the company values being sustainable, it's best to send an email invitation.
Also, the personality of the retiree can influence your choice of invitation. An environmentalist prefers email invitations. And a more traditional and old-fashioned retiree prefers the more traditional invitations.
Invitation Etiquette Tips:
Send out invitations at least 3-4 weeks before the retirement party date.
Ask for RSVP so you can plan with the correct number of people.
Mention the dress code, so people know what to wear.
Plan the party on a date that is very close to the actual retirement date. The further away from the date, the less likely people will come.
All retirement party invitations should specify if the invitation includes a plus one.
In the invitations, you can share the number of years that the retiree has worked. This helps your guests write their retirement card for the honoree.
Keep the invited guests in mind while planning the date of the retirement party. A weekday afternoon or evening only fits people who are retired as well. Or fits best to a corporate retirement party with co-workers. Otherwise, the weekend is best to plan the retirement party.
If it's the intention that others contribute to the party, make sure these arrangments are clear to all who are participating before you send out the invitation.
If there are specific arrangements included or excluded, mention this in the invitation. For example, some parties only cover the drinks and some snacks. So having a meal is at your own cost. Or the company doesn't cover payment of dinner for additional guests. Make sure your guests are properly informed.
Do you mention gifts in the invitation?
Some people say it's not appropriate to mention gifts in the invitation. They say you only mention it in the invitation if you don't want gifts. As a retiree who sends out the invitations, it can come across as a bit greedy to mention gifts. If you want to avoid that, then it's best to not mention gifts in the invitation. But know that a lot of people also like to do a gift registry for their parties. So, it's up to you.
To workaround that is when someone RSVPs and asks about what to give, you can mention your plans for retirement. And give a couple of gift ideas or things that you need to enjoy your retirement plans better. This way, the guest asks about it themselves and you can give suggestions in the right direction.
But if you host the party for someone else you can add a gifting description so guests know what kind of retirement gift to give the retiree. And because you like to celebrate the retiree it isn't strange to mention or give a hint towards a great retirement gift.
Read more: Top 5 Best Retirement Gifts For Anyone
Retirement Party Checklist
Make a budget
Pick a date
Pick a venue (home, office, restaurant, event venue)
Make a guest list
Choose a theme (dress code, costume party, black and white theme)
Send out invitations
Choose entertainment and activities
Select food and drinks
Do an inventory on speeches and toasts
Gather decorations and props
Pick a Photo/ Videographer (if that's what you want)
Get a thoughtful gift
Do a sound/ video check day before
Have fun at the retirement party
Read more: How To Host A Retirement Party: Step-by-Step Guide
Retirement Party Ideas
You can make a retirement party more memorable when you add something extra. And I've listed some ideas below:
Give a thoughtful gift.
Give a speech.
Plan a roast. If the room, audience, and retiree is a fan of dark humor. Go for it.
Create a video to show at the retirement party.
Create a (photo) scrapbook with messages, pictures, and stories from memorable moments in the retiree's life.
Hold a quiz to put the retiree extra in the spotlight.
Hand out an award (medal, plague, framed group photo or customized piece of art)
Bake a cake
Arrange fireworks to go out with a bang
Create a Bucket List so guests can inspire the retiree with items for his/ her bucket list
Rent a photo booth with props to create funny photos for guests and retirees.
Rent a (slo-mo) video booth to create funny videos. And guests can leave video messages for the retiree to watch later.
Rent a karaoke machine.
Make (personalized) party favors when guests leave the party.
Read more: 30 Ideas To Make A Retirement Party Extra Special
Retirement Party Host Etiquette Tips
The host of the party should not expect or ask anyone to pay for her own meal. When you invite someone, you pay the bill. Unless, when it's discussed beforehand and mentioned in the invitation.
A retirement party is a life celebration of the retiree. Keep it positive and let the attention goes to the honored retiree, so they feel appreciated. Avoid talking about family or work-related problems.
As a retiree, avoid burning bridges with co-workers and bosses at your retirement party. You want to stay away from anything that can harm your reputation or the company's reputation.
Give a (little) toast or speech to start the party, honor the retiree, and let the guests know what to expect.
Try to socialize with as many people as you can. Don't focus too much on one group of people, but spread your attention so everyone feels included and welcomed.