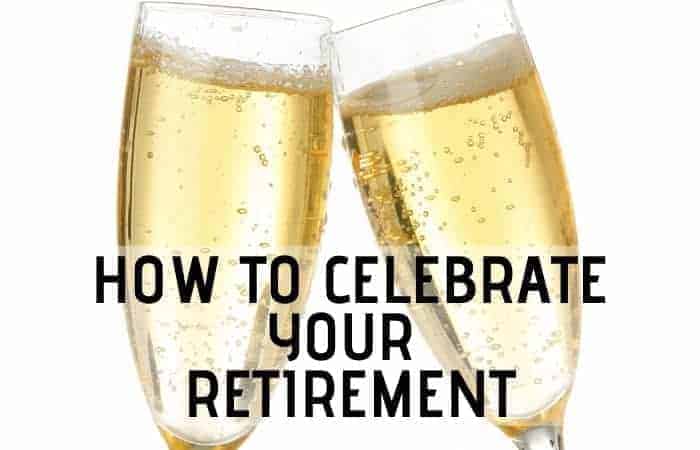 Your first retirement day is coming closer, and you're looking for ways to celebrate your retirement. Well, you've come to the right place because I'm here to help you out. I created a list with 30 awesome ideas to celebrate your retirement! It's time to get some party ideas, ready to get inspired? Let's dig in!


---
1) Host A Retirement Party
The most popular way to celebrate retirement is to plan a retirement party. Perhaps, your family or co-workers are already planning a party for you, and you don't know it. But you can also host a retirement party to celebrate this life achievement with your loved ones.
There isn't a typical protocol for a retirement party. It's totally up to you how big or small you want the party to be. You can host a party at home and have dinner and a dance party afterward with everyone you know, close co-workers, friends, and family. Or you can consider just going out for lunch with a couple of friends, or having brunch with only your children and grandchildren.
Read more: How To Host A Retirement Party: Step-by-Step Guide
2) Buy Yourself A Retirement Gift
Another way to celebrate your retirement is by buying yourself a nice gift. Perhaps you've had your eye on something for a while, and you didn't buy it yet because maybe you didn't think you'd deserved it or for some other reason. Well, this is perhaps the right time to pat yourself on the back and give yourself a well-deserved present.
It can be a permanent gift like jewelry, a watch, or a piece of art that will always remind you about your retirement celebration.
One of the best retirement gifts out there is the gift of Masterclass.
MasterClass is an online education platform with the world's most successful teachers and famous teachers: Gordon Ramsey, Christina Aguilera, Usher, Hans Zimmer, Stephen Curry, Carlos Santana, Jimmy Chin, Serena Williams, Dan Brown, etc. Masterclass offers classes (any skill level) taught by the best in the world: from cooking, acting, writing, poker, singing, sports to science, and so much more.
3) Plan A Romantic Trip With Your Spouse
What better way to celebrate your retirement than by spending it with your spouse. The first couple of days and weeks in retirement are also called the honeymoon phase, so why not go on a second honeymoon in retirement?
You can go away for a weekend or plan a long trip to a destination you've always wanted to visit. Perhaps, you love to go camping or want to go to the city of love: Rome, Venice or Paris. Make a road trip through Tuscany or visit a National Park nearby.
Read more: 20 Amazing Vacations And Trips For 60-Year-Olds
4) Donate To Charity
Perhaps, you're very grateful for all the changes and possibilities you received in your career and personal life, and you want to give back to others. And a way to celebrate your retirement can be to donate time or money to charity.
You can donate an amount of money to charity. Or you can give your time to charity and become a volunteer. Check out volunteer jobs at:
Another way to donate time to others is to share your wisdom and experience to educate others within your job field or in your personal life as a mentor or coach. Check out The Mentor Network if you're interested in becoming a mentor.
5) Spend Time On A (new) Hobby
If you're looking forward to spending more time on your hobby in retirement, that can be a celebration on its own. You've worked hard to finally retire and spend your time the way you want it. And that feeling of freedom and control of your agenda is what retirement is all about. So spending time on a hobby can be your way to celebrate retirement.
If you don't have a hobby yet in retirement, it's best to go on a quest to find a new hobby. It's good for your health and happiness to spend your time in retirement on an activity that makes you feel fulfilled and keeps you excited about life. And you can read my article: How To Get A Retirement Hobby: 7 Tips to inform yourself about where to start looking.
6) Give A Speech
You can give a retirement speech to celebrate your retirement. You can devote a couple of words to express your gratitude to the company and loved ones and say the things you're most proud of.
The last day at work, at a retirement party, last meeting, or when friends and family surround, you are perfect occasions to give a speech. It can be just a couple of thank you's or an entire official speech. That's up to you.
For guidance and tips, you can read my article: 20 Tips On How To Give The Best Retirement Speech.
7) Fulfill One Of Your Bucket List Dreams
Retirement is the time to make your dreams come true. And what better way to celebrate your retirement is by fulfilling one of your biggest dreams. Perhaps, you have a retirement bucket list with things you want to do in life, or you don't have anything written down, but you can complete the sentence: "I've always wanted to do…"
So if you want to travel to a dream destination, go skydiving, bungee jumping, run a marathon or climb a mountain. Go for it. And it doesn't have to be an adrenaline-filled activity; it can also be as simple as applying for a class, visiting far-away friends, or learning a foreign language.
Read more: 101+ Ideas For Your Retirement Bucket List
8) Go On A (family) Trip
When you don't want to spend money on a retirement party, but still want to do something significant with your family. You can consider going on a family trip together.
This way, you can celebrate your retirement with your loved ones in an inspiring or fun environment.
You can go to a theme park, go camping, rent a cabin by a lake, go skiing or make a road trip together. Check out my recommendation for the best and most reliable booking recourses to use to book your family trip. It can save you a lot of money and stress.
Read more: How To Retire And Travel Cheap
9) Surround Yourself With Family
Most retirees are looking forward to spending time more with family in retirement. So when retirement is finally here, then why not treat yourself by being surrounded by your family. These moments are the most precious ones, and a party or gift can't replace that.
Make sure to create time and space to spend your time in retirement with family. If your children or grandchildren live far away, you can treat yourself by buying a ticket to see them and stay for a while. Or visit that family member you miss so much. Sometimes, the best gift you can give yourself is spending quality time with family and friends.
10) Create Space And Time To Relax
After working 40+ years on a stressful job, it's time for much-needed relaxation. And you can celebrate your retirement by doing everything to relax, unwind, and enjoy that sense of freedom. Chill out by the pool, give yourself a massage, read books by the fireplace.
You take time for yourself to let "retirement" really sink in and make no commitments. This way, you can let go of everything job-related and become fresh and energized for this new chapter in your life. A great gift you can give yourself for retirement: a reset button to create space and time to figure out what you want to do with your time in retirement. Sleep on it as they say to have a clear mind and be well-rested for all the adventures you want to plan next in retirement.
11) Go To Your Favorite Restaurant
Celebrate your retirement by reserving a table at your favorite restaurant. You can book a table just for you and your partner or invite the whole family to join. Or finish your last day on the job with co-workers at your favorite restaurant in town.
12) Redecorate Your House
You can save money you might spend on a retirement party, to invest in your home by redecorating it. Then you directly also have a creative hobby project in retirement.
Because you're home more often in retirement, it's important to make your home as comfortable as much as possible. And spicing up a room can give it an entirely new feel.
You can start room by room with simple accessories or take on the project to remodel your house. That's up to you, but don't go too crazy right away with a big project to keep yourself busy in retirement. Spend your savings wisely and start small. Make sure to check out Pinterest for inspiration.
13) Join A Club or (sports) Team
It's vital for your health and happiness to be socially, physically, and mentally active in retirement. The key to a successful retirement is to replace your daily social interactions and routines from work with new fulfilling activities in retirement. And you can celebrate your retirement by joining a club or sports team, so you maintain being active.
Perhaps, there are exciting clubs nearby, you want to join, or you can check out local clubs with all sorts of different interests via Meetup.
Also, exercising is important in retirement and if there is a sport you like to do you can check out of you can join a (senior) sports team.
Read more: 20 Ways How To Stay Social In Retirement
14) Go On A (spa) Retreat
You can treat yourself to celebrate your retirement by going to a retreat. Perhaps, a getaway is the best way for you to relax, unwind, and let go of all the stress and chaos that surrounded your job.
There are different retreats, and here are a couple of examples:
Active and adventurous retreats: surfing, fitness, kayak, Stand Up Paddleboarding
Yoga retreat
(Digital) Detox retreat
Meditation retreat
Spa and Wellness retreat
After you return from a retreat, you're recharged and have a different perspective on life, which is an awesome start to your retirement.
15) Visit (far-away) Family
Perhaps, you had a hectic job and weren't able to visit family as often as you wished you could, because you've been busy all the time. So a great way to celebrate your retirement is to visit that far-away family you missed so much.
The gift you give yourself is the ticket to get there, and the time you can spend together. It sounds like a great way to celebrate your retirement.
16) Apply For A Fun Job
If you like to continue working in retirement, you can celebrate it by applying for that fun job you've always wanted to do. Perhaps, you want to do a volunteer job, work at a camp to earn money while traveling, or want to walk dogs. Everything is possible and go for it.
The best things about a retirement job are that you earn extra money, maintain being active, and maybe have some additional benefits as well. It will keep you occupied while doing something fun. And if you're looking for a fun job in retirement, you can read my article: The 50 Best Jobs for Retirees.
17) Plan A Friends Reunion
After working many years, there is a chance that friendships are watered down. And to celebrate your retirement, you can put in the effort to brush up on your old friendships. You can call them up to catch up, plan a trip together, or even plan a whole reunion with old high school or college friends.
It's always fun to retell the funny old stories with one another. And it can be emotional and rewarding to see each other after so many years. If you have great relationships, you look back on; it might be a fun idea to put some energy in to see each other again. You have the time now, so why not?
18) Apply For A Class
One of the best ways to celebrate your retirement is to invest in yourself. What are the things you've always wanted to learn but didn't have the time for? Or what skills would you like to develop more, or what subject are you interested in?
If you can answer one of these questions, you can check out if there is a class, course, or seminar nearby, you can apply for. And if not, there are other ways to educate yourself online via YouTube tutorials, podcasts, and Skillshare.
One of the best gifts you can give yourself is to have something fun to do in retirement. And if you like to get better at your hobby, learn something new or explore a new passion in retirement you should get yourself an All-Acces Pass to Masterclass. From a cooking Masterclass by Gordon Ramsey, Tennis Masterclass by Serena Williams, or a writing Masterclass taught by Dan Brown, etc. MasterClass offers a wide variety of online masterclasses taught by the best in the world. Check out all the masterclasses available here. 
19) Start Healthy Routines
Now you've retired, you want to enjoy it as much and as long as possible. Therefore it's best to start with routines that keep you happy and healthy in retirement. This way. You celebrate your retirement by investing in yourself long-term.
Healthy Routine Examples:
Meditation to reduce stress and train positive thinking
Exercising for muscle strength and flexibility: yoga, swimming, fitness, etc.
Healthy meals: lots of fruits and vegetables
Journalling: express and process emotions
Avoid watching too much TV
Avoid aimless scrolls on the internet and Social Media
Daily social interactions
Good sleep hygiene for quality sleeping hours
Read more: Five Steps To Happiness In Retirement
20) Create A New Tradition
Now you have the time you can start a new tradition within your family or neighborhood. Perhaps, you would like to organize an annual neighborhood BBQ to engage with your neighbors. Or you want to start a holiday tradition on the 4th of July, Thanksgiving, or Christmas.
If you love to organize events, host parties, and be social, then this could be your way to celebrate your retirement.
21) Rent A Boat
Enjoy your first days in retirement by renting a boat. Go for a spin on a beautiful lake, go snorkeling in the ocean or try out waterskiing for the first time. Nothing beats the feeling of being on the water, enjoying the sun and all that nature has to offer.
An experience to create new memories is a cool way to celebrate retirement, and often beats a material gift.
22) Order A Box of Your Favorite Wine or Champagne
If you're a wine and champagne lover, then what better way is there to celebrate your retirement is to drink a bottle of your favorite wines. Order a wine box or get a monthly subscription to The California Wine Club and invite some friends and family and enjoy time together. Or, if you would rather keep the wine to yourself, order a box, and enjoy a nice glass of wine for the next couple of weeks.
23) Go To A Concert
Treat yourself by buying tickets to a show of your favorite artist or band. Perhaps, you would like to experience a concert at famous concert halls in New York like Radio City Music Hall, Carnegie Hall, or Madison Square Garden. Or go to a classical concert at other famous venues you like to visit once in your life.
24) Visit A Musical (on Broadway)
If visiting a broadway musical is on your bucket list, then your retirement celebration is the perfect occasion to go. Spend a couple of days in New York to do some sightseeing as well as part of your retirement celebration.
And if you've visited a broadway musical already, you can consider going to a musical at West End in London. Enjoy the British culture and the London sights.
25) Go On A Wine Tasting Tour
Going on a wine tasting tour can be an excellent way to celebrate your retirement. You can go with your partner and other friends to experience it together.
The most famous wine-tasting region is Napa Valley in California, but there other places the US that is great for wine-tasting as well:
Walla Walla Valley, Washington
Columbia Valley – Washington
Willamette Valley, Oregon
Boise, Idaho
Santa Fe, New Mexico
Fredericksburg, Texas
Kansas City, Missouri
Traverse City, Michigan
Finger Lakes, New York
Sanoma Valley, California
Santa Barbara, California
San Luis Obispo & Paso Robles, California
Escondido, California
And if you like to travel a bit further then here's a list of great wine-regions worldwide:
Stellenbosch, South Africa
South and North Island, New Zealand
La Rioja, Spain
Mosel-Saar-Ruwer, Germany
Tuscany, Italy
Maipo, Chile
Mendoza, Argentina
Champagne, France
Sicily, Italy
McLaren Vale, Australia
Douro Valley, Portugal
Bordeaux, France
26) Go To A Sports Game of Your Favorite Team
When you love watching sports and have a favorite team in the NFL, NBA, MLB, or another sports league. Then it's a great celebration of your retirement to visit a game of your favorite team. Your partner, friends, or family can join you on this trip as well.
27) Go To A Casino
If you feel lucky, then you can visit a casino to celebrate your retirement. You might end up with more money at the end of the night. Go for a weekend getaway to Atlantic City or Las Vegas and add some tickets to a live show as well. Don't go too crazy by spending all your money or savings, but have some fun with friends and see how lucky you are.
28) Visit A (music) Festival
Another great way to celebrate your retirement is to visit a (music) festival you've always wanted to visit. Perhaps, visiting Burning Man is on your bucket list, or you want to relive your childhood by attending a festival your favorite band from the early days is performing.
29) Bake or Order Yourself A Retirement Cake
A celebration calls for a cake. So your retirement needs to be celebrated with cake. Unless you don't like cake, but who does?
So order a delicious cake to deliver at the office on your last day, your retirement party venue, or at home. And if you're a baker yourself, why not bake your own retirement cake to enjoy with co-workers, friends or family.
Read more: What To Say On A Retirement Cake: 90+ Ideas
30) Write Yourself a Celebration Letter To Open One Year Later
Now that you're in a happy mood and feel excited about retirement, you can write a motivational letter to yourself. In that letter, you can congratulate yourself on this life achievement and express goals and wishes for yourself in retirement.
You put it in an envelop and keep it in a place you will remember and open it one, two, or five years later. It can be a great reminder for yourself where you express why you wanted to retire and what you want to do in retirement. This way, the moment you feel down in retirement, you can read the letter to boost up your mood and maintain focus on life-goals.
Retirement is not always fun, and for some retirees, it can feel like a disappointment after a while because the reality is different from what they've expected it to be. A positive letter to yourself can be the best gift you can give yourself to focus on the things you want to accomplish in retirement and boost your mood in times you need it most.
Recommended Articles
The following articles might be interesting for you to read as well: