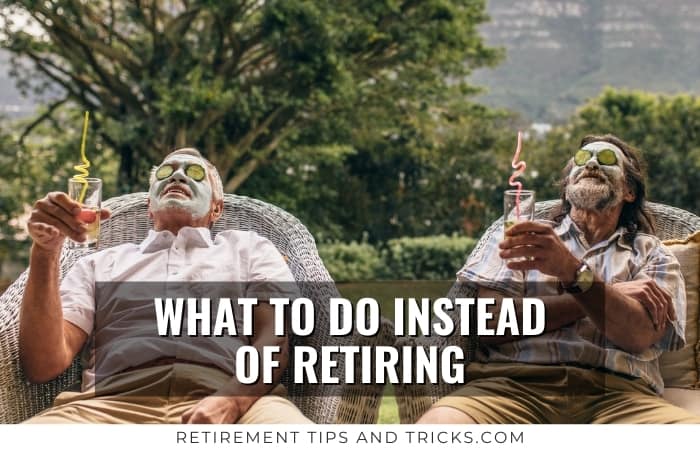 Not everyone is looking forward to a full-time retirement. The idea of doing nothing, not having something to retire to, or leaving the workforce entirely is a daunting feeling. If that's the case for you too, you might wonder: what can I do instead of retiring? Well, in this article, I'm going to share 15 fun and creative alternatives on what you can do instead of full-time retiring. Curious to find out more? Let's dive in right away!
Just a heads up, this post contains some affiliate links. As an Amazon Associate I earn from qualifying purchases. Purchases you make through these links may earn us a small commission, at no extra cost to you.
1) Retire Part-Time
One of the best ways to transition into retirement is to tiptoe into retirement. You don't stop working, but you retire part-time by reducing your working hours over the years. You can reduce the hours gradually or pick a certain date where you cut your working hours in half. Ask your employer to see what's possible.
This way you can easily adjust to more leisure time while you still keep working at the job you love. Also, you slowly get more comfortable with a slower pace of life. And it gives you the opportunity to try out different retirement activities until you've found your passion because retiring to something is easier than retiring from something. And perhaps when you've found that true passion you start to feel ready for full-time retirement. Or you continue working and retiring part-time because this lifestyle suits you the best.
Going from full-time working to full-time retirement is a major life change. A lot of people underestimate it and are struggling. They feel grief over the life they had and don't know what to do with their life in retirement, yet. Part-time retiring prevents this problem because you still have a clear direction and purpose in your life (your job) while you figure out your life outside of work. It makes your chances of retiring happily ever after a lot bigger.
If you're worried about finding happiness in retirement? I can help you out with that. With my Ebook: Five Steps To Happiness In Retirement, I'll show you how to get yourself on the fast track to happiness in retirement with practical and easy tips.
2) Go Back To School
When you would like to retire from your work, but you don't want your brain to stop working. You can decide to go back to school. It's what many seniors and retirees love to do. And why not relive your college years all over again and learn something new while you also make new friends? You can even earn a degree in retirement.
A lot of colleges make it easy for you to go back to school. They offer discounted or free programs for seniors. From shorter-term programs to complete courses. Make sure to contact your nearby college or your favorite college to see what senior programs are available.
In the meanwhile, there are other ways to follow classes in retirement. And one of the greatest platforms out there is Masterclass. It's an online education subscription platform that allows you to learn from the world's best experts. From cooking classes by Gordon Ramsay, Aaron Franklin to writing classes by Shonda Rhimes, Dan Brown, Judy Blume, sports classes by Stephen Curry, Serena Williams, Tony Hawk and so many more world's greatest in design, business, art, entertainment, science, and music. You get over 100+ masterclasses (one class has multiple video lessons) with One Membership, where you can learn from the comforts of your own home at your own pace, anytime, anywhere, and on any device.
3) Take A Sabbatical
Another thing you could do instead of retiring is taking a sabbatical. You take a break from your job to have time to reflect on your life, travel, get another academic qualification, or whatever you decide to do.
Having some distance from the job and creating space and time for yourself to breathe and rest gives you the opportunity to think about what's important and decide how you want to prioritize your life and career in the future.
After this extended break you can make a clear decision on what you want to do in the future. Continue working full-time or retiring fully or partly? The advantage of taking a sabbatical is that there is an end date. The chances of feeling lost and wasting time are less because you know you only have a certain amount of time to do all the things you wanted to do. And it helps to have a reason to take a sabbatical, this way it gives it more meaning and you'll have a goal to pursue. This gives you direction and purpose in your everyday life during your sabbatical.
A sabbatical is often a year-long but can be shorter or longer depending on your wishes and the possibilities within the company you work for. It can be paid leave with a full salary or a percentage of your salary or your employee only offers you unpaid leave. You'll have to prepare yourself for the possibilities, figure out the reason for your sabbatical, and read the company policies before you go into the conversation with your boss or manager about taking a sabbatical.
4) Turn Hobby Into A Career
Whether you decide not to retire, retire part-time or full-time or take a sabbatical you can try to spend your off time turning your hobby into a new career. If you don't know if can earn money with your hobby you can use the rule of thumb, anything that adds value to others could potentially be monetized.
If you love baking you can start a baking business to sell (birthday, wedding, anniversary cakes), if you love painting you can try to sell your paintings or other arts and crafts on Etsy. From woodworking, the dog training to guitar playing. Anything is possible with the right gut feeling, concept, business plan, and effort.
And you can use the education platform Masterclass to elevate your skills and learn more about starting a successful business. You can watch interesting business masterclasses from Anna Wintour, Bob Iger, Daniel Pink, Chris Voss, Sara Blakely, and many more professionals that share their business secrets on Masterclass. It works just as easily as Netflix. Click here to find out more about Masterclass.
5) Start A Business
The best thing about being retired is being your own boss. And instead of lying by the pool or playing golf, you can become your own boss by starting a business in retirement. This could be your hobby as I mentioned earlier, but it can also be new territory. If you see an opportunity, have the right skills/ people with the right skills or eagerness and time to learn and know it can be valuable to others you have a business opportunity at hand.
To give you an example. We retired from the workforce to travel and start an online business. We didn't have any experience but we had time, willingness to educate ourselves, and perseverance. This is mostly all you need to start a successful business. And at this time you don't need a lot of money to start a business. Here are some ideas
Retirement Business Ideas
Landlord
Bed and Breakfast Owner (via Airbnb)
Gardener
House Flipper
Blogger
Handyman
Read more: Which Business Is Best In Retirement?
6) Become A Freelancer
Also becoming a freelancer is something you could do instead of retiring. For example, you can become a consultant or advisor for your previous employer. Your life experience, dozens of years in the workforce can be very valuable. Especially if it's rare. You can earn a great deal of extra money in retirement.
Before you retire or decide to retire you can come to an agreement with your employer that you retire but continue working as a freelancer for X amount of hours in the week. You can negotiate on your hourly price and working on flexible hours.
But there are also other freelance jobs in retirement to pursue. You can be a digital assistant, online writer, or web designer (check out how to get online freelance jobs via Fiverr), substitute teacher, dog walker, dog trainer, painter, handyman, bookkeeper, tutor, coach, or mentor.
7) Get A Job
More and more people are working after their retirement age according to BLS. It's a trend that is expected to increase fast. And there are mostly three reasons why people continue to work at an older age. It's because of financial need, the desire to stay busy in retirement, and the potential extra social benefits that come with a job. Also, it could be beneficial for your Social Security benefits to continuing to work after your full retirement age.
Whether you have to get a job to make ends meet, want to get a job to stay busy or you need the extra benefits that are attached to certain jobs. Know that you're not the only one that wants to be working after their retirement age. And it doesn't have to be such a bad thing, because there are awesome retirement jobs out there that are fun too. Check out my article: 50 Best Jobs For Retirees if you want to get inspired.
Also when you have a job you stay mentally, socially and physically stimulated which is essential for your happiness.
8) Do Volunteer Work
When you want to give your life meaning and fulfillment, one of the best things you can do is do volunteer work. Helping others instantly makes you happy, and that is a great reason why many retirees and seniors love to volunteer.
As I mentioned earlier, having a job keeps you mentally, socially, physically stimulated. Which are the key ingredients to a successful retirement. But doing volunteer work adds a bit of extra magic. Nothing beats the feeling of helping another person out.
To give you some examples: you can become a foster grandparent, a coach, senior companion, but also volunteer at your church, community garden, senior community center, or soup kitchen.
9) Work While Traveling
Most people when they think about retirement, envision traveling the world. Now that is often not the reality. Traveling gets boring after a while or you don't have the financial resources to travel in retirement.
And there is a way to work around that. You can work while traveling. For example, you can work at a ski resort, holiday resort, campsite, cruise ship, national park as a park ranger, or be a tour leader. You still get to see a lot of the country or world and it doesn't cost you any money. And it can be seasonal too. Working only a couple of weeks or months in a year.
Especially when you love the RV life you can combine road tripping with a part-time or full-time job via workamper.com.
10) Change Your Lifestyle
Instead of retiring to spend more time at home, you can change up your lifestyle. Immigrate to another country, move closer to your grandchildren, hit the road with RV life, or buy a boat to live at sea like the retired people in the video below.
It's recommended to first try this new lifestyle out before you make any major decision. But when you do know that this a dream of yours. Why not pursue it?
11) Switch Careers
When you would like to retire from this job, that doesn't mean you want to retire entirely. Perhaps you want to change things up or want to leave a toxic work situation. Then you can consider making a career switch. And that doesn't have to be hard. Depending on the industry, there are retraining courses available that can help you make this switch easier.
12) Work At Home
If Covid has learned us one thing, is that working from home is here to stay. Many people I know never want to go back to spending 5 days at the office. Maybe one or two days working at the office to reconnect with coworkers and the other days from home, but not more. They experienced that work and private life is more in balance this way. And you don't have to waste time commuting to work.
If commuting isn't your favorite thing in the world, or if there is another reason why you want to spend more time at home, you can consider working at home. This could be your present job or find jobs that are easier to do from home.
13) Take On A Project
Having something to retire to makes your retired life a lot more fun. And a great way to fill in your time is to take on a project. This could be a freelance project to earn some extra money, but also remodeling your house, writing your memoirs or a novel could be a nice project for you.
You can do this after your retirement date, but also as a professional break. You leave your job to pursue a personal goal with a fun project and continue working afterward.
14) Become A Teacher
When you have a passion for a certain subject you can consider becoming a teacher. The many years of experience on the job could give you that extra special something to be a great teacher at a high school, college, or university.
Now to become a teacher you need to meet some requirements that are different per state. Most of the time you need to have a master's degree to teach at a college or university. Although there are some colleges that hire retirees with a Bachelor's degree, but that's only if they have a lot of experience in a certain industry field. For teaching at a high school, you need a bachelor's degree.
Read more: Can You Retire And Become A Teacher? A Step-by-Step Guide
15) Get Into Politics
If you would like to change things for yourself, your community, or your grandchildren, you can consider getting into politics. You can join a party, help out with campaigns, become a lobbyist, consultant, pollster, or campaign manager. Most people like to go into politics because they want to contribute to something and they feel like they have something to add and bring to the table. If this is the case with you, maybe this is a great thing to do instead of retiring.