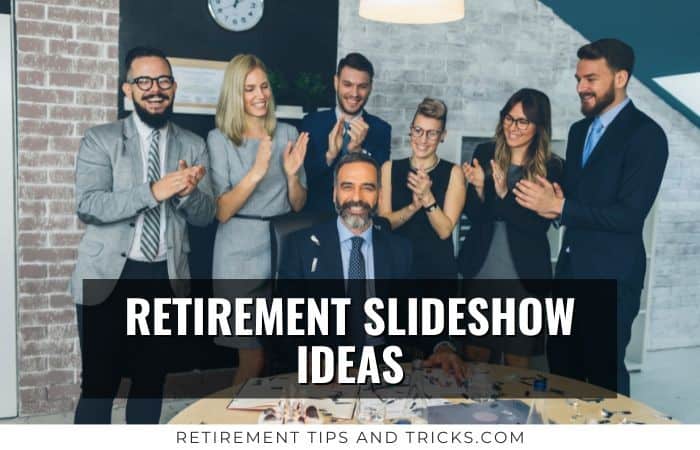 Someone is retiring and you want to honor him/ her in a memorable way and that is why you might wonder, what should be included in a retirement slideshow?
In a retirement slideshow, you should include photos and videos of memorable moments from the retiree's career and personal life. Add text or use voice-over to highlight professional achievements, career milestones, and personal dreams. And use transitions and a song to finish it. Optional: add video messages from family, friends, and coworkers to make it more memorable.
In this article, you'll find everything you need to know on how to create an amazing retirement slideshow including 50 amazing ideas and examples. And I share the secret of how to create a slideshow easily and quickly, without you having to do all the work. So, continue reading.


---
What To Include In A Retirement Slideshow: 50 Ideas
Most retirement slideshows are a combination of photos, videos, messages, text, songs, etc. I've listed the best retirement slideshow ideas below to give you ideas and inspiration to create the most original retirement slideshow out there.
Photo Ideas For A Retirement Slideshow
The most classical retirement slideshow is a slideshow of photos of the retiree with a matching song. But it can be so much more than that.
And the success of the retirement slideshow starts with having great content. That is why it's important to collect as many photos from friends, family, and coworkers so you can pick out the greatest ones. But what kind of photos should you include in a retirement slideshow? Here are some ideas:
1) Photos from the retiree's childhood until now.
Collect photos from the retiree as a baby until the most recent photos to create a beautiful life story. Add a few texts or narrate the story with voice-over recording.
2) Photos from the office.
Collect photos office party photos and on-the-job photos to create a career highlight story.
3) Photos from the retiree's personal life and career.
Create a funny, sincere, or meaningful slideshow of personal life and career.
Funny Corporate Retirement Slideshow Example
Video Ideas For A Retirement Slideshow
Besides adding photos you can also add videos to the slideshow. It can be a combination of both. And here are some fun ideas:
4) Thoughtful Video Messages
If this retirement slideshow is for a coworker, you can ask all coworkers to record a video message for the retiree. Or you can consider asking also friends and family to join in. Retirement is a life celebration, so a video slideshow with the most important people in their life, both private and work-related, is a great idea. But that is up to you. It depends on the moment you want to share the retirement video and what kind of relationship you have with the retiree.
Retirement Tribute Video Example
Best Group Video Maker
With VidDay, you can easily create a retirement tribute video, whereas many people can join in to commemorate the retiree. Everyone and anyone can create beautiful retirement tribute videos because you don't need to download an app, you don't need editing skills, and VidDay does all the work for you.
Here is how VidDay works:
– Invite Co-workers & Family: send an invitation link for everyone to join the retirement slideshow by text, email, etc.
– Receive Video Clips & Photos: all of the retirement video messages and pictures are collected in your VidDay account for you.
– Share the Retirement Tribute! VidDay will create your beautiful retirement video montage to celebrate the retiree. You can customize it to your liking by selecting the theme, song, transitions, and order of video messages.
Start A Retirement Group Video Here >>
5) Group Video Montage Of Funny Stories
Another fun way to honor the retiree is making a group video montage of funny stories and anecdotes.
You ask everyone to share big, funny, laughable, teachable, or embarrassing stories in a video to honor or make fun of the retiree. And also, share why that moment is a memorable moment they'll never forget. Preferably you want to ask people to create videos that are no longer than 1 minute, so the entire video montage doesn't become too long and boring to watch.
This slideshow idea is easy to make with VidDay.
6) Group Video Montage Of 1-Minute Toasts With Champagne
What is a celebration without champagne?
You make a slideshow where everyone makes a champagne toast on video in a funny way. And here is how it works:
Make sure everyone who joins the retirement video has the same glass of champagne or sparkling wine that looks similar. Ask all participants to do the same action in the video: grab the glass of champagne outside the screen from the right, make a toast by raising the glass and saying a couple of words, and put the glass away outside the screen on the left. If you cut it correctly, it looks like everyone is passing this glass of champagne through the screen.
Retirement Video Toast Message Ideas
Cheers to your retirement. May it be filled with good health and happiness. Dear (name) have the time of your life in retirement!
Cheers to all your retirement adventures. Make this new chapter in your life the greatest one in the book.
Congratulations on your retirement. Cheers to many years of working for your wife now.
You don't need editing software to create this retirement video idea, you can easily use VidDay.
7) Group Video Montage Of Funny Answers To Same Questions
Many cool birthday videos and retirement videos are created where people answer the same three, five, or more questions about the retiree. It's a great retirement slideshow idea when people don't know what to say in a retirement video. And it's very simple; here is how it works.
You come up with three or five amazing questions that other people need to answer in the video they record on their phone or tablet. You can email these questions along with the video instructions and ask if they can read the question first and then share the answer on the screen.
Questions You Can Ask
What is the funniest moment you share with the retiree?
What is the retiree's best attribute?
What is the retiree's most successful project?
Which part of his/her job did he/she dislike the most?
How did he/she do to get out of a meeting/ difficult task?
What have you learned from the retiree?
What is his/ her most famous/ well-used phrase?
What is the most annoying thing about the retiree?
8) Group Video Montage Of Written Words
Another fun retirement video idea is a more silent one. Nobody needs to say anything. It's all written words on paper with nice music.
You can ask people to record a short video while they hold up a sign with a word or a couple of words. They can hold up a sign with a message for the retiree individually, and you create one video montage of all video messages. Or you can create one retirement video with one message where everyone joins in. Each person holds up a sign with a small part of the entire message for the entire video.
Retirement Slideshow In Written Words Example
9) Video Of Career Highlights
A lot of people like to honor the retiree with a presentation of their career highlights and showcase it on their last day of work or during one of their last meetings in the office. Or even at their office retirement party.
If you're looking for a fun retirement video idea for a true legend in the office, this could be it. You can create a video with a collection of videos and photos of the past and add text to showcase the retiree's career highlights. Add some music, and you're done.
Next to their career highlights, can you add their best qualities in text and other accomplishments and share all the reasons the retiree is such a true legend. Maybe ask the boss or another person to be get interviewed or be a voice-over in the video. And you can also ask a couple of other people who played a huge part in the retiree's career successes to say something and share the lessons they've learned from him/her. Or what kind of difference the retiree has made in their life.
Retirement Video Example
9) Music Video Clip
Another fun retirement video idea is to create a music video. You can pick out the retiree's favorite song or a popular song to dance to or sing along with. You can consider coming together with all people and recording a music video with each other from one place, for example, the office. Or ask people to record their own videos while they sing and dance to the same song. And you create one music video with all submitted videos.
The best way to do that is to ask everyone to record themselves singing or dancing to the entire song so you can pick out the best parts for the montage. And don't forget to put on some fun costumes and use cool props for that extra spark.
Example Of Retirement Music Video Clip
10) Last Day Of Work Short Movie
Make a video of what the last day of work is going to look like and how the retiree will enter his/ her first moments of retirement. This can be a trailer or a short movie.
Funny Retirement Movie Example
Text Ideas For A Retirement Slideshow
When you've collected photos and videos it's time to add text to your retirement slideshow. It can be as simple as 'Happy Retirement (name)' at the end. Or have a title for each chapter in the slideshow. Here are some great ideas:
11) 'Happy Retirement' at the end
12) 'Congratulations on your retirement' at the start
13) List all the retiree's jobs in his/ her entire life
14) Question on screen (that gets answered by friends, family, and coworkers)
15) Retiree's Most Famous Phrases
16) List With Most Successful Projects
17) List Of Retiree's Best Qualities
18) Revenue Numbers Entire Career And Other (Number) Facts
Song Ideas For A Retirement Slideshow
A song is important to set the right mood for the slideshow. You can decide for yourself if you want to use a happy, moving, or upbeat song for the slideshow. Or add funny sound effects to create some laughs too.
When you use VidDay you can pick out different songs and themes from their library. But you can also use the retiree's favorite song, the most famous song in the office, or a retirement-themed song for your slideshow. I share some fun song ideas for your retirement slideshow below.
Note: when it's a retirement slideshow for personal use it's okay to use a famous song, but if you're planning on sharing it with (the rest of the world) you need to use a royalty-free song due to copyright.
19) It's Five O'Clock Somewhere – Jimmy Buffett
20) Margaritaville – Jimmy Buffett
21) Another one bites the Dust – Queen
22) Working 9 to 5 – Dolly Parton
23) Hit The Road Jack – Ray Charles
24) Stayin' Alive – The Beegees
25) Fun, Fun, Fun – The Beach Boys
26) I've Had The Time Of My Life – Bill Medley, Jennifer Warnes
27) We Gotta Get Out of This Place – The Animals
28) Hello, Goodbye – The Beatles
29) My Way – Frank Sinatra
30) Good Riddance (Time of Your Life) – Green Day
31) Hall of Fame – The Script
32) Born To Be Wild – Steppenwolf
33) Sittin' On The Dock Of The Bay – Otis Redding
34) You Haven't Seen the Last of Me – Cher
35) Good Times Roll – The Cars
36) I Gotta Feeling – The Black Eyed Peas
37) Happy – Pharrel Williams
38) Celebration – Kool and The Gang
39) Can't Stop The Feeling – Justin Timberlake
Message Ideas For A Retirement Slideshow
A lot of people don't have a clue about what to say when it comes to retirement. And that is why I'm here to help you out.
I want to share a formula that you can use for an awesome retirement video message. If you personalize this formula, you'll do great:
Congratulating + acknowledgment of their work + compliment of a great trait + favorite memory + well wishes for the future = Awesome Retirement Video Message
But here are some more ideas that you can customize to your situation:
40) Dear (Name), congratulations on your retirement. Thank you for all your hard work and dedication. I've enjoyed working with you, and I'm going to miss you. It will not be the same without you here. I wish you many years of health and happiness in retirement. Enjoy!
41) Happy retirement (Name)! I start by saying I'm going to miss you so much. I'm thankful for the years you've been my boss and I'm grateful for all the opportunities you've been giving me in my career. You motivated me and taught me so much. You will always be my favorite boss. And I hope you won't forget me. Enjoy your time with your grandchildren and go camping. Congratulations and cheers to you!
42) Hey (name), you're going to live the good life. No more Mondays only Saturdays and Sundays from now on. Can't wait to get there too. Well, I wish you all the best. Spend all your money on your wife 😉 And have a good one. Happy retirement!
43) Congrats on your retirement (Name). I hope you have a wonderful time. Don't golf too much, because I want to keep winning. We will keep in touch. Enjoy and take care!
44) (Name), the man I've looked up to for 30+ years. It's been an honor and privilege to have been working with you. I love you. I wish you the best in retirement. Congrats!
45) Hi (Name), Congratulations I wish you all the best. And I hope you enjoy each and every day of your retirement. You can catch up on all the sleep that you've lost all over the years. And may you and (Name Spouse) have the best time ever. You have been a great friend over the years. We love you.
46) Happy Retirement (Name)! Now your wife is your new boss ;). But in all seriousness. I am so happy for you. And I am proud of you. I hope you have a good time, I hope you stay busy and I hope you get to do all the things you've always wanted to do. Enjoy!
47) Hey (Name). I want to congratulate you on your retirement. Hopefully, we can go golfing/ fishing sometime. And if you need any advice on all things about retirement. Give me a call. Well, take care, enjoy your time with (name spouse) and your grandchildren and we see each other soon.
48) Hi (Name). I can't believe this day is here. I am so proud of you that you get to retire. (Company name) we're so blessed to have you as an employee. And I can't what you're going to do in retirement, but if you get bored I've plenty of projects at my house. Congratulations and enjoy!
49) Congratulations (Name). I daydream about retirement every day and you get to live it. Now you're only job is to have fun. And I know you'll be great at it and you're going to have a great time. And I can't wait to see where that leads you. Cheers to lots of adventures in your retirement and I wish you tons of happiness in the years ahead.
Read more: What To Say Instead Of Happy Retirement? 95 Alternatives
Props, Theme & Costume Ideas
Any retirement video or slideshow becomes a lot more festive with a theme, props, and fun costumes. For example, you can do a travel-themed slideshow when you know the retiree is having travel plans in retirement. Or ask people to dress up as the retiree when they record their video message. Or get a 'Happy Retirement' backdrop and fun props when you want to record happy retirement wishes and do interviews at the office.
How To Create An Amazing Retirement Slideshow
We all know the classic PowerPoint presentation, but that can take a lot of work to create a nice retirement slideshow. There is a much more easy way to create a beautiful retirement slideshow without many hours of work. In fact, most of the work is done by an online video maker. Now, that saves you a lot of time.
And one of the best group video makers is VidDay as I already mentioned. And here is how simple it works:
Step 1: Create a VidDay account and set up an event page for the retirement video.
Step 2: Invite family, friends, or coworkers to join in by sharing the link via email, text, social media, WhatsApp, etc.
Step 3: Everyone records a video on their phone or tablet and submits their video and photos by clicking on the link.
Step 4: When all videos are uploaded you can rearrange the order, and add transitions, text, and photos.
Step 5: VidDay does its magic and makes a beautiful montage while you enjoy a glass of beer or wine.