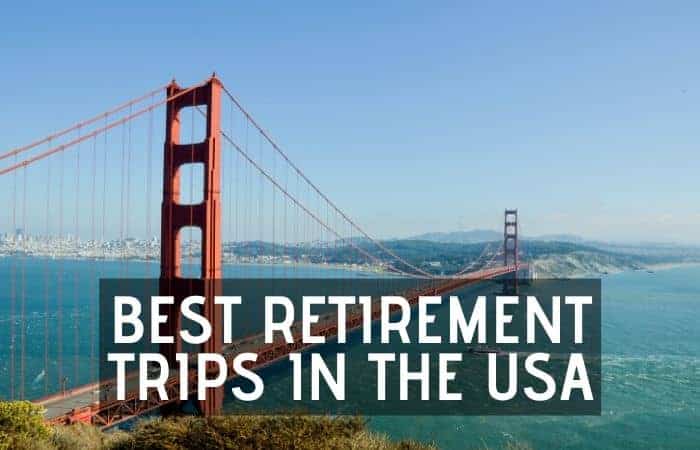 When you want to plan an awesome trip in the USA for your retirement days, you've come to the right place. Because this article is filled with amazing retirement trip ideas.
I share 20 Fantastic Retirement Trips in the USA to inspire you for your next travel adventure in retirement. Including travel information such as highlights, where to stay, the best time to visit, and more.
1) Camping Trip Grand Canyon
Visiting the Grand Canyon is a bucket list experience. Every traveler is awestruck at the sight of the massive Grand Canyon with gorges, ridges, and rock formations. And making a camping trip to this beautiful wonder of nature can be an amazing trip for you in retirement.
You can walk over the Grand Canyon Skywalk with its transparent glass floors and see 4,000 feet into the Canyon. Hike the best trails: Rim and Bright Angel Trail, and visit the beautiful Havasu Falls. If you're more the adventurous retiree, you can go Colorado River Rafting or take a Helicopter Tour to see it from above. You can combine your trip to the Grand Canyon with a visit to Las Vegas and the Hoover Dam.
Take your RV or rent an RV and stay at a campsite near the Grand Canyon. These campsites are ranked to be the best campsites out there:
Trailer Village RV Park
North Rim Campground
Bright Angel Campground
Mather Campground
When you're not a camper, you can check out the best accommodations near the Grand Canyon here.
Book tip: The Grand Canyon: Between River and Rim
2) Nature trip Yellowstone National Park
Another great trip to do in retirement is visiting the beautiful Yellowstone National Park. This nearly 3,500-sq.-mile of wilderness is on top of a volcanic hot spot and is famous for its gushing geysers. It also features dramatic canyons, alpine rivers, lush forests, hot springs, and its home to hundreds of animal species. You can spot bears, wolves, bison, elk, and antelope.
The first national park of the USA and the world spreads across the states of Wyoming, Montana, and Idaho. And it is a great trip to do in retirement when you love to witness nature at its finest. And when you go, you don't want to miss Old Faithful Geyser, Lamar Valley, The Grand Prismatic Hot Spring, Mammoth Hot Springs, and hike the Hayden Valley Trail. Or visit the Yellowstone Historic Center.
You want to spend three days at least to explore the most famous landmarks of the park. And when you want to go more off the beaten track, go fishing or hiking, you'll need at least five days in Yellowstone Park.
The best time to visit Yellowstone is during the shoulder months: April to May and between September and October. In these months, you avoid the crowds during the busy summer months of July and August, and you can experience mild weather.
Check out the best hotels, lodges, cabins, and inns for your visit to Yellowstone Park here.
Book Tip: Fodor's The Complete Guide to the National Parks of the West
3) Road trip the Pacific Coast Highway, California
Take a road trip along one of the most famous coastal routes of the USA: the Pacific Coast Highway. This route is more than 650 miles long and takes you along the California 1 highway. It is known to be one of the most scenic routes of the world and can be one of the best road trips you can do in your retirement.
You can start in San Francisco and drive south to San Diego or go the other way around and drive north. Officially the Pacific Coast Highway begins in Southern California at Interstate 5 south of San Juan Capistrano, and it ends at US 101 in Leggett in Mendocino County.
The best stops along the Pacific Coast Highway are San Francisco, San Jose, Santa Cruz, Monterey Bay, Big Sur, San Simeon to visit Hearst Castle, Pismo Beach, Santa Barbara, Ventura Beach, Malibu, Los Angeles, Long Beach, and San Diego.
For the best car rental deals, I can highly recommend Rentalcars.com. It's the world's biggest online car rental service, where you can compare rental car prices from over 900 companies. It can save you a ton of money that you rather want to spend on fun things to do in retirement.
Read more: How To Travel Cheap In Retirement: 20 Helpful Tips.
Book tip:
4) Relaxation Trip Hawaii
When you just retired, you probably want to unwind and relax. Or when your retirement is all about relaxation and chilling, and you're looking for a great destination to do that, then Hawaii is probably the best pick.
And that's because of the beautiful nature, stunning beaches, friendly people, delicious food, endless activities, and a relaxing atmosphere.
Did you know that Hawaii is the most isolated population center on the face of the earth? It's 2,390 miles from California and 3,850 miles from Japan, but although it's remote is highly popular among tourists worldwide. And a great destination for your trip in retirement.
The State of Hawaii consists of eight major islands: Niihau, Kauai, Oahu, Maui, Molokai, Lanai, Kahoolawe, and the Big Island of Hawaii. But what island of Hawaii is the best to visit in retirement? Let me help you out by listing the most popular islands with its character traits below:
Hawaii's Big Island: the biggest and most diverse island of Hawaii. From grasslands, lush jungle, lava fields to snow-capped mountains. It's bustling with activities, an abundance of accommodations, and it has the most active volcano in the world, Kilauea.
Oahu is the most visited island in Hawaii and also the most affordable island. A great pick when you're on a budget in retirement. It's the island of Honolulu, Waikiki Beach, and North Shore surfing paradise. You'll find plenty of accommodations on this island from beautiful resorts to cute Airbnbs.
Kauai is the best island to visit in Hawaii when you love to hike and enjoy the great outdoors. The oldest island of Hawaii is also known as "Garden Isle" because of the beautiful flora and fauna abound around the island. And it's home to some of the world's best beaches. It's a very green island an that means it rains a lot.
Maui is the second most visited island in Hawaii. And it's a great island to pick when you want to have the middle ground of a big city on Oahu and the country life of Kauai and the Big Island. The biggest attractions are The Hana Highway, Haleakala, and the West Maui Mountains.
5 Retirement Travel Must-Haves
As full-time travelers, we've tested a lot of products over the years and that's why we created this list of items that are must-haves for every traveler. We can highly recommend them without any hesitation:
Check out more of my recommendations about the best travel gear here.
Please note that these links are affiliate links. When you make a purchase using these links, we get a small commission, at no extra cost to you.
5) New York City Trip
Never visited the Big Apple? Or has it been a very long time ago? Visit New York in your retirement and enjoy all the things the big city has to offer you. It's the best walking city in the United States, and there are so many things to see and do that you will never get bored. And when you visited New York many times, there's always something new to discover.
It's a great all-year-round destination, and you'll need at least four days to make the most out of your time in the city.
Highlights of New York for a first-time visitor:
Statue of Liberty and Ellis Island
Empire State Building
Central Park
Little Italy and Chinatown
Brooklyn Bridge
Metropolitan Museum of Art
Grand Central Terminal
Wall Street
9/11 Memorial
Broadway Show
Greenwich Village
SoHo
West Village
6) Hiking Trip in Jackson Hole, Wyoming
When you love the great outdoors and want to make a great hiking trip in retirement, then Jackson Hole in Wyoming is an awesome destination. It's great for fishing, hiking, cycling, and rafting in the summer. But you can also do some of the best skiing and snowboarding in the USA in winter.
Jackson Hole is known for its breathtaking natural beauty, tranquil vibe, vibrant culture, and luxurious facilities. The valley between mountain ranges, the Grand Tetons, and Gros Ventres is stunning, and it's also a mecca when you love food, art, and music. An overall great destination to visit in retirement, but also a more expensive one. You can combine your trip to Jackson Hole with a visit to close by National Parks: Yellowstone and Grand Teton.
Find the best accommodation in Jackson Hole here.
7) Lake Tahoe Trip
Lake Tahoe is a great all-year-round destination and is worth a visit in your retirement days. The clarity of the water and the panorama of surrounding mountains is what is so attractive about Lake Tahoe.
It's located at the border of California and Nevada and in the Sierra Nevada Mountains. You can easily combine your retirement trip to Lake Tahoe with a visit to Yosemite National Park since its only 149 miles away by car.
In winter, you can go skiing, and in summer there are great activities on the water, hiking the mountains and enjoying summer festivals. But when you want to avoid the crowds, it's best to visit Lake Tahoe between March to May and from September to November. And try to avoid the long holiday weekends. Go mid-week if you can or pick a non-holiday weekend.
Best Things To Do In Lake Tahoe:
Emerald Bay State Park
Squaw Valley
Donner Memorial State Park and Emigrant Trail Museum
Kings Beach State Recreation Area
Homewood Mountain Resort
D. L. Bliss State Park
Heavenly Gondola
Harrah's Casino
Balloon Flight
Boat Cruise
Watersports: kayaking, supping, boating, swimming
El Dorado Wine Country Tour
Check for the best hotels in Lake Tahoe here.
Book tip:
8) Skiing Trip in the Rocky Mountains
When you love to ski, then a skiing trip to the Rocky Mountains is a must in your retirement. The Rocky Mountains stretches through the states Idaho, Montana, Wyoming, Colorado, and New Mexico. It has over 114 different ski resorts, more than 3700 miles of slopes, and 752 ski lifts. So you can look forward to a lot of skiing. And to help you out, I've listed the best ski resorts in the Rocky Mountains below.
Best Ski Resorts in The Rocky Mountains:
Aspen, Colorado
Jackson Hole, Wyoming
Telluride, Colorado
Snowbird, Utah
Alta, Utah
Vail, Colorado
Steamboat, Colorado
Big Sky, Montana
9) Music & Food Trip New Orleans
When you want to enjoy a bustling nightlife, vibrant live-music scene, and delicious Creole cuisine, you should make a trip to New Orleans in your retirement.
The city is famous for its distinct music, cuisine, unique dialect, and the annual carnival celebrations of Mardi Gras. It's a unique city like nowhere else in the USA with a melting pot of French, African, and American cultures.
You can enjoy French and Spanish Creole architecture in the historic heart of the city, known as the French Quarter, and enjoy the vibrant nightlife along Bourbon Street.
Highlights of New Orleans:
Frenchmen Street
French Quarter
Bourbon Street
Garden District
Swamp Tours
The Cabildo
St. Louis Cathedral
Steamboat Cruise
Mardi Grass World
Kayak Tour Louisiana Wetlands
Food Tour
Cafe du Monde
I can highly recommend spending a minimum of 4 full days in New Orleans to explore the most highlights of the city. And when you want to visit New Orleans during Mardi Grass, you should visit in February or March, depending on the Mardi Grass dates that vary per year. Check out the Mardi Grass dates for the future here.
The best time to visit New Orleans is in December and January. The city is calm, and you don't have to worry about making hotel reservations a year in advance. Also, when you're traveling on a budget in retirement, the best time is between July and September. Because hotel rates drop to their lowest in August, and average domestic flight prices are some of the cheapest during July, August, and September. But that's due to hurricane season that runs from June to November.
10) Caribbean Trip US Virgin Islands
When you want to enjoy a Caribbean trip with white-sandy beaches, reefs, and green hills without technically leaving the USA, you can visit the beautiful US Virgin Islands.
These islands are organized unincorporated territory of the United States, located in the northeastern Caribbean Sea. There are three main islands: St. Thomas, St. John, and St. Croix, and dozens of smaller islands.
So, which island is the best for your retirement trip? Here's what you need to know about the three main islands.
St. Thomas is best for nightlife, duty-free shopping, and high-end dining. The island is also popular with cruise ships and, therefore, the busiest islands of the US Virgin Islands.
St John is the best island for a romantic getaway or outdoor adventure away from the crowds. It's great for hiking and enjoying nature.
St Croix is the largest and least visited island of the US Virgin Islands. It's great for a less commercialized Caribbean experience and best to visit for culture, history, and traditional food.
Book tip: Fodor's U.S. & British Virgin Islands (Full-color Travel Guide)
11) Cultural Trip Charleston
Many retirees love to visit Charleston because they love to get a little tinkling of that Southern Charm, in a city that is rich in history, culture, great dining, and many other attractions. And if this sounds fun to you too, then make a trip to Charleston, South Carolina in your retirement.
Best Things To Do In Charleston:
Charleston Farmers Market (Every Saturday, from April – December)
Sullivan's Island
Angel Oak Tree
King Street
McLeod Plantation
Husk Restaurant
The Battery
Boat Tour
Isle of Palms County Park
Folly Beach
Food Tour
Brewery Tour
Charleston City Market
Magnolia Plantation and Gardens
The Charleston Museum
The best time to visit Charleston to enjoy nature and its lush gardens is between March and May. The best time to visit the gorgeous beaches is during June or July, where July is the hottest month of the year. And when you want to enjoy the beach the least crowds, you should visit Charleston in September. Book your stay in Charleston here.
12) Yosemite National Park Trip
Yosemite is one of the best national parks to visit in the USA. And this park in California should be on your retirement bucket list if it isn't already. The park is famous for its beautiful waterfalls, dramatic scenery of towering granite monoliths, deep valleys, and ancient giant sequoias. So, get in your car, RV, or hop on a plane to make a retirement trip to one of the most beautiful parks in the USA.
You'll need at least three days in Yosemite to see the sights, do a few hikes and drive around. But you need more days than that if you also want to enjoy tours, evening programs, and other activities in the park.
The best time to visit Yosemite National Park is during the week in spring. That's when the flowers bloom, waterfalls are at their max, and it's not too busy. The peak season at Yosemite is during summer months, so it's best not to plan your trip around this time.
Things you can't miss in Yosemite National Park:
Bridal Veil Falls
Half Dome
Tuolumne Meadows
El Capitan
Glacier Point Road
Mariposa Grove
Yosemite falls
Check out the best places to stay for your trip to Yosemite here.
13) City Trip Chicago
Another great city trip to do in retirement is visiting one of the largest cities in the USA: Chigaco. Famous for its bold architecture, skyscrapers, food, jazz music, numerous beaches and parks, and the bluest waters (Lake Michigan) outside the Caribbean. And this city gets often overlooked.
You can taste the famous Chicago-style hot dogs, and Chicago-style (deep dish) pizza and visit the best attractions in the city that I listed for you below.
Chicago Best Attractions:
The Magnificent Mile
Grand Park and Buckingham Fountain
Millennium Park
Museum of Science and Industry
Navy Pear
360 Chicago Observation Deck
The Chicago Riverwalk
Chicago River Cruise
Skydeck Chicago
Wrigley Field
The Second City Comedy Theatre
The 606
Visit a sports game and experience the most loyal fan base in the USA.
Check out the best hotels in Chicago here.
14) Alaska Cruise Trip
Witness the most remote nature in the USA by going on a cruise trip to Alaska. Enjoy beautiful glaciers, fjords, mountains, lakes, rivers, and waterways and hopefully spot al lot of salmon, moose, caribou, bears, whales, bison, and puffins.
The best time to go on a cruise trip to Alaska is between May and September. With July and August as the busiest months for travelers but also the best months, because temperatures are at their highest and the weather is generally sunnier. And it's best to book your Alaska cruise 12 months in advance if you want to book a balcony cabin.
If you want to witness the northern lights, make sure Fairbanks is on your cruise route. That's one of the best places in the world to see the northern lights. The Aurora Season is from August 21 to April 21, with an average visibility of four out of five nights when the sky is clear and dark enough. So, make sure to check out the moon phases before you book your trip.
Best Travel Recourses To Book Your Trip
We travel full-time, so we put together a list of the best and most reliable booking recourses to book your trip in retirement. It can save you a ton of money and it will make your planning less stressful. We use the following recourses all the time so we can highly recommend them.
Rentalcars.com: For the best car rental deals, I can highly recommend Rentalcars.com. It's the world's biggest online car rental service, where you can compare rental car prices from over 900 companies. It can save you a ton of money that you can now spend on fun things to do on your trip. Check out Rentalcover for better coverage and cheaper car rental insurance.
Booking.com: For the booking the best accommodation, I can highly recommend Booking.com. They have over 800,000 properties worldwide including hotels, apartments, and hostels. You get the best price guarantee and free cancellation on most rooms. It's very easy to use and offers a wide selection for every type of budget. You can see scores about cleanliness, location, WiFi, comfort, facilities, and value for money from previous customers to you get a better impression of the accommodation.
AirBnB.com: We love using Airbnb while we travel. They connect homeowners who rent out their homes/apartments/ rooms to travelers like you and me. With Airbnb, you'll get all the comforts of feeling at home while traveling. And you stay at less touristy parts of a destination and get great local travel tips from your host. And often Airbnb is a lot cheaper than the cost of a hotel room. Create an account on Airbnb here.
CruiseDirect.com: If you would like to go on a cruise in retirement you should check CruiseDirect for amazing cruise deals around the world. They give the best price guarantee, have flexible payment plans and no booking fees.
Tripadvisor.com: World's best travel platform to get reviews on the best restaurants, attractions and hidden gems worldwide. But also to book cheap flights, hotels, attractions, and experiences.
Please note that these links are affiliate links. When you make a purchase using these links, we may get a small commission, at no extra cost to you.
15) Wine Tasting Trip
What better to enjoy your retirement days than to sip on delicious wines in beautiful countrysides. And if you're looking for a great trip for you and your partner or include even another couple, a wine tasting trip is a great idea.
The most famous wine region in the USA is Napa Valley, California. And even though California is the flagship of wine tasting with over 4300 wineries, there are so many other wine regions across the USA that are excellent destinations for your wine trip in retirement. And below is a list of a couple of great wine regions in the USA, that perhaps appeal to you as well.
Great Wine Regions USA For Wine Tasting Trip
Walla Walla, Washington.
Willamette Valley, Oregon
Boise, Idaho
Santa Fe, New Mexico
Fredericksburg, Texas
Kansas City, Missouri
Traverse City, Michigan
Finger Lakes, New York
Shenandoah Valley, Virginia
Sonoma, California
Paso Robles, California
16) Road trip Miami to Key West
Go on a road trip in one of the most tax-friendly states for retirees: Florida and drive the 160 miles from Miami to Key West. When you drive straight to Key West, it will only take you approximately 4 hours, but then you miss all the fun.
There is so much to see and do before you hit Kew West, and you want to make sure you spend a couple of days in Kew West to enjoy the beautiful beaches and sunsets and drink on a cocktail. Because that's whats retirement is all about, am I right?
Not To Miss Stops Road Trip Miami to Key West:
Everglades National Park
Key Largo
Islamorada (visit Islamorada Beer Company)
Marathon (visit Turtle Hospital)
Big Pine Key
John Pennekamp Coral Reed State Park
Mile 88 Beach & MM88 Tiki Bar
Dolphin Research Center
Seven Mile Bridge
Best booking recourse for car rental: Rentalcars.com.
Book tip: National Geographic Traveler: Miami and the Keys
17) Family Trip To Amusement Parks
When you want to spend as much time with your family as possible in retirement, you can plan a family trip together. And visit fun theme parks with your children and grandchildren. Your grandchildren will remember this trip for a lifetime. And check out this list below for amusement parks nearby.
Amusement and Theme Parks in the USA:
Six Flags Great America, Gurnee, Illinois
SeaWorld, San Diego, California
Six Flags Great Adventure, New Jersey
Hersheypark, Pennsylvania
Six Flags Magic Mountain, Valencia, California
Kings Island, Mason, Ohio
Cedar Point, Ohio
Busch Gardens Tampa Bay
SeaWorld Orlando
Universal Studios, Hollywood
Universal's Islands of Adventure, Florida
Universal Studios Florida
Disney's Hollywood Studios, Florida
Epcot, Florida
Disney's Animal Kingdom, Florida
Disneyland, California
The Magic Kingdom, Florida
18) Trip To See Niagara Falls
Is seeing the Niagara Falls on your retirement bucket list? If yes, make sure to plan a trip to see the Niagara Falls in your retirement. Because when else is the time to do it?
Officially the Niagara Falls are three different waterfalls: The American Falls, Bridal Veil Falls in the USA, and the Canadian "Horseshoe" Falls in Canada. The Niagara River serves as an international border between the USA & Canada.
You can see Niagara Falls for free in both the USA and Canada. And for a view up close, take the Maid of the Mist boat. This boat takes you under-the-falls and can be booked from both sides as well. But when you want to see the Niagara Falls from as many angles as possible, then the best side is the United States side.
Check out accommodation for your stay at Niagara False here.
19) Whale Watching Trip
Nothing beats seeing wild animals in their natural habitat. And especially when you can witness the gentle giants of the sea. It can be a breathtaking, adventurous, and spiritual experience all at once. And to help you out, I've listed the best spots in the USA to go whale watching.
Best Spots for Whale Watching in The USA
Juneau, Alaska (April to December)
Monterey, California (all year round)
Newport Beach, California (December to April: Grey whales, May to November: Blue whales)
Cape Cod, Massachusetts (April to November)
Maui, Hawaii (December to May)
The San Juan Islands, Washington (April to October)
San Diego, California (December to April and June to September)
Bar Harbor, Maine (April to October)
When you book a whale watching tour, make sure to book it at a company that does responsible whale watching. That means that their biggest priority is the well-being of the whales. Some companies want to provide the best experience for their customers by getting as close as possible. But, this can lead to colliding with the whales, and it can have an enormous impact on their natural behavior, including their ability to feed, rest, and rear their young. And watching them in their natural habitat is one of the biggest reasons to go whale watching in the first place. So, you want to make sure this maintains that way.
We are full-time travelers, and we've tested a lot of products over the years. And therefore, I made a list of the best travel gear out there with products we use all the time and can recommend without any hesitation.
20) Ultimate American Road Trip: Route 66
Plan a retirement trip to do the ultimate American Road Trip: Route 66. You can hop in your RV, rent a car, old-timer, RV, or motorbike. Whatever you dreamed off and hit the road. Because as they say: "Retirement is not the end of the road, it's the beginning of the open Highway." And you can take it more literally then cruising down the route 66.
The historic Route 66 is 2,400 miles long and crosses eight different states (Illinois, Missouri, Kansas, Oklahoma, Texas, New Mexico, Arizona, and California). The Mother Road starts in Chicago, Illinois, and ends at the Pacific Coast in Santa Monica, California.
Book tip:
Recommended Articles