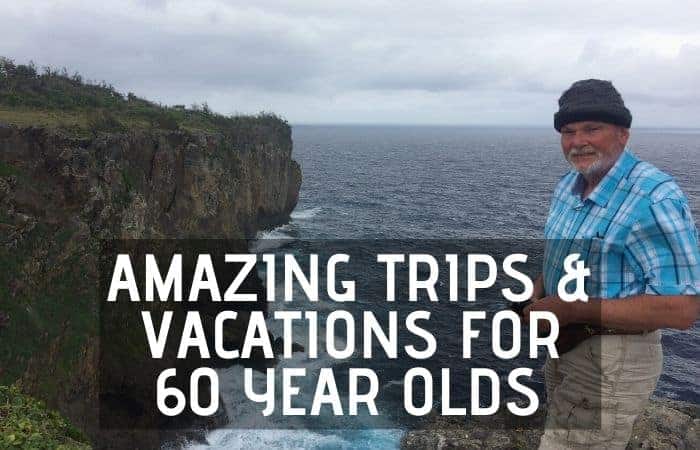 There is so much to see and explore in this beautiful world. And you might wonder, what destinations, vacations, and trips are great for 60-year-olds? Don't look any further. In this article, I share amazing ideas and tips for your next travel adventure.
1) Road trip in the USA
The USA has so much beauty to offer, and a road trip through a state or multiple states is an excellent trip to take in your sixties. You can get in your car and drive from town to town and stay at hotels, motels, family, or rent homes through Airbnb. Or you can buy, lend or rent an RV. RV campsites and facilities are abundant across the US.
And the most enjoyable thing about a road trip is that the journey is as much fun as the destination. And to inspire you where to go, here are a couple of the most iconic road trips.
Best Road Trips In The USA For Sixty Years Olds
Pacific Coast Highway, California (656 miles)
Historic Route 66, Illinois to California (2,451 miles)
US-50, The loneliest road in America, 11 states from sea to sea (3,200 miles)
Cascade Loop, Washington (400 miles)
San Juan Skyway Scenic Byway, Colorado (305 miles)
US-20, Oregan Trail (3,300 miles)
US-93, Border to Border
I-95, Atlantic Coast (2000 miles)
Book tip: 50 States, 5000 Ideas from National Geographic
2) European City Trip
A European city is a great vacation destination for someone in their sixties. Because you can explore so much rich history and stunning architecture in (almost) every big city in Europe. You can take a trip to multiple cities in Europe. That's very easy to do by air or train. Or you can decide to spend a bit more time in one city and let it soak it all in slowly. And connect better with the destination and the local people.
But what city should you choose to visit? That's not very easy because there are so many great cities in Europe. It also depends on what you want. Do you want to go for great food, shopping, culture, history, architecture? So, to help you out, here's a list of great cities to visit in Europe and what they have to offer.
European Cities To Visit in Your Sixties
Rome, Italy. The eternal city. An open-air museum filled with roman history and beautiful building churches, fountains, etc. Amazing food, pretty piazzas, and laidback eateries. Hot in the summer, mild in the winter.
Amsterdam, The Netherlands. A cosmopolitan and liberal city in Europe. Famous for its art museums: Rembrandt, Van Gogh but also canal belt, waterways, and Anne Frank House. Mild summers, cold winters, and the best time to visit are in April/May because of blooming flower fields and national events.
Paris, France. "City of Lights." Famous for it's Eiffel Tower, Arc de Triomphe and the Champs Elysees. One of the most romantic cities in Europe.
Barcelona, Spain. A beautiful city by the sea with famous landmarks as Sagrada Familia and other Gaudi architecture. A lively city with top-class food and amazing weather.
London, United Kingdom. Famous for the Big Ben, London Tower Bridge and home to Buckingham Palace. Great for shopping, and enjoying the spectacular skyline and visiting museums, galleries, and pubs. 
3) Take a Cruise
Going on a cruise is a popular trip to take as a senior. And I totally get it. Every day there is a new city, island, or destination to explore, and the food, service, and accommodation is quality consistent and all in one unique location. It can be a relaxing and fun-filled vacation experience.
There is a cruise trip for any traveler out there. It depends on what you want, your budget, which destinations you like to visit, and what you value most about a cruise: great value for money, unique destinations, big vs. small ship, packed with entertainment, etc. Check out the best cruise lines for the money, according to US News here.
You have to know what you want to find the best matching cruise line for you. There are classy/ high-end cruise lines out there but also budget cruise lines, and each attracts a different crowd. Therefore picking out the best cruise for you is important to experience the best vacation in your sixties. Do you want to go on a river cruise, ocean cruise, or transatlantic cruise? Here are a couple of ideas.
Cruise Ideas To Take In Your Sixties
Caribbean Cruise
Mediterranean Cruise (Europe)
Rhine River Cruise (Germany)
Nile River Cruise (Egypt)
Mekong River Cruise (China, Myanmar, Laos, Thailand, Cambodia, and Vietnam)
Yangtze River Cruise (China)
Mississippi River Cruise (USA)
Chobe River Cruise (Botswana)
Alaska Cruise
Arctic Cruise
Norwegian Fjords Cruise
Best Travel Recourses To Book Your Trip
We travel full-time, so we put together a list of the best and most reliable booking recourses to book your trip in retirement. It can save you a ton of money and it will make your planning less stressful. We use the following recourses all the time so we can highly recommend them.
Rentalcars.com: For the best car rental deals, I can highly recommend Rentalcars.com. It's the world's biggest online car rental service, where you can compare rental car prices from over 900 companies. It can save you a ton of money that you can now spend on fun things to do on your trip. Check out Rentalcover for better coverage and cheaper car rental insurance.
Booking.com: For the booking the best accommodation, I can highly recommend Booking.com. They have over 800,000 properties worldwide including hotels, apartments, and hostels. You get the best price guarantee and free cancellation on most rooms. It's very easy to use and offers a wide selection for every type of budget. You can see scores about cleanliness, location, WiFi, comfort, facilities, and value for money from previous customers to you get a better impression of the accommodation.
AirBnB.com: We love using Airbnb while we travel. They connect homeowners who rent out their homes/apartments/ rooms to travelers like you and me. With Airbnb, you'll get all the comforts of feeling at home while traveling. And you stay at less touristy parts of a destination and get great local travel tips from your host. And often Airbnb is a lot cheaper than the cost of a hotel room. Create an account on Airbnb here.
CruiseDirect.com: If you would like to go on a cruise in retirement you should check CruiseDirect for amazing cruise deals around the world. They give the best price guarantee, have flexible payment plans and no booking fees.
Tripadvisor.com: World's best travel platform to get reviews on the best restaurants, attractions and hidden gems worldwide. But also to book cheap flights, hotels, attractions, and experiences.
Please note that these links are affiliate links. When you make a purchase using these links, we may get a small commission, at no extra cost to you.
4) Bucket List Trip
If you have a bucket list, you should go on a bucket list trip in your sixties. If you don't have a bucket list, yet. Make sure to make one. Because you have to make the most out of your life, especially now in your sixties. You're not getting any younger, and hopefully, you're still in good health, but you never know when this is not the case anymore. So, outlive your bucket list and make your dreams come true. Now more then ever is the time to do it.
Bucket List Trips To Take In Your Sixties
Trip to see the Nothern Lights
Ride a Gondola in Venice, Italy
Adrenaline Activity like bungee jumping, skydiving
Hot Air Balloon flight
Dive in the Barrier Reef, Australia
Hike the Grand Canyon
Climb the Kilimanjaro, Africa
Visit Mount Rushmore
See the Niagara Waterfalls
Go to a Broadway musical
Visit the Salt Flats, Bolivia
Read more: 101+ Ideas For Your Retirement Bucket List.
Book tip: The Bucket List: 1000 Adventures Big & Small
5) One of the Seven Wonders of the World
Admiring one of the seven world wonders is a trip of a lifetime. And perhaps something you've always wanted to admire one of these wonders with your naked eye. And if this fits your budget, why not take this trip while you're now in your sixties. You can visit the seven new, the ancient, modern, and natural wonders of the world.
The Official Seven Wonders Of The World
Taj Mahal, India.
Colosseum, Italy.
Chichen Itza, Mexico.
Machu Picchu, Peru.
Christ the Redeemer, Brazil.
Petra, Jordan.
Great Wall of China, China.
Plus: Great Pyramid of Giza (Honorary Candidate and one of the Seven Wonders of the Ancient World and the only Wonder to survive to modern times.)
The Seven Wonders of the Ancient World
the Great Pyramid at Giza, Egypt.
The Hanging Gardens of Babylon, Iraq.
The Statue of Zeus at Olympia, Greece.
The Temple of Artemis at Ephesus, Turkey.
The Mausoleum at Halicarnassus, Turkey.
The Colossus of Rhodes, Greece.
The Lighthouse of Alexandria, Egypt.
The Seven Natural Wonders of the World
Table Mountain, South Africa
Amazon, South America
Ha Long Bay, Vietnam
Jeju Island, South Korea
Iguazu Falls, Brazil/ Argentina
PP Underground River, Philipines
Komodo, Indonesia
The Seven Wonders Of The Modern World (unofficial)
Panama Canal, Panama
Delta Works/ Zuiderzee Works, The Netherlands
Itaipu Dam, Paraguay/Brazil
Channel Tunnel, France/UK
CN Tower – Toronto, Canada
Empire State Building, USA
Golden Gate Bridge, USA
6) Relax in the Caribbean
Taking it easy and relaxing at one of the islands of the Carribean is an excellent choice for your holiday in your sixties. You can do a cruise, go island hopping or visit one island during your trip. It's always nice to take things slow and enjoy sunny beach days, go snorkeling, do some reading, and sip on a delicious cocktail. If you can use a vacation to unwind and destress, then go to the Caribbean and enjoy yourself.
Caribbean Islands To Visit in Your Sixties:
Cuba
The British Virgin Islands
The Bahamas
Jamaica
Barbados
Curacoa
Turks and Caicos
Dominica
St. Lucia
7) Explore a National Park
Do you like to explore nature? Then making a trip to visit a National Park is a great thing to do in your sixties. It's difficult to choose which one to visit because there are so many beautiful National Parks in the USA. Perhaps, you've visited multiple National Parks in the past and like to revisit one of them. Or you want to go somewhere new. To help you out, here's a list of ideas.
National Parks To Visit In Your Sixties
Yosemite National Park
Grand Canyon
Zion National Park
Yellowstone National Park
Glacier National Park
Grand Teton National Park
Arches National Park
Hawai Volcanoes National Park
Rocky Mountain National Park
Book tip: 100 Parks, 5000 Ideas from National Geographic
8) European Road Trip
Roadtripping through Europe is a different experience then what you're used to in the States. Some European countries are so small you can drive through them in less than an hour. And you don't have to go through border patrol. So why not make the best of your time in Europe and visit multiple countries and explore multiple cultures with a great road trip.
Don't be mistakes that Europe is small. You can't see all of Europe, so you have to make a decision depending on which countries you like to visit and what time of the year it is. Would you like to go skiing in the winter? Then road-tripping through Austria, Switzerland, and Northern Italy is a beautiful choice.
Or would you like to taste Mediterranean cuisine and way of life? Then road-tripping through Portugal, Spain, Italy and the South of France is your best choice. Also, road-tripping through Croatia, Montenegro, Albania to Greece is a beautiful road trip to get a taste of the European Balkan vibe. Nature-lovers should make a road trip through Norway.
9) The Amazon
Visiting the Amazon is visiting the Lungs of the Planet and the greatest river in South America. And this rainforest is home to more than half of the earth's species of animals, plants, and insects. Visiting the Amazon is a trip of a lifetime and exploring nature at it's finest.
The Amazon runs through Brazil, Peru, Colombia, Venezuela, Ecuador, Bolivia, Guyana, Suriname, and French Guiana. But it's most prominent in Brazil. You can reach the Amazon via all these countries, but you can also decide to go on an Amazon River Cruise.
10) African Safari
When you have the chance, you have to go on an African Safari once in your life. Encountering African Wildlife is breathtakingly beautiful, and an amazing trip to do in your sixties. In general, an African safari is an expensive trip, but there are also options for people with a tight budget. You can make it as luxurious or back to basics as you want it to be.
Every southern African country has multiple parks where you can admire wildlife. You can visit big national parks to smaller private game reserves. Every park has a different variety of wildlife roaming around.
Top African Safari Parks
Serengeti, Tanzania
Masai Mara, Kenya
Kruger Park, South Africa
Chobe National Park, Botswana
Etosha National Park, Namibia
Okavanga Delta, Botswana
Ngorongoro Crater, Tanzania
Amboseli National Park, Kenya
Book tip: Fodor's The Complete Guide to African Safaris: with South Africa, Kenya, Tanzania, Botswana, Namibia, & Rwanda
11) Expedition
If you're an adventurous 60+-year-old, then an expedition might be a great trip idea for you. With an expedition, you gain more knowledge and new insight into a place, a culture, or an era in history. You travel to more remote exotic areas where you interact with local populations and connect with their core values.
It's a different kind of traveling, and it has become more accessible and popular over the years. How amazing is it that you now can go on a similar expedition like you used to watch on channels like National Geographic.
Top Expedition Destinations
Antarctica
Galagapos Islands
The Himalayas
The Polynesian Islands
Ancient Egypt
Patagonia
Machu Picchu & the Inca Trail
Australia's Outback
5 Retirement Travel Must-Haves
As full-time travelers, we've tested a lot of products over the years and that's why we created this list of items that are must-haves for every traveler. We can highly recommend them without any hesitation:
Check out more of my recommendations about the best travel gear here.
Please note that these links are affiliate links. When you make a purchase using these links, we get a small commission, at no extra cost to you.
12) Island Hopping
We love visiting islands in general. It's something about the vibe of an island that vibes with us. And if you enjoy the island life too then, island hopping is a great vacation trip for you in your sixties.
Island Hopping Destinations
Thailand (e.g., Koh Tao, Koh Lipe, Phuket)
Greece (e.g., Santorini, Mykonos, Zakynthos)
Croatia (e.g., Hvar, Brac, Korcula)
Philipines (e.g., El Nido, Palawan)
Bahamas
Florida Keys
Indonesia (e.g., Bali, Lombok, Java)
Maldives
The British Virgin Islands
Seychelles
Read our article on our other blog Made for Travellers: The 15 Best Greek Islands to Visit
13) Explore Asian Culture
Traveling to Asia is traveling to a whole new, entirely different world. Different food, different cultures, and different traditions, waiting for you to be explored. And the best part about Asia is that traveling around is very easy due to great transportation and also it's very cheap to travel around. So if you're on a tight budget in your sixties, Asia is a great choice.
There are so many amazing countries in Asia, where you can travel to. A lot of people like to explore multiple countries in South East Asia ( e.g., Thailand, Laos, Cambodja, Vietnam) during one trip. But to help you out here's a list of all the Asian countries to give you inspiration.
Top Asian Countries To Visit In Your Sixties:
Japan
China
Thailand
Laos
Vietnam
Cambodja
Malaysia
Indonesia
India
Nepal
Bhutan
Philippines
14) Patagonia
Do you want to make a very unique trip in your sixties? Then put Patagonia on your list of trips to make in the future.
Patagonia is a region in the southernmost tip of South America. It's shared by Argentina and Chile and has the Andes Mountains as its dividing line. It's a famous destination for expeditions but also for prime hiking, rock climbing, mountaineering, and horseback riding experiences.
Visiting Patagonia is visiting the end of the world in the most literal and figurative way. The dramatic mountain formations, smoky volcanoes, and glaciers will take your breath away.
15) Cross-Country Train Trip
Do you like to make a trip where the scenic journey is more important than the destination? Then taking a train trip is your way to go. And it's a very relaxing way of traveling that is very comfortable to do in your sixties. Aso, it's the most environment-friendly way to travel. And here's a list to give you a bit of inspiration.
Train Trip Ideas To Take In Your Sixties:
Glacier Express, Switzerland
Trans-Mongolian Express, China/ Mongolia/ Russia
TranzAlpine, New Zealand
The Canadian, Toronto-Vancouver Canada
Train to the Clouds, Argentina
Venice Simplon Orient Express, Venice – London Europe
Shongololo Express, Africa
Blue Train, South Africa
Royal Rajasthan on wheels, India
Gotthard Panorama Express, Switzerland
Coast To Coast, USA
California Zephyr, Chicago – San Francisco
16) Trip Down Memory Lane
A lot of seniors like to visit places they have a connection with. For example, visiting family members they haven't seen in a long time, the birthplace of their ancestors, or revisiting the town they grew up in to reminisce on all the great memories.
It's a great idea to take a trip down memory lane in your sixties. You can make it a family trip and show your loved ones the places that mean a lot to you.
17) Camping
Camping is a great opportunity to connect with your loved ones and nature that is surrounding you. It's a great trip to take in your sixties with your wife, kids, friends, and grandchildren. You can sleep in tents, your RV or in a rooftop tent on top of your car and visit nearby parks, lakes or beaches. And camping is good for your health.
Benefits of Camping
More oxygen because of the nice fresh air
Socializing
Improves your mood
You experience less stress
Great exercise
Sunshine on your skin
Always a Good Night's Sleep
Great Food
Away from distractions at home
Reconnect with nature
18) The Canadian Rockies
The Canadian Rockies are an amazingly beautiful mountain range in the Canadian provinces of British Columbia and Alberta. It's both a great winter and summer destination. In winter you can see the Northern lights, but if you want to hike the beautiful trails, the best time to visit is from June to mid-September.
The Canadian Rockies Highlights
Banff
Jasper National Parl
Lake Louise
Yoho National Park
Takakkaw Falls
Athabasca Glacier
19) A Staycation
A great vacation is a staycation, where you get to experience you're own town and region like any normal tourist will do. But this time you don't have to spend any money on accommodation. And you have the benefit of visiting famous highlights within the region during the off-season or on discounted days for seniors.
Find new restaurants and places you haven't visited yet. Often we overlook all the beauty and things to do when we live in a city, town, or region for many years. But when we open our eyes and take the effort to explore more, we're amazed by all the great things that are around the area. It's definitely a great trip idea for in your sixties, especially when you have a tight retirement budget.
20) Wildlife Experience
Watching wild animals feeding, playing, and interacting in their natural habitat is a great way to get back to nature and escape everyday life. And an experience you will remember forever. Because witnessing something extraordinary and special like that is a humbling experience you don't want to miss in your sixties.
Top 10 Wildlife Experience Trips In The World
Gorilla Trekking: Rwanda and Uganda.
Big Five Safari: Southern Africa.
Polar Bears: Canada and Arctic.
Tiger Safaris: India.
Whale watching: USA, Canada, Mexico, and New Zealand.
Swimming with Humpback Whales: Tonga
Swimming with Whale Sharks: Ningaloo Reef in Western Australia, Philippines, Raja Ampat in Indonesia, and Mafia Island in Tanzania.
Grizzly bears: the Rocky Mountains, and Alaska
Watching Orangutans: Sumatra in Indonesia, and Borneo.
Jaguars: Brazil
Watch our YouTube video below where we visit a small island in Tonga to swim with humpback whales, together with my 69-year-old father. Turn ON English subtitles because some parts are in Dutch.
Recommended Articles
The following articles might be interesting for you to read as well: