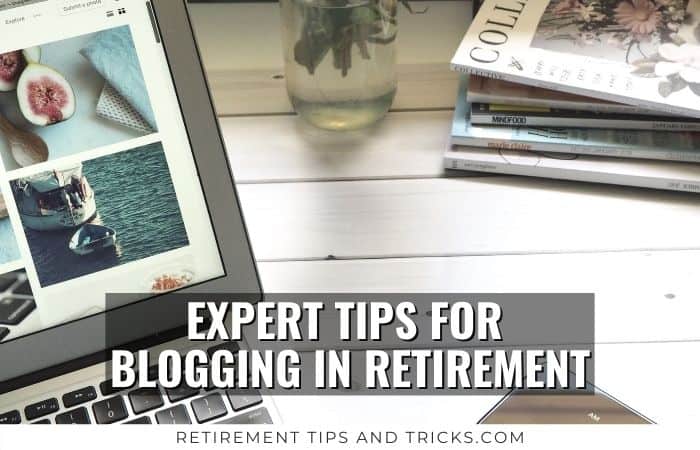 Blogging in retirement is a great retirement hobby. It keeps you creatively busy, it gives you a new purpose, and can potentially earn you some extra money down the road. And I share 11 expert tips on how to start blogging in retirement whether for fun or if you want to turn it into a new retirement business. So let's get started!
Just a heads up, this post contains affiliate links. As an Amazon Associate I earn from qualifying purchases. Purchases you make through these links may earn us a small commission, at no extra cost to you.
1) Learn From The Experts
When we started blogging we didn't know what we were doing. We started a travel website because we were traveling all over the world and wrote about interesting things to do at places we visited. Basically copied what everyone else was doing within the travel niche. Without success.
Sure we learned a couple of things along the way about blogging but nothing got us closer to our goal of earning an online income so we could continue our travels. So we spent a lot of time being frustrated and searching for answers about blogging.
As time went on and our website received almost no traffic, we knew we had to do something different and learn more about blogging from experts to become successful. And that's where we discovered Income School's Project 24. One of the best courses you can follow to create a successful blog and online business.
Income School Blogging Experts
The founders of Income School, Jim & Ricky, and their team of specialists teach you how to build profitable websites that can earn you a fully passive income in 24 months.
They have a unique approach on how to become a successful blogger. You don't need any experience, because they teach you blogging in just 60 simple steps. Literally, everyone can do it. With in-depth information, extensive and thorough how-to videos, and podcasts, they'll show you what to do and where to start and what your next step should be.
When you apply for Project 24 you gain access to a full library of amazing videos, courses, templates so you'll never have to wonder how to tackle the next phase of your blog. Plus you also become part of a community with other Project 24 members that have your back and that you can ask questions if you encounter problems. We've asked many questions along the way and we discovered that there is always one or even more people within the community that reaches at and gives you the answers you're looking for.
We are a member of Income School, and following their course helped us create a full-time income with this website. So, I can highly recommend you to sign up for Income School if you're serious about starting a profitable blog in retirement. It's a little investment that you quickly earn back and it saves you a lot of frustration and time messing around. It's so worth your money! Curious? Find out more about Income School here.
2) Pick Your Niche
As you'll learn in Project 24 from Income School it all starts with picking out the right niche. Jim and Ricky precisely explain to you how you can pick out the right niche that has good (earning and traffic) potential. Because blogging can be competitive and if you want to start a profitable niche blog you need to outperform the competition. And therefore picking the right niche is key.
The niche you're choosing also has to be something your passionate about as you'll be writing a lot of articles in the next months and years. So you need to choose a topic that interests you and that you love to write about for a long time. Because blogging isn't a quick and fast way to earn money. A blog takes time to grow.
An example of a niche is perhaps your favorite hobby or a specific topic you've gained a lot of knowledge about during your career. But, if you want to do blogging in retirement just for fun and to share stories and ideas with no intent for a growing audience, you don't need to worry about picking out the right niche. Just start writing.
3) Choose A Domain Name
As you've made your decision on what you want to write about, the next step is choosing a domain name. And as I described earlier is that you want to focus on writing articles within that niche.
For choosing a domain name it's wise to have a more general name so you're not limited to your niche name in the long run. Also, preferably you want your domain name where the ".com" address is available. It makes your website more valuable in the future.
For ideas and inspiration on what domains are available, you can use a domain name generator. One of the easiest ways to do this is using Squad Help's Business Name Generator. This is an AI-based business name generator that helps you easily generate hundreds of business name ideas with available domain name suggestions.
4) Get Webhosting
Once you figured out which domain name you want to use for your blog you need to register that domain name at a web hosting platform. And I can highly recommend Bluehost. It's the ideal hosting platform for starting bloggers because you have a hosting plan via Bluehost for $3.95 a month.
Choosing a hosting platform can be challenging. It's a real jungle out there. And when you just start with blogging, you're probably not sure what you can expect from a host. Well, the most important thing is that your website is online for visitors (all the time), it has backup data protection, and 24/7 support if you have questions or problems.
And Bluehost has all that. It's is the best hosting company you can choose as a starting blogger in retirement. They are affordable and are known as one of the most trustworthy hosting platforms available. And their hosting plans include a FREE domain & SSL certificate for the first year.
5) Learn How To Use WordPress
If you want to do blogging retirement you can best use WordPress as your website building service. They have an easy dashboard where you easily select your blog theme and upload content. It's the world's most popular website builder. Almost all bloggers use WordPress (we do too). Well, actually 39% of the web is built on WordPress.
When you apply for Bluehost as your WebHost you automatically get access to WordPress and you can start designing your website and upload content.
When you're concerned about building a website, no need to worry. Jim & Ricky from Income School will take you step-by-step through all WordPress features and everything you need to do when it comes to uploading content and creating your personal blog on WordPress.
6) Choose A Theme
A blog a couple of years ago really was a kind of an online diary, with no real design or attention for the appearance and user experience. Now blog websites are websites with in-depth and helpful information about all sorts of topics. And attention to the visual aspect is needed to stand out from the crowd.
At WordPress, but also other website builders like Wix or Squarespace you can choose between different themes to customize your website. Sometimes it can take a while to choose the right theme for your website. A website about photography needs a much more visual appearance than a website about the best fishing equipment.
Choose wisely and think about your niche before you decide which theme is best. You can test a couple of themes out before you start uploading your content. Switching between themes down the road can cost you a lot of time due to resolve errors and replacing missing elements.
7) Start Writing Amazing Content
The best way to drive traffic to your new blog is to write amazing articles. But what topics should you write about? And how can you outperform the competition? How can you rank #1 on Google? These are all valid questions when you want to be a successful blogger in retirement.
If you want to do blogging in retirement just for fun, you don't need to have a strategy for uploading content. You just write what you want to write about. This can be your experience as a retiree, a diary type of blog, ideas you have that you want to share with the world, or travel stories from your latest travel adventures.
But when you want to earn some money with blogging you need to know a couple of things before you start writing articles. And I can't spill the tea about the secret sauce in this article, but what I can say is that Jim & Ricky from Income School have a unique approach on how to become a successful blogger. They started dozens of new websites over the last years and really discovered how to rank #1 on Google. And we know it works. You reading this article proves that it works.
8) Join Affiliate Programs
One of the ways to earn money with blogging is through affiliate links, as we also use in this article. And here is how it works: you mention a product in your blog and add an affiliate link. If a visitor clicks on this link that has a tracking ID and makes a sale (directly or within a certain amount of days) you get a commission from that sale.
Once you've started your first blog articles you can apply for affiliate programs to create personal affiliate links that are tracked to your account so you can start earning your first commissions. It depends on your niche and the type of products you want to promote on your blog to which affiliate program you should apply.
Some popular affiliate marketing networks are Amazon, ShareASale, Awin, Commission Junction, Impact. Online web shops, stores, and products are part of one of these bigger affiliate marketing networks. So you have to apply for these networks first before you can apply for an individual affiliate program from a product or webshop. Once you've applied you can start creating links with tracking ID and add them to your articles.
The best way to learn if a product or store has an affiliate program is to Google "name affiliate program" and you'll see if they are part of a bigger affiliate marketing network.
We have the best results with the ShareASale network. Many merchants are associated with the platform, so it gives you plenty of opportunities to find good quality products to refer to. ShareASale is part of the large affiliate marketing network Awin and a trustworthy company to work with. Payments are always on time, and the dashboard for building and tracking links is easy to use.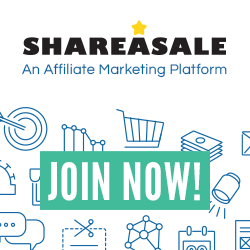 9) Sign Up For Display Advertising
The easiest way to earn money with your blog is with display advertising. If you have enough traffic on your website, display advertising alone can be a source of passive income. The only thing you need to do is sign up with an advertising platform, add a piece of code to your website, and the ads will show on your different articles.
When it comes to display advertising, almost everyone starts with Google Adsense. Google Adsense doesn't have a minimum page views threshold. This means small sites can join as well. However, it doesn't bring in a lot of money. Every publisher needs to have a publisher account with Google Adsense, so you need to sign up for the platform either way. This way, when you're accepted into a different platform like Ezoic, you can connect your Adsense account and create more revenue with that specific platform.
That's why it's important to first start writing good articles to reach a certain number of page views per month so you can apply for better display advertising platforms.
Our website is connected to the Ezoic platform, which works very well for us. Ezoic uses machine learning to decide which placeholders (position of the ads) works best and earns the most revenue. And compared to other platforms the threshold to sign up is much lower so that's why small starting bloggers can apply for Ezoic.
As a publisher with Ezoic, you'll get a dedicated account manager who will help you with your account's set up. Their dashboard is easy to use. Best of all, the analytics reports you can use from their big data analytics for your website give you very useful insights. I'm confident that Ezoic is one of the best ad networks out there.
10) Get On Pinterest
The most important thing to do to drive traffic to your blog is to write good content. But another thing you can do is to get on Pinterest. You've probably used it before to get inspired by new ideas, hobbies, recipes, DIY projects, etc. It's a great visual search engine that you can use to drive more traffic to your articles.
Create a Pinterest account for your blog and create eye-catching beautiful pins that link to your articles to drive more traffic to your blog.
You don't have to be a graphic designer to create beautiful pins. With the free platform, Canva graphic design is made simple and accessible. Everyone can create beautiful visual content for all sorts of purposes such as pins on Pinterest, invitations for your retirement party, or your Christmas menus.
11) Keep Going And Be Patient
Blogging is a creative outlet for yourself which is an amazing hobby to have in retirement. And when it comes to blogging as a business it's a slow burner. It takes a lot of effort and time for the first visitors to find your website.
On average it takes months before your article is ranked by Google. So that's why it can take up to two years to earn a good passive income with a blog. But hey, you've got the time in retirement. And once it's on a certain level you don't need to put in the daily effort at the beginning. You'll have an extra stream of (passive) income in retirement which you can use to make your retirement bucket list dreams come true.
If you focus one or a couple of hours a day on your blog in retirement and use the secret sauce from Income School you'll definitely be a successful blogger. If we can do it. So can you!