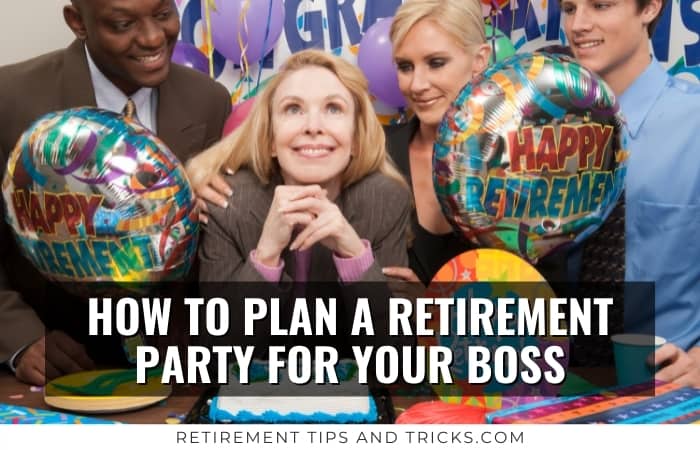 Your boss is getting retired and you would like to plan an amazing retirement party, but you probably want to know how to plan a retirement party. Well, I'm here to help you out and make sure you don't forget anything with this 15-step checklist for a memorable retirement party for your boss. So, continue reading.
If you need to organize a virtual retirement party for your boss, make sure to read my article: 30 Amazing Ideas To Celebrate Retirement Virtually. Now, let's get started with the first step.


---
1) Set A Budget
First thing you want to do is to set a budget for the retirement party. Once that is set you can better plan a retirement party, because all decisions after this are based on your budget. You can make an estimate about what you're going to spend on food, drinks, decorations, rental, venue costs, entertainment and not to forget a retirement gift. This is especially important if you need to submit a budget for approval at your company.
Perhaps the company where you work has a budget for parties available, then the size of the company and your boss's status and years of work will influence the size of the retirement party budget. So, go ask your bosses' boss about the possibilities and company guidelines. Or when this is not applicable in your case you can decide to collect money together with co-workers for the retirement party for your boss. Keep in mind that you can even organize a great retirement party with $5 per person. And it only gets better when you have more to spend.
No matter the size budget, you can create incredible moments that your boss will cherish forever.
2) Pick A Date
Next up is to pick a date.
Now when it comes to retirement parties it's best to pick a date that is close to your boss's actual retirement date. You want to stay in the momentum so that everyone is hyped and engaged and eager to celebrate your boss's retirement. Therefore, try to organize the retirement party two to three weeks prior to your boss's first retirement day or two weeks later.
Also, the guest list can influence the timing of the retirement party. A retirement party only with co-workers is great to organize during office hours or at the end of the workday. Then you know most people will attend.
When it's a retirement party where the guests are a mix of coworkers, family, and friends it is probably better to organize in the evening or in the weekend.
3) Create The Guest List
The next step is to create the guest list.
The retirement party that you want to organize also depends on the relationship you have with your boss. When it's strictly business you should organize a retirement party with only co-workers. Make sure to get help from HR with the guest list. You want to make an inclusive guest list where everyone from the company is invited. Or when it's a big company everyone from the department is invited.
Some companies make the retirement party a corporate event where everyone plus their partner is invited. Possible even special clients, but also the kids and extended family of the retiree.
When you have a more personal relationship with your boss and you also spend time together during off-hours, you can perhaps organize a retirement party with also friends, family, and co-workers of your boss. Then it's best to keep your bosses' partner, kids, or friend in the loop. Or ask them to organize the retirement party together.
You can also look at it this way: retirement is a life celebration so it's nice for your boss to celebrate his or her retirement with the most important people in their life.
4) Choose A Theme
Most retirement parties have a theme. For example, black and white, Mardi Grass, tropical, back to the '50s/'60s/'70s/'80s, or your boss's favorite holiday destination, favorite state, birth year, favorite hobby, travel-themed because of his or her travel plans in retirement, favorite sport, etc.
Other possible theme ideas are cocktail hour, pool party, picnic party, wine tasting party, Sunday brunch party, game night, dinner and dance, Backyard BBQ, outdoor activity, party bus tour, etc. Think about what your boss will enjoy most and what's possible within the budget and you're set.
5) Select The Location
What venue do you have in mind for the retirement party for your boss? That all depends on your budget.
When you have a small budget, decorating your boss's desk/ office and surprise them with a retirement cake is enough to put a smile on your boss's face. Or consider booking the conference room at the office, lunchroom at the office, organize it at a public park, beach, campsite, or in someone's backyard and decorate it with nice retirement decorations.
And when you have a bigger budget you can consider other venues such as your boss's favorite restaurant, a farm, a rooftop bar, winery, outdoor activity center, boat, lake house, or banquet hall.
6) Send Out Invitations
Date, time, and location are set so it's time to send out the invitations.
Depending on the size of the party you want to send out the invitations or save the date at least one month prior to the retirement party. Especially when it's a big event you want to send out an invitation at least two months before. So everyone's agenda isn't filled up yet.
When it just a small gettogether with co-workers during office hours you can do it just a couple of days prior to the party.
Guests like to know what's expected of them so the success of the retirement party starts by informing your guests in a kind and clear way. So make sure to include time, date, location, RSVP date, dress code, gift suggestion, and contact info on the invitation. And perhaps also ask for dietary restrictions if you have a big food buffet or dinner planned. To make it extra special you can send out themed invitations that match the theme of the party.
A great and simple invitation is this 30 retirement invitation card pack on Amazon including envelopes. Or send out an email or video to save the date.
7) Get A Memorable Gift
You can't forget a nice retirement gift for your boss. And the best retirement gifts are the most thoughtful and personal gifts. So the retirement gift you're going to get for your boss must match his or her personality or (future) interests. For example, if your boss loves beer gift him a 1-year subscription to America's best artisan craft beers from The Original Craft Beer Club. Or another great idea is to gift your boss a photo book with personal notes from everyone.
You can collect money with other coworkers to do a group gift. This way you have a bit more money to spend.
Retirement Gift Ideas For Your Boss
8) Organize Food And Drinks
The next step is to organize food and drinks for the retirement party. When you plan to organize the retirement party at a venue make sure to discuss all the options. They probably can give you some great ideas. Or have a caterer do all the work for you at the party. Then you can also enjoy the party instead of running around.
There are all sorts of fun ideas you can do from creative food and drink stations such as Mojito Bar, Nacho Station, Cupcake Buffet, cocktail bar, etc. Or plan a bbq and picnic. But a retirement party cannot go without a retirement cake. Click here for some amazing retirement cake and cupcake toppers.
9) Decorate The Venue
The decorations are what make the retirement party memorable. So whatever the venue; whether it's a boring office or a beautiful restaurant. It's not a celebration without some balloons, swirls, garlands, and banners. You can find amazing retirement decoration kits and retirement party bundles with napkins, plates, and cutlery on Amazon.
Click here for all their retirement party decorations.
And don't forget to organize party rental equipment such as furniture, sound system, canopy, games, etc.
10) Sign A Retirement Card
Get a nice retirement card and let everyone in the office sign the card ahead of the party. Or get a guestbook where all guests can leave personal notes and messages during the retirement party. Which is also a nice keepsake to gift your boss later.
11) Organize Party Extra's
"It's all in the details".
To make the retirement party for your boss extra special you can get creative with the small details. It's where a memorable retirement party will stand out from other retirement parties. And I'm here to help you and give you some ideas.
Retirement Party Ideas To Make It Extra Special
12) Surprise Your Boss With Special Tribute
Make the retirement party complete with an amazing tribute. Perhaps there are several persons that want to tribute your boss each in their own way. Then it's best to design a program and do an inventory beforehand to see who is doing what. This way you keep the control and you can make sure the party is a great mix of honoring the retiree but that there is also time for socializing and having fun. Don't be too rigid on the schedule. Just go with the flow.
Tribute Ideas To Honor Your Boss
Speech
Slideshow
1-minute toasts
Roast
Quiz
Sing a song
Show a video (creating a group video is made easy with VidDay)
Read more: 12 Amazing Retirement Video Ideas To Honor The Retiree
13) Do A Fun Activity
To make sure no one will ever forget this retirement party you can do a fun activity. Perhaps the entire retirement party is an activity such as wine tasting at a vineyard, fun outdoor group games, visiting a theme park, sports games, picnic, or a company camping trip, etc. But you can also do a fun game or activity during the retirement party. An activity or game breaks the ice and naturally lets strangers mingle.
Retirement Party Activity and Game Ideas
A quiz about your boss
Lawn games
Karaoke
Scavenger hunt
City tour with a guide
Cooking class
Escape room
Laser tag
Pictionary
Musical instrument lesson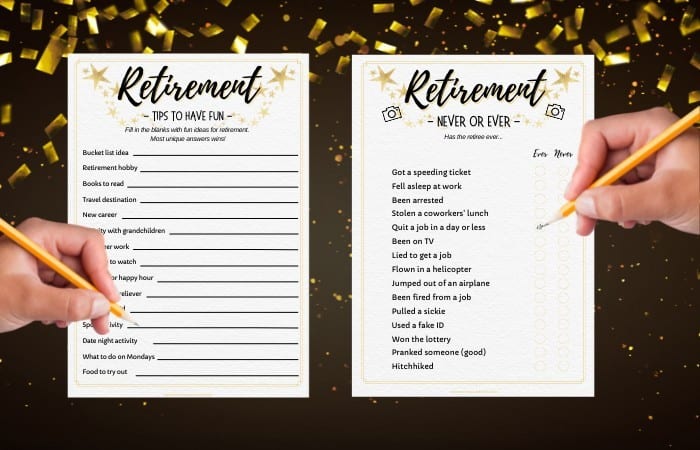 #1 Secret To A Retirement Celebration Success!
I discovered the secret to a retirement celebration success: fun party games.
And that is why I have created a printable Retirement Party Game Bundle with 10 amazing party games. The perfect addition to any retirement celebration.
Just download, print, and play!
14) Capture The Party To Enjoy Later
A great idea to make your boss's retirement party memorable is a way to relive it again. And what better way to reminisce through photos or videos from the party. You can hire a photographer or videographer to capture the event or ask a coworker to record videos and take pictures to create an amazing after-movie or photo album as an extra gift for your boss.
You can send out thank you cards filled with fun photos from the party to all guests or email a link to an online album or with the after-movie attached.
Another way to capture the event is to let guests take pictures. A fun way is to distribute disposable cameras or ask guests to submit their digital photos to an online album that everyone has access to.
15) Give Out Unique Party Favors
And at last, hand out unique party favors as a memorable keepsake for your guests. It's a way to show your appreciation to all guests for attending the retirement party. Amazon has a great selection of all sorts of Happy Retirement goodie boxes and bags, candy wrappers, water bottle labels, etc. And the perfect party favor for the retirement party for your boss is referring to your boss's personality, interests or retirement plans. So to help you out here are some ideas.
Retirement Party Favor Ideas
Airplane bottle opener favor for a travel-themed party
Bookmark
Keychain
Sunglasses
Flower Seed pack
Candle
Gardening gloves
Wine glass
Coasters
Coffee beans
Cookie jar
Bucket of craft beers
Bath bomb