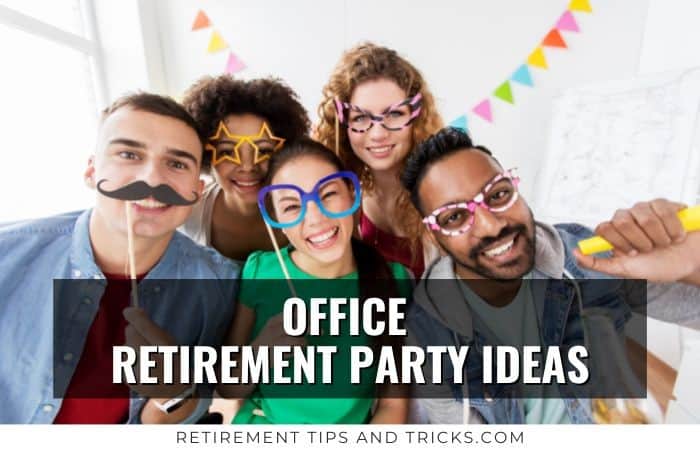 You're planning a retirement party in the office, so you're probably looking for fun ideas. Well, you've come to the right place! This article lists 44 amazing office retirement party ideas to help you organize a memorable retirement celebration for your boss, employee, or coworker. Let's get started right away!


---
1) Group Tribute Video
One of the most memorable and best retirement party ideas is to create a retirement tribute video together with the office to say 'Happy Retirement' and show it during the party.
Now… before you think… A retirement video is a lot of work!
It Is Not!
I've discovered a way how ANYONE can create a fun retirement tribute video that is EASY & QUICK!
No skills and app needed! And the easy online video maker Vidday does all the work for you! Start here to create a tribute video at Vidday now.
2) Hand Out An Award
Another fun idea is to hand out an award to the retiree during the office retirement party. This can be a funny or more genuine award that he/ she can put at their home office as a memorable keepsake. Here are a couple of examples: a medal, recognition plaque, crystal engraved trophy, drinkware or desk accessory, etc.
3) Photobooth With Props
Make great memories and have fun with a photo booth at the retirement party.
It is not only fun during the party, but you can also do a lot of fun things with the photo after the party, such as:
Hand out or email photos to guests as a nice party favor
Collect all photos and put them in a photo book to give to the retiree later.
Create an after-movie montage with all photobooth photos
Here is what to do: rent a photo booth, get a Happy Retirement Backdrop, and fun retirement photo booth props.
4) Play A Fun Party Game
One of the best ways to get the party started and honor the retiree in a fun and special way is by playing fun party games.
A game is a great icebreaker and will make guests happier and more entertained. It creates positive energy and funny moments, which will be the reason why guests won't forget this retirement party soon.
And most importantly, the retiree feels honored in the most enjoyable and memorable way. It makes any celebration (big or small) special and unique. Something reminisce about for a long, long time…
So that is why I have created a printable Retirement Party Game Bundle with 10 amazing party games (see below)
5) Who Knows The Retiree Best? – Quiz
6) Say 'Happy Retirement' Around The World (including answers)
7) Tips To Have Fun For Retirement – Index Cards
8) Would Retiree Rather… – Quiz
9) Wishes and Advice For Retirement – Index Cards
10) Guess Me! – Game
11) Photo Scavenger Hunt – Game
12) Never or Ever – Game
13) Retirement Hobby Race – Game
14) Find The Guest Bingo – Game
This games bundle is the perfect addition to any retirement celebration. It creates laughs, tears, and special moments. And the best part is: you don't have to do anything!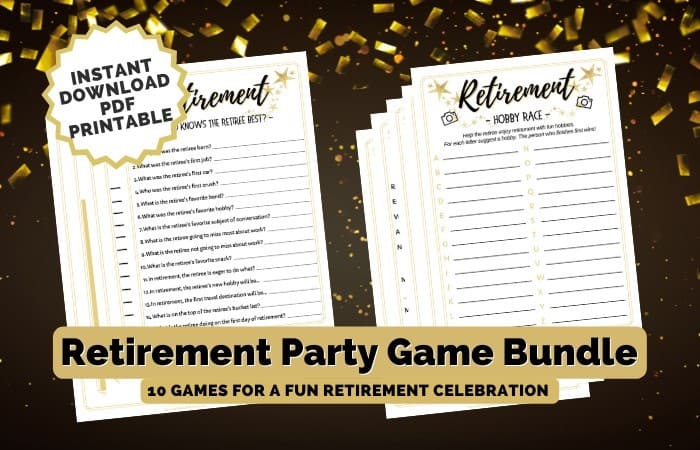 Only $15
15) Themed Costume Party
A themed retirement party (costumes can be optional) can be fun if you know the crowd is up for it. You can add a dress code in the invitation that matches the theme, but you can also ask if everyone dresses in white and the retiree dresses in red or blue. So he/ she really stands out. But here are some other fun ideas:
Fun Office Retirement Party Theme Ideas
Retiree's favorite movie, hobby, or travel destination.
Dress as the retiree
A season: Spring, summer, autumn, or winter
Time period (the '20s, '60s, '70s, '80s, etc.)
Theme related to the birth year of the retiree or the starting year of the retiree's career
Casino
Las Vegas
Hawaii
Travel/ Road Trip
Beach
Wild West
Hollywood
Golfing
Sailing
Cartoon Heroes
Popular Movie/ Book
16) Unique Retirement Gift
A retirement party isn't complete without a retirement gift. Perhaps the party itself is already a gift, but then you can always give something small and meaningful as a gesture and symbol for all their hard work and dedication over the years.
Another idea is to do a group gift so you can spend a little bit more on a gift. Now you probably ask, what is a great retirement gift?
A great retirement gift is a;
– Memorable keepsake,
– Gift to enjoy in retirement,
– Funny gift,
– Personalized gift,
– Gift that matches hobbies or plans in retirement.
If you're looking for a unique retirement gift, then I highly recommend checking out my article: Top 5 Best Retirement Gifts Of All Time.
17) Fun Party Decorations
When it comes to organizing a party, it's all in the details. So no matter how boring the office looks, you can really make it into a party vibe by adding fun decorations. And when in doubt, just add extra glitter…
Continue to read my article: 30 Amazing Retirement Party Decoration Ideas if you're looking for fun party decorations.
18) Retirement Cake
What is a party without cake? Just a meeting. So no matter the size of the party, small or big, you can always add a moment to share a delicious retirement cake. And a cake moment can also be a great opportunity to give a (small) farewell speech or honor the retiree in some sort of way that suits you best.
A cake is also a sweet way to wish the retiree all the best with a fun retirement cake saying. Or, to make it easy, just add a 'Happy Retirement' Cake Topper, and you're done.
Retirement Cake Saying Ideas
I'm Retired, Ask Someone Else
Goodbye Tension, Hello Pension
Let The Fun Begin
We Will Miss You
Retirement Makes Life Sweet
The Legend Has Retired
Time To Relax
You Worked Your Whole Life For This Cake
19) Champagne
The same goes for champagne. A party without champagne is just a meeting. And it creates a great opportunity to say cheers to retirement and wish the retiree all the best in the future with an honoring toast.
Besides popping open a nice bottle of champagne, there are also other champagne/ cheers moments you can create without alcohol, such as alcohol-free champagne or smashing a champagne pinata.
20) Best Retirement Wishes Jar
Instead of a bucket list or retirement wishes wall to collect retirement wishes, you can also decide to put a retirement wishes jar. You can put the jar at the entrance or close to the photo booth. You can print out the index cards from my Retirement Party Game Bundle.
21) Speeches
Honor the retiree with a funny or heartfelt speech. Or multiple speeches by different people. And at the end, you can save some time and space for the retiree to say a couple of words (if he/she wants to).
It can be challenging to host a speech for a retirement party. And that is why I created an article on how to give the best retirement speech, 20 Expert Tips On How To Give The Best Retirement Speech.
22) Drink Station
Most retirement parties have a bar or a place where you can get your drinks. Or maybe some waiters bring around the drinks to everyone, depending if you hire a caterer or do it yourself.
It is extra fun when you can create a drinks station that fits the retirement party's theme or is a retiree's favorite.
Fun Drink Station Ideas
Coffeebar with a barista
Margaritha Bar
Winebar
Beer Bar
DIY Cocktail Bar
Champagne Bar
23) Snack Station
Having a theme can make things easy to organize the rest of your retirement party, such as food.
For example, if you have a travel-related theme, you can have snacks from around the world or from the countries where the retiree wants to travel in retirement. Or you can create fun food stations, so there is something for everyone out there.
Another fun idea for snacks at a retirement party is to include a fun retirement message on the snacks.
Food Station Ideas
Avocado Bar
Popcorn station
Mashed potato food bar
Build your own nacho bar
French fries bar
New York Style pizza station
24) Signature Cocktail
It's all in the details. And that is why a fun signature cocktail can give the party that little bit of extra, so people remember it for a long time.
For example, you can have a cocktail bar with 3 different cocktails named after the retiree's favorite quotes, funny moments, etc.
25) Welcome Drink
To get the party started quickly, you can organize a welcome drink and hand it out at the entrance of the party. This directly creates a moment of celebration and an opportunity to cheer on the retiree's upcoming retirement. This can be a glass of sparkling wine, champagne, a cocktail, or a non-alcoholic drink with a festive touch.
26) Bucket List Bucket
Set up a bucket with bucket list index cards at the entrance of the party or close to the bar/ photobooth and have people write down ideas for the retiree's bucket list. Then later at the party, you can give this to the retiree as a gift, but also a source of inspiration whenever he/she feels bored in retirement.
Retirement Well Wishes And Bucketlist index cards are included in my Retirement Party Game Bundle. Then the only thing you need to organize or decorate is a bucket or container to collect the cards.
27) Roast
A retirement party is all about honoring the retiree, and that can be done in many different ways.
And if the retiree has a great sense of humor and can take a joke, then organizing a roast can be a fun idea.
Tips For A Good Roast
Ask a maximum of 4 people to roast the retiree.
Create an area where the retiree is in the center of attention and is visible to everyone in the room
Estimate how funny each roast will be and schedule the order of speakers from funny to the funniest. You want the most hilarious person to be the last one and to go out with a bang.
Each roast is no longer than 5 minutes. Keep it short, funny, and interesting for everyone. Preferably a roast should not take longer than 20 minutes. So you won't take up to much time from the party.
If it's necessary, mention the no-go topics to all the speakers beforehand. Sometimes very sensitive subjects are best excluded from a roast. You want to make it fun, and a roast is also allowed to be a bit embarrassing, but you don't want to humiliate anyone.
Make sure the retiree has the last word. Perhaps, he or she can come up with a couple of jokes last minute to end the roast. Or take this moment to give a speech.
Do a soundcheck beforehand, and make sure the audio is loud and clear everywhere in the venue. To make an audience laugh, they need to hear the jokes.
28) 1-minute Toast
When you pop the bottle of champagne and raise your glass, you can go around the room and let everyone make a 1-minute toast to honor the retiree. This is a beautiful thing to do when you're organizing a small office retirement party with not too many people.
It can be well wishes for the future, great stories, or funny memories. Make sure the retiree gets the opportunity to make the last toast.
29) Scrapbook
Along with the invitation, you can send out a list of questions to all the invitees or ask guests to email you/ write you their favorite memory or funniest anecdote about the retiree and send fun photos. Collect it all, make a scrapbook and give it as a gift to the retiree at the retirement party.
30) Personalized Party Supplies
As I mentioned before. It's all in the details. You can make the party extra special with personalized party supplies. Go to YourOwnParty.com>> for amazing personalized retirement party supplies.
31) Flashmob
Surprise the retiree with a flashmob and make sure to record it so they can watch it over and over again. Here is an example of a flashmob:
32) Fireworks
Fireworks can be a great idea if you're looking for a fun way to send off the retiree into retirement at the end of the party.
Retirement Party Firework Ideas
Professional Fireworks (show)
33) Workshop Or Activity
Yes, cake and champagne are almost necessities when it comes to parties. But if you want to make it a bit more original and interactive, you can organize a fun workshop during the party. This can be a great icebreaker as well.
Workshop/ Activity Ideas For Office Retirement Party
Beer Tasting
Wine Tasting
Making Food (a fun idea if the retiree has travel plans to Italy to make Italian food)
Creating Cocktails
Painting
Arts & Crafts Workshop
Meditation (theme is relaxing and being stress-free in retirement)
Sound healing session
Detective Dinner
34) Fun Party Playlist
Music gets the party going, right? That is why making a great music playlist can be a good idea for your retirement party.
You can create a playlist with the retiree's favorite songs, a themed-based playlist, or add some classic songs that are retirement-related.
Retirement Song Ideas For Playlist
It's Five O'Clock Somewhere – Jimmy Buffett
Margaritaville – Jimmy Buffett
Another one bites the Dust – Queen
Working Nine to Five – Dolly Parton
Hit The Road Jack – Ray Charles
Stayin' Alive – The Beegees
Fun, Fun, Fun – The Beach Boys
I've Had The Time Of My Life – Bill Medley, Jennifer Warnes
We Gotta Get Out of This Place – The Animals
35) Guestbook
Put down a guestbook at the party's entrance and ask guests to write messages in it for the retiree. It can be funny anecdotes, favorite memories to sincere words people can write in the guestbook. And give it as a gift later to the retiree.
36) Create An Escape Room
You can make an escape room in one of the offices as a fun activity. You can have a proffional do this for you or get creative yourself. There are a lot of online tutorials that explain in detail how to make an escape room.
You can do this with teams or lock up the retiree and have him/ her unlock themselves to enter their own retirement party as part of a joke.
37) Invite A Speaker
If you organize a big retirement party, you can consider inviting a guest speaker to give a speech at the retirement party. For example, the retiree's favorite businessman or idol or invite a coworker/ boss that the retiree has worked with a long time ago to surprise him/ her.
38) Sports Tournament
If your office is of competitive nature, you can consider organizing a fun sports tournament at the office. This can be a basketball tournament with balls of paper and trashcans or a rock, paper, scissors tournament.
39) Slideshow
You can always make a great slideshow of the retiree's career highlights when you want to keep things classic and traditional.
40) Party Favor
As a retiree, you get a lot of presents and goodbye wishes during a retirement party. However, it can be great fun to hand out a party favor goodie bag at the end of the party with a thank you note, a fun present, and a snack on the way home. 
You can design your own Goodie Bag at YourOwnParty.com >>
41) Magician
Invite a professional magician to play some tricks on guests during the party.
42) Casino
Transform the office into a Las Vegas casino, set up gambling tables with professional dealers, distribute fake money at the party's entrance, and have a chic dress code.
43) Smash A Pinata
You can create an alarm clock piñata and call it to smash the alarm clock! Since the retiree doesn't need an alarm clock anymore! Or open the party officially by smashing a champagne pinata or have the retiree smash a pinata with the number of working years.
Another fun idea is to fill the piñata with all the retirement wishes you collected instead of candy. Or maybe fill it with fortune cookies with a goodbye message to all the invitees.
44) Karaoke Machine
The infamous karaoke machine! If you want to organize a retirement party that isn't too serious and have some fun, a karaoke machine is can be an awesome idea. Later in the evening is perfect timing to pull out a karaoke machine because it often takes a couple of drinks for some people to get on stage and for others not to get annoyed.