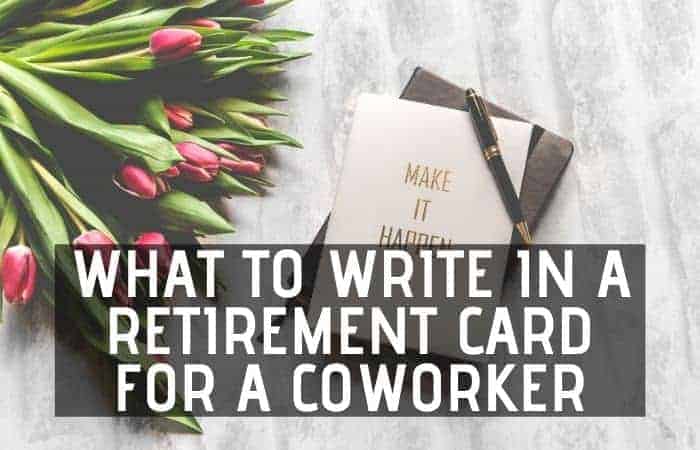 Is one of your coworkers retiring? You might be struggling with what to write in the retirement card for your coworker. Retiring is a life-changing moment, so you want to be your message extra special. In this article, I'll share the best ideas on what to write in a retirement card for a coworker.
Let's start with a list of the best retirement wishes you can write in a retirement card for your coworker. Followed by an easy step-by-step guide filled with tips, so you know exactly how to craft your message, and write the best retirement card for your coworker.
Just a heads up, this post contains some affiliate links. As an Amazon Associate, I earn from qualifying purchases. Purchases you make through these links may earn us a small commission, at no extra cost to you.
Also, if you're looking for a unique retirement card to write your message, check out this beautiful Happy Retirement pop-up card. It is my favorite.
Wishes To Write In A Retirement Card For A Coworker
We are going to miss you. You are one of a kind and unreplaceable. Enjoy your well-deserved retirement!
You are one of the hardest workers I have ever known. I wish you a great retirement because you deserved it!
It has been a pleasure working with you. I am wishing you a relaxing, fun, and long retirement. You will be missed. Congratulations on your retirement!
In the many years you have been in the office, you have made an undeniable difference. Congratulations on your retirement—it won't be the same here without you!
I hope you will have a wonderful retirement! You will be missed, but never forgotten. You've done so much for all of us.
Thanks for all the great memories. Your contributions will never be forgotten. Happy retirement!
Congratulations on your retirement! There is a world of possibilities ahead of you, and I wish you the best on your next adventure!
You were a great colleague to work with, you're going to be missed. Enjoy your retirement!
Wishing you good health, happiness, and success as you move forward to this next chapter in your life!
I wish you a wonderful future with lots of time to enjoy with your family, friends, and hobbies. Congratulation, and enjoy your retirement!
Congratulations on your retirement. May you live your best life from here on out!
You are a hard worker and optimist. Thank you for bringing so much joy and dedication to the office. We will miss you! Have fun with your retirement!
Best wishes on your next adventure in life!
You've been promoted to the retirement stage of your life! Congratulations!
Congratulations on your retirement! Start listening to your heart; it's the best gift you can give yourself when you retire.
Remember, retirement is an adventure! Especially if you count, climbing on sofas, trekking out of bed, and diving into takeaways. Have fun with all that and forget about this place!
Have fun with all the adventures on your bucket list, happy retirement!
Congratulations on extending your weekends with 5 days! Now every day is a Saturday.
Please congratulate your partner on getting twice the husband, but only half the income. Happy retirement!
When 'I'm too old for this shit' becomes your daily mantra, you know it's time to retire. Fortunately, you're getting out of here… I hope you enjoy all the adventures you have planned for the future. Happy Retirement!
Young at heart. Slightly older in other places….. Congratulations, and enjoy your retirement!
Bye Bye, Tension, Hello Pension. Happy Retirement!
From the bottom of my heart, we're going to miss you. Best wishes to your retirement! Feel free to call me and visit when you get bored playing around.
It's time to do what you always wanted to do. So enjoy your retirement. I'm looking forward to not seeing you in the office!
Now you can enjoy doing nothing all day and relax afterward! Happy retirement!
Retired: I know it all, but I can't remember it all at once.
There are some who start their retirement long before they stop working. So this happy retirement card is X years too late. Congrats anyway!
We took a vote and decided that you retiring is simply not good for any of us!
You are going to miss this place because we're awesome.
Retired life is seven day weekends! So enjoy your weekend!
How To Create A Retirement Message For A Coworker
If you want to write your own message in the retirement card you give to your coworker, make sure the retirement message contains the following subjects.
Congratulate Your Coworker On Their Retirement
Your coworker is retiring, and that is a big deal. And that's why you want to put in the effort to write a great retirement card, so he or she feels appreciated and celebrated.
At first, you want to congratulate your coworker on this milestone in life. You can use words on the card like: "Congratulations on your retirement" or "Happy Retirement."
Just keep this statement short, so that you have enough space to write a more personal message later. You can also decide to use a card that already says 'congratulations,' so that you don't have to write it down, and can use all the space to write a more personal message.
Acknowledge Their Achievements
Before you write a more personal message, make sure to acknowledge the hard work they have done over the years. List a couple of career successes and achievements to let them know their work didn't go unnoticed. These can be general career successes or achievements on a more personal level that you want to express.
Add A Personal Message
Make sure to add personal details about your relationship and how wonderful it's been working with them. You can write about how much you're going to miss them, what you learned from them and what you liked about having them as a coworker.
Also, you can add funny anecdotes, for example. The more personal you will get, the more they will appreciate this.
Add A Retirement Wish For The Future
You want to end the retirement card by writing well wishes for the future. You can use words like:
"Best wishes for an awesome retirement."
"Wishing you much joy and happiness as you begin a new chapter in your life."
"I am wishing you a relaxing, fun, and long retirement."
"Enjoy your retirement."
"Best wishes on your next adventure."
You can hint towards the plans they have in the future, like maybe traveling, golfing, or other hobbies and activities they want to do in their retirement.
If you have trouble with coming up with the right words, you can try to switch shoes. And see what you would like to hear on the day of your retirement. You probably want to hear that your work was appreciated and that you left a mark within the company. You want to be remembered in a positive way. So write things you want to read on your retirement card, and you will be good.
Recommended Retirement Cards
Besides a great and sincere retirement wish, you're probably also looking for an awesome retirement card, right? And I've got the best tip for you to make your retirement card extra special!
Lovepop creates 3D pop-up paper art that unfolds like a miniature surprise. This way, your retirement card will surely stand out from the rest of the cards and leave a great impression. This beautiful Happy Retirement pop-up card is my favorite.
The Best Retirement Gift For A Coworker
When someone is retiring, it's not mandatory to give a gift, but it is good manners. In some cases, a retirement card with best wishes is enough to acknowledge this achievement in their life.

But when it's a close coworker, you might want to celebrate this achievement an awesome retirement gift. Or if you're invited to a retirement party, then it's customary to bring a gift. Unless the invitation says not to. And there a couple of things you can do:
Give A Retirement Gift As A Group.
You can also collect money with other coworkers to give a group gift. This way, you can buy a more expensive and thoughtful gift for your coworker.
Maybe you know his/ her retirement plans, and you know what they need, but it's a bit expensive to give individually. Then you can suggest the idea of a group gift to your coworkers. When it comes to group gifting, it's best not to force guidelines. Don't insist that everyone has to contribute because maybe they can't afford it or they don't want to be involved.
Give The Gift Of Masterclass
One of the most popular and useful retirement gifts is the gift of Masterclass. Masterclass is an online education platform with the world's most successful and famous teachers; Gordon Ramsey, Christina Aguilera, Usher, Hans Zimmer, Stephen Curry, Carlos Santana, Jimmy Chin, and many more.
You can give your coworker something fun and exciting to do with an All-Access Pass to Masterclass.

If they like to cook, they can follow a course from Gordon Ramsey, where he teaches how to make restaurant-worthy dishes. Or maybe your colleague is more into improving his BBQ skills. If so, then the popular course of Aaron Franklin is a great idea. He teaches how to create the ultimate Texas-Style BBQ.
Other popular classes are about gardening, writing, acting, and sports. An all-access pass is available for 180 US Dollars. It's a unique retirement gift you can easily give as a group. Get your all-access pass gift to Masterclass here!
Give A Celebration Gift Basket
Another unique, fun, and delicious group retirement gift for a coworker is a Dom Perignon Gift Basket. Because a big life celebration calls for champagne!
Your coworker can enjoy the best vintage champagne in the world with lots of gourmet snacks and enjoy it together with their spouse, family, or coworkers! It's a great gift that allows your coworker to celebrate their retirement and new life adventure in the first couple of days.
If you're close to the retiree and known each other for years, it can be fun to go on a trip to celebrate your coworkers' retirement. Or gift him a photo book or scrapbook with fun photos, anecdotes, well wishes to keep as a unique memory, and to reminisce in retirement.
Give A Retirement Gift Individually.
If you have a nice relationship with your coworker, you can celebrate their retirement by personally giving a thoughtful gift.
Personalized gifts are always great retirement gifts. However, the best retirement gifts are the gifts that match the retiree's plans, hobbies, and dreams in retirement—a gift they can enjoy in retirement or can keep as a memory.
Some popular retirement gifts that are always a good idea to give are;
When you're looking for more gift inspiration, I recommend reading my article, 77 Best Retirement Gifts For Men and Women.
Recommended Articles:
I wrote many articles about retirement that might be helpful for you.
If you're looking for more inspiration on what to give to your coworker, I recommend reading this article. I'll many inspirational gifts that you can give individually or as a group.
Read More: 51 Best Retirement Gifts For A Coworker
When, instead of a coworker, your boss is retiring, it's a whole other game. You probably end up giving something completely different then you would give to a close coworker. Many people give a group gift to their boss. Are you looking for inspiration? Make sure to read this article.
Read More: What To Get Your Boss For Retirement? 44 Fantastic Gift Ideas
Retirement calls for celebrations. And if you or your coworker decide to celebrate retirement at work, you might be looking for some ideas. You can find 18 creative ideas on how to celebrate your retirement at work in this article.
Read More: How To Celebrate Retirement At Work.