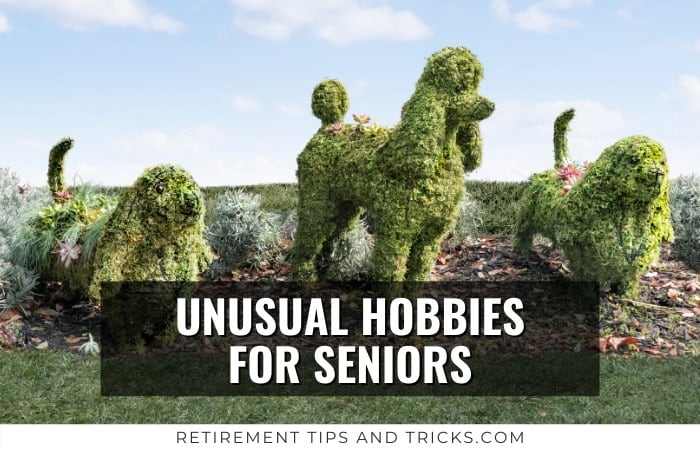 Sometimes you're just looking for something unusual to do. Something strange, unique, out of the ordinary, and off-the-beaten-track. Just to spice things up, learn something new, have something special to talk about, or because you're looking for a new hobby later in life. Well, don't look any further because I've listed 20 unusual hobbies for seniors in this article. Let's check them out below.


---
1) Urban Sketching
Urban sketching is drawing a scene on location. You draw the city, street, park, market, beach, etc, from a bench or your own chair. Wherever you are you draw the world around you. For example, you can visit a new location every day in retirement to make a beautiful sketch. You can do only sketches or add color or paint to make your drawing come to life. It's an inexpensive hobby that is perfect for any skill level. You'll see the world in more detail and with different eyes.
When this unusual hobby is something you want to try out but don't know where to start you can get the highly rated and comprehensive guide: The Art of Urban Sketching at Amazon.
2) Tree Shaping
When you have a green thumb but are looking for other ways to spice it up you can try out tree shaping as a new hobby.
With tree shaping, you use tree whips to bend and woven into your desired design. It's a hobby that takes time and patience. It can take up to several years to see the end result but to see it gradually grow into the shape you want can be very satisfying. It's a nice piece of art in your garden. You can create furniture and other beautiful creations. But keep in mind that not every tree is suitable for tree shaping and not every shape method is healthy for a tree.
3) Paper Quilling
With paper quilling as a hobby, you create pieces of art with simple stripes of paper. You create a unified and decorative design with many different colored rolled and shaped strips of paper that are glued on paper or something else. For example, you can create photo frames, birthday cards, earrings, necklace to vase, and cake decorations.
It's an inexpensive hobby and a perfect hobby for a senior that likes to create small art. To get started get your first paper quilling tool kit here.
4) Wood Burning
Wood burning or also known as Pyrography is an art form where you decorate wood or other materials with burn marks. You use a heated wood-burning pen to create your piece of art. For example, you can create a last name house sign, coasters, clock, serving boards, etc. The possibilities are endless.
5) Macramé
Macramé is the hobby of knotting cords made of cotton twine, linen, hemp, jute, leather, or yarn into beautiful wall hangings, plant hangers, dreamcatcher, jewelry, bags, purses, and even clothing items. This hobby started in the 13th century where Arabic weavers used decorative knots to finish the loose ends of hand-woven textiles. Pick out your first macramé project here.
6) Geocaching
Geocaching has become very popular over the years. Especially during Covid. Everyone was looking for something fun to do outdoors. It's treasure-hunting the modern way because you use using GPS-enabled devices like this handheld GPS navigator to find the millions of treasures (geocaches) hidden around the world.
Here is how it works. You have to download the Geocaching® app and create an account. Then you get accurate GPS coordinates to find geocaches hidden by someone else. When you've found a geocache you sign and date the logbook. And place it back where you found it so others can find it too. The hider can place some goodies in the container if you're one of the first to find them. Then you can exchange goodies with items you've brought with you.
It's one of the healthiest unusual hobbies out there. With geocaching, you spend a lot of time outdoors and you exercise (hiking or biking to find geocaches) without even knowing it. Being outdoors and regular exercising is one of the best things you can do to stay happy as you age.
7) Toy Voyaging
When I started researching unusual hobbies. Toy voyaging was something I've never heard about, but it's quirky and funny. And perhaps your new unusual hobby.
If you're not able to make a trip around the world, that doesn't mean your toy can't. Yes, you can send your toy or stuffed animal on a world trip. It's passed on from person to person and his or her travel adventure is tracked on the website: Toyvoyagers.com. Something very close to you is going on adventures you can only dream about. This way you partly travel the world too.
And if you don't have a toy, do not worry. You can offer a toy a place to stay and go on an adventure with you. Make pictures on touristic and not so touristic sites and make the owner happy by sharing these pics on the website.
8) Soap Carving
Everyone has a piece of soap at home, so this hobby is very accessible and cheap. You can even start today and shape your piece of soap into an animal or beautiful flower. The only thing you need besides soap is a soap carving kit.
9) Upcycling
Upcycling is turning anything that you don't use anymore, is broken or old into a new piece of art or useable product. A sustainable hobby that turns trash into treasure.
You can turn an old desk into a cool new outdoor bench. A tomato ketchup bottle into a birdfeeder. Wooden crutches into a closet. An old skateboard into a tiny table for your grandchild's bedroom. You can find so many upcycling ideas on Pinterest. Once you start you see more and more possibilities and ideas grow. This hobby doesn't have to cost you a thing, is versatile because every project is new and it will definitely keep you busy throughout your retirement.
10 Couponing
Do you get happy when you can save money?
Then couponing can be your new hobby. It's the practice of systematically collecting coupons from newspapers, online ads, magazines, websites and use them to get discounts and save money on groceries and other products. Now we all use coupons now and then. But there are people out there that are passionate about it and create it into a hobby. Some people are even obsessed with it and do extreme couponing. That's not something you want to be aiming for. A hobby should be fun and healthy. Moderate your couponing and you'll save money and have fun while doing it.
11) Magnet Fishing
Magnet fishing is a nice mix of a treasure hunt and fishing. Instead of fishing for fish, you're fishing for metal objects in the water. You never know what you're going to fish out of the water next. And this magnet fishing bundle set will get you started. It contains 100 ft high strength nylon rope with a carabiner, non-slipper rubber gloves, a thread locker, and an extra-strong pulling force magnet.
It can be a fun hobby or you can also do it from an environmental standpoint. Fishing objects out of the water is great for the environment but can be a bit dangerous too. You never know what you're going to pull out of the water so be cautious. And stay informed about locals laws and restrictions about magnet fishing. Currently there non.
12) Whittling
Wood carving is a very popular hobby. Whitling is a bit different. Instead of using chisels, gouges, and a mallet with wood carving. With whistling, you only use a knife. It's a bit more refined. For future projects, you can whittle a wooden toy, spoons, animals, dwarfs, a piece of art on the dining room table or windowsill.
Now as you start out it's best to use softwoods at the beginning, such as silver birch, willow, sycamore, alder, and lime. As you get better you can move on to harder woods. Also, it's always best to use wood with a straight grain because that's easier to whittle. Interested? This whittling tool set will get you started.
13) Flipping
Want to have a hobby as a senior that can earn you some extra money? Start flipping.
This could be anything from flipping houses, furniture to products. For example, you can buy products at low prices, optionally give them an upgrade and resell them at a higher price. You can do this at an online marketplace or locally. If you love to visit flea markets, garage sales, antique shops, or thrift stores this can be a potential hobby.
Or if you love interior design and are great with your hands. Flipping real estate can be a very profitable hobby. There are many TV shows about flipping properties that you can watch to learn more about it or you can get this highly rated book on Amazon: The Book on Flipping Houses: How to Buy, Rehab, and Resell Residential Properties.
14) Magic Tricks
If there is an entertainer in you, learning magic tricks could be a great hobby for you. It definitely works well if you have grandchildren.
Learning magic tricks is a bit of acting and a lot of practice. You need patience and perseverance to become a magician. You can start learning a couple of simple tricks and keep performing until it's perfect. And then you can expand your act as you go and add your personal touch.
Start with perfecting one trick and other tricks will become easier to learn. Select your first magic trick from this Fifty Amazing Magic Tricks Set from Marvin's Magic Store.
15) Dragon Boat Racing
Are you looking for a more active hobby? Try out dragon boat racing.
It's a traditional Chinese activity that is for over 2000 years old but has been a widespread sport and hobby over the world. It's a fun way of rowing a boat. In a dragon boat, you have a team of 22 people. 20 rowers that sit in two rows of ten people facing forward using paddles to go forward. A cox/ coach in the back steering the dragon boat and a drummer at the front who is the 'pulse' or 'drumbeat' of the team. He or she helps the cox in the back to communicate the commands to the rest of the team.
You can het more information about dragon racing in the US on the United States Dragon Boat Federation website.
16) Home Brewing
Craft beers have become very popular over the last couple of years because people started to get familiar with crafting their own beers. Now if this is something you want to try out too, there are many beer home brewing kits available that make it possible for anyone to craft their own beer and experiment with different flavors and beer processes.
If you're not really a beer lover, there are also wine home brewing kits and hard cider brewing kits out there.
17) Creating Fairy Goblin Houses
My parent's backyards are adjacent to the city park. And in the last year, someone (we still don't know who) started to create to hide goblins in the park and made fairy goblin houses in tree trunks and other natural places. It became so popular that people, especially family with kids, started to visit the park and made it into a goblin or dwarf tour. And every time we walked through the park we discovered a new goblin or goblin house that he or she created.
It's an unusual hobby that made a lot of people happy, especially during 2020. With nothing really to do, someone made a fun experience by hiding these dwarfs in the park.
If this is something you're interested in you can start doing it at your own local park. Or create fairy goblin houses from natural material to display in your own garden. You can get a lot of ideas and inspiration from Pinterest.
18) Flower Pressing
As I project in primary school we picked flowers, press them in a book and name them as part of a project. This could be a new hobby for you too. You can pick flowers on your daily walk and collect them in a nice flower book. You can use this flower press book kit to create your first flower collection.
19) Topiary
Topiary is a gardening practice or form of art where you cut, and trimming trees, plants, or shrubs into odd or unusual shapes. For example plants or trees shaped like animals, ornaments, persons, hearts, etc. You can create your own Alice In Wonderland garden.
Perfect plants for topiary are yew bushes, Arborvitae Shrubs, Dwarf Alberta Spruce Trees, Boxwood Shrubs, Japanese Holly Shrubs, Privet Shrubs, or Lavender Herbs. If you'll have one of these growing in your garden, get yourself a trimming toolset and start creating.
Gardening is a perfect activity for seniors. It's an exercise that strengthens your mobility, coordination, reduces stress, helps to maintain the brain's cognitive functions. Along with so many other health benefits, which you can read in my article: Why Is Gardening Good For Seniors? 10 Benefits.
20) Leather Crafting
If you love to work with leather. Leather crafting can be your new hobby.
You can create so many things with leather. For example shoes, wallets, camera strap, laptop or tablet sleeve, bow cuff, luggage tag, travel wallet, tote bag, keychains, etc. You don't have to buy birthday gifts anymore, you can make your own personalized gifts. Check out this leather crafting tool kit on Amazo if you want to try out this new hobby. And go on Youtube for leather crafting tutorials that will teach you the basics.