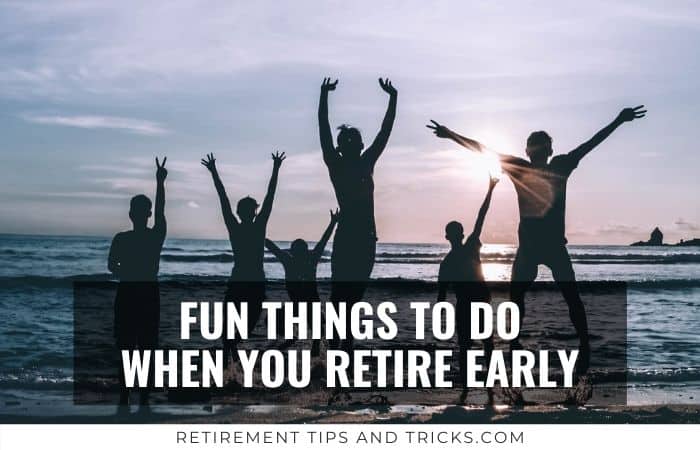 You're (almost) retired early and you're looking for things to do in your retirement. Well, you've come to the right place! I've listed 30 fun things to do when you retire early in this article. Let's get started right away with number one on the list.


---
1) Apply For Fun Classes
You probably completed the sentence before: I've always wanted to learn…
Well, now is the time to do it. Retirement is the perfect time to learn new things, and I've got the best tip for you!
Whatever you want to learn, there is an amazing class for you out there on Masterclass. On this streaming platform, you can learn from the best in the world at your own pace, anytime, anywhere. Whether you want to learn more about gardening, music, science, business, tennis, magic, Italian/ Mexican or BBQ cooking, basketball, etc. there is an amazing class for you on Masterclass.
Masterclass is a streaming platform that makes it possible for anyone to watch or listen to hundreds of video lessons taught by the most successful and famous teachers in the world. Say hello to your new teachers: Gordon Ramsay, Aaron Franklin, Serena Williams, Anna Wintour, Ron Finley, and so many more. Get yourself the best gift for retirement: an annual Membership to Masterclass. Get more info;
2) Redecorate Your Home
Now that you're retired, you're at home more often so you want to make sure you live comfortably. That means you love to spend time at home and that sometimes means that you need to do some redecorating. Which is a fun new project as well in retirement. You get to be creative, you have something fun to do and the end result is you fall in love with your house all over again.
Perhaps you want to upgrade your kitchen, spice up your living room, or want to fresh up your bedroom. Your retirement can be a perfect time to upgrade your home. And when you need some advice and inspiration I've got the best tip for you!
Kelly Wearstler has an online Masterclass where she teaches you everything you need to know about interior designing. And the best part is you don't need experience in designing to apply for her online class.
The award-winning designer takes you behind the scenes of interior design in this fun online class. In 17 video lessons, she teaches you how to make any space feel larger and shows you how to choose colors, materials, and textures. And how to work with space, patterns, natural light, furniture, fun accents, and how to find your own distinct style. 
3) Enjoy Good Books
Reading is like traveling to other worlds without leaving your own house. It's the cheapest way to travel in retirement. You can dive into a character, feel what they experience, and get an insight into their entire lifespan in a matter of hours or days. And with a Kindle Ereader, you have access to millions of ebooks and audiobooks, which makes your retirement so much more fun and interesting.
And reading is the best way to keep your brain active and healthy in retirement. It not only reduces stress, but it also improves brain connectivity, lowers blood pressure and it prevents cognitive decline as you age. It's a great gift you can give yourself in retirement. Whether you're at home, chilling by the pool, or relaxing on the beach, you can bring your e-reader along with you.
4) Watch Back Old Tapes
Many retirees like to dive into their past and reminisce about the gold old times. Perhaps you have a box full of old tapes in the garage that is catching dust. Well, now there is an easy way to digitalize these tapes so you can watch back all your old memories. It's Legacybox. You can even become the family historian and write a family book and distribute it together with the digitalized media for everyone to enjoy it.
At Legacybox you can digitize almost anything; from VHS tapes to Super8 film. And they're in good hands because it's all converted hand by hand by a team of trained technicians in the USA.
When you send in your tapes you'll receive your originals plus digital keepsakes that are future-proof and ready to relive. When you purchase a Legacybox you get a welcome guide with simple, step-by-step instructions, safety barcodes for every item, and a pre-paid UPS® return shipping label to ship everything back. Check out Legacybox here.
5) Have A Happy Hour Every Day
In retirement, every hour is happy hour as what they would say.
Well, not that I want to encourage you to start day drinking, but enjoying a nice glass of wine or a cold beer at the end of the day is what retirement can be all about.
You've worked hard to retire early, so why not enjoy it to the fullest with a delicious drink. It will definitely taste a lot better when you don't have to work the next day. And creating this moment to unwind and relax every day helps you to enjoy and appreciate your retirement even more.
You can get creative by inventing new cocktails and invite a couple of friends over to enjoy together. Or gift yourself a monthly subscription to The Original Craft Beer Club and get top awarded beers that are produced by small-production, independent, artisan, craft brewers from across the country send to your home.
When you're a wine lover you can get a subscription to The California Wine Club and get amazing handcrafted award-winning wines from small artisan wineries in California home-delivered every month. Host a wine tasting to enjoy with your spouse, neighbor, or friends each time a box arrives.
6) Start A Business
When you retire you get control back over your life and get to be your own boss. And that's why many retirees love to start a (small) business because the best part is that you're in charge of your own working hours, you have a new life purpose and you can choose what it is that you're doing.
Perhaps you have a nice hobby that you want to take to the next level or start from scratch with a new business where you have to learn something entirely new and on the go. The most important part is that you love to do it so it doesn't feel like "work" and that you're not spending your entire retirement savings on this brilliant business plan of yours. Start small, try to test the waters, and investigate if there's a market that you can add value to with your knowledge, skills, talents, and perseverance.
If you're serious about starting a new business in retirement. Make sure to check out NorthWest Registered Agent. They give you the worry-free services and support you need to start your business in retirement.
Small Business Ideas: Gardener, Tutor, Handyman, Catering, Consultant, Dog walker, Bookkeeping, Coach, Real Estate Brokering, Food Truck, Blogging, Sell Arts & Crats on Etsy, Create A Course on Udemy.
7) Get Into Arts & Crafts
We were born to be creative, but often desk jobs kill the creativity within us. Many retirees love to get creative because it's what their life lacked for many years. So getting into arts and crafts is a fun thing to do when you retire early.
And did you know that doing a creative activity contributes to better aging? Doing something creative gives a sense of purpose and boosts self-esteem and thus you live a more happy retired life.
For example, many women love to knit. And my retired mom and mother-in-law love to do diamond painting. They can do it for hours on end. It's kind of a meditation for them.
When you're not set on one craft project, you can subscribe to the Arts and Crafts Crate from CrateJoy that sends new arts and crafts projects to your door every month. Each month you can create fun art projects which allow you to learn a new craft technique every time. Or get this book on Amazon: 365 Days of Art an inspiring journal with creative exercises for every day of the year.
8) Do Volunteer Work
Many retirees love to do volunteer work. It's one of the best ways to fill your days in retirement because it gives a sense of fulfillment and purpose. Volunteering helps you to stay active, keep up with social interactions and it's a way to prevent loneliness in retirement. Helping others makes you feel good.
You can think of offering your time and energy to the local soup kitchen, senior center, or apply for senior corps. Or use a volunteering agency to help you find the best volunteer job for you. Check out these websites:
9) Get Fit
When you retire early you want to enjoy your retirement as long and healthy as possible. Because you haven't worked hard to not enjoy it to the fullest. And in retirement health is wealth.
Therefore make sure to get fit or stay in shape physically, mentally, and socially. Because a combination of these three is the key to living a healthy retired lifestyle.
Being physically active helps to keep your body strong. And when you need some guidance you can get the Cronometer to help track your health in retirement. It's a very easy to use app that tracks your nutrition, fitness, and health data. It's one of the world's most accurate and comprehensive nutrition trackers with over 3,5 million users. You can sign up for free and see if it works for you.
Keeping your brain active is evenly important. It preserves cognitive skills, improves concentration, and potentially lowers dementia risk. A great way to keep your brain active is with this book: 399 Games, Puzzles & Trivia Challenges Specially Designed to Keep Your Brain Young. I have 10 more tips on how to keep your brain active in retirement. You can read all the tips here.
What most people underestimate is that being socially active is one of the most important things to stay healthy. When you retire you lose the daily social interactions from work and that's why you need to seek new ways to be social in retirement. It's good for your overall well-being because it reduces stress and feelings of depression and loneliness.
10) Enjoy Your Morning Coffee
Now that you've retired early you can enjoy your morning cup of coffee without having to rush to work. This feeling is for many retirees the ultimate retired feeling; enjoying a nice cup of coffee or tea, read the newspaper (in your pajamas), knowing you have a whole day ahead of you where you can do anything you want.
To create momentum you can make this "gourmet coffee moment" part of your daily routine because daily routines are crucial if you want a more structured retirement day. Positively starting the day is crucial for your mood for the rest of the day. A good morning routine helps you start your day in a great way: you stay focused, energized, bring you closer to your goals, and motivates you to make the most out of your day. And you can lean on something that repeats every day. set priorities,
When you want to make your morning coffee moment into something more special than you should get yourself the World's Best Coffee at Beanbox. You can get a subscription to enjoy new artisan coffees that are sent to your door every month.
11) Get Into Gardening
Gardening is one of the most popular activities amongst retirees. It's also one of the healthiest things to do when you retire early. It's a great activity for your overall well-being.
With all that manual labor from digging to planting you burn calories and it's a great physical exercise for the body. Also with gardening, you get to be outside which is good for your immune system. And being creative and living in the moment relieves stress so it's also great for the mind.
So even if you don't have a green thumb; gardening is good for you. And when you want to learn some new tricks you can follow the online Masterclass from Ron Finley, also known as a community activist and self-proclaimed "Gangster Gardener".
Even when you don't have a big garden you can do vertical gardening and grow your own vegetables and herbs.
12) Write A Book
You have all the time in the world now that you've retired. And why not pick up a new hobby such as writing and write your own book. You can think about writing a novel, your memoirs, the best (work) stories, a family history book, or a collection of your poems. Either way, no matter what kind of book you want to write, The Writer's Toolbox can help you get into the creative writer's mindset.
13) Go Back To School
Perhaps when you retire early you want to spend your free time on something educational. Well, did you know that many colleges offer discounted and often free programs for seniors in the United States? A great opportunity for you as a retiree to keep learning and perhaps earn a degree in retirement.
There are shorter-term programs or complete courses available for seniors. Here's a list of colleges that offer programs for seniors. Or you can contact your nearby community college and ask what senior programs are available.
14) Find A New Hobby
Having an enjoyable hobby benefits your happiness in retirement. So once you've retired you can take the time to explore new hobbies. For example, you can tag along with hobbies your friend, kids or grandkids enjoy. Or go out on your own and see what interests sparkle. If you don't know where to start, you should read my article: How To Get A Retirement Hobby: 7 Tips. Or get inspiration from 35 ideas of The Best Hobbies In Retirement.
15) Visit (far away) Family
What pre-retirees most look forward to in retirement is spending as much time as possible with family and friends. So when you don't know what to do on your day in retirement you can always visit a family member.
Perhaps you have far-away family members that you didn't have the time to visit while you're working. Well, now is a great time to make the effort and pay them a visit. Stay for a couple of days or weeks and make it into a short holiday. A change of scenery and company refreshes your mind.
16) Babysit Your Grandchildren
If you want to spend as much time as possible with your grandchildren you can consider babysitting them for a day or a couple of days in the week. You'll create a close bond with your grandchildren and it saves your children a lot of money on childcare. It keeps you busy and keeps you young.
If you're retiring soon and you're not sure what to do, then you should keep things open. Do not commit yourself to babysitting your grandchildren before you know exactly what you want to with your time in retirement. Often people fear the open agenda before they retire and make commitments without even experiencing the freedom they've earned. You can always say Yes later in time. Coming back from an agreement is less easy.
17) Go On A Date
Are you single and ready to mingle? Well, why not go on a date in retirement!
You can check out eHarmony. The leading dating site for seniors.
eHarmony is for singles looking for a serious relationship. It's one of the largest and most popular dating sites out there. Their aim is to help you find the best match for you using a compatibility matching system that is simple and easy to use. It even allows you to find possible matches based on age, city, or location.
eHarmony offers all sorts of subscription plans, but you can test it out for free and see if online dating is something for you. Because why not?! Maybe the love of your life could be just around the corner.
18) Declutter Your Home
Decluttering your home is decluttering your life. Less stuff means less stress, less organizing, and less cleaning, and more time and money for the fun things in life. More time for all the things you want to do in retirement.
When you declutter your home you actively get rid of things you don't need and want in your life so you can focus and put energy into the things you do want in life. It's a great activity to do when you retire early because it sets the mood for the rest of your retirement.
If you're new to decluttering here are some tips:
– Start with 5 minutes of decluttering a day
– Give one item away each day
– Get help from a friend
– Apply the one-year rule: if you didn't use it the past year, you don't need it so therefore you can sell it or give it away.
19) Create A Retirement Bucket List
Creating a retirement bucket list is the best exercise to put your mind towards all things you want to do in retirement. You probably have a couple of things in mind about what you want to do when you 'kick the bucket'. Well, to give you some extra inspiration I've created an article with 101+ Ideas For Your Retirement Bucket List. Or you can get the inspiring book: The Bucket List: 1000 Adventures Big & Small on Amazon.
20) Go Stargazing
Enjoy the most beautiful free painting in the world: the sky.
Looking at the stars makes all your problems in life seem small. The best place to go stargazing is at a dark spot in your area or an official Dark Spy Park. That is an area, usually surrounding a park or observatory, that restricts artificial light pollution and has a quality of starry nights. A couple of perfect stargazing places in the USA are:
Natural Bridges National Monument, Utah
Mauna Kea, Hawaii
New Mexico True Dark Skies Trail
21) Foster A Pet
You can devote your time in retirement to foster a pet. That means that you take care of a cat, dog, or other homeless pet until they can be placed at a permanent home. If this is something that you're interested in you can get more information about fostering a pet and also find a pet on Petfinder.com
22) Travel
If your retirement savings allows it you should definitely travel as much as possible in retirement. Although retirement is an adventure on its own, going on local and foreign adventures makes your retired life much more fun. Meeting new people, seeing beautiful places, and discovering new cultures is the best part of traveling. But where to go?
Check out these articles for travel tips and inspiration:
– How To Travel The World After Retirement: 45 Expert Travel Tips
– The 25 Best Retirement Road Trip Ideas
23) Listen To Podcasts
Listening to podcasts is extremely popular. It allows you to dive into different topics while multitasking. Whether you're going for a run, walk the dog, or sit in your comfy chair at home you can listen to a podcast.
It's an easy way to catch up on the latest news and events while you're busy doing something else. You can listen to a podcast to improve your skills or get inspired by smart speakers and experts. And there are so many great podcasts out there that are either entertaining or very interesting.
If you need some help in finding an interesting podcast for you, check out this list of the 50 best podcasts by Time Magazine to listen to now.
24) Learn A New Skill
Learning new skills keeps you young at heart and helps to keep your brain healthy. It is important to enjoy your retirement as long as possible. But it can save you money as well… Yes, when you learn skills in home repair you save a lot of money on a handyman for house maintenance. But learning a new skill doesn't have to be a job, it can also but just for fun.
Like learning a foreign language such as Spanish, Italian, or French, a TikTok dance to impress your grandchildren, or a cool magic trick that you learned from the World's best magicians, it can be anything.
On platforms as Udemy or Skillshare, you can find all sorts of online courses for all sorts of skills from video-editing, photography to how to play the violin. And on Masterclass you'll have all sorts of classes from acting, cooking, magic, sports, chess to poker all for one price.
25) Overcoming A Fear
Retirement should be the best time of your life: live life to the fullest. This often means that you need to overcome a fear to get to where you want to be. Often your dreams are wrapped inside some sort of fear that you haven't conquered yet. And now is the time to do it, because when else? You don't want to have any regrets in life.
Whether your fear is heights, spiders, elevators, or something else. You can make an effort to conquer this particular fear of yours and you'll be liberated from a burden. Because ultimate freedom is not your retirement, but freedom of the mind. Having control of your life and emotions boosts your self-esteem.
26) Relax And Do Nothing
You've worked hard for so long. Why not relax and do nothing for a bit. Unwinding and not being productive is very good for you for a bit of time. You can dedicate the first couple of weeks of your retirement to do nothing so you can really unwind, destress from work and regroup. This also helps you to figure out better how you want to spend the rest of your time in retirement. If the body and mind are relaxed you can better listen to what your heart and soul are whispering.
Want to know how to relax? Read my article: How Can I Relax In Retirement? | A Practical Guide & 6 Tips
27) Apply For A Fun Job
You can apply for a job when you feel bored in retirement. There are so many fun retirement jobs out there that don't feel like work. Retiring successfully means replacing your work routines, daily social interactions, and your purpose with new routines, social interactions, and a purpose. And a fun retirement job does all that. Plus you earn a bit of extra money and even some jobs have social benefits which save you a lot of money.
For some job inspiration read my article: 50 Best Jobs For Retirees.
28) Teach
Over the years you learned from your failures, your successes, upgraded your many skills and talents, and gained wisdom that only comes with age. And in retirement, you can consider transferring all this knowledge onto the next generation by becoming a teacher, consultant, tutor, or coach.
Helping others with your life lessons gives you a sense of purpose and satisfaction that contributes to your overall happiness in retirement.
29) Dig In Your Past
As I mentioned earlier in this article, a lot of retirees like to dive into their past and search for their family ancestors.
According to USA Today, genealogy is currently the second most popular hobby in the United States.
You can build a family tree for free via websites: findmypast.com and ancestry.com. And you can search for information about your ancestors on sites such as FamilySearch.org, Genealogy.com, or Ancestry.com.
Ask within your family about stories of your family members to fill in the pieces of the puzzle or visit your local library and ask them for help.
30) Host A Party
Do you love to be a host or would you like to have more social interaction in retirement? Or do you want to make new friends or spend as much time with friends and family? Host a party. Or even several parties like monthly game nights, dinner parties, or Sunday brunch. Make your retirement a party. Literally.