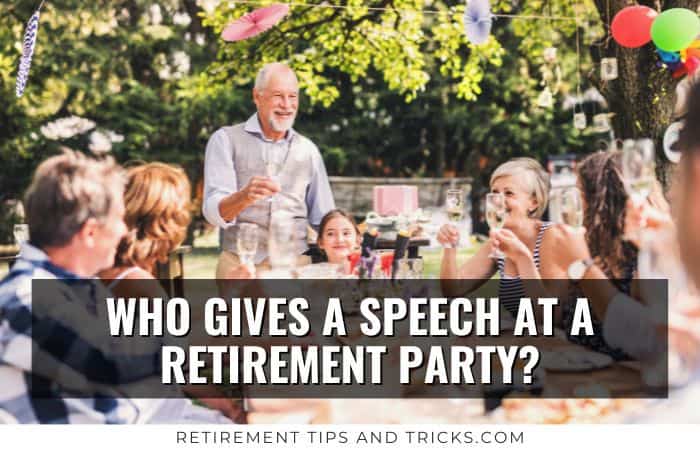 When you're organizing a retirement party, attending a retirement party, or are the one retiring, you might wonder, who gives a speech at a retirement party?
As a general rule, the guest of honor gives a speech at a retirement party because it is the perfect opportunity to share highlights, accomplishments, and cherished moments and express gratitude to the people who have contributed to their journey. Also, the host, family member, friend, boss, or coworker often gives a speech at a retirement party.
In this article, you'll find everything you need to know about giving a speech at a retirement party. So continue reading.
Discover 3 Secrets to wishing HAPPY RETIREMENT perfectly!
Join my newsletter and receive these secrets as a welcome gift.
Reason Why Guest Of Honor Gives A Speech
The retiree is the guest of honor at a retirement party. He or she is often expected to say a couple of words or do a speech. And that is because a retirement party is a wonderful opportunity for the guest of honor to reflect on life, acknowledge their accomplishments, and share their favorite moments while also thanking other people who helped them on their way in a speech or toast. Plus, share a couple of details or ideas for their retirement plans.
A retirement party is a once-in-a-lifetime celebration moment where the retiree closes one chapter in their life and goes into the unknown. They often feel the need to pause, reflect and celebrate this occasion with a speech. Also, guests would like to know how the guests of honor feel about this moment in their life, and that is why it feels that you're expected to say a couple of words as the guest of honor.
If you (as the guest of honor) don't want to give a speech, you are not obligated. It is your retirement party, so definitely do you, and do not fall into the trap of pleasing other people. You're entering retirement, so you're supposed to do only what you want. That is what retirement is all about. Right? Maybe you want to lean into that feeling right away. That is up to you.
You can also wait out if there is a natural moment where you can say a couple of words. This can be at the beginning, when there is a toast/ raise your glass moment, when you receive a retirement gift or when the retirement party is almost coming to an end when you have more courage to give a speech. You don't have to have something prepared or planned. Some people have the confidence to feel into the moment where the words will flow naturally. I've listed great tips later in this article when you would like to prepare your speech, but here is a quick overview:
Six-step Guide For Speech As Guest Of Honor
1. Thank guests for their presence
2. Express the reason for the party
3. Tell a funny anecdote or important personal story
4. Express your gratitude and most cherished moments
5. Share your plans for retirement
6. End with a "Cheers to…"
Read more: What To Say At Your Retirement Party: Examples & Fun Ideas
You can also discuss with the host of the retirement party to create a natural moment during the party for the speech or plan an exact moment when you would like to give a speech so the host can announce you.
When planning a surprise party, you have to be aware that the guest of honor might be unprepared and uncomfortable giving a speech on the spot. When you know the retiree can handle public speaking (on the spot) very well, you don't need to worry. If you're unsure, you might want to give the guest of honor a heads-up so they can prepare something. You can do this by giving a couple of hints without spoiling the fun of the surprise. Or inform their spouse or best friend, who can advise them to prepare a speech, for you never know what will happen as a reason.
Reason Why Host Gives A Speech
When you're planning a retirement party for someone else and are the host of the retirement party, you might want to give a speech. Or say a few words before announcing the guest of honor's speech.
Especially when you're planning a surprise retirement party, you are expected to give a speech a the retirement party so you can explain why you're hosting a retirement party. That is why it can be helpful to have a speech prepared or be aware that you have to say a couple of words somewhere during the retirement party. Most of the time, it is the moment right after the surprise moment to kick the party off in a good way.
Another time can be any moment during the retirement party when it feels natural to dedicate beautiful words to the retiree to honor their life accomplishments, contributions, and personality. Keep in mind that retirement is a life accomplishment, so don't focus only on their career. Incorporate their personal life achievements as well to make the speech feel more whole and complete. Later in this article, I share great speech tips to set you up for success.
If you want a great ice-breaker, I can highly recommend doing a fun retirement party game. I created a bundle with 10 fun retirement party games that will make any retirement party more memorable.
Reason Why Family, Friends, or Coworkers Give A Speech
Depending on the type of retirement party, a family member, friend or coworker might also feel the need to give a speech. As retirement is a life accomplishment, it is normal for the most important people in the retiree's life to give a speech.
For example, it is very normal at an office retirement party that the boss, manager, and/ or a coworker will give a speech to honor the retiree's accomplishments and contributions to the company.
At a retirement party where a mix of friends, family members, and coworkers are invited, it is very normal for a mix of guests to give a speech, such as a spouse, best friend, brother/ sister, child, coworker, etc.
In all cases, discussing this idea with the host of the retirement party is probably a good idea. They can navigate all speech requests so that it fits in with the party style and schedule in the best way possible.
Perhaps the host will approach and ask you to give a speech or let you know you can't do a speech due to logistics or a busy schedule. Or maybe the retiree asked the host not to let people speak because he/ she doesn't like it or would like to use the time at the party to enjoy themselves and share conversations with all guests, and speeches just take up too much time.
Considering a retirement party generally lasts between 2-4 hours, you don't want to have too many speeches planned. But when everything is a GO, you might want to know what to say. And that is where I can help you out even more.
In my article, What To Say At A Retirement Party: 100 Unique Examples you'll find amazing ideas and examples of what to say at a coworker's, boss's, husband's, wife's, dad's, mom's, employee's, friend's, or teacher's retirement party.
5 Tips For A Great Speech At A Retirement Party
Here are some tips to make your retirement speech a success. For more in-depth speech tips, you can check out my article: 20 Expert Tips To Give The Best Retirement Speech.
1) It's All About How You Make Someone Feel
When it comes to memorable speeches, it is not about saying the right words. It's more about how you make someone will feel.
People will forget what you said but never forget how you made them feel. So before you start preparing your speech, it's important to first set the intentions of what feeling you want to express. For example, do you want to make people laugh? Do you want the guest of honor to feel loved and appreciated? This will help you with an outline and which anecdotes and stories to tell or not.
2) Keep It Short
The best speeches are when people are fully engaged. Keeping their attention is crucial. Therefore you want to keep it short and simple. In general, the sweet spot of an average speech is between 5- 7 minutes. But it can be shorter if you wish or longer too. But keep it a maximum of 10 minutes.
Remember: "It's best to leave your audience before it leaves you".
3) Be Authentic
Speaking with sincerity and authenticity is key. Whether you're honoring someone else or you're the guest of honor.
People will remember the speeches that have touched their hearts. And the only way to reach someone's heart is to speak from the heart. So don't be afraid to show emotion. Retirement is a huge achievement in life that only happens once. It is accompanied by all sorts of emotions, and expressing these emotions or being overwhelmed by these emotions during a speech is normal. It will make it even more memorable.
4) Write An Outline
It's not important to memorize all the words, but it can be helpful to write an outline of what you want to say on a piece of paper so you'll have something to fall back on. This can be very helpful for people who are not used to public speaking very often. Or they might feel that their emotions will take the best of them, so they need a reminder about what they want to express.
5) Stay Positive
Whatever the real reason for your retirement, try to keep things positive. Always take the high road.
Also, staying positive is important when you're honoring someone else with a speech. Of course, a couple of jokes make any speech more fun, but overall, the person it is addressed to needs to feel respected. Or if you're planning on doing a roast, then all gloves can come off.