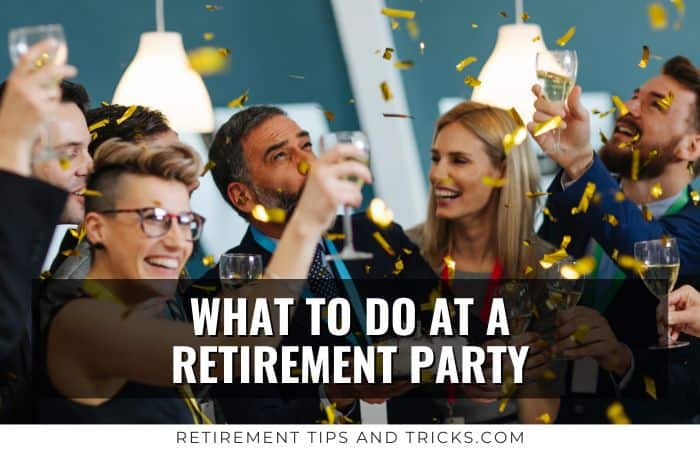 When you want to organize a retirement party for a coworker, friend, or family member, or you are about to attend a retirement party, you might wonder, what do you do at a retirement party?
At a retirement party, you say 'Happy Retirement' and best wishes, you gift a retirement gift, and you honor the retiree with a speech, tribute video, slideshow, or toast, or you participate in a quiz, game, or song. Also, together with all guests, you raise your glass to the retiree and share a piece of retirement cake and other party food and drinks.
This is just the tip of the iceberg. This article lists more than 100 things and ideas you do at a retirement party. So you know what to expect or have enough inspiration to organize an amazing retirement party.
Are you ready? Let's get started!


---
What Do You Do At A Retirement Party?
Many people want or need to attend a retirement party but have no idea what to do at a retirement party. And because it is a one-time celebration and a major milestone in someone's life, it carries a lot of weight.
You are here because you either want to honor the retiree greatly or feel more secure about what is expected from you when you visit a retirement party in the near future. I will guide you through this process as an expert in retirement celebrations.
Retirement parties come in all shapes and sizes, but there are a couple of things you can expect at all retirement parties, no matter the size and occasion, as I mentioned in the bold paragraph at the beginning of this article. But now I will go more in-depth on what you can do at a retirement party.
Say 'Happy Retirement'
Congratulating the retiree by saying 'Happy Retirement' and share some advice, wishes and ideas is the most important thing you do at a retirement party. I know many people struggle to find the right words and want to say more then just 'Happy Retirement' so I listed a couple of more ideas and examples.
What To Say At A Retirement Party Ideas:
Congratulation on your retirement!
I wish you a long and healthy retirement!
All the best for this new chapter in your life!
Have fun on this adventure!
I'm going to miss you! Enjoy!
Congratulations on extending your weekends by 5 days!
Bye Bye, Tension, Hello Pension.
Enjoy your never-ending weekend!
If you want more inspiration on what to say, you can read my other article: What To Say Instead Of Happy Retirement? 95 Alternatives
Eat A Retirement Cake
What is a retirement party without a cake? Some would say: "just any other meeting". So eating a piece of retirement cake is very normal to celebrate someone's retirement. Especially for retirement parties during office hours.
When you're organizing the retirement party I have some an amazing article about retirement cake that might be helpful for you to read as well: What To Put On A Retirement Cake? The Ultimate Guide
Toast To The Retiree
Another popular way to create a moment to celebrate the retiree is to make a toast and let guests raise their glass to the retiree. At most retirement parties, the host will do a speech but it is also very common for small retirement parties that all guests say something to honor or celebrate the retiree's retirement with a go-around toast.
Give A Retirement Gift
When you're invited to a retirement party it is customary to take a retirement gift to a retirement party. Unless the invitation mentions not to bring any gifts. Then a retirement card with best wishes is sufficient. Giving a retirement gift is a sign of good manners and appreciation.
But you might be wondering, what is a good retirement gift?
A great retirement gift is a;
– A memorable keepsake,
– Gift the retiree can enjoy in retirement,
– A funny gift,
– A personalized gift,
– A gift that matches hobbies or plans in retirement.
And to help you out even further, I've spent months researching the best retirement gifts out there and discovered which ones are perfect for all retirees. Check out my Top 5 Best Retirement Gifts Of All Time!
Show A Retirement Tribute Video
Another very popular way to pay tribute to the retiree in a funny or sincere way is to create a retirement tribute video with all guests. In most cases, guests will be asked before a retirement party to send in a video or participate in a group (music) video that will be shown as a surprise to the retiree at the party.
When this idea is something you would love to do, but are hesitant because you think creating a retirement tribute video is a lot of work. Let me introduce you to Vidday.
With VidDay, you can easily create a retirement tribute video, whereas many people can join in to commemorate the retiree. Everyone and anyone can create beautiful retirement tribute videos because you don't need to download an app, you don't need editing skills, and VidDay does all the work for you. Sounds great, right?!
For more retirement tribute video ideas you can continue reading: 13 Best Retirement Video Ideas To Honor The Retiree
Hand Over A Retirement Card With Best Wishes
When the invitation clearly stated not to bring any gifts, then a retirement card is a simple and beautiful way to wish someone all the best in the future. A retirement card with best wishes is also perfect to attach to your retirement gift.
And if you need help with what to write in a retirement card, check out my article: What To Write In A Retirement Card.
Do A Retirement Slideshow
Another thing people like to do at a retirement party is to show a slideshow including photos and videos of memorable moments from the retiree's career and personal life. In most retirement slideshows you can expect a combination of photos, videos, messages, text, songs, etc. For more ideas on how to create retirement slideshow you can read my article: 50 Ideas For An Amazing Retirement Slideshow (& Examples)
Play Retirement Party Games
One of the best tricks to break the ice and create memorable moments at a retirement party is to do fun retirement party games. For example games like Never or Ever, Who Knows The Retiree Best?, Find The Guest Bingo, etc.
It is the secret
I discovered the secret to a retirement party success and that is why I have created a printable Retirement Party Game Bundle with 10 amazing party games you can download, print and play within minutes from now.
Give A Speech
The most traditional way to honor the retiree is to give a speech. In most cases, the host of the retirement party, boss, best friend or closest family member will give a speech. Or all of these people take the opportunity to decade a couple of words to the retiree.
When this is something you would like to do too at the retirement party but are looking for some help you can continue reading my article: 20 Expert Tips To Give The Best Retirement Speech.
Hang Up Party Decorations
A retirement celebration is not complete without decorations. And if you're looking for fun retirement party decorations I've made things very easy for you by listing 30 Amazing Retirement Party Decoration Ideas.
Create A Party Theme
Another fun thing people often do at a retirement party is creating a fun theme for example: Nautic Bon Voyage, The Great Gatsby, Disco 70's, etc. For more ideas check out: 100 Retirement Party Theme Ideas (Unique, Classic & Fun!)
Enjoy Delicious Food
You can expect to eat food at a retirement party. Depending on the time and type of party this can be brunh, lunch, dinner, snacks, finger food or food stations (e.g. Taco Bar, Pizza Station) and buffets, etc. A very basic retirement party is eating only cake, but in most cases you can expect to enjoy more food than that. When you don't know what to expect food wise, make sure to not to go to the retirement party with an empty stomach. Or check the retirement party invitation for more information.
Celebrate With Drinks
Unless you're attending a non-alcoholic party you can expect to raise a glass of champagne of sparkling wine to celebrate the retiree's retirement. When this is the case, you can also expect to be offered a non-alcoholic option.
At larger or more extravagant retirement parties you can expect cocktail stations or personalized drinks or open bar. And the more basic office parties will have coffee, tea and water for you to enjoy.
Show Up In A Costume
Check your retirement invitation for a dresscode before you go to a retirement party. Perhaps there is a fun theme that requires a matching outfit. Or you're going to a more official retirement party and need to really dress up for the occassion.
Retirement Party Dress Code Ideas
Casual
Semi-formal or dressy casual
Beach Formal
Cocktail Attire
Formal Attire or Black-Tie optional
Black-Tie
White-Tie
Themed attire
Play Music
At a retirement party you can play (easy listening) background music, the retiree's favorite music or play retirement themed songs.
Retirement Song Ideas For Playlist
It's Five O'Clock Somewhere – Jimmy Buffett
Margaritaville – Jimmy Buffett
Another one bites the Dust – Queen
Working Nine to Five – Dolly Parton
Hit The Road Jack – Ray Charles
Stayin' Alive – The Beegees
Fun, Fun, Fun – The Beach Boys
I've Had The Time Of My Life – Bill Medley, Jennifer Warnes
We Gotta Get Out of This Place – The Animals
Do A Quiz
To honor the retiree many hosts like to prepare a quiz. You can make up your own quiz or print out the quiz Who Knows The Retiree Best? from my retirement party games bundle.
Sing Songs
Another more old-fashioned way to pay tribute to the retiree is to sing a song with personalized lyrics. Or sing songs at the party with Karaoke later in the evening.
Roast The Retiree
If the retiree has a great sense of humor or needs a little bit of payback time for all his/ her pranks, then people like to host a roast. It will definitely create a memorable and hilarious moment that people will not forget in a long time. And here are some tips if you're planning on roasting the retiree or organizing a roast for the retiree.
Tips For A Good Roast
Ask a maximum of 4 people to roast the retiree.
Create an area where the retiree is in the center of attention and is visible to everyone in the room
Estimate how funny each roast will be and schedule the order of speakers from funny to the funniest. You want the most hilarious person to be the last one and to go out with a bang.
Each roast is no longer than 5 minutes. Keep it short, funny, and interesting for everyone. Preferably a roast should not take longer than 20 minutes. So you won't take up to much time from the party.
If it's necessary, mention the no-go topics to all the speakers beforehand. Sometimes very sensitive subjects are best excluded from a roast. You want to make it fun, and a roast is also allowed to be a bit embarrassing, but you don't want to humiliate anyone.
Make sure the retiree has the last word. Perhaps, he or she can come up with a couple of jokes last minute to end the roast. Or take this moment to give a speech.
Do a soundcheck beforehand, and make sure the audio is loud and clear everywhere in the venue. To make an audience laugh, they need to hear the jokes.
Take Fun Photos
Capture the moment by taking photos. For example booking a photo booth with fun props, hiring a photographer or ask guests to take pictures and email them to you afterwards so you can create a beautiful photobook as a gift for the retiree.
Do A Flashmob
A couple of years ago doing a flashmob is what everybody did when celebrating a birthday, retirement or asking someone to marry. Now not so much anymore, but that doesn't mean it isn't fun and memorable for the retiree.
Retirement Flash Mob Example
Make Videos
The same thing goes for videos when it comes to photos. All guests can make videos and you can collect them to create a montage aftermovie of the party. Or have a Video Booth or Slow-Motion Video Booth installed at the party.
Slow Motion Booth Example
Write In A Guests Book
Well organized retirement parties will have a guestbook at the entrance at the party for guests to write a message for the retiree. It is a very simple and accessible way for guests to leave a message, but also a nice gift to receive for the retiree.
Gift A Scrapbook With Memories
Another thing you can do at a retirement party is gifting a scrapbook with memories collected from all guests. And here is how it works:
Send out a list of questions to all the invitees, or ask guests to email you/ write you their favorite memory or funniest anecdote about the retiree and fun photos. Collect it all and make a scrapbook to give it as a gift to the retiree at the retirement party.
Give Bucket List Ideas
Retirement is all about having the time of your life and making dreams come true. Having a bucket list is a very practical and tangible tool to make the most out of retirement. And you can ask guests to come up with fun ideas for the retiree's bucket list. You can set up a Bucket-List-Bucket at the entrance of the party with fill-in cards that you can get on Amazon>>.
Leave Your Contact Details To Stay In Touch
When you want to keep in touch you can leave your contact details in the guest book or give your business card to the retiree (if he/ she doesn't know how to reach you). Or let it symbolize the importance of maintaining the connection after retirement.
Leave With A Party Favor or Goodiebag
The parties people remember most is parties where every detail is well thought off. And one of those ideas is make a retirement party special is to hand out party favors or goodie bags at the exit of the party. get inspired by these fun party favor ideas on Amazon>>.