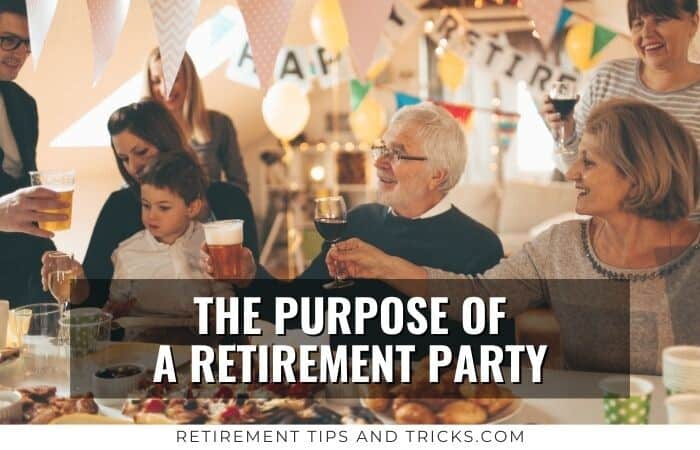 You or someone you know is retiring, which is why everyone talks about having a retirement party. And then you might wonder, what is the purpose of a retirement party?
The purpose of a retirement party is to celebrate a major milestone in someone's life. Because retirement is a once-in-lifetime moment, people like to organize a special party to honor a retiree's life and career accomplishments, thank them for their years of dedication and service and celebrate all their future plans and dreams.
As a retirement party expert, I'll answer your most burning questions about retirement parties and more in this article, so continue reading.


---
The Purpose Of A Retirement Party
In life, you'll have many birthday parties, one graduation party or more, one wedding party or more, one baby shower or more, and many anniversaries, but there is only one event that happens once in life, and that is retirement. It takes decades of hard work and saving enough money to reach that moment finally. And that is a big reason why many people like to throw a party to celebrate this special occasion in life.
People don't like to waste moments in life not celebrating, so retirement is no exception to that. If there is something to celebrate, people throw a party. We are social animals, so if there is an opportunity to enjoy nice drinks, food, and conversations and celebrate something in life, we take it.
Read more: What To Say At A Retirement Party: 100 Unique Examples.
Some people like to throw a huge retirement party because they feel like it, while others like to keep it small and simple. That all depends on the budget, status, accomplishments, and what the retiree wants and feels about their upcoming retirement.
A retirement party can transform any feeling into a celebratory and positive moment. It is a great way to honor past accomplishments and kick off the retiree's future in a fun way.
Loved ones, bosses, employees, friends, etc., like to take the opportunity of a retirement party to shower the retiree with love, honor their achievements, show gratitude for their work and dedication, and celebrate who they've become through speeches, slideshows, video tributes, champagne toasts, songs, dances, etc. That is what retirement parties are all about.
Read more: What To Do At A Retirement Party: 100+ Ideas
Why Is A Retirement Party Important?
Let's dive deeper into the reasons why a retirement party is important.
As a general rule, a retirement party is important because retirement is a major life accomplishment that happens only once in life. Most people want to celebrate this special occasion with a party. But some retirees are the exception and prefer other ways of celebrating their retirement. For them, a retirement party is less important.
This is just the tip of the iceberg. Let's find out more about it.
Reasons Why Retirement Parties Are (Not) Important
Retiree's Feelings Towards Retirement
Some people are very happy when they reach retirement age, while others are sad to leave an important part of their life behind. In many cases, people feel a mix of emotions. The uncertainty and unfamiliar territory are what make some people very excited about the future and others a bit more scared.
How a retiree feels can be why throwing a retirement party is important or can help you determine the size of the party. Perhaps the retiree can use a party to create a positive kick-off to this new chapter in their life. Or they are so happy that they retire. Their retirement party is what they have been thinking about for ages, so it is very important to them. Or when someone is sad to retire and doesn't feel like celebrating this occasion. This could be a reason why a retirement party is less important.
Reason Of Retiring
Someone in charge of their own retirement is likely more enthusiastic about a retirement party than someone forced to retire.
For example, a company hosting a retirement party for someone they forced out of the company can be taken as an extra kick in the nuts. However, that doesn't mean you cannot host a retirement party for someone forced to retire. On many occasions, the retiree's coworkers, friends, and family think that a retirement party is very important because they would like to shower the retiree with gratitude, love, and honor and decide no matter what.
Anyone else that is happy about their retirement feels a retirement party is important unless they have a very shy and introverted personality.
Retiree's Personality
People who are very shy or don't like to be the center of attention may not feel very happy about an upcoming retirement party. If the retiree doesn't like to attend social gatherings, you should be careful whether or not planning a retirement party is a good idea. For them, these social gatherings can feel like torture and less important. When this is the case, perhaps their spouse, close friend, or family member can inform you and advise you on this idea. And know that there are other ways to celebrate their retirement.
Status Within The Company
Although it shouldn't matter what your status within a company is. Everyone deserves to be celebrated with a retirement party, if they want that too, of course ;).
But when a boss or other person high in rank is retiring, it seems like most companies find it very important to organize a retirement party. Because they can't let this also business moment pass by. Then a retirement party becomes an event that shows tribute to the retiree but also forms a business opportunity to invite clients, suppliers, and employees and make it into a business event. That not only serves the one retiring but also serves the company as a whole.
Retiree's Accomplishments
When someone's accomplishments, achievements, and dedication are so obvious and unique, people like to think that throwing a retirement party for them is very important.
Even though everyone is unique and special, there are people or coworkers out there who leave such a huge impression on many's lives. Celebrating their retirement with a party is what everyone wants to shower that person with love and say thank you for everything they've done. In this case, many people surrounding the retiree feel like a retirement party is of the utmost importance.
Not that someone's accomplishments should be the reason why one person deserves a retirement party more than the other. Or one is more important than the other. But it can be a reason why people are keener to celebrate someone's retirement with a party.
There are many other ways to celebrate retirement than giving a party. In my article: 15 Ways To Celebrate Retirement Without A Party, more on that.
What Do You Need For A Retirement Party?
As you are planning your retirement party, you probably wonder, what do you need for a retirement party?
For a retirement party, you need the following:
1. Budget
2. Guest List
3. Invitations
4. Date & Time
5. Venue
6. Food & Drinks
7. Retirement Cake
8. Retirement Gift
9. Decorations
10. Retirement Tribute (speech, video, etc.)
11. Party Favors
12. Theme (optional)
13. Games (optional)
I will go into more detail in the paragraph below by linking to helpful articles for each category. And if you click on the button below, you can download a free retirement party checklist which makes organizing a retirement party much easier.
Things You Need For A Retirement Party
1) Budget – How Much Does A Retirement Party Cost?
2) Guest List – Who To Invite To A Retirement Party: Etiquette Guide
3) Invitations – Retirement Party Invitations On Amazon >>
4) Date & Time – When To Throw A Retirement Party? | Party Guide
5) Venue – 40 Great Venue Ideas For A Retirement Party
6) Food & Drinks – 40 Ideas That Makes A Retirement Party Fun!
7) Retirement Cake – What To Put On A Retirement Cake? The Ultimate Guide
8) Retirement Gift – Top 5 Best Retirement Gifts
9) Decorations – 30 Amazing Retirement Party Decoration Ideas
10) Retirement Tribute
– 13 Best Retirement Video Ideas To Honor The Retiree
– 20 Expert Tips To Give The Best Retirement Speech
– 50 Ideas For An Amazing Retirement Slideshow (& Examples)
11) Party Favors – Check Fun Retirement Party Favors & Supplies at ForYourParty.com >>
12) Theme – 100 Retirement Party Theme Ideas (Unique, Classic & Fun!)
13) Games – 30 Fun Retirement Party Games (+ FREE Downloads!)