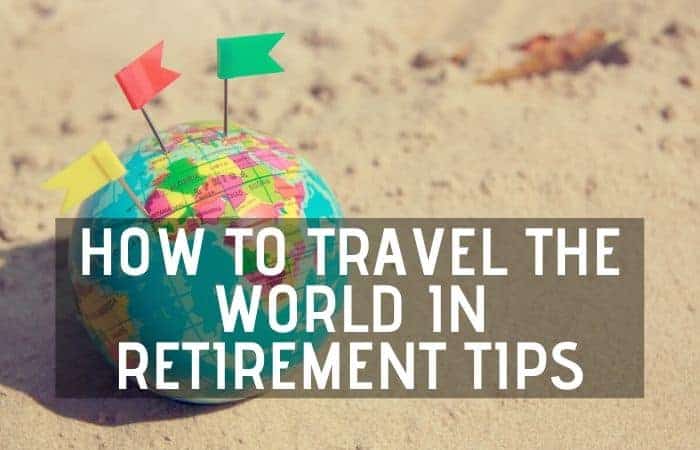 Now you're retired or about to retire soon, you might wonder; how do I travel the world after retirement? No need to look further I'm here to help you out.
I'm a full-time traveler, and traveled to more than 50 countries, and worked abroad in many different countries worldwide. And in this article, I share my best tips on how to travel the world in retirement.


---
1) Create Your Travel Bucket List
You want to travel the world, but where should you go? So, before you start planning your trip, you want to make sure you know what you want to do in retirement. And where you want to travel to the most. And a great way to get there is to create a bucket list. It will inspire and motivate you, even more, to travel the world and make the most out of your retirement.
If you already have a bucket list, good for you! But if you haven't, I advise you to start creating one. And list all the things you want to and see before you 'kick the bucket.' Now is the time to do it, because when is it ever?! So, don't postpone things anymore and get to it. And live by the famous Mark Twain quote, "Twenty years from now, you will be more disappointed by the things you didn't do than by the ones you did do."
Do you need inspiration and ideas for a great start? Read my article: 101+ Ideas For Your Retirement Bucket List
2) Prioritize What You Want
After you've got inspiration and ideas on where to go, it's important to prioritize what you want most and what things you want to see first. It will make travel planning a lot less stress-full and a whole lot easier. And prioritizing can save you a lot of money too. Because when you know what you want, you spend less money on things you don't need or want.
And you want to discuss your travel plans and expectations with your travel partner. Whether you're traveling with your spouse, best friend, senior travel buddy, or family, you need to communicate with each other about your travel plans, desires, and expectations.
For example, you can describe to each other how you see a perfect travel day. And what things you're looking forward to most and what things you find important during daily travel life. And from there you can start planning your trip better and know which highlights to visit, how quick or slow you want to travel, etc. It can avoid a lot of friction later on. 
3) Set Your Travel Budget
Also, a very important aspect of travel planning is setting a travel budget. Because you don't want to run through all your retirement savings with your world travel adventure.
Traveling the world should have been calculated into your financial retirement plans. And if not, you should definitely recalculate your retirement savings to see if you can afford to travel the world. And if you haven't retired yet, you might conclude that you need a couple of extra working years to afford this dream. Make sure to get advice from a financial advisor on this topic.
A big part of planning your travel adventure in retirement is setting yourself a travel budget every trip. And therefore, you need to make sure what you can afford and what your total travel budget is for this world trip before you book anything.
You can make a detailed travel budget and divide the costs into accommodation, transport, entrance fees, and food & drinks in an Excel document. Or set a daily budget where every expense fits in.
We like to set a daily budget, for example, $50 per day for everything during our travel trip (accommodation, food, drinks, local transport, entree fees, etc.), but we excluding flight tickets. Doing it this way makes it for us more clear and transparent. And we use the app: Trail Wallet that I can highly recommend to every traveler. It's an easy travel expense tracker where you can determine a daily budget, manage foreign currencies, and divide your expenses into different categories. Because keeping track of your travel expenses every day during your trip makes it easier to stay within your travel budget.
4) Choose Your Transportation
You're going to travel the world, but how do you want to travel the world? By plane, train, car, or cruise?
By plane
When it comes to airplane tickets, you have two options: get flights as you go or plan your route in advance. Getting flight tickets as you go makes you more flexible but can also lead to more expensive tickets if you're unlucky. And with Round The World Ticket, you can plan your route ahead, and you don't have to worry about booking flights and increased prices. It is the most convenient way to travel around the world and makes your planning a lot more simple. But they come with certain rules and conditions that you need to be aware of. Check out Airtreks for Round The World Tickets.
By Train
Another cool way of traveling around the world is by train. In almost every country, you can find train rails that will lead you to awesome places, and you can easily hop on and off to sightsee and get on another train to cross borders. And you have the convenience to enjoy the view as you go. Also, traveling by train allows you to meet more locals, experience a country differently, and it's the most environmentally friendly way of traveling.
By Car or RV
Perhaps you're more a road trip type of traveler and like to explore countries by car or your own RV. That's also a great idea to do in retirement. You can get almost anywhere with your own car or RV, it only depends on how adventurous you want your world trip in retirement to be. Check out my article: The 25 Best Retirement Road Trip Ideas for more information and inspiration for a great road trip in retirement.
By Cruise
You can also cruise around the world, and this can be an adventure of a lifetime. When you make a world cruise, you spend a couple of months on the ship and thereby spend much more time with your fellow travelers on board. And you can make friends for life that way.
Check out CruiseDirect for amazing cruise deals around the world.
Best Travel Recourses To Book Your Trip
We travel full-time, so we put together a list of the best and most reliable booking recourses to book your trip in retirement. It can save you a ton of money and it will make your planning less stressful. We use the following recourses all the time so we can highly recommend them.
Rentalcars.com: For the best car rental deals, I can highly recommend Rentalcars.com. It's the world's biggest online car rental service, where you can compare rental car prices from over 900 companies. It can save you a ton of money that you can now spend on fun things to do on your trip. Check out Rentalcover for better coverage and cheaper car rental insurance.
Booking.com: For the booking the best accommodation, I can highly recommend Booking.com. They have over 800,000 properties worldwide including hotels, apartments, and hostels. You get the best price guarantee and free cancellation on most rooms. It's very easy to use and offers a wide selection for every type of budget. You can see scores about cleanliness, location, WiFi, comfort, facilities, and value for money from previous customers to you get a better impression of the accommodation.
AirBnB.com: We love using Airbnb while we travel. They connect homeowners who rent out their homes/apartments/ rooms to travelers like you and me. With Airbnb, you'll get all the comforts of feeling at home while traveling. And you stay at less touristy parts of a destination and get great local travel tips from your host. And often Airbnb is a lot cheaper than the cost of a hotel room. Create an account on Airbnb here.
CruiseDirect.com: If you would like to go on a cruise in retirement you should check CruiseDirect for amazing cruise deals around the world. They give the best price guarantee, have flexible payment plans and no booking fees.
Tripadvisor.com: World's best travel platform to get reviews on the best restaurants, attractions and hidden gems worldwide. But also to book cheap flights, hotels, attractions, and experiences.
Please note that these links are affiliate links. When you make a purchase using these links, we may get a small commission, at no extra cost to you.
5) Plan Ahead, But Not Over Plan
You want to plan ahead your travel trips because half the fun already starts with planning your trip. But you don't want to overdo it. You want to leave space for spontaneity and see as you go.
In retirement, you have more time, so make sure you use this to your advantage. Planning your travel trip into detail and minute by minute doesn't leave much room for sometimes well-needed rest, processing experiences, and go off the beaten track.
Plan the most important essentials: international flights, first nights of your trip, tickets to important and touristy attractions, and that's probably it. With WiFi almost everywhere, you can easily book accommodation, (local) transport, and entrance tickets as you go. Because you never know who you'll meet and how many days you want to spend at a place if you've never been there. 
6) Get Information About Your Destinations
It's good to read about your destinations before you go or while you're there. You get a much better understanding of the country, history, culture, and where to go if you've researched it a bit. And your travel experience will be more fulfilling if you know a bit more details.
You can get great travel guides on Amazon or search for an online travel blog about your travel destination.
7) Get An Extra Credit Card and ATM Card
It's a wise idea to get an extra credit card and an ATM card before you leave for your retirement trip. The possibility of losing a card or a stolen card is there, and with extra cards, you always have excess to your money.
And do not keep all these cards together. Make sure you divide your credit cards in different places. I always hide an emergency credit card in my locked suitcase in the hotel room. And I only bring one ATM Card and one credit card on my daily travel trips.
Also, let your bank know beforehand where you're going. Perhaps you need to put your online settings for your bankcards to worldwide because the default is only the USA. If you forget this, changes you can't withdraw money at a foreign destination, and you need to contact your bank when you're there. Even when you've contacted your bank, it can take a couple of hours or days before you can withdraw any money.
Another tip is to contact your local bank before leaving to inform which foreign ATM's are best to use at your travel destinations. Not every card will work on every ATM worldwide, so knowing which one to look for makes your trip a lot easier.
8) Get Travel Insurance
The best travel advice I can give you is to get travel insurance. It can save you a ton of money, and it makes your trip less stressful. Because you never know what can happen, and you don't want to worry about big hospital bills when you're making the trip of a lifetime. And Medicare doesn't cover medical care outside US territories and sometimes not even outside of its service area within the USA.
And the best travel insurance I can recommend is World Nomads. They offer reliable, complete, and cheap travel insurance worldwide for any type of traveler of any age. World Nomads travel insurance is simple and flexible and has been designed by travelers for travelers. 
9) Travel Light
Even after traveling for so many years, I can say I'm a light traveler, but even I often catch myself overpacking. But it's such a hassle and very frustrating when you have to carry your heavy bag everywhere with you. So if you want to make sure your travel trip is easy and convenient, make sure to travel as light as possible. Changes are that you will only wear half of what you've packed. And the rest is just unnecessary baggage.
Therefore, pack the most important essentials and know that everywhere in the world there is a shop to buy the things you've forgotten or need. And everywhere in the world, they have places called laundromats.
10) Get High-Quality Travel Bag and Daypack
I can highly recommend every traveler to invest in a high-quality travel bag and day pack. These are the most important items on your trip because that's where you store all your belongings, use it every day, and they need to last very long and can take a beating. It's your best travel friend, which you have to count on.
I've used many travel bags and day packs over the years and gained a lot of experience when it comes to travel gear. And these bags below are my recommendations for the best travel bags for a world trip. I use them on my current travels and can recommend them without any hesitation.
The North Face Duffel Bag (different colors available)
The North Face Day Pack (different colors available)
11) Pack a Travel Hammock
My favorite travel item is this light-weight travel hammock. It is made of ultra-light parachute silk material, fits in a small portable bag, and is very-easy-to you use. Traveling will be a lot more relaxing with a travel hammock that you can set up easily anywhere: on the beach, by the lake, in the forest, campsite, or travel accommodation.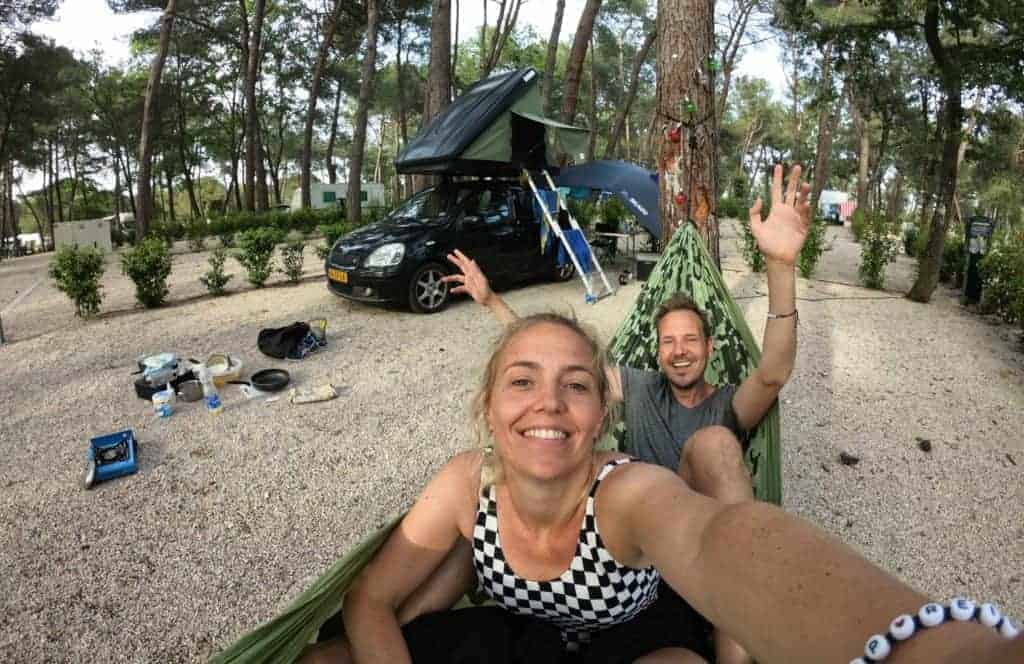 12) Get A Noise-Canceling Headphone
Another great investment for your travel trip after retirement is getting yourself a Noise-Canceling Headphone. When you travel in planes, cars, or other vehicles, you experience a lot of white noise that can make you very tired. With a noise-canceling headphone, you cancel out this noise, and you can listen to your favorite music, audiobooks, or podcasts in high-quality sound. It will make traveling more comfortable, but you'll also be more rested when you arrive at your destination.
And the best Noise-Canceling Headphone to get is the industry-leading headphone from Sony. Check out all the features and latest price of this headphone here.
13) Pack A Scarf
A scarf is a very versatile travel item that you're going to need in a lot of occasions. You can, of course, use it as a scarf, but also as a blanket, as sun protection, an emergency towel, carrying things around, an eye mask, or a cover-up for conservative countries or religious attractions. I always have a scarf packed in my day pack, because I can't even count the many times I've used it for all sorts of reasons.
14) Bring Your Waterbottle
To avoid plastic waste, you can bring your own water bottle with you. Also, a stainless steel water bottle can keep your drink cold for many hours in warm temperatures or your hot drink warm as well. Besides environmental friendly reasons, a stainless steel water bottle is always a good idea to bring on your travel trip.
15) Carry Spare Passport Photos
When you want to apply for a visa for certain countries, you need to have passport size photos. And not at every destination you can just find a photoshop to make passport photos that easily. And that's why it's a great idea to bring spare photos with you before you leave. It can save you a lot of time.
16) Divide Your Valuables And Money
As I mentioned earlier in this article, it's best to hide your emergency or extra ATM Cards or credit card in a different place then your primary cards. And this also counts if you have other valuables. Don't store them all in one place but divide between travel partners and your and their bags. Spread your risks.
We shoot a lot of videos on our travel trips, and I've learned from my time as a television producer that you should store your back up hard drive at a different place then your main one. And this counts for a lot of things you don't want to lose.
17) Email A Copy Of Your Passport To Yourself
I always create a copy of my passport once I received a new passport and email it to myself. This way, I always have access to a copy of my passport wherever I am in the world. You can also do this with other important documents you have and maybe need in case of an emergency.
But make sure you have a secured passport for your email inbox, and you always log out when you use someone else's device or have an extra password for your one device. So nobody can easily get access to your accounts. 
18) Carry A Spare Camera Battery
Capturing your favorite travel moments is a great idea, but nothing is more frustrating than running out of battery when you're at a bucket list destination. And an extra spare camera battery can do the trick and doesn't take up a lot of space.
19) Bring A Powerbank
Another thing to bring on your trip is a good power bank. Because running out of power can be very frustrating and disappointing when you want to capture a beautiful moment with your camera. Or when you need to make an emergency phone call with your phone. Check out this very powerful and compact power bank.
20) Pack A First Aid Kit
You never know what happens on your travel trip, and therefore, it's very handy to pack an emergency first aid kit with a couple of basic essentials. Perhaps you don't need it, but it's always a comforting feeling you have something with you just in case. And you can assist others around you as well. Check out the Swiss Safe 2-in-1 First Aid Kit.
5 Retirement Travel Must-Haves
As full-time travelers, we've tested a lot of products over the years and that's why we created this list of items that are must-haves for every traveler. We can highly recommend them without any hesitation:
Check out more of my recommendations about the best travel gear here.
Please note that these links are affiliate links. When you make a purchase using these links, we get a small commission, at no extra cost to you.
21) Don't Be Afraid Of Foreign Countries
A lot of people find traveling scary or assume the worst that can happen. And many of these views are influenced by the media and the news. Because news always shows the most awful things that happen in the world, and that creates an unrealistic view of the world. Often it's not that bad or totally opposite once you travel through the country itself.
When you trust and assume that most people in the world have the best and most positive intentions, then you will experience a lot more positive things. I'm always surprised at how many people are willing to help you out when you need help or are willing to give you advice, etc.
Just this year, we traveled through Morocco, and on the boat from Spain to Morocco, a couple of strangers helped us out with our visa applications. And invited us for dinner that night, guided us through their home town, bought our local SIM cards, and where one call away when we needed a translator. Just because they wanted to help us out and didn't want anything in return. I was overwhelmed and grateful for their hospitality.
And I've also been invited to many people's houses in very remote places around the world without even understanding a word they were saying. And the only reason they wanted to do that is to be the most hospitable person for their foreign guests. We, as western people, are sometimes too suspicious. When traveling, we just sometimes need to let this go and trust people's intentions more. It will make your travel experience more authentic, spontaneous, and it creates the most unplanned and best meetings to cherish forever.
It's a good idea to look up the state department website about the countries you're visiting to get information on current difficulties and threats to the safety of visitors. But be aware that this information is mostly hyper-cautious. It's good to be informed and aware, but don't make it scare you off. In the exception of really unsafe destinations in the world, of course. Make conscious and wise decisions about where you're traveling to.
22) Trust Your Gut
My best safety advice for you is to trust your gut when you travel. When you feel uneasy about someone, a place or situation. Trust that instinct and leave the situation. Don't try to think your way out. Trust the signals what your body is telling you. Because our bodies have instincts that we often easily right-off and ignore, and that can lead to dangerous situations.
Our bodies can sense signs of danger before our brains are fully aware or able to process it. In these situations, we try to logically think things through, but our instinct isn't logical; it is our radar that we need to use more often. Let your body speak for you, and you travel with more ease and joy.
23) Hide Emergency Cash
It's a good idea to hide some extra cash in case of an emergency. You can wear it on you or hide it at a different place no one expects. For example, a hidden compartment in your backpack, toiletry bag, or sew into your favorite jacket. It might seem far fetched, but it could be of use. An amount of $100 or $200 will do.
And when the worst-case scenario occurs and you don't have access to your money you can always call up family or friends at home. They can send you money via Western Union or Moneygram.
24) Write Down Emergency Info
I've always written down a list with emergency info and have it laminated. You can also save this on your phone, but when you lose your phone, you also lose your emergency information. So, it's perhaps best to do both.
This information can be emergency phone numbers, important addresses for embassies, to passwords you write down in encrypt code for you to remember. It's your emergency plan, you use as guidance when you can't think straight.
25) Lock Up Your Valuables
I like to lock up my valuables safely, so I don't have to worry about them wherever I go. And with that, I mean: I have a TSA lock on my day pack so no one can get in except me while I wander through a busy city. This way, I don't have to carry it on my belly, and I can put it on my back like what it was made for.
And I lock up my valuables whenever I leave my hotel room, car or tent. I throw my stuff in my travel bag and also lock it up with a TSA lock. I don't leave any valuables in sight because that invites others to take them away. And I'd rather be safe than sorry. No matter where I am. Another way is to lock it up in the hotel room safe.
When you're traveling for a while, you can become more sloppy at this. And I always like to be very strict and consistent when it comes to locking my valuables, and I advise you to do the same.
26) Scan Your Surroundings
Scanning our surroundings is actually a very natural thing for us humans to do. When we're at a new place, we like to scan better than at the places we already know. And this an unconscious process we're might not be even aware of.
It can sometimes payout to scan your surroundings more thoroughly and consciously when you travel. Use all your senses to scan around and act on what you see, smell, hear, and interpret.
Also, showing a confident body language makes you less of a target. So stay alert, keep your head up, shoulders straight and pretend to know where you're going. I'm convinced that this attitude kept me out of trouble a lot of times. When you don't look like a victim, chances are you do not become a victim.
27) Don't Use Your Pants Back Pocket
This might be a very obvious travel safety tip. However, I still see a lot of travelers using their back pocket for their wallet, phone, or other things. Especially in busy cities where pickpocketing is a big thing. It's like they want to invite people to take their belongings. So, please don't use your back pocket. Fill it only with things you don't care about losing.
28) Learn Common Travel Scams
Learn about common travel scams, and you can avoid being tricked out of your hard-earned retirement money. Search "travel scams (name destination)," and you can read about what travel scams in that country occur often. Because every country has its own professional con-artists with special tricks. But don't be mad when you do fall into travel scam, because it happens to the best travelers out there.
29) Get Advice From Locals
Locals know the area and can give you the best advice about certain areas. So when you're not sure about what to do, get advice from a couple of locals. And I mean a couple of locals because everyone is different and has different opinions. And with a couple of opinions, you can make a better conclusion for yourself then having only one subjective opinion. And look for people that you think or feel you can trust and don't have anything to gain.
30) Be Aware Of Your Clothing
You know the phrase: 'dress to the occasion.' Well, with traveling, it is 'dress to the location.' You have to learn about certain dress guidelines and restrictions when you're traveling around the world in retirement. Sometimes it's because of religious reasons, and sometimes it's other reasons is why you have to dress a bit differently then you're used to. Make sure you do a bit of research beforehand.
There are two main reasons why you want to stick to certain dress guidelines while traveling. You're a guest in a foreign country, and you want to behave like a good guest, so you follow the rules. And another reason is that you don't want to attract too much attention. If you wear an expensive outfit in a very poor neighborhood, you can become a target. And showing off your luxury belongings where people struggle with poverty isn't the nicest thing you could do.
31) Don't Show Off Your Possesions
When you don't want to become a target, you don't show off your possessions. That's the easiest way to say it. When you travel in jet-set areas, and everyone is looking sharp, fresh, and wealthy, then it doesn't matter how you look. But if you travel to less developed areas or countries, then you should definitely think about what you wear. And not to pack too many expensive things or outfits that scream out that you have a lot of money.
In certain areas, you need to make wise choices. Sometimes it's better to leave that expensive lens or camera in the hotel room or even at home and bring a disposable camera or a cheaper phone with you. Also, wearing expensive jewelry or jewelry that looks expensive can invite the wrong crowd, without even knowing it. Just be aware and rather not-dress-to-impress when you're traveling around the world.
Nobody really cares anyway how you look. It's only you that cares.
32) Be Flexible With Dates
When you want to travel more cheaply, the first thing you should do is to be flexible with your travel dates. You want to avoid the busiest holidays because then the prices are at their peak. Rather choose shoulder seasons where the weather is still great, but the peak season is over. And therefore, you need to be flexible, and luckily you can afford to be flexible in retirement.
And by being flexible, you can accept the most amazing travel deals. You can research your desired retirement travel destination and find out what the best time to visit is in terms of weather and busyness. And then most likely you'll find more affordable flights and accommodations.
33) Book The Cheapest Flights
Airplane tickets are often the highest costs in your travel budget. And so it can payout when you do a lot of research and putting in the effort to find the cheapest flights. And with enough time on your hands in retirement, you have plenty of time to find the lowest airfare. It can save you a lot of money.
In my article 20 Helpful Tips How To Retire And Travel Cheap, I give more in-depth tips on how to find the cheapest flights.
34) Visit Affordable Countries
When you want to keep your travel expenses low, you should consider traveling to more affordable countries that have a much lower cost of living. There are so many beautiful countries to explore that are also cheap travel destinations, and I listed most of them below.
Lower Cost of Living Countries:
35) Work While Traveling
Another great way to save money while traveling is to make money while traveling. You can replenish your travel funds if you don't mind doing a bit of work during your retirement travel trip around the world. You can get a paid job, volunteer, or work for free flights, accommodation, and meals.
And there are plenty of opportunities out there. Check these tips out below.
Travel jobs
Volunteer travel jobs
I've written a whole article about how to travel cheaply in retirement, where I give 20 helpful tips on how you can lower your travel costs. Read more: 20 Helpful Tips How To Retire And Travel Cheap
36) Learn A Couple Of Foreign Words
With just a couple of words in a foreign language, you can get very far. If you just learn a couple of basic words and sentences per country, you can make your trip a lot easier. It will be very much appreciated by the locals, which you also can approach more easily.
You'll be amazed at what a couple of simple words can do to enhance your travel experience. And it can lead to very authentic and awesome travel experiences you could never have imagined.
Get yourself a pocket-size travel dictionary for everyday phrases here.
37) Be Ready To Get Out Of Your Comfortzone
Traveling is not staying in your comfort zone; it is getting out of your comfort zone, whether you like it or not. So be ready to challenge yourself and reinvent yourself. It's the coolest thing ever. You might even learn a couple of new things about yourself along the way.
So, don't be afraid to do things that normally scare you. Do it, because after doing it more often it isn't scary anymore. And with traveling, everything is different anyway, so what's one more new experience anyway? And the best part is, no one knows who you are!
Check out this video below: We're invited to an authentic local wedding. (Turn English Subtitles ON)
38) Wake Up Early To Avoid Crowds
When you like to experience a busy tourist attraction more comfortable and less crowded, you have to wake up early. Be there when the doors open or even an hour before the doors open so you can be the first one there. Sometimes that even means you have to travel in the dark before sunset to get there. But it will, for sure, be worthwhile once you can peacefully stroll around.
And when you're done, you have the whole day to explore more. Maybe grab a cup of coffee, relax by the pool or whatever you have planned or want to do that day.
39) Take Lots Of Photos And Videos
Capture the amazing memories on your retirement trip by making lots of photos or videos. Whatever you like. Don't overdo it because you don't want to see the country only through the lens of your camera or smartphone. You want to experience traveling by being in the now and having a cool photo or video to remember it by.
For a great and compact travel camera, I can highly recommend getting a GoPro Hero 8. It's one of the best and easiest travel cameras out there. The built-in stabilizer produces smooth and high-quality videos and images. And because it's so small, it fits in every bag. It's our go-to-camera wherever we go.
And another awesome idea to capture travel experiences is bringing a polaroid camera. This is especially cool when you want to interact with other travelers and locals as much as possible. The camera prints the photo directly, so you can give the photo away as a gift to another traveler you've become friends with or to locals you just met. It's such a fun thing to gift something to another person to remember the moment by. We have done this a lot of times, and we always take two photos: one photo to keep ourselves and one photo to give away.
Don't forget to back up your videos and photos on a hard drive or in the cloud while you're traveling. And if you like to take a lot of footage, a back up hard drive can be wise to bring along too.
40) Be patient
Things never go as planned. Standards are different, and cultures are very different too. And for that, you need to be patient and not sweat about things you can't control. Sometimes you miss the bus, your shower is cold, or the ferry is canceled due to weather conditions. It happens, and you have all the time in the world to improvise and make the most of it. Sometimes the most fun things happen because things didn't go as planned. Be open to it and just roll with it.
41) Ask Locals For The Best Tips
Looking for a great local restaurant? Ask a local. Do you want to see a beautiful sunset away from the crowds? Ask a local.
In your hometown, you probably know the best spots as well, so make use of the expertise from locals to point you to the best spots in their hometown. It can lead you to off-the-beaten-track places and away from all the tips in popular travel guides. And those are sometimes the coolest experiences.
42) Be Spontaneous And Get Lost
Be open to unexpected turns and get lost on purpose to get another view of a city, place, or culture. Wander around without a plan or direction more often. Time and direction don't matter when you want to explore and be in the moment. It will be the times where you forget about the time which you will remember most vividly.
And when you seek adventure, you just need to say yes to more things than usual. And then you will end up in places you wouldn't normally end up at. It is fun to say yes to new things. It's the ultimate travel feeling of total freedom that every traveler is looking for. And to get there, you need to sometimes approach things differently.
43) Travel Slow
When you stay longer at a certain place, you'll experience a city or region in a totally different way. You experience it in a way like the locals do and get a better understanding of the area. You connect better with the destination and the local people.
Also, by traveling slower, you have time to research and avoid tourist traps, and you can find out the cheaper things to do in the area.
Your extended stay allows you to get a better deal on accommodation, and you have fewer expenses on transportation.
44) Keep An Open Mind
Traveling to other countries is meeting other cultures with different norms and values. Not worse or better values; different values. And you must keep an open mind about that. People do things differently around the world, and although some things are against your own standards, you need to be respectful about it. You are a guest in their country.
And the best way to understand the how and why is by asking questions. Open and non-judgemental questions because you're curious not because you like to criticize. You can easily judge foreign values from your point of view. But traveling is all about understanding another point of view and learning from another culture. We can all learn from each other if we keep an open mind. It makes traveling so much more interesting because you never know someone else's story if you don't ask.
Léon is always surprised about how much I ask people. And as a Duthie, we can be very direct, so I always ask direct questions. Not be rude, but just because I'm curious. And when you show your heart in that way, people are willing to tell you so many interesting and amazing things. My fondest memories are sometimes the long conversions I have with total strangers. Conversations from one heart to another heart.
Watch our documentary about the Maori culture below:
45) Stay Positive
You might know the phrase 'Your vibe attracts your tribe.' Or the law of attraction: an attractive, magnetic power of the Universe that draws similar energies together. That isn't philosophy, but it is science, as Albert Einstein would say. It manifests itself in many ways and is created through thoughts, ideas, people, situations, and circumstances.
So when you want a positive travel experience, be positive, and you'll attract that same energy. Of course, unfortunate things can happen, and that is just a matter of bad luck and being in the wrong place at the wrong time. But overall, when you are positive, you attract positive people and situations. Even when things get rough, see the good sight of it and humor your way through. It is part of the adventure.
Recommended Articles