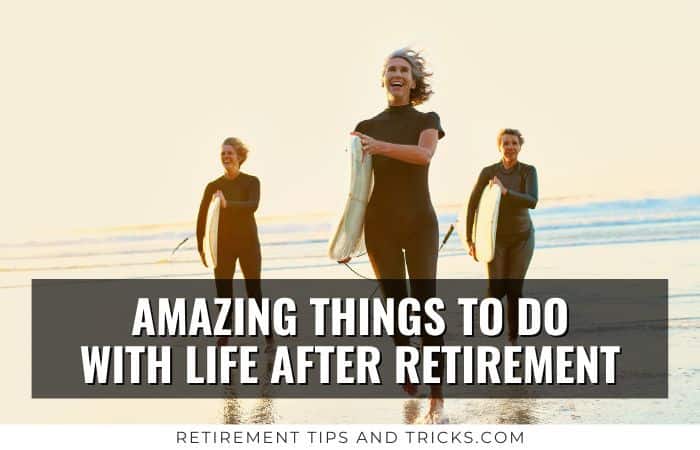 As your retirement is coming closer, you might ask yourself one of the following questions: What should I do with my life after retirement? Or what do I want to do with my life after retirement?
Well, no need to look further because I'm here to help you live your best life after retirement. I've listed 250 amazing things you can do with your life after retirement to give you enough ideas and inspiration to get started on how to spend your time in retirement.


---
1) Cook Like A Pro
2) Play A Musical Instrument
3) Write A Book/ Poetry or Music
4) Grow Vegetables
5) Gardening
There is an amazing online gardening class on Masterclass by Ron Finley.
6) Volunteer Work
Habitat For Humanity
VolunteerMatch.org
Just Serve.org
Volunteer.gov
Feeding America.org
Peace Corps
Check local charities and soup kitchens for volunteer opportunities
7) Become A Teacher
Read more: How To Become A Teacher In Retirement
8) Follow (Online) Classes
Masterclass is one of the best platforms to follow online classes and the only platform where you can learn from the world's best in their field. Curious?
9) Meditate
10) Babysit Your Grandchildren
11) Start A Business
Read more: Which Business Is Best After Retirement? | 15 Unique Business Ideas
12) Become A Foster Grandparent
13) Be A Sports/ Life/ Career Coach
14) Get Mentally Fit
15) Exercise
16) Join A Club
17) Join A Team
18) Read
Read more: 25 Best Books Retirees Like To Read (All Novel Genres)
19) Live Abroad
20) Move Closer To Family
21) Live In A Smaller House
22) Be A Tourguide
23) Remodel Your House
24) Start An Art Project
25) Start Tutoring
26) Learn Home Repairs
27) Learn Car Repairs
28) Dance
29) Surfing
Read more: Can Older People Paddleboard? How It Works and Why It's Perfect
30) Get Your Scuba Dive Certificate
31) Go Back To School
32) Go On Adult Summercamp
33) Restore Classic Car
34) Create Family History Book
35) Start Brewing
36) Learn CPR and First Aid
37) Learn A New Language
Read more: 10 Benefits Of Learning A Second Language At An Older Age
38) Visit all the 50 states in the US
39) Do an Amazon River Cruise
40) Make a Eurotrip by car, train, or boat
41) Make A Road Trip
Read more: The 25 Best Road Trips For Retirees
42) Go to all the US National Parks
43) Drive route 66
44) See the northern lights (Alaska or Scandinavia)
45) Explore the Everglades in Florida
46) Visit Cuba
47) Visit Alcatraz in San Francisco
48) Start Baking
49) See the Niagara Falls
50) See Buckingham Palace in London
51) Ride the Orient Express
52) See the Great Migration in Masai Mara (Kenya) or Serengeti (Tanzania)
53) Take a Caribbean Cruise
54) Ride the Trans-Siberian Railway
55) Visit Machu Picchu, Peru
56) Walk on the Salt Flat (Salar de Uyuni), Bolivia
57) Explore Patagonia, Chile/Argentina
58) Walk the Great Wall, China
59) Go on a Mississippi River Cruise
60) Renew Your Wedding Vows
61) Organize a Suprise Party
62) Build your Family Tree
63) Answer a Personal Ad
64) Organize a Romantic Date
65) Reconnect With Childhood Friends
Read more: Scared To Contact Old Friends? Here Is What To Do!
66) Go on a Blind Date
67) Help a Stranger
68) Organize a Family Photo
69) Create a Family Photo Album
70) Make a Road Trip with your Best Friend
71) Host Game Night
72) Become an Airbnb Host
73) Throw a Themed Party
74) Get a Pet
Read more: 10 Scientific-Based Facts How Pets Help Old People
75) Be a Matchmaker
76) Bake a Cake for Someone Special
78) Go on a Romantic Getaway
79)Have a Picnic with Friends and Family
80) Start a New Family Tradition
81) Perform A Random Act Of Kindness
82) Create Videos
83) Give Podcasting A Try
84) Be A Dog Walker
More info: WAG
85) Get Into Politics
86) Create A Cookbook With Famous Family Recipes
87) Join A Band
88) Be Part Of A Singing Group
89) Immigrate To Another Country
Read more: This Is Why It's Better To Retire To Portugal Than Spain
90) Become A Consultant
91) Apply For A (part-time) Job
Read more: The 50 Best Jobs For Retirees
92) Be A Great Neighbor
93) Find Your Passion
Read more: 14 Tips How To Find Your Passion In Retirement.
84) Watch Many Sunsets And Sunrises
85) Visit Museums
86) Have A Garage Or Yard Sale
87) Organize A Reunion
88) Start A Charity
89) Do Something You've Never Done Before
90) Live Out Your Bucket List
91) Rock Painting
92) Scrapbooking
93) Antiquing
94) Knitting
95) Calligraphy
96) Candle Making
97) Coloring
98) Cross-stitching
99) Drawing
100) Flower Arranging
101) Flower Pressing
102) Macramé
103) Jewelry Making
104) Diamond Painting
105) Leather Crafting
106) Painting
107) Upcycling
108) Photography
There is an amazing Online Photography Masterclass by Annie Leibovitz at Masterclass
109) Pottery
110) Sewing
111) Soap Making
112) Wood Working
113) Ceramics
114) Mosaic Making
115) Nail Art
116) Comic Strip Book Making
117) Bird House Making
118) Mixology (Cocktail Making)
119) Wine Making
120) Sommelier (certified wine taster)
121) Cake Decorating
122) Latte Art
123) Molecular Gastronomy
124) Grilling
125) Bread Making
126) Pasta Making
127) Chocolate- and pâtisserie-making
128) Hot Sauce Making
129) Cheese Making
130) Archery
131) Swimming
132) Biking
133) Bowling
134) Golfing
135) Hiking
Read more: Why Hiking Is Good For Seniors: The Complete Guide
136) Ice Skating
137) Martial Arts
138) Running
139) Tennis
140) Bird Watching
141) Camping
142) Geocaching
143) Fishing
144) Kayaking
145) Sailing
146) Snorkeling
147) Skiing
148) Snowboarding
149) River Rafting
150) Ballet
151) Flag Football
152) Basketball
There is a fun Basketball Online MasterClass taught by Stephen Curry
153) (Aqua) Aerobics
154) Volleyball
155) Dating
For more information, read my article: How To Meet Senior Singles
156) Join A Dinner Club
157) Become A Wedding Officiant
158) Acting
159) Organize Fun Bingo Nights
160) Start A Wine Tasting Club
161) Team Sports With Other Retirees
162) Dog Training
163) Line Dancing
164) Cheerleading
165) Board Gaming
166) Cross Word Puzzles
167) Home Decorating
168) Jigsaw Puzzling
169) Soccer
170) Inline Skating
171) Origami
172) 3D Puzzling
173) Journaling
174) Write Your Memoirs
175) Woodcarving
176) Aquascaping
177) Run A Marathon
178) Beekeeping
179) Horseback Riding
180) Blacksmithing
181) Pickleball
182) Squash
183) Padel
184) Boules, Pétanque, Bocce
185) Cricket
186) Curling
187) Do City Walks
188) Become A Senior Buddy
189) Create Your Own Dollhouses
190) Spinning Yarn
191) Cardmaking
192) Play Chess
193) Railway Modelling
194) Attend the Mardi Grass in New Orleans
195) Attend Burning Man Festival in Nevada
196) Experience New Year's Eve in New York
197) Celebrate St. Patrick's Day in Ireland
198) Visit the Carnival in Rio de Janeiro, Brazil
199) Attend the Carnival in São Vicent, Cape Verde Islands
200) Drink a Beer at Oktoberfest in Munich, Germany
201) Attend the Tomatina Festival in Spain
202) Visit the Lantern Festival in Thailand
203) Go to the Palio Horse Race in Siena, Italy
204) Visit Borobudur Temple on Buddha Day, Indonesia
205) Go To The Cheese Market in Gouda, the Netherlands
206) See the Weeki Wachee Mermaids, Florida
207) Go to the Gay Pride Festival in San Francisco
208) Attend a Film Premiere
209) Go to a Native American Pow Wow
210) Go to a Cirque du Soleil Show
211) Go to a Drive-In Movie
212) Go To Comicon, San Diego
213) Experience Día de Muertos in Mexico
214) Attend Songkran Festival in Thailand
215) Experience Holi Festival in India
216) Attend the Glastonbury Festival England
217) Get Muddy at the Boryeong Mud Festival, South Korea
218) Celebrate Chinese Year in China
219) Go to Albuquerque's Balloon Fiesta
220) Attend the Edinburgh Fringe Festival
221) Attend a Masquerade Ball in Venice, Italy
222) Visit the Cooper's Hill Cheese-Rolling Event, England
223) Attend the Fiesta de Cascamorras Festival, Spain
224) Go to the Up Helly Aa Fire Festival in Scotland
225) Witness The Monkey Buffet Festival in Thailand
226) Perform a Random Act of Kindness
227) Learn How to Forgive
228) Learn to Let Go of the Past
229) Set a Goal and Try to Achieve This Goal Every Day
230) Visit the (birth)Places of Your Ancestors to Understand More About Your Roots
231) De-clutter Your Home To Create Space for New Things
232) Get a Full Body Massage and Spa Treatment
233) Watch TEDTalks To Get Inspired
234) Set a Guinness Book of World Record
235) Make a Difference in Someone's Life
236) Get a Complete Makeover
237) Go Back to Basics in Nature
238) Eat a Healthier Diet
239) Conquer Your Biggest Fear
240) Start a Charity or Movement for a Cause You Believe in
241) Learn Sign Language
242) Help Someone in Need
243) Get More Spiritual
244) Become More Confident
245) Learn How to be Better with Conflicts
246) Remember Why You're Here On Earth
247) Make A House Of Cards
248) Spend The Whole Day In Pajamas
249) Eat Dinner At Breakfast, And Breakfast At Dinner
250) Learn How To Be And Live Only In The Now Moment