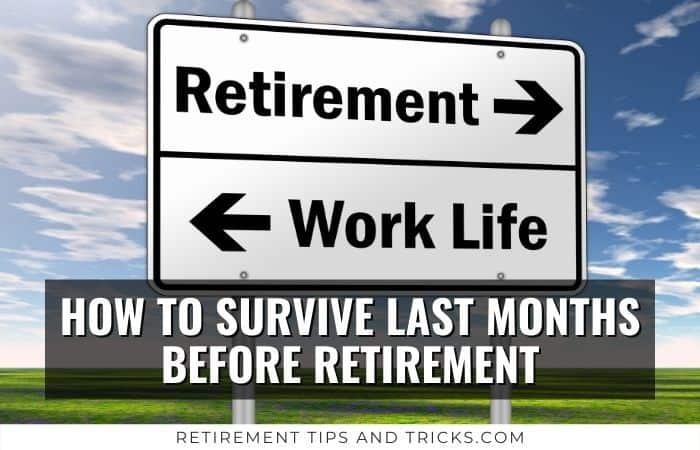 Your retirement is coming closer, but you still have a couple of months left to go to work that perhaps you do NOT like at all. And that is why you might wonder, how do I survive the last few months before retirement? Well, no need to look further. I share 16 tips in this article to help you out!
1) Have A "One Day At A Time" Mentality
The worst thing you can do is to download a countdown clock or get a cross-off calendar counting down the days until your retirement date. This will not make you happier. Here is where the quote: "Enjoy the journey and not focus on the destination" comes in handy.
When you're only focused on your retirement date, each time you will get confronted that you're not there where you want to be. It will make you miserable. Dwelling on the past or worrying about the future causes sadness, depression, stress, and anxiety. Instead, take it one day at a time and focus on the present moment. This will make every moment a lot more joyful and when you experience many joyful moments time will fly by very quickly.
Practicing meditation can help you stay focused on the present moment. According to researchers at the Columbia University Medical Center meditating can change the structure and function of the brain through relaxation, which can: Reduce stress, anxiety, and depression. And increases focus, learning concentration, and improve memory and attention span.
2) Slow Down
Also relaxing and slowing down is a good idea. Instead of giving it 150% each day, this can mean striving to put 80% of your energy into your work. It sounds easier than done, but it can lead to less stress on your end. And the best part is no one will notice it. I know this from experience. After you manage to slow down yourself and you find out that nobody cares or notices it you'll ask yourself, why didn't I do this earlier?
And besides the invisible energy part, you can do it also more visibly. Come in a little later and leave earlier. Take long lunches, spend more time chatting at the coffee machine, and do what needs to be done, and that's that. I know this can be quite an adjustment and requires a mindset change. But it will definitely improve your daily work experience. It will feel less like you need to survive.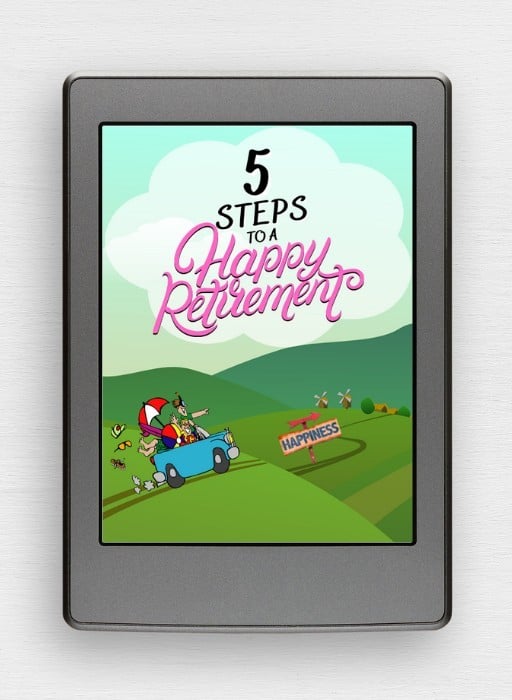 Secret To A Successful & Happy Retirement
I discovered the secret to a successful and happy retirement.
And I want to share this with you, so I created the ebook: 5 Steps To More Happiness In Retirement.
To help you make your retirement fulfilling, meaningful, satisfying, and lots of fun.
3) Have Fun
Why not have a little bit more fun? Nobody is going to fire you anyway because you are gone in a couple of months. So try not to take anything seriously. Take everything that comes your way lightly and let it slide off your shoulders quickly. If you haven't announced your retirement yet, then check out my article: 21 Seriously Funny Ways To Announce Your Retirement.
And get this Countdown Clock To My Retirement to put at your desk as a great reminder.
4) Take A Step Back Emotionally
It is time to come to the conclusion that you are not your job. You're a person that has job tasks to do, but your value isn't attached to how well you do at your job. Your job is not your entire identity. You've earned your stripes, so let others do the hard work and chase.
Taking a step back emotionally will help you not feel attached to your work as much. Things will not hit you as much as they used to do. It will give you a whole new perspective and helps you to prepare mentally for this next chapter in your life. Exploring new routes, a new identity, new activities, etc.
This can mean that you don't aggressively pursue new projects, be the first one to raise their hand when it comes to problem-solving, etc. You feel that you are not your job and that life will continue when you miss a deadline. etc.
But in order to get to that point, you have to grant yourself permission to take this step back. Even if you think that it is not in your character. You are allowed to take this step
5) Create A Bucket List For Your Retirement
With all these months left on the job, there is so much time to do research on all the things you want to do in retirement. And make sure you'll the retirement of a lifetime.
Many retirees regret that they didn't have something to retire to. So use this time wisely to do research and plan for the fun things in retirement. A great tool is creating a retirement bucket list. After summing up all things you want to experience, do and learn, you can select which ones to pursue first. This will give you the first retirement goal that instantly gives you a direction in your retired life, a reason to get up in the morning, and something to look forward to.
6) Make A To-Do List
Make a to-do list with everything you need to do until your retirement date. And categorize it per week or even what you can do every day. Knowing what to do each day you come into the office, helps you to stay motivated to get the job done. And it feels satisfying to check something off from your to-do list.
7) Work On Your Financial Retirement Plan
On a more serious note. The best way to spend your time in these last few months is to take a hard look at your finances and get all your ducks in a row. Having clarity and being in control of your finances reduces stress and is the best start to your retirement. And here is what you can do:
Financial To-Do List:
Plan a meeting with your financial advisor to decide on your pension plan, payments, and moving to IRA? Review your mortgage, and retirement assets and discuss scenarios such as surviving spouse and what to do when your health conditions changes or other circumstances.
Plan a meeting with HR for more information on your health care and health insurance in retirement, cobra costs, ACA costs (healthcare.gov), and transition to medicare.
Check your retirement savings and retirement accounts.
Check if you need extra insurance coverage (things that are not covered anymore once you retire).
Make a list of your yearly retirement expenses and create budget spreadsheets to estimate your retirement income on a monthly basis.
Set up an emergency fund.
Understand social security benefits and apply (if you haven't already). You can start receiving these monthly benefits from age 62 (payments are determined by your 35 highest-earning years). However, if you delay receiving social security benefits until full retirement age or up to 70, you will get more benefits. You can sign up for a free Social Security report at the social security administration to get an idea.
8) Use Your Vacation Time
If you saved up vacation time you can strategize to use these days to make your last months more bearable. For example, in the last months, you can use your vacation days to create 3-day weekends. This way you will ease into your retirement.
Some people even like to start working part-time the last year or months to gradually retire. They can start spending time on their new hobby, while also having the structure, routines, and purpose that came with a job. If this sounds like what you would like to do, check with your financial advisor what the financial consequences are for this scenario.
9) Clean Out Your Work Space
Nothing to do anymore? Then clean out your workspace. For example, go through files or emails and delete them. Or return things you have borrowed from coworkers. This is also a good excuse to have a chat, socialize and not think about work for a second.
10) Work On A Smooth Transition
It's best for everyone involved that your transition into retirement goes as smoothly as possible. And you can do your part by focussing on hiring your replacement, writing a handbook for your replacement with for example future deadlines, where to find files, passwords, and information on clients and projects. A very valuable piece of work that will be very much appreciated.
And knowing you've done everything you can to finish your job in the best way possible will give you a boost in satisfaction and self-esteem. What better way to start your retirement?
11) Plan Your Retirement Celebration
You only retire once, so this moment in life is worth celebrating. And even though you can expect a retirement party you can also organize your own celebrations for different groups of people to celebrate your retirement. For example, plan a romantic date night with your spouse in the first week, plan a family weekend trip, winetasting afternoon with friends, etc.
Read more: 30 Amazing Ideas To Celebrate Your Retirement
12) Organize Your Goodbyes
You probably wish right now that today will be the last time you have to go to that boring meeting. But unfortunately, it is not. But that gives you time to organize your goodbyes because leaving on a good note gives you a nice feeling and a positive start to your retirement.
So besides the "bye, I'm out!" on your last day, there are other ways to handle this in a fun and appreciative way.
Perhaps there is a retirement party planned that you want to give a speech or show a (fun) video. Or you want to thank a couple of coworkers in a meeting with a special gift. For more information on this topic, I recommend reading my article: How To Thank Your Coworkers When You Retire: 11 Fun Ideas.
13) Get Mentally Prepared For Retirement
Not many people know that retiring is a process and that it takes adjusting to this new life chapter with more freedom and other priorities. Some people are adjusted more quickly than others, but everyone goes through the same five stages of retirement. And being aware of this process will make you ahead of the game. You'll experience less anxiety and you can even avoid depression.
Read more: Complete Guide Through The Five Stages Of Retirement
14) Live Like You're Already Retired
Your retirement date is only in a couple of months, but that doesn't have to stop you from living like you're already retired. And get used to that retired feeling, even though you still need to show up to work.
For example, you can now start living on your monthly retirement budget, start with new morning routines, volunteer at charities, join a club or apply for that dream part-time job you've always wanted. With these new plans, you'll have a new sense of purpose in your life, which ultimately makes your work not as important anymore. It's just that you have to show up and make the most of it. Your life outside work becomes more rich and more fun.
Did you know that for a successful retirement you need to replace your working hours with meaningful activities that keep you mentally, physically, and socially active? Well, it is. This combination is key to a healthy and happy retirement. And you can create ahead start.
15) Get Started On New Hobbies
You don't have to wait to start exploring retirement hobbies. You can start today by finding a hobby that you'll enjoy. And if you don't know where to start looking, read my article: How To Find A Hobby That You'll Love: 9 Tips
16) Map Out your Travel Plans
If your plan is to travel in retirement, then you should know that very often the earlier you book the cheaper it is. And if you're not busy anywhere, you can use these months to do research and stretch your travel dollars as far as you can by planning ahead. And if you want more tips on how to travel cheap in retirement, you can read my article: How To Retire And Travel Cheap: 20 Helpful Tips or get inspiration for your retirement road trip from my article: The 25 Best Road Trips For Retirees.