Preparing for your retirement is essential. It helps you to transition into retirement more smoothly. And to help you out, I created this article with all the things you need to know before you retire. Let's get started!


---
1) Know How To Stay Social And Active In Retirement
Staying active and keeping up with your social relationships is majorly important. It helps you to stay fit and sharp. When we're aging, the change that we have less social interactions is getting higher, which can be a dangerous thing.
According to this article on Harvard Health Publishing, a busy and strong social life is connected to many health benefits. If you have a strong social life, there's less risk of depression. And people with more social interaction are more likely to have higher physical activities
In a different article on Harvard Health Publishing, the authors state that having a lot of social interactions is as vital for healthy aging as not smoking and following a healthy diet. Social interactions stimulate your mind and memory.
If you're having trouble keeping up with your social interactions, you might want to read my article How To Stay Social After Retirement. In this article, I share several helpful ideas.
Staying Mentally Active
Next to having a strong social life, it is important to keep up with your mental and physical health. When you're staying active both in the mind and body, you increase your chances of healthy aging. And thus enjoy your retirement longer and happier.
Staying mentally active helps you to stay 'sharp.' One of the great ways to stay mentally active is by reading books or doing puzzles. Both activities protect your memory and thinking skills.
If you do everything with an open mind, like a beginner, and keep learning, you'll also stay mentally active. A great way to keep learning when you're retired is to get an annual membership to Masterclass. Because when can you ever get a class from the best and most successful teachers in the world?!
Just to name a few: Gordon Ramsey, Christina Aguilera, Usher, Hans Zimmer, Stephen Curry, Carlos Santana, Jimmy Chin, Serena Williams, Dan Brown, etc.
I absolutely love Masterclass. It's easily accessible, and they have online courses on almost every subject (for any skill level) you can think of.
Learning helps you to stimulate your brain. And when you follow a class, it will stimulate your social contacts and give you a sense of fulfillment. You're never too old to learn!  
Staying Physically Active
Did you know that most people in the United States spending their leisure by watching television, and thus sitting on a couch? That's not what we call physically active, right? You can find the numbers in this BLS study, and it's shocking.
Staying physically active in a moderate way is very important to avoid health issues. According to the CDC, elderly people need to have at least 150 minutes of physical activity twice a week.
When you're having trouble finding the right exercises or staying physically active, I recommend reading my article How Can I Stay Active In Retirement? And after reading the articles, go for a walk outside, you're getting closer to the CDC target already! 😉
2) Know Your Financial Situation
It is important to prepare for your retirement, both financially and mentally. Many people still find it difficult to prepare themselves for this life-changing event, but it is actually not that difficult. There is a big difference in preparing financially and mentally for retirement.
We start first by focusing on preparing financially for retirement. Let me tell you right away; this is not meant as professional financial advice. I'm not a financial advisor. I try to be as helpful as possible and share in this article the most important information everyone should know when preparing for retirement.
Knowing all this information helps you to understand better what it means to prepare financially. You are better prepared for your first conversations with a professional financial advisor.
Calculate What You Need Financially in Retirement
When you have an idea of how much money you'll spend in retirement, it is easier to create a retirement budget and savings plan.
It is actually quite easy to start with the basics. If you know your life expectancy and your (preferred) retirement age, you can calculate how many years of retirement you need to cover.
You can use this formula;
Estimated life expectancy age – Age you want to retire = length of retirement in years.
Of course, you never know for sure what happens life, but using this formula gives you an idea of what to expect, and for how long you need to save money in retirement.
You can use the Life Expectancy Tool of the SSA to help you.
When you have estimated the length of your retirement, it is important to calculate your cost of living in retirement. Make a list of all the expenses you expect to have when you're retired, try to be as precise as you can. Include at least the following;
Housing Costs
Insurance Costs (health insurance, car insurance, life insurance, house insurance, etc.)
Basic needs like groceries, and memberships of a sports club
Longterm activities in retirement
Activities you have planned, like traveling.
Some expenses that you have now will possibly not apply when you're retired, so you can keep these out of your list. Think of things like childcare and your mortgage.
On the other hand, you may have extra costs in retirement that you don't know now. Make sure to include expenses that are predictable once you're in retirement, like extra healthcare when you get older.
The easiest way to calculate these expenses is to first make a list of the monthly costs, and then multiply those expenses by 12. So that you can calculate yearly costs, and then multiply it by the expected retirement years. Always include an average inflation rate, you can use 3% as a standard.
It can be challenging to make this calculation without any mistakes. That's why it is essential to talk with a financial advisor. You can ask your employer if there's a possibility within your company, or you can go to Napfa or FPA.
To help you easily make this list of expected expenses, I created a retirement budget calculation sheet. You can use it as a starting point before you go to a financial advisor. You only have to fill in your expected retirement years, and expected monthly costs, and everything is calculated automatically.
Get the #1 Retirement EBook
and find happiness in retirement in just 5 steps!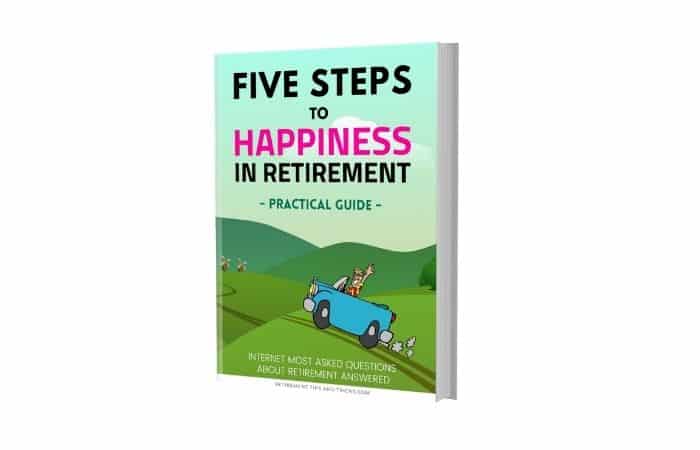 80% Rule To Estimate Retirement Savings
There are other ways to calculate how much you need in retirement, most of them aren't very thorough. One of the most famous is the 80% rule.
Many people say that you only need around 80% of your current income, once you're retired. This calculation may give you a rough estimate of what you might need, but it is actually not a safe method to use.
With the 80% rule, you're just guessing. You can easily forget important expenses, and you don't calculate the inflation rate.
I wouldn't recommend using the 80% rule to estimate your retirement savings. It is best to always talk to a professional financial advisor.
Saving For Retirement
You must know about the different options on how you can save for retirement. Maybe you already started with a savings plan, or you just get started.
In the United States, there are many different options for how you can save for your retirement. Your financial advisor can help you determine which savings plan fits you the most.
The most popular savings plan is 401(k), which is an employer's pension plan. However, this savings plan is often not enough to cover all the costs in retirement.
Social Security Benefits
Another important factor about planning your retirement financially is to consider when to claim your Social Security Benefits. And the best time to claim your social security differs per person and financial situation.
You can start collecting social security from the early age of 62. But the younger you start collecting your social security, the smaller your monthly benefit will be. And you're entitled to your full Social Security benefit at your full retirement age. And your full retirement age ranges from age 66 to age 67 depending on your year of birth.
If you want to have an estimate of your social security retirement benefit now, you can use the calculator of the Social Security Administration here. And make sure you create a My Social Security account for an accurate estimate of how much you're entitled to per month based on your current work record. And you want to check your Social Security statement annually and see if your earnings history and taxes have been recorded correctly.
In my article, Retirement Planning Guide, I cover much more helpful information about saving for retirement.
3) Know Your Insurance Options
When you're still working, there's a good chance that a lot of the important insurances are covered via the benefits package of your employer.
The policies of those insurances can change once you're retiring. So make sure you're up to date with the latest insurance policies or possible upcoming changes.
While you're informing yourself about the changes in insurance policies, it is also important to take into consideration the changes in your lifestyle. There's a good chance that you need to use more care somewhere down the road.
When you're still in your employer's health care program, you might as well make use of it. Many of those programs offer free health checks, where they measure your physical condition via some straightforward tests.
It can help you create more insight where you stand physically, and if you need to change some things in your lifestyle to be able to stay fit.
Staying physically and mentally active is essential for everyone. And when you get older, it can only help you to enjoy your retirement even more! I'll tell you later more about why it is important to stay physically and mentally active.
Think About A Care Plan For Later
When we're getting older, we are often in need of more care. So it is important that you already start thinking a bit about those days.
Maybe, when you get older, your current housing situation doesn't fit anymore, or you just like to live in a retirement community. So that help is always close when you need it.
If you know what kind of choices you want to make in the future, it's easier to adjust your (saving) plans for your retirement.
Medicare
Medicare is a great healthcare plan that is free for most people that are 65 years or older and living in the United States. However, Medicare doesn't cover all the healthcare costs you have. So you probably have some things you need to pay for yourself or which you can extra insurance.
It is important to prepare yourself for those costs because it can save a lot of trouble knowing what you can expect. In our article about retirement planning, I share more insights about expected average costs.
Also, the below video is an excellent explanation of the basics of Medicare;
4) Communicate Your Retirement Plans With Your Spouse
Sharing your retirement plans with your spouse is important. It helps to get on the same page together. Maybe you both have different ideas on how to spend your retirement years. So make sure to talk about what you both want, and avoid unnecessary surprises.
For every couple, it is important to prepare for their retirement together. Essential factors like healthcare, finances, view on life after retirement need to be discussed during this preparation stage.
Many couples ask themselves if it is a good idea to retire at the same time. The answer to that question is different for each couple. There are so many factors that can influence the outcome of that question.
For example, when there's a significant age difference, maybe the youngest is not ready to retire yet. Or perhaps it is financially just not a smart idea to retire at the same time. In my article Should Couples Retire At The Same Time, I've shared several tips that can be helpful.
Conversations without judgment
Many couples find it challenging to communicate openly with each other. Often the rat race in life, and the amount of stress that comes with it, are factors why we want to avoid serious conversations. When we get home from busy days, we just want to relax.
However, sometimes it is crucial having a more serious conversation. Especially when you talk about life-changing events like retirement. In the article about should couples retire at the same time, I also share some tips on how to get easily on the same page with your partner.
I share some guidelines for a meaningful and respectful conversation. Such as;
Show respect and communicate without anger,
Brainstorm with no boundaries,
Look for mutually acceptable solutions.
These tips are beneficial when you found out you both have a different perspective on life in retirement and are trying to get closer together.
5) Know How To Celebrate Your Retirement
Your retirement party can be as wild as you want it to be. You can celebrate your retirement; however, you wish.
However, you need to think about it in advance. If you want to have a big party, where you invite a lot of people, there's a lot of planning to do. But take your time. If you start planning your retirement party a few months before your actual retirement date, there's enough time to organize an unforgettable event!
I wrote a lot of helpful articles about planning a retirement party, check out a list of all the articles.
Before you start planning your retirement party, you need to think about a few essential things. So you get a better idea of in what way you want to celebrate your retirement. In several articles, I answer important questions like;
Planning a retirement party can be a lot of work, so it might be helpful if you're getting some help or hire a professional party planner. I created a helpful retirement party checklist that helps you with the most important basic, I can send it to you for free;
[cp_modal display="inline" id="cp_id_ff29e"][/cp_modal]
6) Know The Five Stages Of Retirement
Retirement is a major life-changing event. You're transitioning from a working life to a retired life in a couple of weeks or months. It is not only that your daily schedule will change once you're retired, but there are also other factors you need to take into consideration.
These are the five stages in retirement;
Pre-retirement:
The phase before your retirement, this can be a few years up to a few months. Some people are thinking about retirement many years before their actual retirement date, and other people start thinking about it a few months before. It's different for every person.
It is in this stage where you start planning financially for your retirement and make sure that you're mentally ready for retirement.
Honeymoon:
The period where you just got retired. Everything is new and fresh. Your living on a high, just like newlyweds. An amazing period, where you can get a lot of energy. But it can also be a bit scary at the same time. You're basically starting a new way of life.
Disenchantment:
During this stage, often, reality kicks in. People start themselves questions like; Is this really it? Is this now my retired life?
Don't worry it is completely normal, you're transitioning into your new self. You're becoming yourself as a retiree.
Reorientation:
During the fourth stage, you're re-inventing yourself; you find your purpose. It often feels like the previous stages were a preparation for this new stage.
Stability:
The last stage in this transition process. You have found your new identity as a retiree and living your comfortable retirement life.

It is beneficial if you know more about these stages in retirement. The information helps you to transition into retirement more easily. You know better what you can expect, and it becomes easier to cope with when things are changing.
You can find a detailed description of the stages in retirement, in the following article that I wrote; What Are The Stages In Retirement?
7) Know To Have Something To Retire To
If you have something to retire to, the transition from work to retirement will get a lot smoother. You can avoid the gap that some people are afraid of once they're retiring.
Let me share some ideas on how you can easily find out what you want to do once you retired.
Create A Retirement Bucket List
Ever heard of a bucket list? You probably have, and if you don't already have a bucket list, it is time to create one. Creating a retirement bucket list helps you write down what you always wanted to do in life.

When you start creating your bucket list, don't make it too hard. Just start writing, and if you need some help with finding ideas, read my article 101+ ideas for a retirement bucket list.
Find Your Passion
If you know your passion, you can easily create activities around it. Thus, it's easier to have something to retire to. 

However, many people lost their passion while they were busy with work and making a career. But with retirement on the way, it is time to re-invent yourself, and find your old or new passion! 

Finding your passion can be a challenging process, but it will be rewarding in the end. It helps you get the most out of your retirement. It is possible to have multiple things that you're passionate about. 

When you find it challenging to find your passion, I recommend reading my article; 14 Tips To Find Your Passion In Retirement. 
Recommended Articles
As you get closer to your retirement date, these articles might be helpful for you to read as well: