Retirement for you or someone you know is coming closer. And you want to celebrate it with a retirement party. And that is why you probably wonder when you should throw a retirement party?
The best time to throw a retirement party is the day off or two weeks after the retiree's last day of work. For an office party, this could be during working days or evenings. And for a mixed guest list, the weekend is the best time to hold a retirement party.
There are more factors involved in determining what time is best to throw a retirement party. It's the guest list, the location, and the type of retirement party you're planning. In this article, you'll find everything you need to know about when and how to throw a great retirement party.
Best Time To Throw A Retirement Party
For the momentum, throwing a retirement party around the actual retirement date is best. People know that someone is retiring and would like to participate in the celebration. And when it's too soon or too long after the actual retirement, people have moved on and will consider it as "old news" or see it as not on the radar yet. And are way too busy with their own lives.
Also, the retiree doesn't feel retired when the party is too soon, or he or she is already used to that retired feeling if the party is months after he or she is actually retired. You want to celebrate it when you feel it the most. That way, the party will be more of a success because the retiree and the guests are fully engaged to party.
Which Day Is Best To Throw A Retirement Party?
The guest list and the location of the party determine which day is best to throw the retirement party. So before you pick a date here's what you need to ask yourself:
Who are you going to invite to the retirement party?
Where do you want to throw the retirement party?
What kind of retirement party are you organizing?
Your guest list can determine which day is best to throw a retirement party. Usually, the weekends are the best because then most people don't have to work and can attend the party. But it also depends, what type of retirement party are you planning? Is it an office party? Dinner party with friends?
For example, an office retirement party with only co-workers it's best to plan it during the week. Preferably at the end of the day, so people don't have to go back to work afterward.
Also, a retirement party with only retirees attending, then it doesn't really matter which day of the week you plan the retirement party. The weekend will add that extra party feeling, but a retirement party lunch on a Monday can be just as fun as on a Saturday. Keep that in mind.
Check Venue Availability
When you plan a retirement party at a venue, then the availability of the venue will also determine the date of the retirement party. Perhaps you would like to throw the retirement party on a Friday or Saturday, but the venue is only available on Wednesdays or Thursdays. Then you have to decide what is more important to you or the retiree. To help you out, I've listed a couple of situations below:
Type | Guestlist | Best day of the week
Office party | Co-workers | During the week
At home | Friends, family & co-workers | Weekend
At Venue or Office| Co-workers & spouse | Thursday or Friday night
At Venue or Home | only retirees | Every day of the week
At venue or Home | family & friends | Weekend
Who To Invite To A Retirement Party
As I mentioned before, the guest list will determine a big part of when to throw a retirement party. So who should you invite to the retirement party?
In general, retirement is a life celebration. Therefore you want to invite the most important people in the retiree's life. So he or she can celebrate this life achievement with everyone involved.
But maybe you're planning a retirement party for your retiring employee at the office with only co-workers. Or you want to throw a family brunch with to celebrate retirement. So here's a short answer:
You base the guest list on the type of retirement party you're planning:
Corporate retirement party: invite all co-workers. A small company invites all co-workers from the office. A larger company only invites direct co-workers. Or you can decide to invite partners as well to make it a bigger celebration
Private retirement party: depending on the size and budget, you invite all the important people in the retiree's life (that's a combination of family, friends, and close co-workers).
Make sure when you're planning a retirement party for someone else, that you discuss the guest list with the retiree or a close family member of the retiree (when it's a surprise). The retiree or close friend/ family member can inform you who to invite, so you don't forget about someone. You want to avoid forgetting an important person in the retiree's life.
Read more: Who To Invite To a Retirement Party: Etiquette Guide.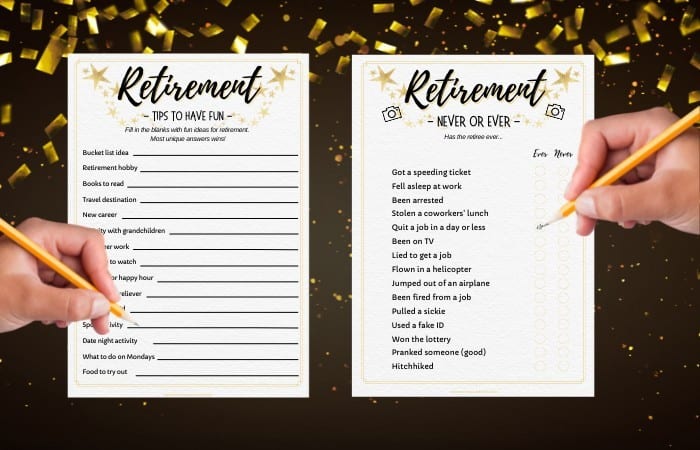 #1 Secret To A Retirement Celebration Success!
I discovered the secret to a retirement celebration success: fun party games.
And that is why I have created a printable Retirement Party Game Bundle with 10 amazing party games. The perfect addition to any retirement celebration.
Just download, print, and play!
When To Send Out Retirement Invitations
When you've decided on the perfect date for the retirement party, it's time to let guests know when the party is so they can save the date.
Preferably you want to send our retirement party invitations, 4-6 weeks before the retirement party date. That should be enough time for guests to be available and attend.
When you know people's agendas are very busy, you can consider sending out invitations earlier than six weeks before the party. Especially when you've booked a nice venue, organized something big, and want as many people to attend the retirement party to make it a big success.
A small retirement party at home with only a couple of guests invited, then sending out invitations two to three weeks before should be more than sufficient.
Once you've picked a date, you can always consider sending out a save the date as early as possible, because the sooner, the better. And after that, you can send an actual retirement invitation closer to the retirement party date. This way, guests have already marked the date on their agenda. And they're being reminded again when the real invitation comes in.
Tips for sending out invitations
Ask for RSVP
Mention the dress code (if necessary) in the invitation.
The invitation should specify if the invitation includes a plus one.
Share a bit of personal information of the retiree (f.e. the number of years that the retiree has worked, plans for retirement.) This helps your guests to write a more personal retirement card for the honoree.
If there are specific arrangements included or excluded, mention this in the invitation. You want your guests to be properly informed.
Mention a gift suggestion in the invitation. People find it hard to find the best retirement gift, and with a little bit more information, they can choose a better gift. Also mention in the invitation when you don't want guests to bring gifts.
You can design your invitations from scratch with the free online tool: Canva or use a company like Lovepop Cards to design and send out unique 3D invitations cards.
How To Make A Retirement Party Special
There are many ways to make a retirement party extra special. And I want to share with you a couple of ideas.
Ideas to make retirement party special:
Pick a (fun) theme
Decorate the venue
Host a party game
Host a quiz
Show a (self-produced) video
Do a flashmob
Give a photobook
Give a retirement gift
Host a speech
Have fun party favors for guests
Host a roast
Sing a song with lyrics based on the retiree
Have a retirement cake: a party without cake is just a meeting
Create delicious and creative food and drink stations
Rent a photo booth with props
Create a signature cocktail
Have a welcome drink
Create a fun party playlist
Have a party guestbook
Rent a (slo-mo) video booth with funny props
Organize 1-minute toasts (for small parties)
Do a group activity: art workshop, music lesson, etc.
Make a group photo
Hand out single-use camera's and create an after-party photo book or slide show
Hire a videographer or photographer to capture the retirement party
End with fireworks or sparklers
Find out more ideas and information: 30 Ideas To Make A Retirement Party Extra Special.
Recommended Articles
The following articles might be helpful for you to read as well: