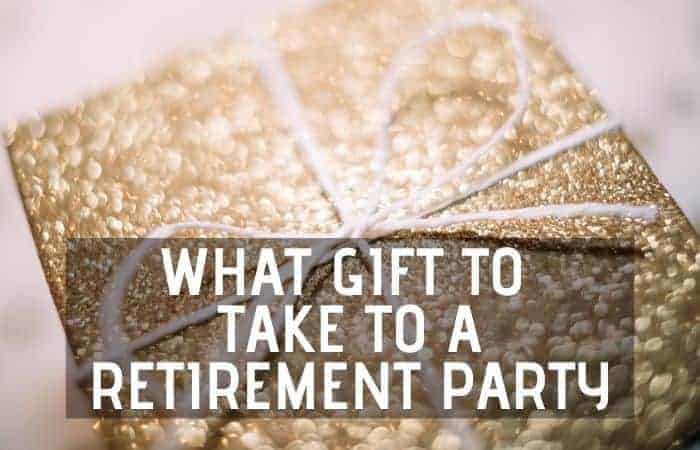 You're invited to someone's retirement party, but you don't know what retirement gift to bring? Here is everything you need to know about what gifts to take to a retirement party.
You take a gift to a retirement party that matches the retiree's interests or plans for retirement. It can be a gift to enjoy in retirement or a thoughtful gift to keep as a memory. For example, a travel gift is a perfect retirement gift for a retiree with travel plans. Add a card to the retirement gift with a personal message and best wishes for the future.
You have to find out what the retiree's plans are to find the best retirement gift for them. And to help you out, I've listed all sorts of retirement gifts below. So, you can find the perfect retirement gift to take to the retirement party. But first, let's start with a chapter about retirement party gift etiquette.
Retirement Party Gift Etiquette
When you're invited to a retirement party, it's customary to bring a gift. It's a sign of good manners. Unless it's mentioned not to bring gifts on the invitation, then a retirement card with best wishes is sufficient. It's best not to give cash but a gift that pairs with the retiree's future plans for retirement.
It also depends on the relationship you have with the retiree if you want to give an extravagant, funny, or thoughtful retirement gift. With your gift, you can let your personal relationship shine through, and what that is, only you two know.
How much you want to spend on a retirement gift also depends on your relationship with the retiree. And also how much you can afford. Don't overdo it when you don't have the budget for it.
On average, people spend between $10 – $100 on a retirement gift depending on the relationship they have with the retiree. A close friend or family member probably want to spend a bit more between $50-$150 on a retirement gift. And a co-worker from a different department is fine with spending between $10 – $25 on a gift. Or chip in with a group gift.
Retirement Gift Baskets
Bringing a gift basket filled with delicious gourmet food and drinks to a retirement party is always a good idea. Especially when you don't know the exact plans of the retiree for retirement, but you do know what he or she enjoys and likes very much. And that's when a gift basket is a great choice. And here a couple of excellent retirement gifts baskets you can gift the retiree:
The BroBasket is the best retirement gift for him. You can create an amazing (custom) gift basket for your boss with his favorite alcohol and snacks. From Whiskey, Vodka, Tequila, Scotch, Gin, Rum to (craft) Beer, and engraved gifts. Check out all the BroBaskets and boozeless Gift Baskets.
Dom Perignon Gift Basket for the retiree who always goes for the best of the best. A basket filled with a bottle of the best vintage champagne in the world and delicious gourmet snacks.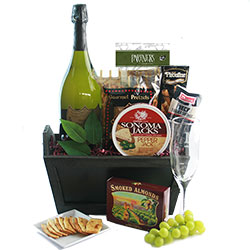 Ultimate Spa Gift Basket is a perfect retirement gifts basket for her. Especially when she needs and deserves the ultimate relaxation in retirement.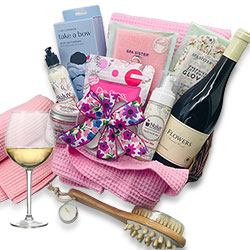 Read more: 25 Fantastic Retirement Gift Ideas
Hobby Retirement Gifts
When you know what kind of hobbies the retiree enjoys, you can look for great hobby gear to gift at the retirement party. And here are a couple of ideas:
Running shoes or a gift card for a sports store is a good gift for someone who is into sports and loves to stay active in retirement.
When a retiree love to do Yoga, you can gift a new Yoga set to upgrade their old one. Or invite them to a new hobby you think they will enjoy in retirement very much.
A retiree who likes to have a brainteaser and enjoys spending time doing puzzles will appreciate a puzzle as a retirement gift.
A Board Game Set is great for a retiree with grandchildren that he or she loves to spend a lot of time with or has plans for that in retirement.
Gift a Cake Baking Set to someone who loves to cook, host parties, and has a sweet tooth.
Give a Kindle E-reader to a retiree who loves to read. Complete your retirement gift by gifting a Kindle Membership, so the retiree has unlimited reading for the first months or year in retirement.
Traditional Retirement Gift
The most classic retirement gift is a watch. This tradition started at Pepsi Co company in the 1940s, where they gave a gold watch as a symbol of time to a retiring employee. "You gave us your time. Now we give you time."
This tradition is still alive today and doesn't apply anymore to only the relationship between employee and employer. Everyone can gift someone a watch as a classic retirement gift. Whether you're giving your spouse, family member, mom, dad, friend, or co-worker. The symbol of giving time is for everybody, and here are some examples:
"I wish you the best time of your life."
"I'm looking forward to spending more time together."
"Your time and hard work for the company didn't go unnoticed. Have the best time in retirement."
"Retirement means it's time for a new adventure."
"It's time to do all the things you've always wanted to do."
"Retirement, the time to what you want to do, when you want to do it, where you want to do, and how you want to do it."
To help you out, I've selected a couple of watches that are great classic retirement gifts for men and women below.
Watches for Men
Garmin GPS Golf Watch that measures shot distances and has auto-recording for post-round analysis and step tracking.
Fitbit Watch is ga great classic retirement for a retiree who likes to keep track of their health and fitness.
Watches for Women
Fitbit Watch with features; heart rate, music, Alexa Built-in, and Sleep & Swim Tracking. A great watch for the active retiree that wants to stay healthy and keep track of her fitness in retirement.
Funny Retirement Gifts
Retirement is an excellent time to make fun of your friend, co-worker or family member. It's a celebration of life where someone closes a chapter and is going into unknown territory with new adventures to come. And that often calls for funny gifts! And here are a couple of great funny retirement gifts you can bring to the retirement party:
Personalized Retirement Gifts
A personalized gift can make a retirement gift more special and more thoughtful. And here are a couple of personalized gift ideas that for sure will be a hit at the retirement party:
BBQ Grill Tool Set: You can personalize the bamboo case with the retiree's initials or full name.
Whiskey Barrel: A 2-liter barrel can for aging or serving of whiskey, tequila, brandy, or cognac.
Cutting Board: A glass cutting board for the retiree that loves to cook and host parties. You can personalize with the retiree's name and a date: their first day of retirement, starting work year, or ending year of their career.
Thoughtful Retirement Gifts
When you have a special relationship with the retiree, and you want to make this achievement in their life extra special, you can go for a thoughtful retirement gift. With that gift, you can let that special connection shine through and make this moment in their life more memorable. You can surprise them with a gift down memory lane or gift something they can keep as a memory. Here are some ideas:
Create a video together with other people: friends, family members, and co-workers. Ask people to send in a personal message for the retiree and create a compilation of all the videos. Or you can create a funny music video on the retiree's favorite song.
Give a Framed Photo or Photo Collage of a great memory you share with the retiree. You can gift this by yourself if you have a close relationship with the retiree, or you can give it together with other people as a group gift. You can even consider creating a cool group photo, especially for this retirement occasion.
Create a Scrapbook with photos, memories, and (funny) anecdotes from great memories you share with the retiree.
Read more: 35 Unique Retirement Gifts For Him and Her
Travel Retirement Gifts
A lot of retirees plan to go traveling retirement. And therefore, a travel-related gift is an excellent gift to bring to the retirement party. Whether the retiree plans to go on a cruise, family trip or road trip with their RV through different states, these travel gifts below are awesome retirement gifts. And because we're full-time travelers, we can recommend them without any hesitation.
A Travel Hammock to bring anywhere they want because it's light-weight and comes in a small package. This hammock is great for at the beach, campsite, garden or any other place with two trees.
Go Pro Camera Hero 8 to capture all the amazing travel adventures. It's the best travel camera out there: easy-to-use, small, and creates smooth and high-quality images for all sorts of adventures.
A good Travel Daypack is a must-have for every traveler, whether they love to hike or explore a cultural city. A daypack is a great retirement gift for any retiree with travel plans.
A retiree who plans on traveling through the states will love this book: 50 States, 5000 Ideas with practical information and travel tips about fun experiences throughout all the states.
Scratch off World map is a great gift for the bucket list retiree who loves to visit as many countries as possible in retirement and keep track.
A noise-canceling headphone is the ultimate electronic travel gift. It cancels out all the unwanted noise of a noise airplane or vehicle while traveling. It helps to sleep better during long flights, and listening to music is even better due to premium quality sound.
A travel journal is a fantastic gift for the retiree who loves to travel and write as well. It's a great gift where they can collect their adventures, stories, and memories all in one place.
A Polaroid camera is the ultimate 'old skool' but now a very hip gift. They can create and print their travel photos in just a couple of seconds. And there's something nostalgic and authentic about that. It's an excellent gift for a retiree with any type of travel plans. But particularly for someone who plans to travel to a more remote and less-traveled destination. This way, they can hand out pictures to locals and make new friends. We have a polaroid camera, and it was so much fun to do when we traveled through different places in Africa and Asia. You have a tool to connect with the locals.
Read more: The 50 Best Travel Retirement Gifts
Retirement Book Gifts
Gifting a book is always a great idea. It's easy to wrap, it will last more than a lifetime, and the retiree can bring it anywhere they want. These books below are great gifts to gift at the retirement party.
Retirement Experiences To Give
Life is about making memories. And sometimes one of the coolest retirement gifts are the gifts of a new experience to enjoy in retirement. You gift someone the chance to make a new life memory to cherish forever.
I've listed a couple of great experience gift ideas you can give any retiree. You can create a self-made gift card to bring to the retirement party or tell the retiree in person or during a speech at the party what experience you want to give them. It can be a gift he or she can enjoy with a close friend, or you give an experience you both can enjoy together.
Theater tickets for Broadway
Concert tickets to the retiree's favorite band or artist
Sports game tickets for a game of the retiree's favorite sports team.
Museum tickets to a museum the retiree always wanted to visit.
Cooking Class
Dance Class
Painting or art lessons
Music instrument lessons
Invite them to your favorite hobby to start a new hobby in retirement
Family trip with kids and grandchildren
Friends Weekend Getaway
Retirement Honeymoon for retiree and spouse
A bucket list experience
Wine tasting tour or lunch/ dinner
Dinner for two at a famous restaurant
Theme Park tickets to enjoy with grandchildren
Beer brewery tour
Festival tickets
A cruise through the Caribbean
Airplane tickets to the retiree's family members
Airplane tickets to his or her favorite holiday destination
Sailing trip
Give a High Tea to enjoy with friends
Sunday Brunch at a favorite restaurant
An annual pass for a National Park
Helicopter Tour over New York or Grand Canyon
A one-night stay in a beautiful or original hotel (for example ice hotel)
Tickets to a Spa treatment
A balloon flight
Read more: 25 Great Retirement Bucket List Gift Ideas
Recommended Articles
These following articles might be helpful for you to read as well: