As a new retiree, you might be wondering, how do I spend time after retirement? I did some research and created this extensive list with 15 ideas and activities for spending time after retirement. Let's get started.


---
1.) Find A Hobby
You probably already have a hobby, like most people. With more time to spend in retirement, you might want to find a new hobby or spend more time on what it is you're already doing. A hobby can be everything, all kinds of activities you like to do.
The most important thing is that you have fun while you're doing it. The definition of a hobby, according to Dictionary.com, is: "an activity or interest pursued for pleasure or relaxation and not as a main occupation."
When you take this definition literally, you can say that everything you do in retirement can be seen as a hobby! Still, many people are struggling to find activities they can do as a hobby.
Maybe you love listening to music or make music yourself like playing the piano or the guitar. Or perhaps you're into photography and want to spend more time on improving your skills in retirement.
To give you some inspiration you can start a Garden Tower Project or start knitting with Knitcrate: a box with new knitting projects and material send to your door monthly. Another cool thing to do in retirement is to create a Legacybox and digitalize all your (old) media to reminisce on the good old times. And if you like a nice cold beer you can make your own beer with a Beer Making Kit from the Brooklyn Brew Shop. You just have to start somewhere and finding your retirement hobby becomes a lot easier.
Popular Retirement Hobbies
Hobbies and interest change during life and when you get older. So there's a good chance that the hobbies you had during your thirties don't interest you anymore. They can, however, be useful as an inspiration to find new hobbies in your retirement.
When you're looking to find a new hobby, we can also look at the popular hobbies other retirees spend their time on in retirement. Some of the most popular hobbies for retirees are;
Cooking
Everyone needs to eat, so why not making some fun with it. Experiencing new recipes is a fun thing to do in retirement. You can experience more with healthy meals, get better at grilling with a Texas-grilling with a lesson from Aaron Franklin or learn more about a famous family recipe you always wanted to make. It is all up to you! 
Did you know there are online courses where you can learn to cook like a Masterchef? On Masterclass you can get lessons from the greatest chefs in the world:
Gabriela Camara Teaches Mexican Cooking
Chef Thomas Keller teaches cooking techniques
Massimo Bottura Teaches Modern Italian Cooking
And many more.
These classes are for any skill level and the greatest part is that you can learn at your own pace, anywhere and anytime on any device. That's what retirement should be all about. Check out all the classes on Masterclass;
Knitting
Knitting is a great activity when you want to create something new. You can find inspiration everywhere, and create your own clothes, accessories, a rug, or something else. Get creative, and almost everything is possible!
Puzzling
Puzzling is widely known as a stress reliever, and also a great activity to boost your brain. It's a mindful activity because you need to concentrate while solving a puzzle. Puzzling is also a recommended activity to keep your mind active in retirement.
Photography
Not long ago, becoming a photographer was a dream of many and hard to learn. Luckily today, it's straightforward to become a photographer and create the best images. You only need a recent smartphone with a good camera, and you're good to go.
Of course, you can go all out and buy more professional equipment. But when you first start with photography, just go with the things you already have, see if you like it, and if so, you can always buy yourself new and better equipment.
If you want to invest in photography, I would recommend taking a course first, where you learn more about the basics of compositions and other stuff. You can learn from the best photographers in the world: Annie Leibovitz and Jimmy Chin on Masterclass. Check it out here.
Golfing
Golfing is a great activity to do in retirement. You get to be outdoors. It is a social activity because you always golf with someone else, and you're physically active when walking the golf course. It still can be an expensive activity, but since it is very popular, golfing becomes more and more affordable for everyone. So, get yourself a golfing set and start golfing in retirement.
You can find a more extensive list in my article, The 30 Best Hobbies In Retirement.
2.) Take A Class
A great way to spend time after retirement is by taking a class. Learning new things helps you grow as a person and keeps you mentally fit.
Did you know that many colleges in the United States offer specific programs for seniors? As a retiree, you can often provide from high discounts and sometimes even free classes! A unique opportunity if you always wanted to go back to school to get another (or your first) degree. I found a great list of universities and colleges per state here.
Get A Masterclass Account
I already mentioned it a few times in this article. Masterclass is a unique platform for following online courses from the most successful and World's Greatest. 
Masterclass offers over 80 different classes and more than 1000 lessons in all kinds of categories. The classes are very easily accessible for every skill level. 
The courses on Masterclass are both interesting if you want to learn new skills and when you want to improve your skills for one of your hobbies.
You can learn from the best in the world via Masterclass. A few of the available courses are; 
Gordon Ramsey Teaches Cooking
Serena Williams Teaches Tennis
Ron Finley Teaches Gardening
3.) Allow Yourself To Do Nothing
After a busy and long career, many people struggle to find their new identity in retirement. Retirement is a life-changing event, so it's not strange if you find it challenging to. You've probably been preparing for your retirement a while, and you might have some ideas about how you want to spend your time in retirement. However, it is also essential to allow yourself to do nothing.
After working for many years, and probably many hours a week, it's time to relax more. A lot of people are inclined to replace their work activities with new activities in retirement. But before you know it, you have a busy schedule with many different things to do and no time to relax and enjoy.
I'm not saying you just have to sit at home and do nothing; on the contrary, it is important to stay active in retirement. You need to find the right balance between activities and doing nothing. I'll tell you later more about that.
Allow yourself to do nothing is all about that you allow yourself to slow down. Which is an important thing in everyday life, not only in retirement. But retirement is the ideal chance to stop with the rat race and start enjoying the little things.
It helps you to get a clear mind, and when slowing down or doing nothing, it easier to learn how you really want to spend your time in retirement.
One of my favorite books that can be helpful is the bestselling title, "The Things You Can See Only When You Slow Down: How to Be Calm and Mindful in a Fast-Paced World." The book that's written by Haemin Sumin, a renowned Buddhist monk, sold over 3 million copies worldwide. I use it as a reference and often read some parts before meditating or when I relax at home with a cup of tea.
4.) Visit Family and Friends
As a retiree, you have much more time to spend than you did before when you were still busy with work. What better way than to spend this time with family and friends? It may sound obvious because everyone wants to spend time with their loved ones. However, during our busy careers, we can't always spend as much time with them as we like.
I just told you about allowing yourself to do nothing. That's all about slowing down, and when you get the hang of it, you'll learn more about the things you find truly important in life. For many of us, this means spending more time with the elderly people we care about.
You can fill it however you like to, maybe you have some friends you didn't see in a while and want to catch up. Or perhaps you want to spend more time with your children and grandchildren. Or when someone is living further away, it can be a great time to plan a road trip and visit them! It is all possible!
Get the #1 Retirement EBook
and find happiness in retirement in just 5 steps!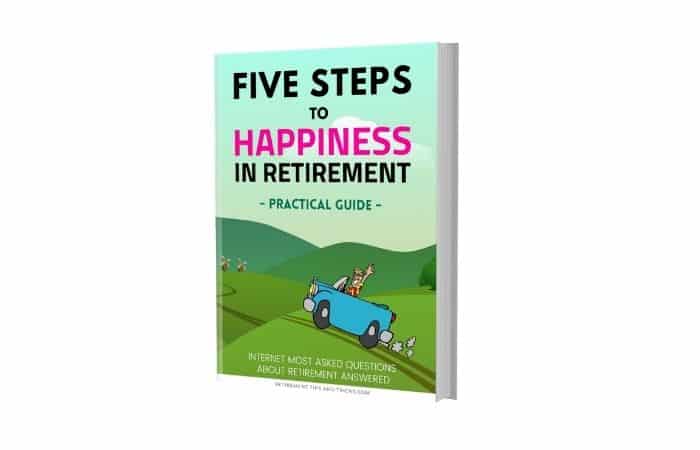 5.) Start Reading Books
Do you know that feeling that when you have a holiday or some time off, and you finally have time to read a book? I just love doing it!
Sitting in the garden or in the living room, during a quiet afternoon, and nothing more than me and the book I'm reading. I love it! It's the perfect way to slow down and get away from the rat race. And the ideal way to spend time after retirement.
You may also have a list of titles you still want to read, and now you finally have the time for it. If you love talking about the books you're reading, you may want to join a book club—a perfect way to stay social in retirement and increase your social circle. Which is an important activity, and I'll tell you more about it later.
Best E-Reader To Use
Honestly, I still love reading paperbacks the most. But I'm getting more and more used to using an e-reader. It is actually quite handy, you can bring it everywhere you go. Battery life is very long, it doesn't weigh much, and you can save tons of different books on just one e-reader. And the best thing? It is often cheaper than buying paperbacks all the time!
I think I'll use both an e-reader and paperbacks for a while. However, when you start to spend more time on reading after retirement, you might want to buy an e-reader. And use it as your main device for reading books. There are many e-readers on the market, but I feel Amazon Kindle is the best one out there.
Amazon Kindle devices are lightweight, waterproof, and have a lot of storage space. I would recommend buying the device with an Amazon Kindle Unlimited membership. It's like the biggest library of ebooks and audiobooks you'll ever find. The ideal way to spend more time reading or listening to audiobooks after retirement! Find the latest prices on Amazon.
6.) Go Travel
I can recommend everyone to go traveling. As a fulltime traveler myself, I am a bit opinionated, sure. But I feel traveling for a longer period is one of the best gifts you can give yourself.
You can go wherever you want, of course. You don't even have to go to a different country. Maybe you always dreamed of a road trip through all the states of the United States. And learn more about the cultures, people, and their way of living in each state.
When you want to travel through the United States, you might want to read my article Best Roadtrips in The United States. Where I share over 20 awesome road trip ideas.
You can buy a campervan or RV, hit the road and start exploring. The beauty of traveling in retirement is that you can go as long as you want. It's not that you have to be back for your job on a specific day!
I can only recommend doing so if you want to travel to other countries in the world, explore the beautiful nature and cultures, and learn more about history. Like I said, traveling is the best gift you can give yourself. When you go out there and meet people from other cultures, you'll feel more enriched.
When you start planning to travel, I recommend reading my articles in the travel category. You'll find many helpful tips in there. Articles that are a must-read when you prepare for traveling are;
7.) Volunteer
Many retirees want to get more involved in their local community after they retire. Volunteering is an excellent opportunity for that. The plus side of volunteering is that you're not only helping others. There are many significant side-effects when you sign up for a volunteer job.
When you volunteer, you'll get more fulfillment. You get the feeling that you spend your time after retirement useful by helping others. Fulfillment is a feeling of happiness, so by volunteering, there's a good chance that you'll get a more happy and positive feeling about yourself and the things you do. Which often results in more energy and higher self-esteem.
Often people think that volunteering is only about helping others in need. Of course, many volunteering jobs are focused on helping the less fortunate, but many other things involve volunteering. For example, you can start as a sports coach at the local sports club, become a senior buddy at a local care center, or help organize a local community event.
Before you start with volunteering, it is essential to know what you want to get out of it. And if you're ready to commit yourself to a volunteering job or task. If you're going to start with volunteering after retirement, I recommend reading my helpful guide, Why Do Retirees Volunteer? (The Benefits Of Volunteering)
8.) Find A Retirement Job
If you want to earn some extra money during your retirement, you can start with a retirement job. Don't worry, you don't have to commit yourself for a full-time job!
The benefits of most retirement jobs are that they're easy to do often involve a commitment of one or two days a week. And it earns you some extra money, which you can use for fun things to do in your retirement. Like saving for that amazing road trip!
Many retirees choose for an easy job in a museum, library, or local community center. But you can also choose for a retirement job where you can make use of your professional skills.
Read more about getting a retirement job in my article, The 50 Best Jobs For Retirees.
9.) Become A Coach
If you want to help people and also want to get paid for it, it's time to become a coach. As a retiree, you have a lot of professional and life experience, which you can use to help others.
There are different roles you can have as a (professional) coach. You can become a mentor or a life coach for younger people. Help them with their professional development.
Or maybe you can become a coach at your former company, and help executives with their career choices. You have many opportunities when becoming a coach, and the beauty is that you can plan the coach sessions everywhere in the world. You work online if you want and plan coaching sessions via Skype or something else.
Coaching Training Alliance
When you decide to become a coach, you must improve your coaching skills. A great way to improve your skills and become a certified coach is via Coaching Training Alliance.
They offer several courses so that you can become a certified life coach and get the most out of your coaching career in retirement. Learn more about their programs here.
10.) Exercise Daily
Physical activity is, according to the CDC, one of the most important things you can do when it comes to healthy aging. They say that it can prevent health problems that come with age.
So, if you want to enjoy your retirement as long as you can, make sure to exercise daily. Plan your exercises every day, so that you make it a daily ritual. For example, you can start in the morning by going to the swimming pool, or take a walk in the park.
If you're having trouble creating a daily schedule in retirement, I recommend taking a look at my How To Retire Guide. This digital package comes with a daily retirement schedule template for free.
Move more and sit less. It's the slogan of the CDC when it comes to physical activity for elderly people. Their advice is to do at least 150 minutes of Aerobic exercises a week (that's around 30 minutes a day), and two times muscle strengthen training. When you're in good physical condition, you can extend those exercises. According to the CDC, your health benefits increase when you do more physical activities.
11.) Expand Your Social Circle
Spending time on social interactions is also important for your health. And it is a fun thing to do. We all love meeting with our friends, family, and other persons we love. According to Harvard Health Publishing, elderly people with a broad social circle, have a higher chance of a more active and healthy lifestyle.
However, when we get older, our social circle often gets smaller. We lose contact with old friends. When we retire, we lose a lot of the social connections we had at work. And the older we get, the more people die. It's just part of life.
It may sound a bit negative, but these are merely the facts. But you can prepare for it, and spend time in retirement to expand your social circle. Get to know new people, so that you'll stay active and make sure you get enough social interactions.
Activities like volunteering, having a job in retirement, and traveling help to expand your social circle. I recommend reading my article on How To Stay Social In Retirement when you're looking for helpful tips.
12.) Learn A New Language
I already mentioned it a few times, learning new things is a great way to spend time after retirement. It helps you to stay mentally fit, you improve yourself, and by learning new things, you stay curious.
Learning a language can take some time, but there are many great tools you can use that helps you in the process. Duolingo is a famous and worldwide used app, where you can easily learn different languages from all over the world.
Picture this; How awesome it is that when you travel to Spain or another country in Europe, and you're able to speak the local language!
13.) Write A Book
Many people want to spend their time in retirement by writing memoirs, family stories, or just a book they had in mind. Writing can be a mindful activity, but it can also be challenging. Especially when you don't have any experience in writing.
I write almost every day. Mainly articles that I publish on this website. My goal is always to be as helpful as possible. Although writing articles is different from a book, for me, it helps when I did some research about the topic I'm writing about before I start. And then I just start writing, when you come in a 'flow,' you can add important sources and facts along the way.
A great tool that I use with writing is Grammarly. This automatic grammar check also helps with rephrasing your sentences if they're too 'wordy' or complicated. I think it's a perfect tool for everyone who wants to write in English.
When you're serious about starting with writing, you might want to start by following a Masterclass to improve your writing skills.
14.) Start Gardening
Gardening is a great activity to spend time on after retirement. You can start your own herb garden, or just with the flowers you like. If you get more serious about gardening, you can spend hours on it!
A great way to learn the basics of gardening is by following a Masterclass of Ron Finley. He teaches the basics of gardening. 
15.) Try Something New Once A Week
The last one on this list; Try something new, at least once a week. I think it one of the most important things to do in life. Trying new things helps you to keep a fresh mind, just like with learning new skills.
Some people find it challenging to come up with ideas of new things to do. But it doesn't have to be very complicated. You can just start with, let's say, go to the supermarket on your bicycle instead of in the car. Or get up early in the morning every day of the week.
There are many things you can think of. One of my favorites is; plan to see the sunset or sunrise every day for at least a month. We love doing that while traveling.
If you want to start with this idea of trying new things, I recommend making a list and actually plan the things you want to do. You can just write down the activities you come up with.
When you need some extra inspiration, you can find an extensive list of great things to do in my article 101 Ideas For Your Retirement Bucketlist.
Recommended Articles
Whoops! You made it to the end of this article. Looking for more inspiration about things to do in retirement? Other articles that I wrote, and you might find interesting to read: